A fresh-faced Kourtney Kardashian is already busy at work promoting her new partnership! The short reality TV star — recently named the new global ambassador for Manuka Doctor skincare — attended a London photo call for the brand on June 8.
The "Keeping Up With the Kardashians" star posed topless and glazed in gold for an advertisement earlier in April.
Kourtney Kardashian, like many others, was first introduced to the Manuka Doctor brand through its honey products before it expanded into skin care. Manuka honey is a unique type of honey that is produced by bees that pollinate the Manuka tree, which is native to New Zealand.
Five years earlier, the New Zealand brand, which oversees 60,000 individual bee hives in the North and South islands, launched a collection of topical products for the U.K. health retailer Holland & Barrett.
"They would be taking spoonfuls since we are all around each other every day. I asked, 'Why are you guys all eating this honey?' They told me how great it is when you are getting sick," she told WWD about how members of the production crew on "Keeping Up With the Kardashians" initially introduced her to the honey.
"Once I had Mason [her son], I started getting really more into natural things, and I loved learning about more natural stuff. I really don't take medicine."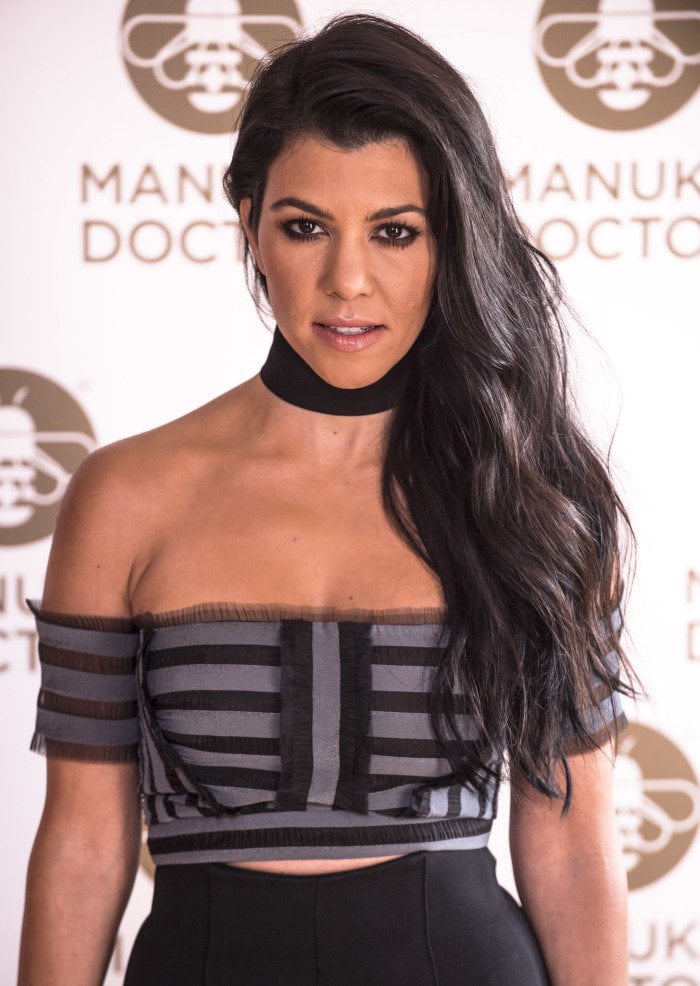 Kourtney Kardashian wears her hair down at a photo call to celebrate her appointment as Global Brand Ambassador for Manuka Doctor, held on June 8, 2016, at the London Edition hotel in London (Credit: Daniel Dene / Euan Cherry / WENN)
"I really liked the ingredients, and I love that the products are available at a lower price point. All around, I felt that it fit in with my lifestyle. That's really what drew me to the brand," Kardashian added.
"I love to use as natural skin-care products as I can. When I use harsh products, my skin breaks out. It's [Manuka Doctor] really something I can feel good about believing in and using."
While Kourtney wasn't covered in gold for the London photo call event, she was still glowing!
The 37-year-old beauty looked flawless and chic in a monochrome off-the-shoulder crop top by Erdem and black pants.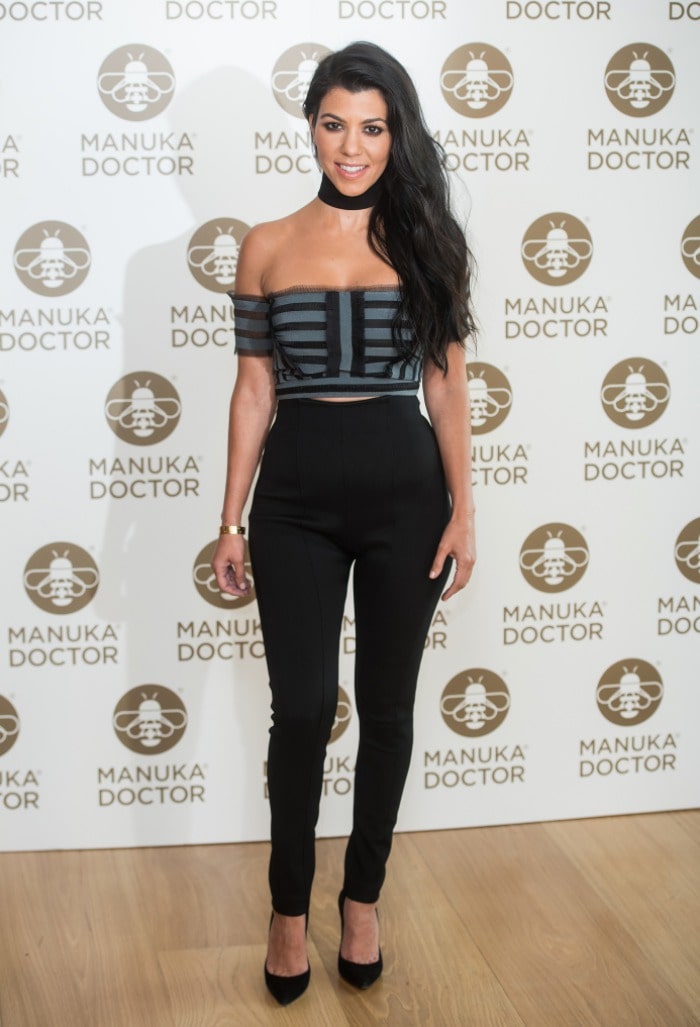 Kourtney Kardashian wears an Erdem top with black pants at a Manuka Doctor photo call (Credit: Daniel Dene / Euan Cherry / WENN)
The gray and black striped crop top looked edgy and sexy on the reality TV personality as it highlighted her trim waist.
She accentuated her legs with a pair of sleek black high-waisted skinny pants, which also drew attention to her curves without overdoing the sex appeal.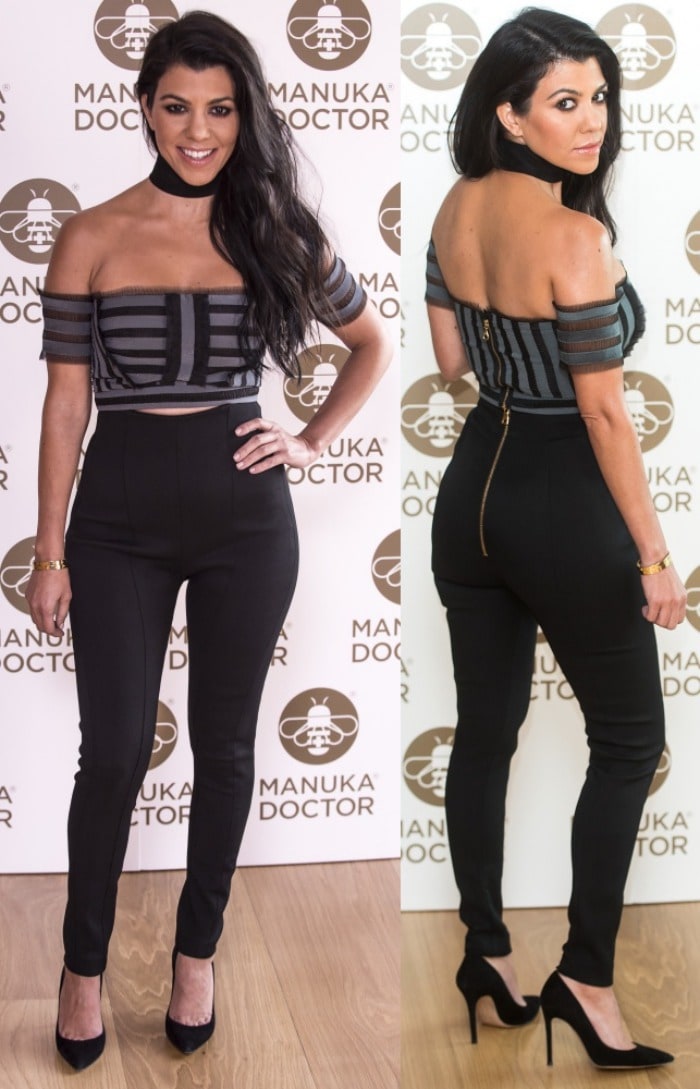 Kourtney Kardashian flaunts her curves with an off-the-shoulder Erdem top and high-waisted black skinny pants (Credit: Daniel Dene / Euan Cherry / WENN)
Kourtney continued the monochrome trend by adding a thick black choker to her neck.
She accessorized with a few pieces of gold jewelry and complemented her sultry ensemble with smoky eyes, bronze-tinged cheeks, and beachy waves.
Kourtney opted for a stylish pair of pointy-toe black suede pumps for her feet.
Kourtney Kardashian's feet in black Gianvito Rossi heels (Credit: Daniel Dene / Euan Cherry / WENN)
These Gianvito Rossi heels feature a leather sole, suede-covered heels, pointed toes, and about four-inch heels.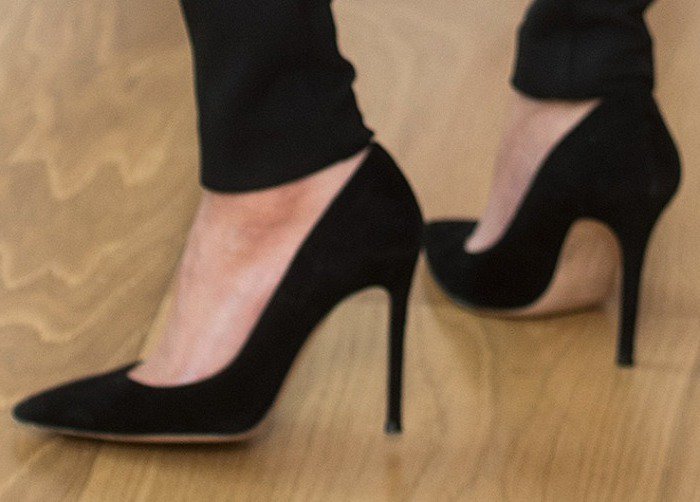 Kourtney Kardashian's feet in black suede Gianvito Rossi heels (Credit: Daniel Dene / Euan Cherry / WENN)
They would be appropriate for almost any occasion. We think Kourtney totally rocked them for this event, don't you?
If you're interested in snagging this pair of pumps, visit Mytheresa or Farfetch!
Gianvito Rossi Black Suede Pumps, $675.00