The show we've all been waiting for has finally dropped on Hulu. However, not everyone is a fan.
While he did attend the premiere with his new girlfriend, Rebecca Donaldson, Scott Disick has no interest in watching The Kardashians.
View this post on Instagram
"Of course, it's awkward for Scott," a source told Us Weekly. "He doesn't take the time to watch the full episodes, and why should he? He doesn't need to. That's the last thing he wants to do — relive the awkward moments of him, Travis, and Kourtney. He lived through it already."
Scott Disick looks relaxed as he spends time with his three children, Mason Disick, Penelope Disick, and Reign Disick, on the beach in Miami on February 22, 2022 (Credit: MEGA / WENN)
"He turns away any time he's around them, and they're making out," the source added. "It's embarrassing and Travis and Kourtney act like no one's in the room whenever they're together. Scott's all about PDA but would never put any of his exes in such an awkward position."
Still, Scott has verbalized his discomfort about Kourtney's new man more than once. The new show seems to show affection between the happy couple, apparently more than Disick can stomach.
Scott Disick and his girlfriend Bella Banos walking the beach in St-Barts on December 21, 2021 (Credit: MEGA / WENN)
Scott was featured in a recent episode where he and Kendall Jenner got into a disagreement about whether or not he should still be invited to events.
Kendall wants to support her sister, but she also values his friendship after being around Scott for about a decade.
So, it doesn't make much sense when he's also expressed discomfort around Kourtney and anyone else she has dated.
Kourtney & Scott's History
Kourtney and Scott had an extensive romance that spanned almost a decade. The couple met in 2006 at the Mexico mansion of Girls Gone Wild creator Joe Francis and hit it off, despite Scott being nearly five years younger than Kourtney.
Scott was featured repeatedly in the first Kardashian show, Keeping Up With the Kardashians.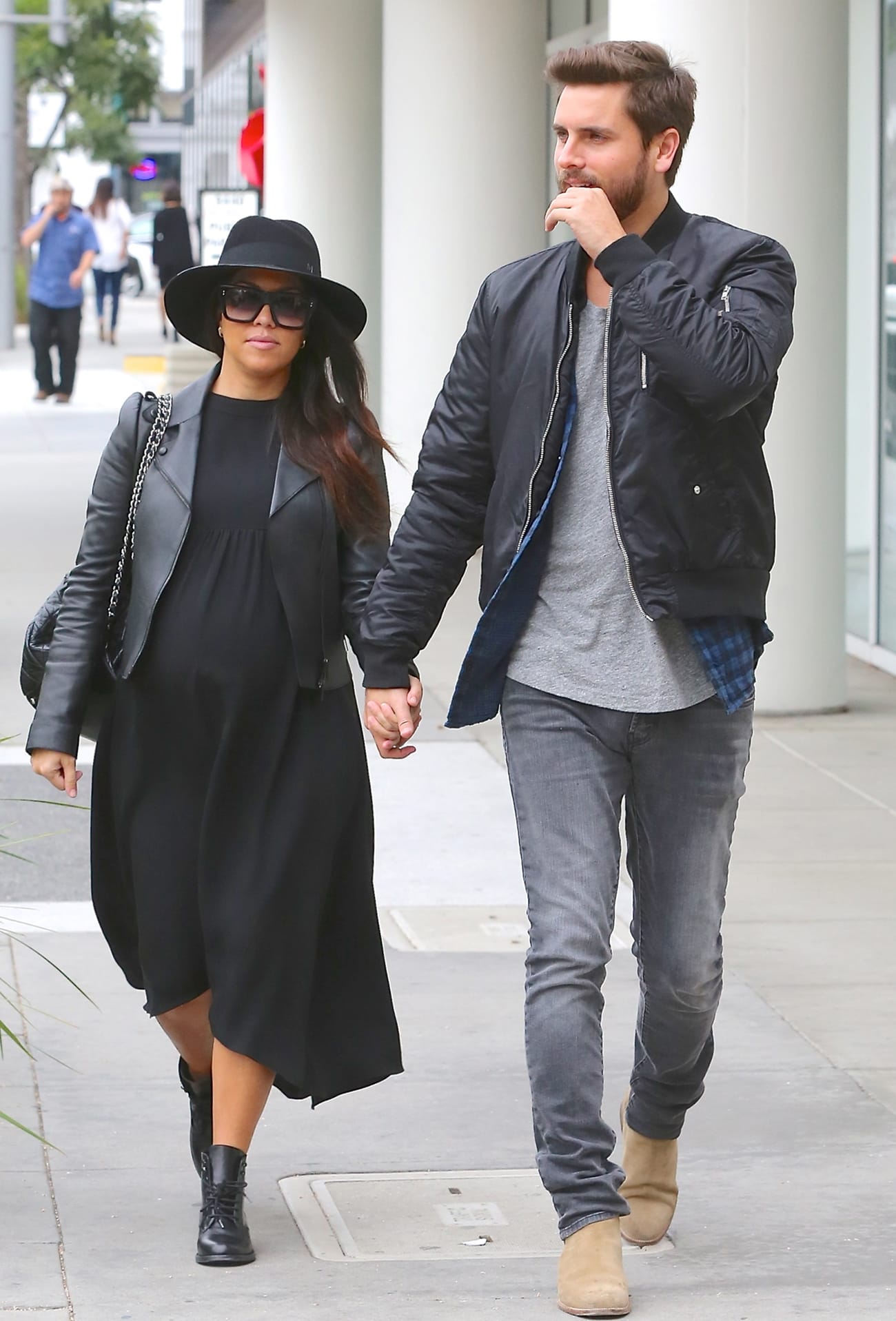 Kourtney Kardashian and Scott Disick met in 2006 through Kourtney's ex-boyfriend, Girls Gone Wild creator Joe Francis (Credit: Mariotto / INFphoto)
Sometimes their relationship was, at best, a happy struggle. At one point, Kourtney's mom had to convince them that getting married wasn't the best choice for their relationship. Not long after that fiasco, Kourtney caught Scott cheating.
After taking some time apart, the two got back together and had their first child. This time, Scott struggled with alcoholism. Kourtney was embarrassed by a very public and infamous event involving a restaurant server.
She didn't want her baby to be exposed to that kind of behavior and called the relationship off once more.
Kourtney Kardashian in a blue crocodile dress and Scott Disick attend the E! 2013 Upfront at The Grand Ballroom at Manhattan Center on April 22, 2013, in New York City (Credit: ACE / INFphoto)
The relationship continued to bounce between on again and off again until 2015. Kourtney and Scott had two more beautiful children together before she called it off for good.
Unfortunately, Scott couldn't get his alcoholism under control, and he was eventually busted with another woman. Kourtney decided to search for someone who could give her the love she needed and moved on.
Scott Disick dated 16-year-younger Sofia Richie from 2017 to 2020 (Credit: INSTARimages)
Since Kourtney and Travis Barker got together, Scott has struggled with the relationship. Kourtney and Scott have been trying to co-parent amicably, but he's jealous of Travis.
When Scott is around the happy couple, he turns away from their intimate moments. His comments on their social media posts indicate that he is still checking Kourtney's accounts and doesn't like what he is seeing.
Kourtney and Travis Tied the Knot (Officially)
Scott was not present at the recent Italian wedding between Kourtney Kardashian and Travis Barker. Instead, he chose to have dinner with Rod Stewart, a famous British singer. Afterward, Scott was seen exiting a Hollywood bar at 1 a.m.
Kourtney Kardashian and Travis Barker legally married on May 15, 2022, at the downtown courthouse in Santa Barbara (Credit: MEGA / WENN)
Since dating Kourtney, Scott has been seen with at least nine other women. The 38-year-old seems to favor younger women, with some of them being 22 or younger at the time.
He's publicly joked about his abysmal romances, as it seems some of his flings have found love shortly after dating him.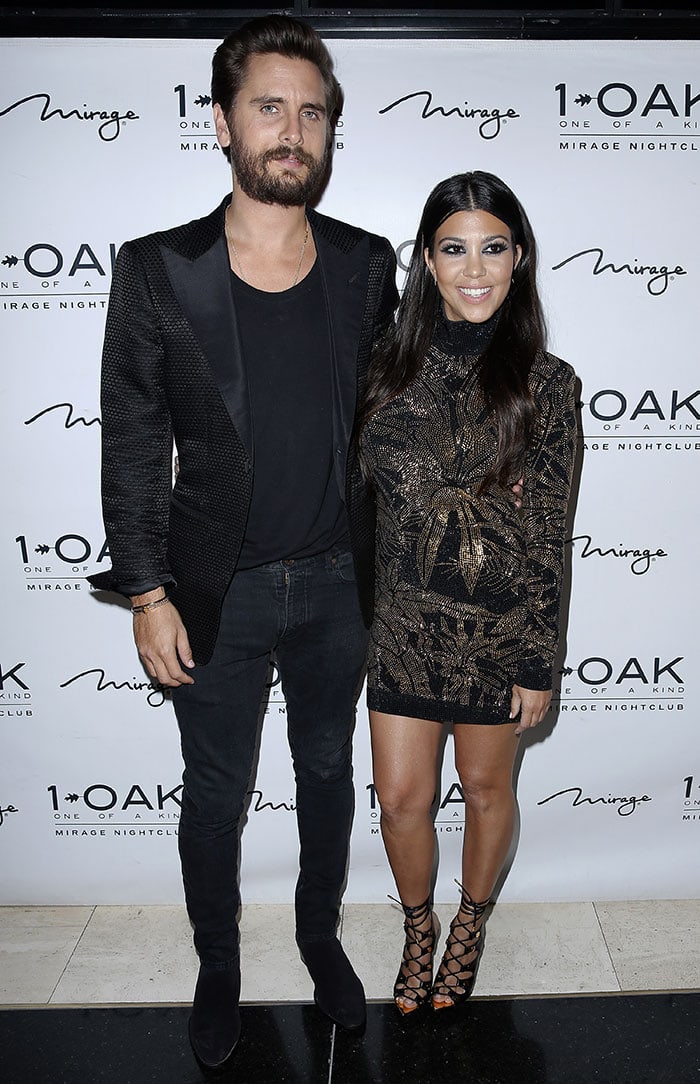 Kourtney Kardashian is four years older than her ex-boyfriend Scott Disick (Credit: Judy Eddy / WENN)
On May 26, 2015, Scott Disick celebrated his 32nd birthday! He's four years younger than his girlfriend, Kourtney Kardashian.
The reality TV star began celebrating his birthday at the 1 OAK nightclub in Las Vegas, and his long-time partner was present to celebrate with him…and perhaps to control his drinking as well.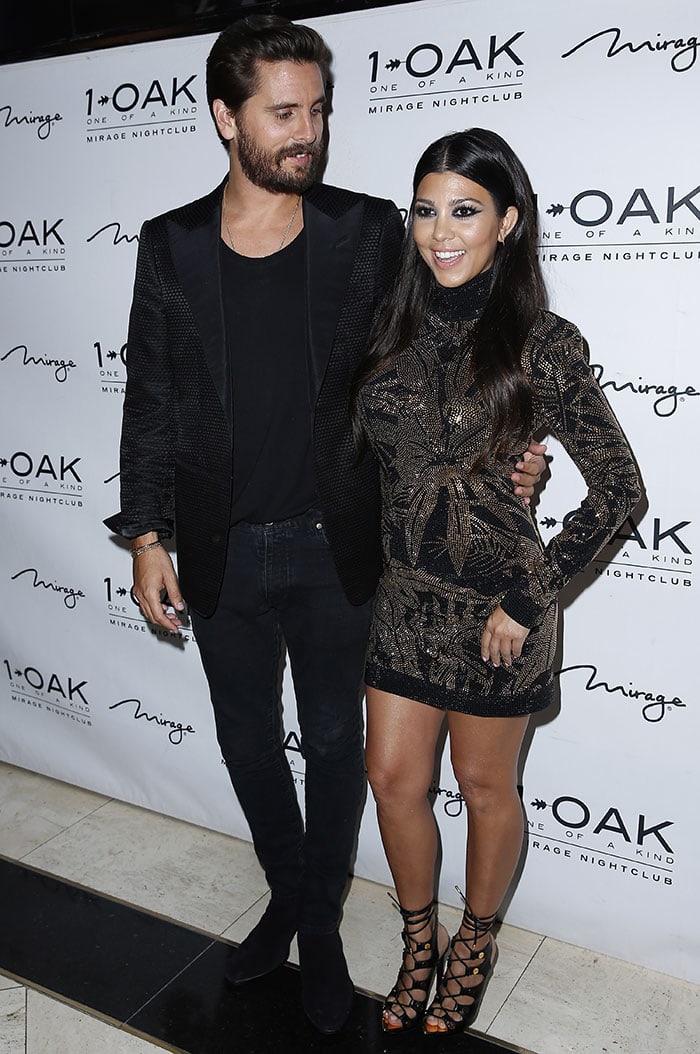 Scott Disick celebrating his 32nd birthday with Kourtney Kardashian at 1 OAK inside the Mirage Hotel and Casino in Las Vegas on May 23, 2015 (Credit: Judy Eddy / WENN)
Stealing the birthday boy's thunder, the then-36-year-old 'Keeping Up with the Kardashians' star flashed her shapely legs and covered up her upper body in a black-and-gold bejeweled mini dress featuring a high neck and long sleeves.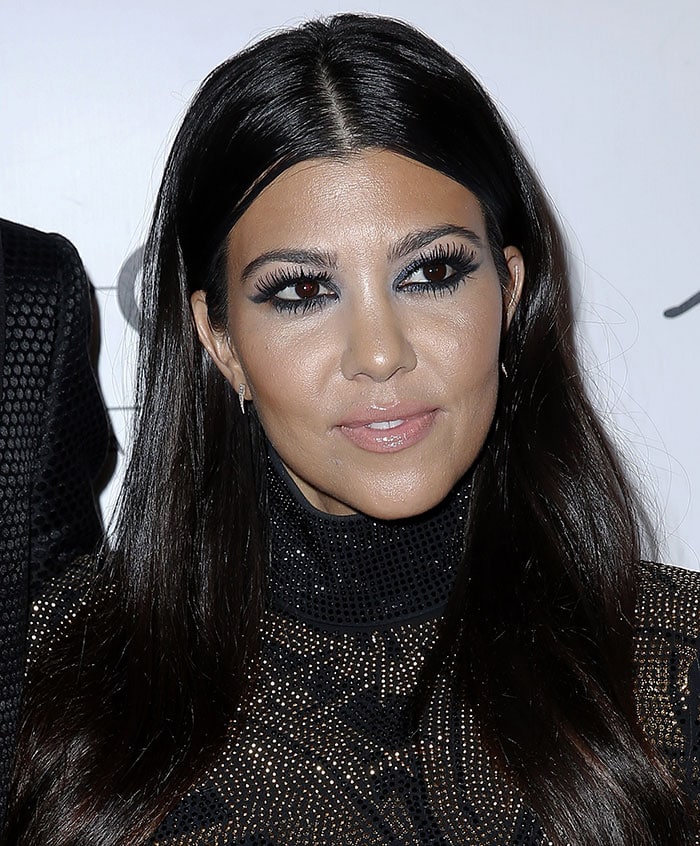 Kourtney Kardashian wears a stud-embellished Balmain dress (Credit: Judy Eddy / WENN)
Allowing her dress to shine, the mom-of-three wore minimal jewelry — just a pair of earrings and a few rings.
She let her center-parted dark tresses fall loosely over her shoulders and wore heavy makeup with lashings of mascara, dark liner, and glossy pink lip shade.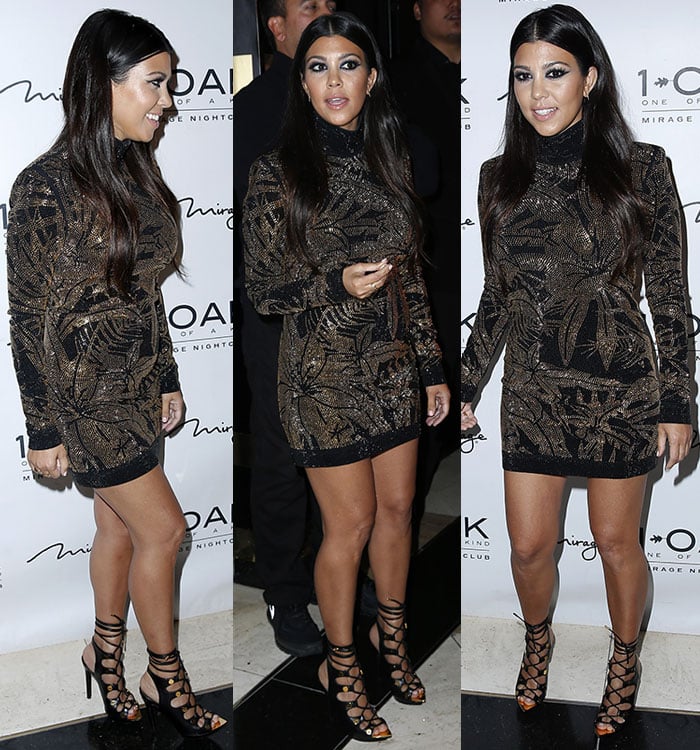 Kourtney Kardashian flaunts her legs in a black-and-gold studded mini dress for Scott Disick's 32nd birthday at 1 Oak in Las Vegas on May 23, 2015 (Credit: Judy Eddy / WENN)
For her feet, Kourtney wore her favorite Tom Ford sandals featuring gold-tone studs, open toes with pointed golden hardware, leather lace-up vamps, 0.5-inch island platforms, and 4.5-inch heels.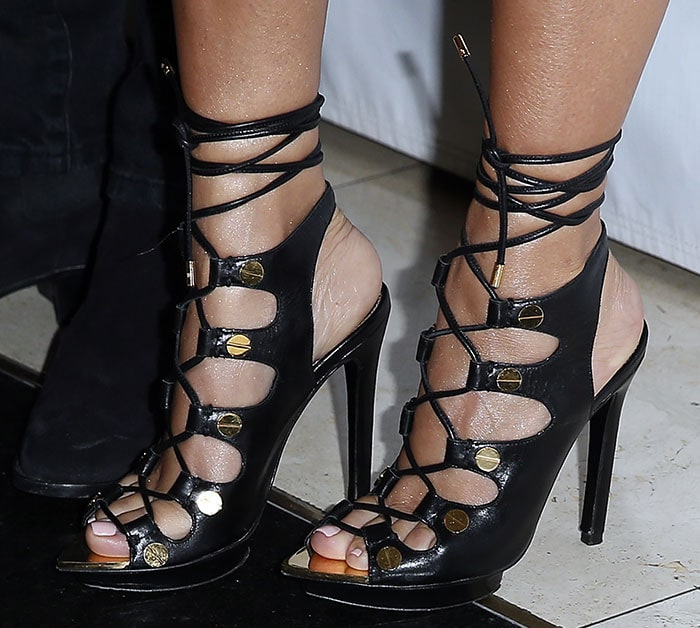 Kourtney Kardashian displays her pretty feet in Tom Ford sandals (Credit: Judy Eddy / WENN)
Unfortunately, Kourtney Kardashian's sandals from the famous American fashion designer are already sold out.
Tom Ford Lace-Up Platform Sandals, $1,250