She loves it when he calls her señorita, but Camilla Cabello recently admitted that it took her two months to call her boyfriend Shawn Mendes 'baby.'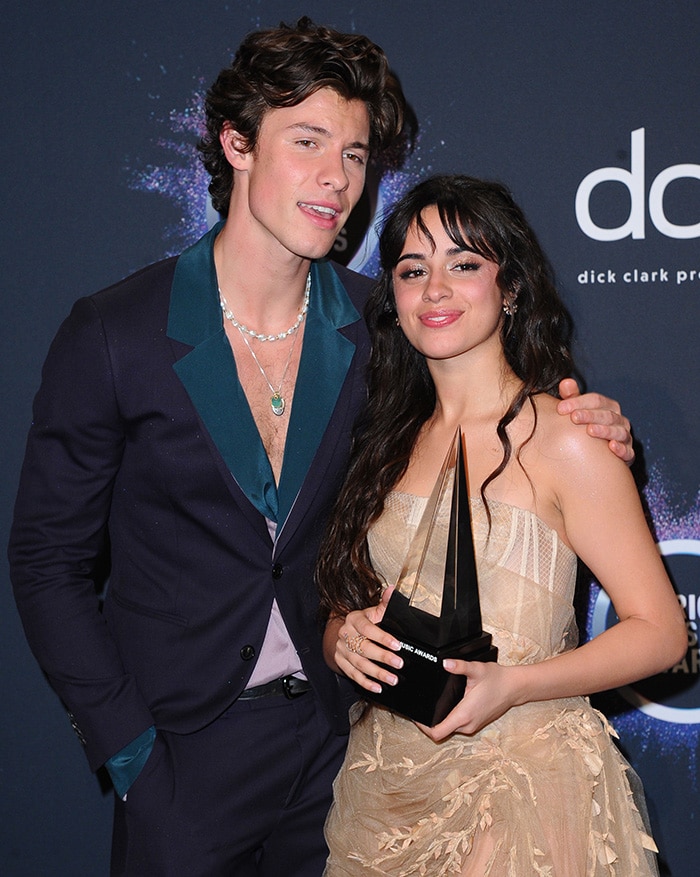 Shawn Mendes and Camila Cabello at the 2019 American Music Awards Press Room in Los Angeles on November 24, 2019
Last week, the 22-year-old singer made a guest appearance on The Tonight Show Starring Jimmy Fallon, where she talked about her platonic-turned-romantic relationship with the 21-year-old Stitches singer.
After seeing an old photo of her and Shawn, Camila jokingly said: "We were awkward and nervous and weird, and now we're older and nervous and weird."
When asked about a pet name for each other, Camila opened up about how weird she felt dating a long-time friend. "It's kind of weird in the beginning, right? It took me like two months to be able to call him 'baby'! Like, I could not, I didn't want to say his name, because we were dating, and I couldn't call him 'baby,' so I was like, 'Hey! You!' it's weird. But it's great."
Camila Cabello and Shawn Mendes at Pitbull's New Year's Revolution Rehearsal at Bayfront Park in Miami on December 30, 2015
The Crying in the Club singer also felt awkward introducing Shawn as her boyfriend to her family and friends.
"The people around you already know them 'cause you've known them for a long time," she explained. "So it's just like, and uh, now we kiss and hold hands," she added.
How did Shawn Mendes and Camila Cabello meet?
Shawn and Camila, also known as Shamila, first met on Austin Mahone's 2014 summer tour, where Camila's then-girl group Fifth Harmony opened for Austin.
She discussed her and Shawn's early days on The Ellen DeGeneres Show on Friday, saying "I for sure had a crush on him there. We were stupid, I think we both had a crush but we were being babies about it. But we're grown now."
Shamila's first collaboration
Shamila reunited in July 2015 when they opened for Taylor Swift's 1989 tour. The two got close during the tour and wrote a song together, I Know What You Did Last Summer.
Camila later told her Twitter followers that they created the song during a "random jam session" backstage on Taylor Swift's tour.
Shamila started exchanging flirty tweets
In August of the same year, Shamila began a series of flirty tweets.
Shawn tweeted that he's going to try to learn Spanish again, while Camila hinted that she'll teach him the language.
In return, Shawn will be teaching Camila how to play Tracy Chapman's Fast Car.
Shamila released their first single together
A few months later, Camila and Shawn dropped I Know What You Did Last Summer along with a music video.
With the release of the steamy music video and their growing closeness, dating rumors spread like wildfire. Fans also started to ship the two singers.
The release of Senorita
For the past two years, Shawn and Camila occasionally exchanged tweets to express their support for each other's careers.
It wasn't until 2019 when the then-rumored couple found themselves back in the headlines, thanks to their new hit song, Senorita. They have been inseparable since teaming up for their second collaborative song.
Fourth of July
During a fan Q&A meeting in October, a fan asked Shawn, "I know there's been rumors about you and Camila for a while, but how long have you two actually been together?
Shawn candidly answered: "We haven't been dating for that long. We've been dating since July 4 officially."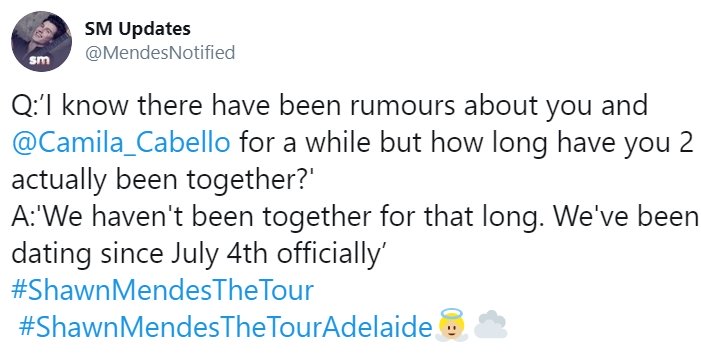 Shawn Mendes officially started dating Camila Cabello on July 4, 2019
From then, the young lovebirds have been making their relationship as public as possible. They were even spotted a few times making out and getting intimate in public.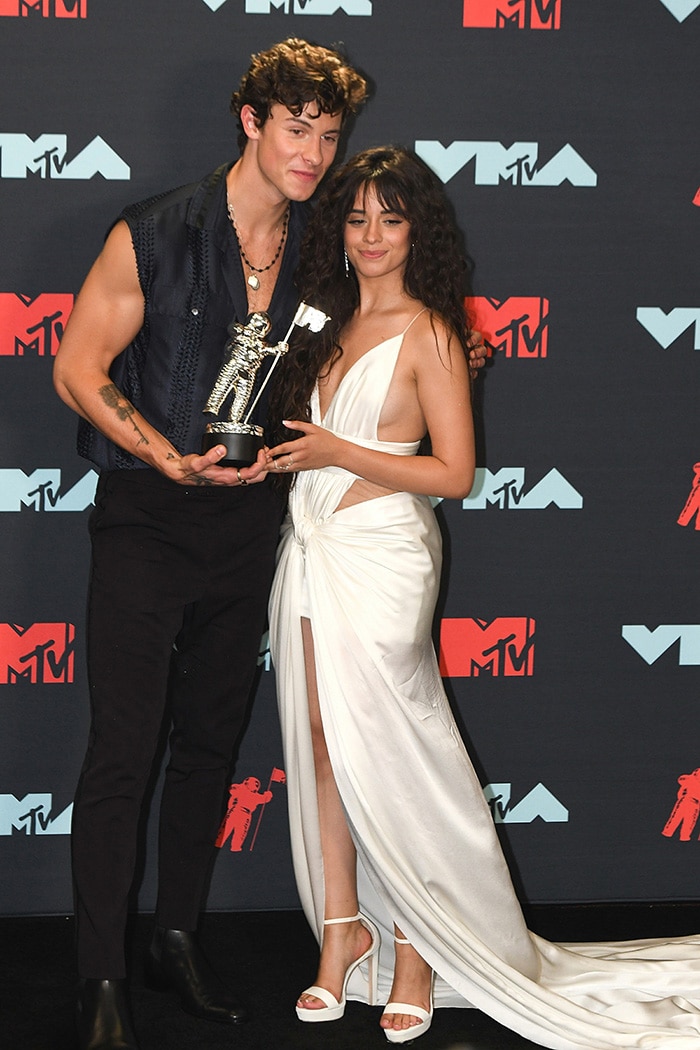 Shawn Mendes and Camila Cabello at the 2019 MTV VMA Winners Press Room held at the Prudential Center in Newark on August 26, 2019
In her recent outing, however, Camila went solo as she hit the red carpet at KIIS FM's iHeartRadio Jingle Ball 2019 at The Forum in Los Angeles.
This came a day after she released her sophomore studio album, Romance, which includes a new track with rapper DaBaby. Entitled My Oh My, the song is produced by Billie Eilish's brother, Finneas.
For the event, Camila went for a cute but sexy look in a white Raisa Vanessa Spring/Summer 2020 dress. The one-shoulder mini features an asymmetrical neckline with sheer and ruffle-detailed long sleeve, a cutout waist detail, and a ruched ruffled mini skirt that allowed her to show off her nice legs.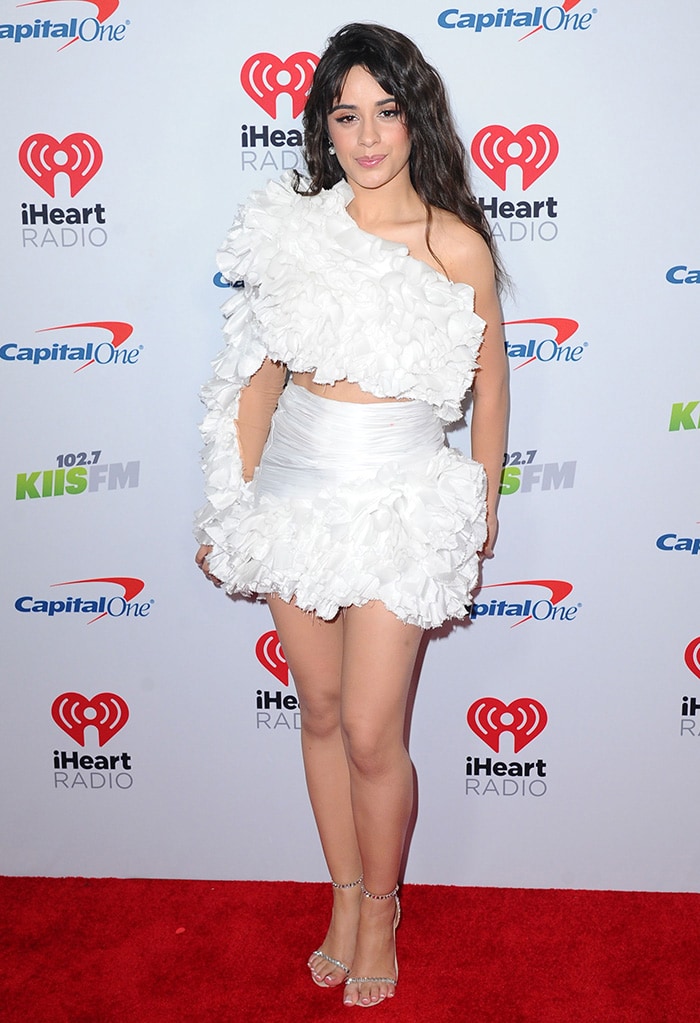 Camila Cabello flaunts her legs in a white Raisa Vanessa mini dress at KIIS FM's iHeartRadio Jingle Ball 2019 in Los Angeles on December 6, 2019
The Cuban-American pop star wore her signature long curls down with a parted fringe and accentuated her features with metallic eyeshadow, complementing blush, and pink lip gloss.
Camila Cabello wears her signature long curls with metallic eyeshadow and pink pout
She kept the accessories to a minimum with pearl earrings and a pair of embellished heels to boost her 5'2" height. Unfortunately, she didn't pick the right size, causing an unsightly toe overhang.
The Shameless singer wore the Aquazzura 'Very Vera' sandals in nude suede with light-catching crystal embellishments, open toes, and about 4.25-inch heels.
Camila Cabello suffers toe overhang in Aquazzura sandals
On Wednesday last week, Camila graced the L'Oreal Paris Women of Worth Awards red carpet held at The Pierre Hotel in New York City.
She dressed to the nines in a dramatic mini from Ralph & Russo's Fall 2019 Couture collection. The colorful one-shoulder ruched frock features a sweetheart neckline, a large bow detail on one shoulder, and another bow on the waist with a floor-sweeping sash train.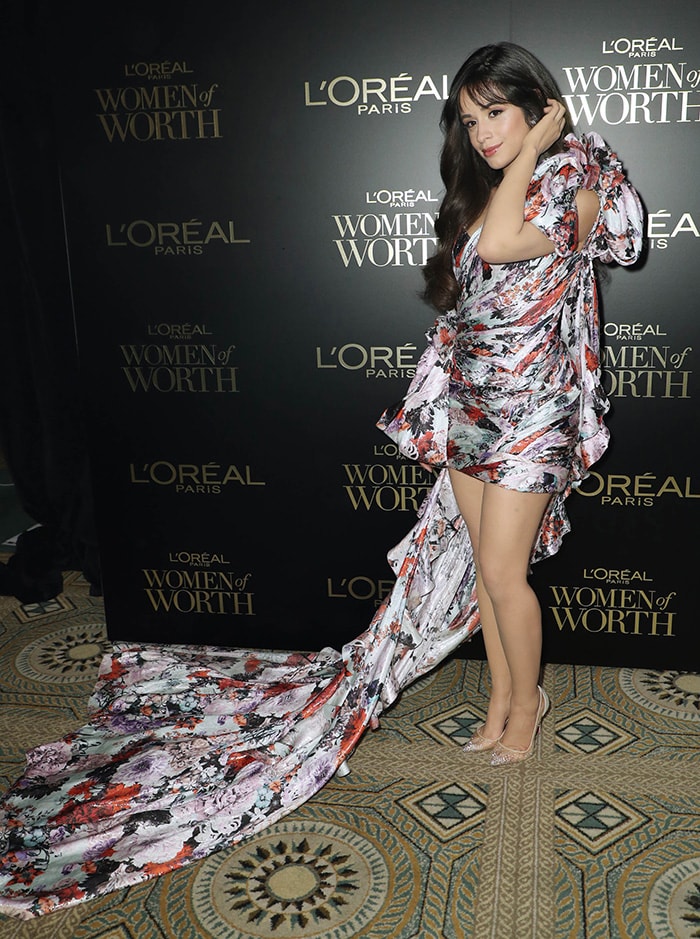 Camila Cabello at the L'Oreal Paris 14th Annual Women of Worth Awards in New York City on December 4, 2019
Wearing her long hair in soft waves, Camila rounded out her look with Christian Louboutin 'Follies Strass' pumps. They are made of beige mesh and feature hand-applied Swarovski crystals, pointed toes, and silver glittered heel counters and heels.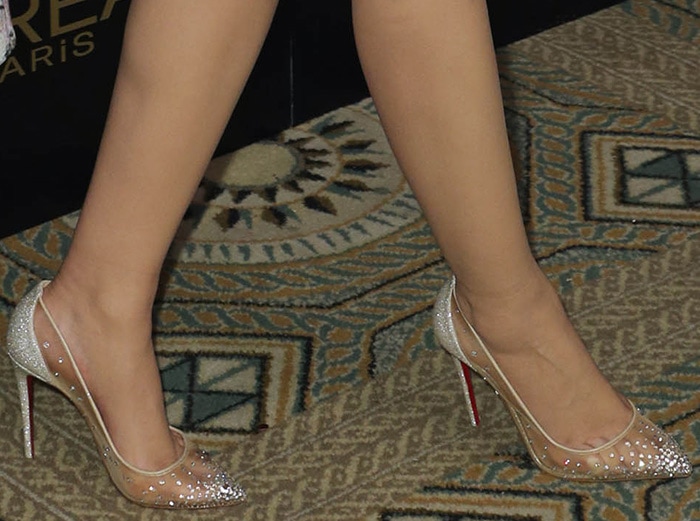 Camila Cabello pairs her dress with Christian Louboutin mesh pumps
Christian Louboutin 'Follies Strass' Pumps, $753 at Barneys
Just last Sunday, Camila went for a risqué look as she performed at the B96 Pepsi Jingle Bash in Illinois. She wore a one-sleeved, one-legged sheer floral jumpsuit with liquid leather gloves and matching thigh-high boots.
Camila Cabello at the 2019 B96 Pepsi Jingle Bash at the Allstate Arena in Chicago on December 8, 2019
Credit: JLN Photography / Instar / WENN