Irina Shayk and Kanye West are rumored to be dating following the rapper's divorce from his wife of six years Kim Kardashian.
A tipster told Instagram-based gossip site Deuxmoi, "Kanye West is now secretly dating Irina Shayk aka Bradley Cooper's baby mama."
Irina Shayk and Kanye West are rumored to be dating after Deuxmoi insider spills tea (Credit: Instar / WENN)
The site's owner then responded, "After further looking into this, I don't know if "dating" is the right word, but there is perhaps some interest there."
A second tipster confirmed the tea, saying Irina and Kanye are "def dating."
On Monday, the 35-year-old model was on mommy duty in New York City, without any sign of Kanye.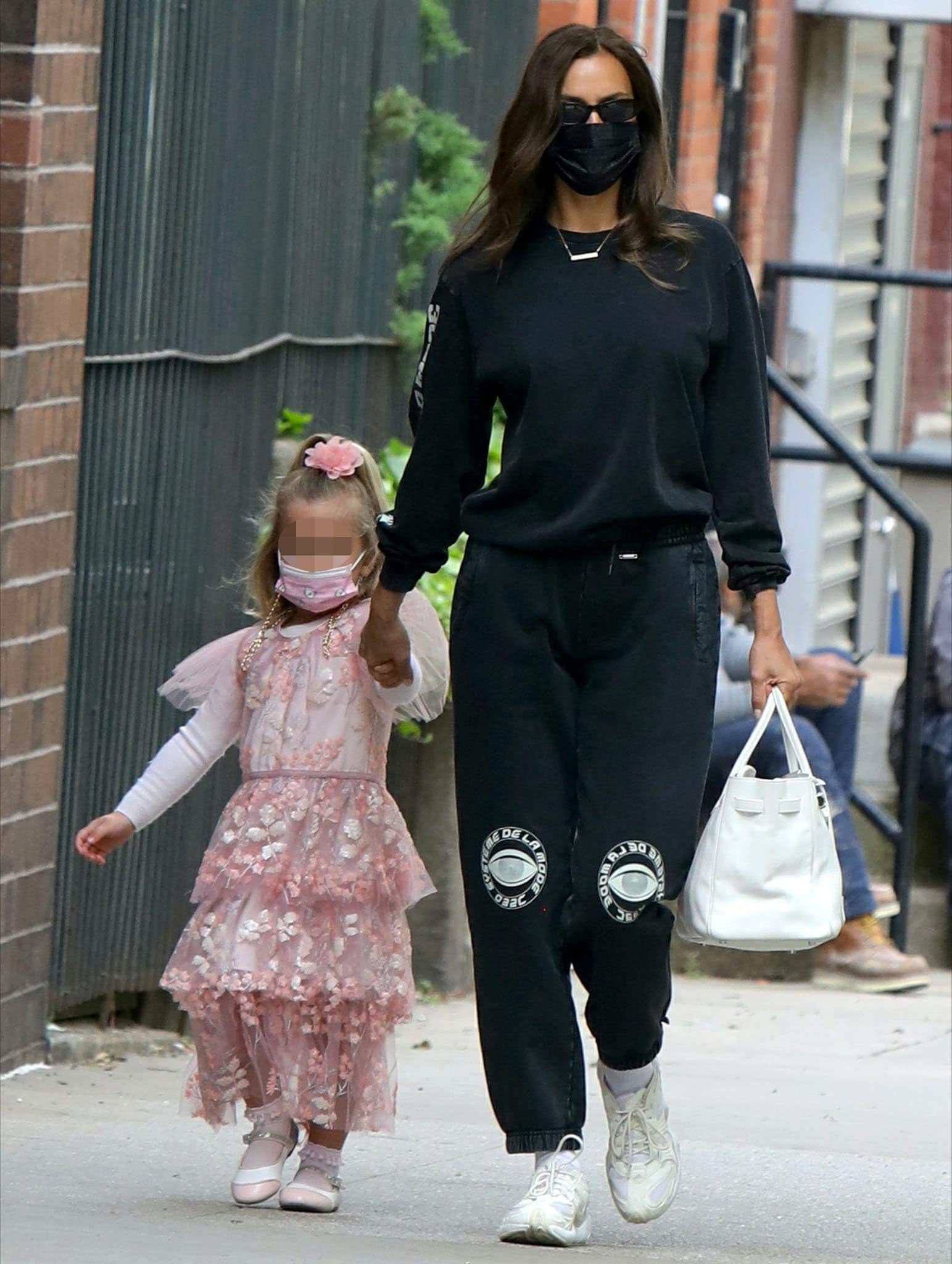 Irina Shayk steps out with Lea de Seine amid Kanye West dating rumors on May 25, 2021 (Credit: Instar / WENN)
She stepped out for a walk with her daughter Lea, who looked adorable in her pink floral mesh ruffled dress from Self-Portrait.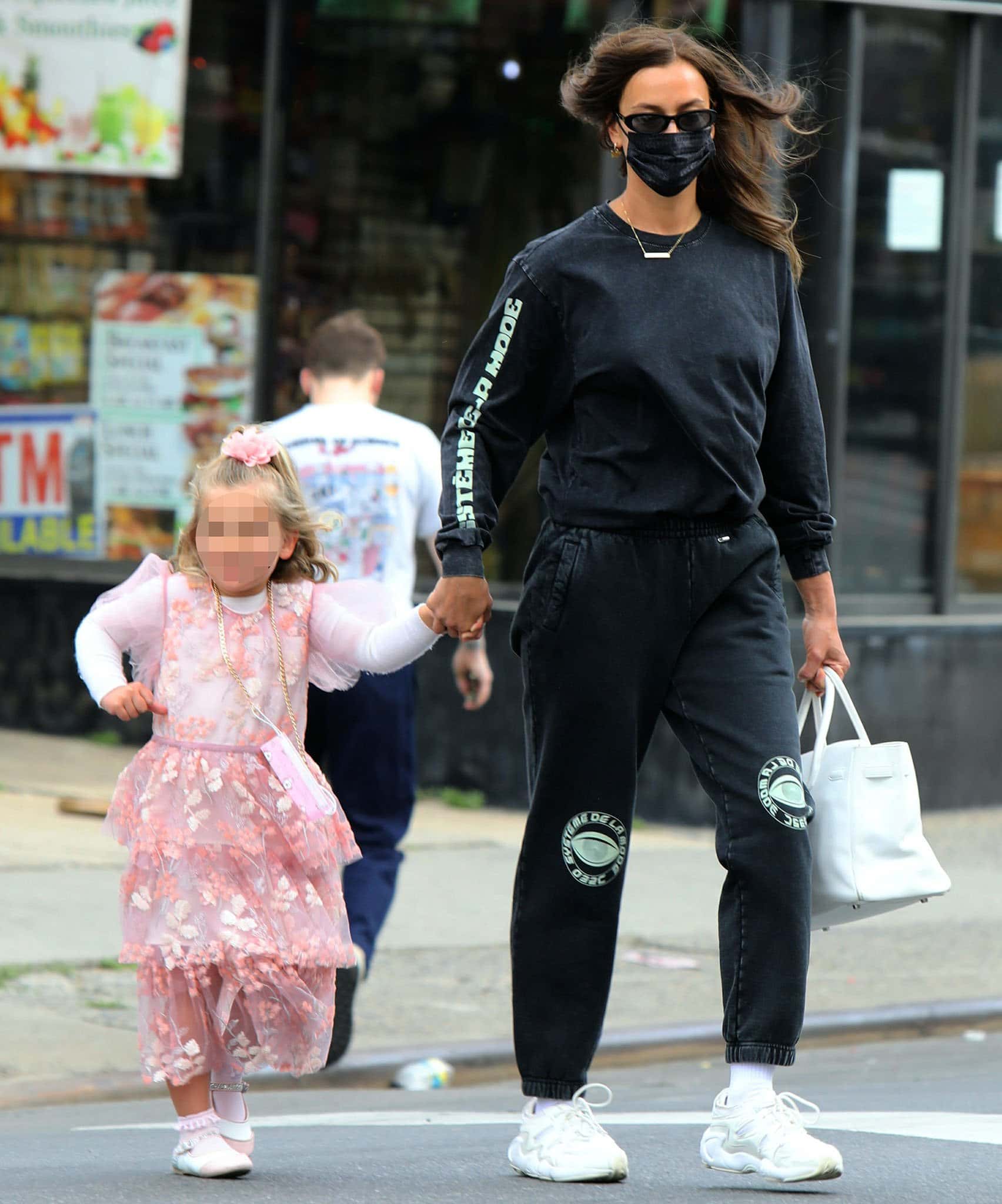 Irina Shayk shows off street style in a 032C sweatsuit while Lea dresses up in Self-Portrait pink dress (Credit: Instar / WENN)
Covering up for their afternoon walk, the Russian model wore a sweat set from culture magazine and fashion brand 032C.
It included a Systeme de la Mode System black acid-washed crewneck sweater and matching Hypnos acid-washed track pants, both featuring UV-sensitive prints that change from gray to mint green when exposed.
Irina Shayk masters street-chic in a 032C Systeme de la Mode System black acid-washed sweater and matching track pants (Credit: Instar / WENN)
Allowing her tresses to fall freely around her shoulders, Irina kept a low profile with Roberi & Fraud Black Baby Betty sunglasses and a Barriere basketweave face mask.
She then elevated her relaxed look with Chrome Hearts Plus hoop earrings and a personalized Lana Bar necklace from Made by Mary.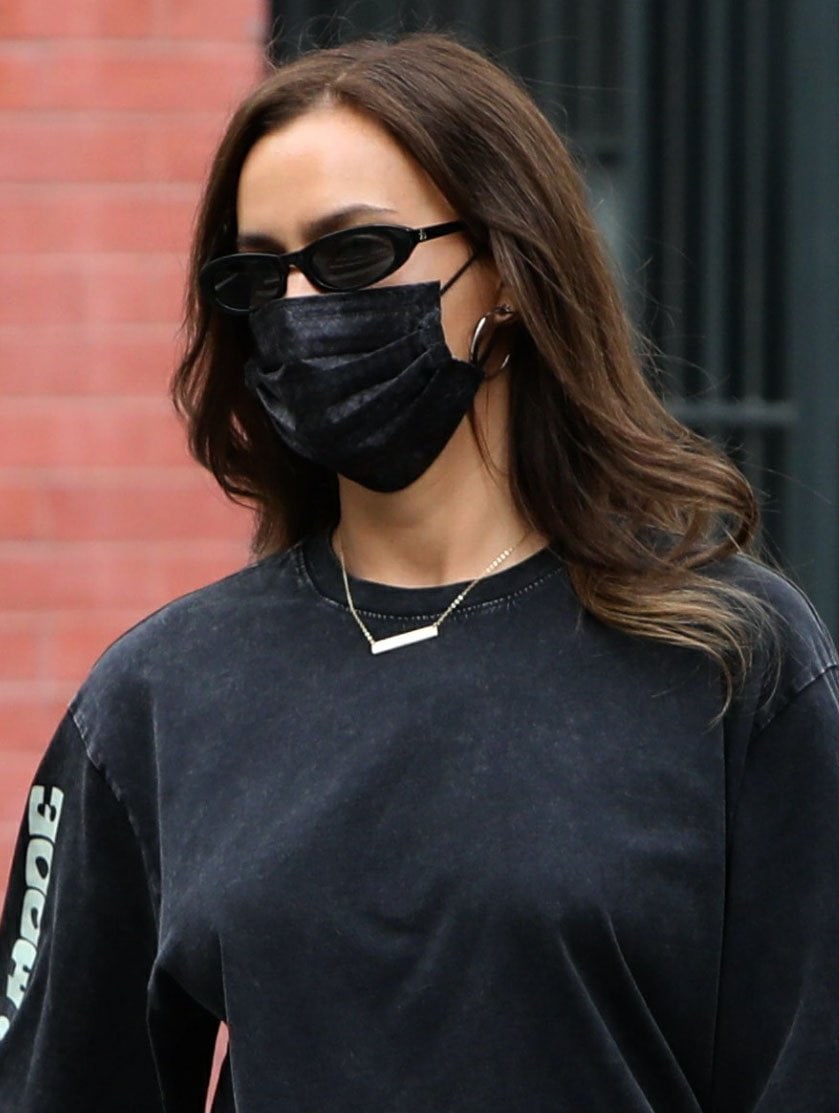 Irina Shayk stays safe with her Barriere basketweave face mask (Credit: Instar / WENN)
The former Sports Illustrated Swimsuit model contrasted her dark outfit with white 032C socks, a white Hermes 40cm Birkin bag, and Adidas Original Fyw S-97 white shoes.
A fresh take on the 1997 Equipment Salvation, these shoes feature synthetic suede-and-mesh upper, chunky molded EVA midsoles, and a built-in Stabilizing Torsion System.
Irina Shayk completes her casual look with Adidas Originals Fyw S-97 shoes (Credit: Instar / WENN)
Adidas Original Fyw S-97 White Shoes, $140 at Adidas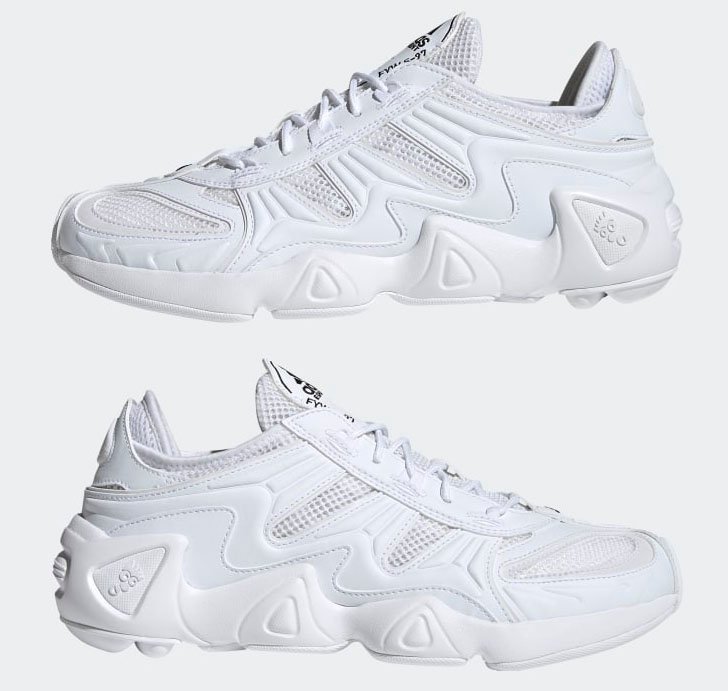 The Adidas Originals Fyw S-97 is an updated reissue of the 1997 Equipment Salvation shoes
Last week, Irina flaunted her enviable legs and model figure in a semi-sheer stretch-jersey mini dress from south London-based brand Charlotte Knowles.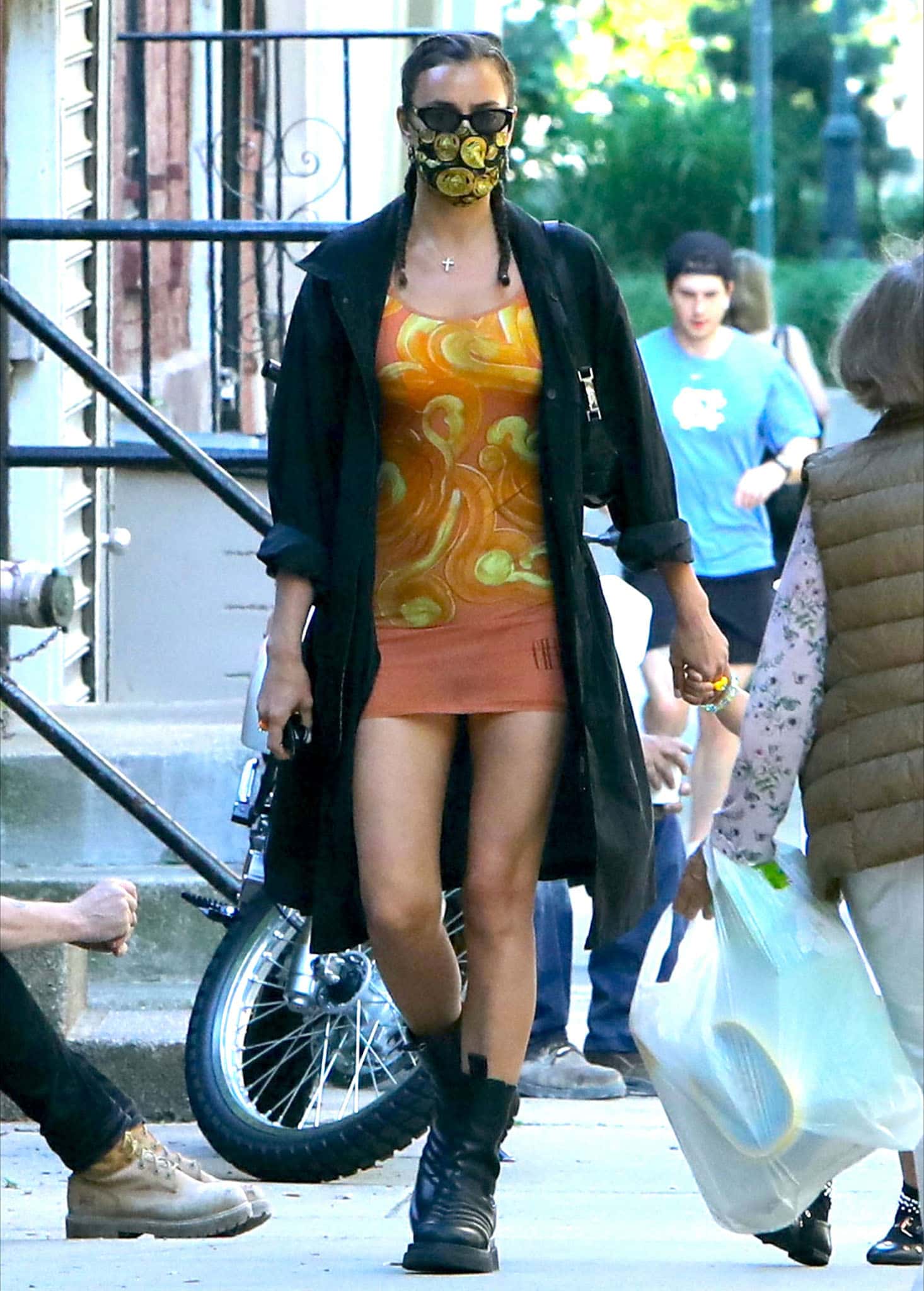 Irina Shayk flaunts her legs and model figure in Charlotte Knowles Orange Vortex mini dress (Credit: Instar / WENN)
Available for $480 at Ssense, her Orange Vortex dress features a swirl graphic pattern in off-white, yellow and orange tones.
It also has a scoop neckline, adjustable elasticized shoulder straps, and a racerback.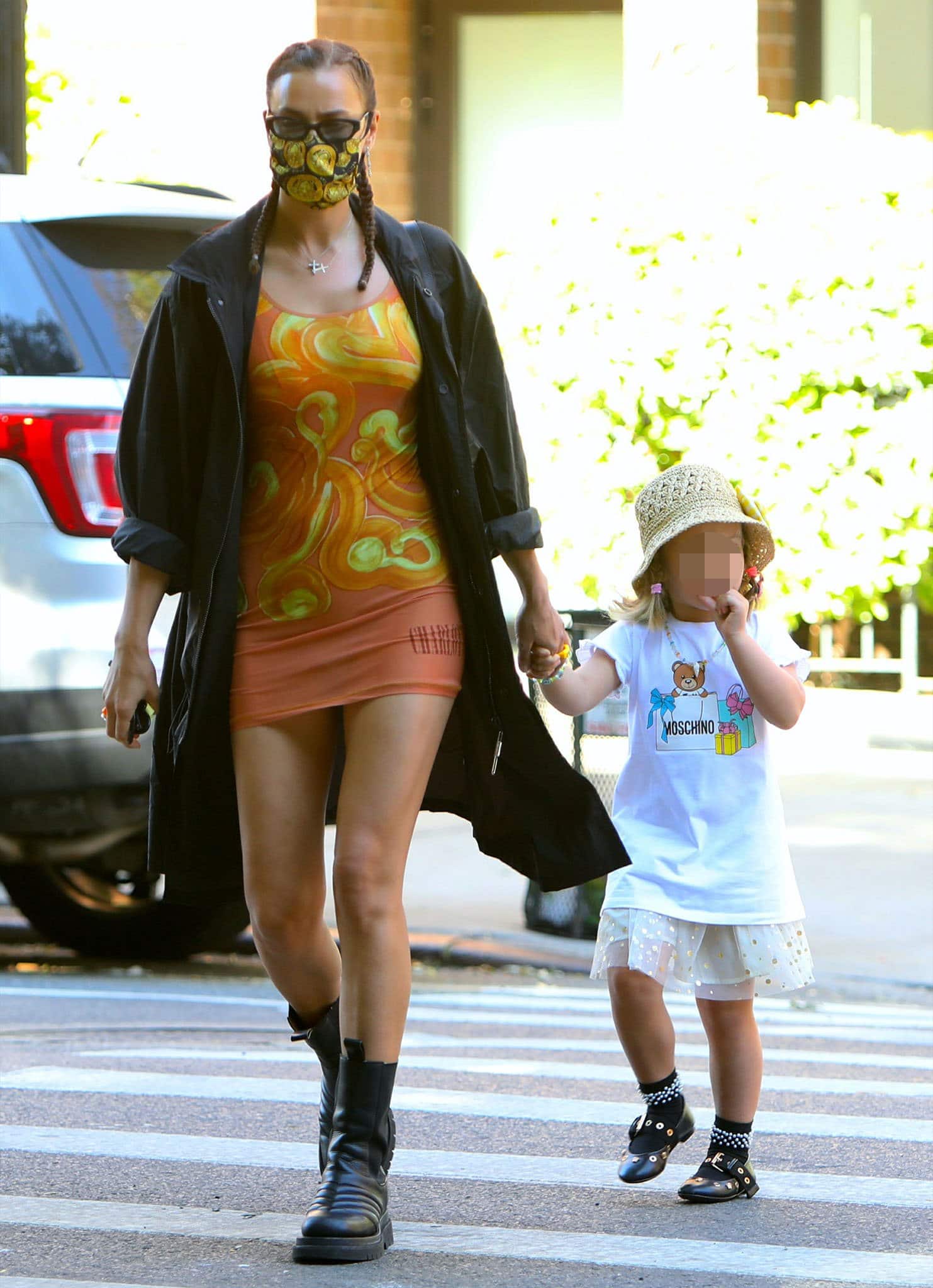 Irina Shayk strolls with Lea in Charlotte Knowles stretch-jersey dress and 032C long parka (Credit: Instar / WENN)
Giving the sexy frock a street-chic appeal, she teamed it with a long black nylon parka from 032C and a pair of $1,150 Storm leather Chelsea boots from Bottega Veneta.
First seen on the F/W 2019 runway, these supple leather boots feature a quilted upper with round toes, 1-inch platforms, and about 2-inch chunky heels.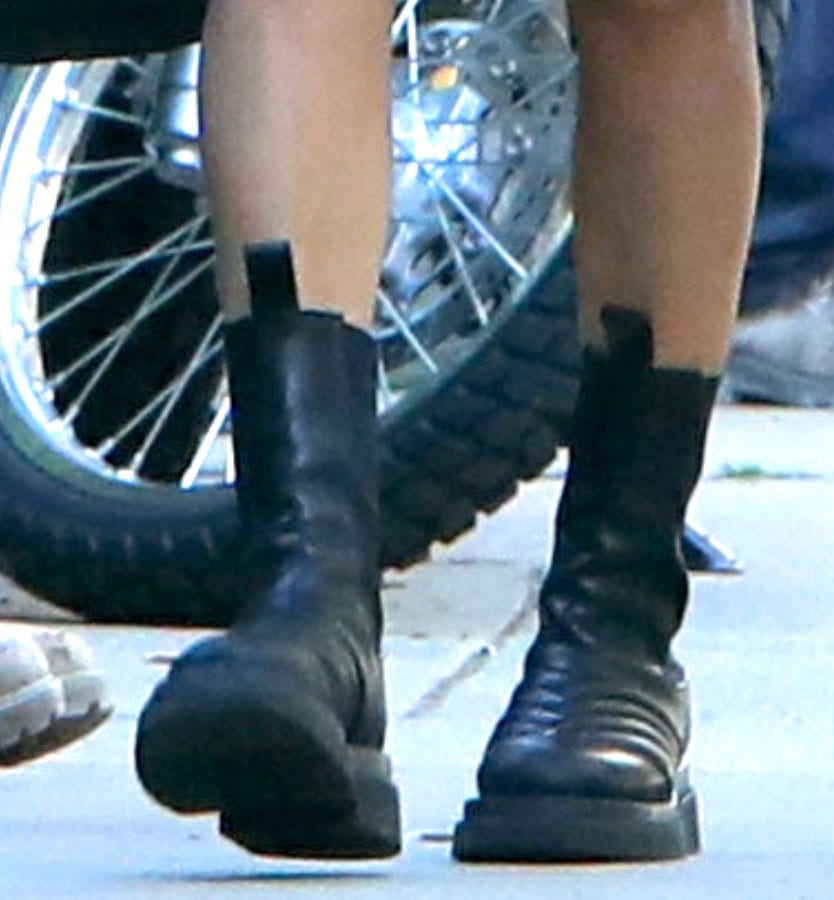 Irina Shayk gives her sexy outfit some street vibe with Bottega Veneta Storm Leather Chelsea boots (Credit: Instar / WENN)
Proving she's the ultimate cool mom, Irina styled her hair in cornrows with pigtail braids. She then hid her beauty underneath a $195 Versace Medusa-print face mask and a pair of Poppy Lissiman Courtney sunglasses.
Carrying her favorite By Far Ami bag, Irina rounded out her look with several pieces of jewelry, including a pair of Jennifer Zeuner Mariah Huggies earrings, a Chrome Heart earring, a Jennifer Zeuner Theresa Cross necklace, a Jennifer Meyer white gold Channel Set Diamond Baguette Cross necklace, and a couple of Bonbonwhimclub yellow rainbow lucky ring.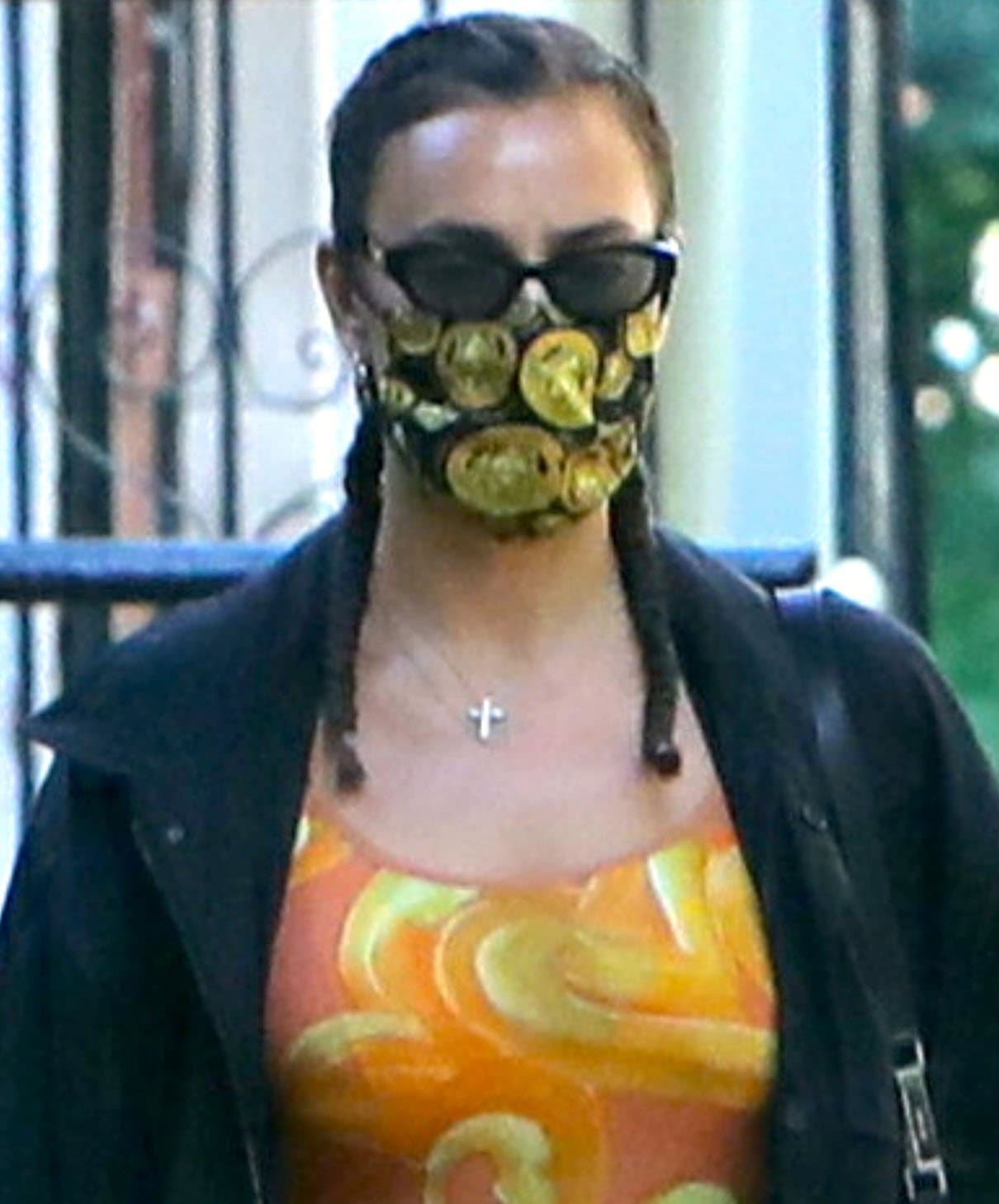 Irina Shayk wears cornrows with braided pigtails and hides her face underneath her Poppy Lissiman sunnies and Versace face mask (Credit: Instar / WENN)
Irina and Kanye's First Encounter
The Russian model's connection to Kanye dates to 2010 when she appeared as an angel with CGI wings in a music video for the rapper's hit song Power.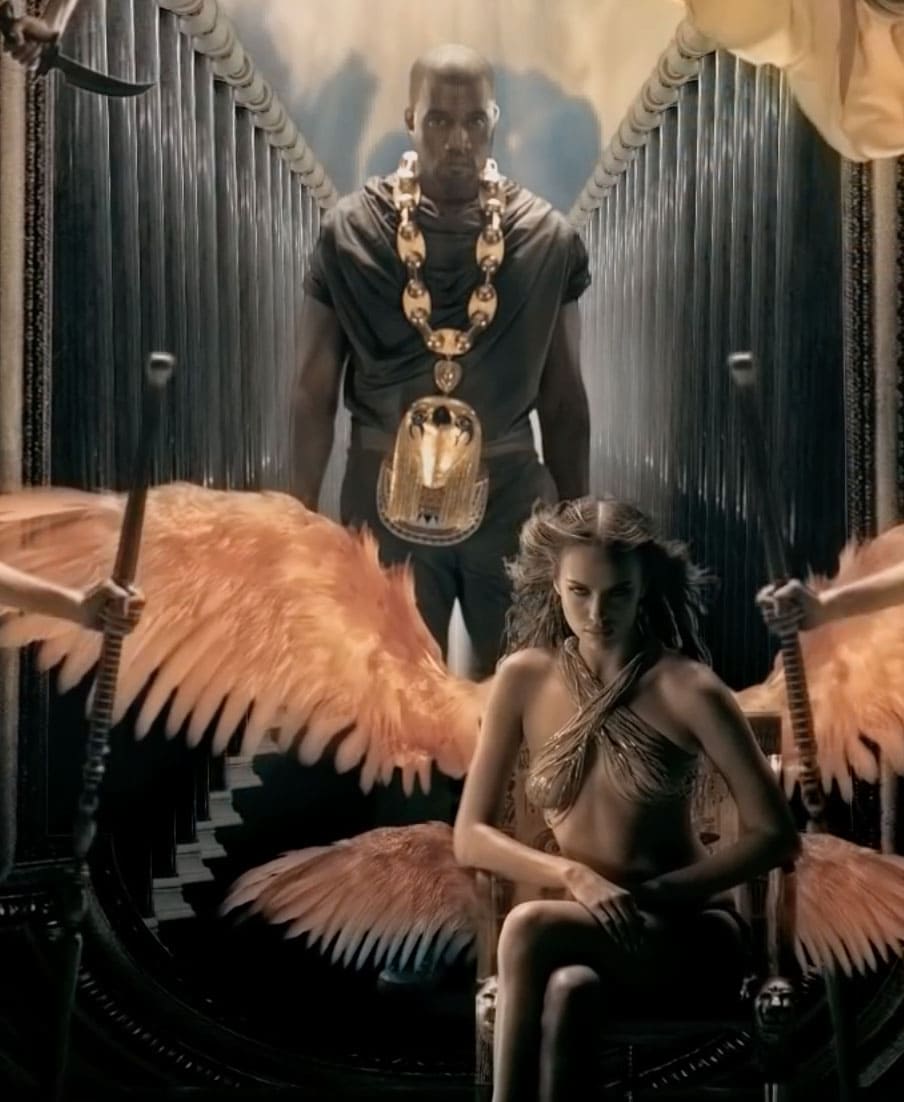 A screenshot from Kanye West's Power music video with Irina Shayk as a CGI-winged angel
Three months later, Kanye released a track called Christian Dior Denim Flow, wherein he's naming several top models, including Irina Shayk.
"I'm wilding, I'm on a thousand… I wanna see Irina Shayk next to Doutzen," he wrote in the lyrics.
Two years later, in 2012, Irina walked for Kanye's Fall/Winter fashion collection during Paris Fashion Week.
And just last month, she was pictured in a DMX-tribute sweater designed by Kanye West in collaboration with Balenciaga.
Kanye West and Irina Shayk's Previous Relationships
In a Page Six report in April, a source said Kanye wants to be with "an artist and a creative person so they can speak the same language to each other."
Before his marriage to the reality star slash business mogul, he reportedly dated fashion designer Alexis Phifer and models Chanel Iman, Selita Ebanks, Amber Rose, and Sessilee Lopez.
Irina, on the other hand, is currently co-parenting her daughter Lea with her ex Bradley Cooper, whom she dated for four years.
She also previously dated Christian Ronaldo and was linked to Heidi Klum's art dealer ex Vito Schnabel.
Kim Kardashian Unbothered by Her Ex's Dating Rumor
Kim Kardashian officially filed to divorce Kanye in February after seven years of marriage. And apparently, Kim is happier since their split.
"For every week that goes by since she filed for divorce, Kim seems happier," a source told People. "She knows that filing for divorce was the right decision. The kids are doing as good as she could hope," the source added.
Kim is said to be unbothered following the rumors about her ex-husband dating Irina Shayk. She even has doubts that Kanye and Irina are actually dating.
"Kim doesn't buy into the Irina rumors at all," an insider told The Sun. "To her, it's some attention-seeking no one who tried to piggyback some clout off their wedding anniversary."
"She's not bothered at all about it, no one in her circle appears to care or believe it. Even if it is true, I doubt she'll even be upset at this point," the insider added.