After a five-year hiatus, Justin Bieber is having a major comeback with the release of his highly-anticipated fifth studio album, Changes. 9 years ago, he met his wife for the first time behind the scenes of the TODAY Show on NBC.
Dropped on Valentine's Day, his first album in five years is expected to debut at number one on the Billboard 200 album chart next week, with an estimated 270,000 to 320,000 equivalent album units in the US.
Described by Rolling Stones as shallow, Changes was deeply influenced by Justin's marriage to Hailey Bieber. In an interview with Apple Music's Zane Lowe, he said he wrote the album during the first year of their marriage.
"There's so much more to learn about commitment, and building trust, and foundation. I'm looking forward to continuing to build and make music that's going to reflect that."
Fans have been obsessed with Hailey and Justin's relationship, and many have labeled them #couplegoals on social media. However, in a now-deleted video clip posted by Hailey on her Instagram story just a few days ago, a lot of people were hating on Justin and taking issue with his behavior.
In the video, Hailey was bragging that she beat Justin in an arcade game. She had a score of 2,050, while her husband was just 500.
Hailey said: "That's my score, that's his score." Justin apparently couldn't accept his defeat, and screamed at Hailey: "Baby, I wasn't trying!" Hailey responded: "I beat you, accept it." She also captioned her post: "I won. Accept it."
View this post on Instagram

Some found Justin's reaction disturbing, while others were concerned about Hailey. One Twitter user said: "Honestly low-key worried about her. That is not normally healthy behavior over losing an arcade game."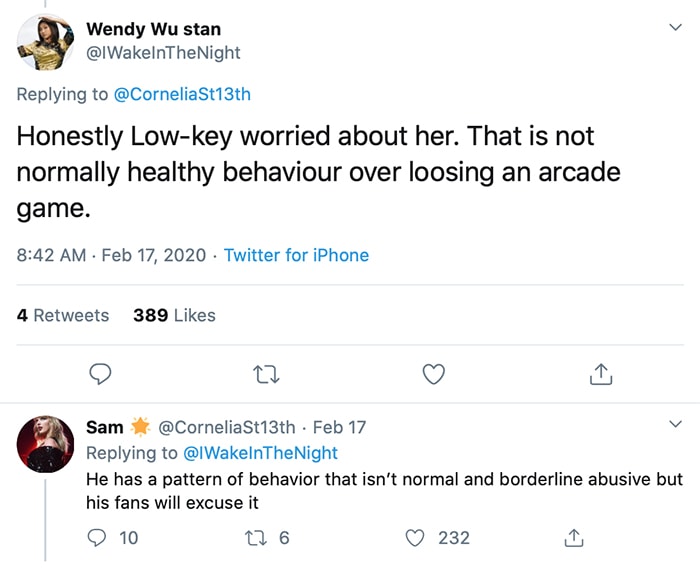 Fans show their concern for Hailey after seeing Justin Bieber's reaction over an arcade game
Days before their arcade outing, Hailey went solo at the 2020 Vanity Fairy Oscar party.
She had her toned body on display in a black lingerie-style dress from Atelier Versace's Spring/Summer 2020 collection. It's made from sheer lace and mesh and features Swarovski crystal embroideries. Her dress also boasts a risky thigh-high slit that allowed her to showcase her enviable long legs.
Hailey Bieber shows off her toned figure in Atelier Versace at the Vanity Fair Oscar Party on February 9, 2020
Her stylist Maeve Reilly added Tiffany & Co. jewelry to the look for some extra sparkle. And for her feet, she chose a towering pair of Jimmy Choo sandals.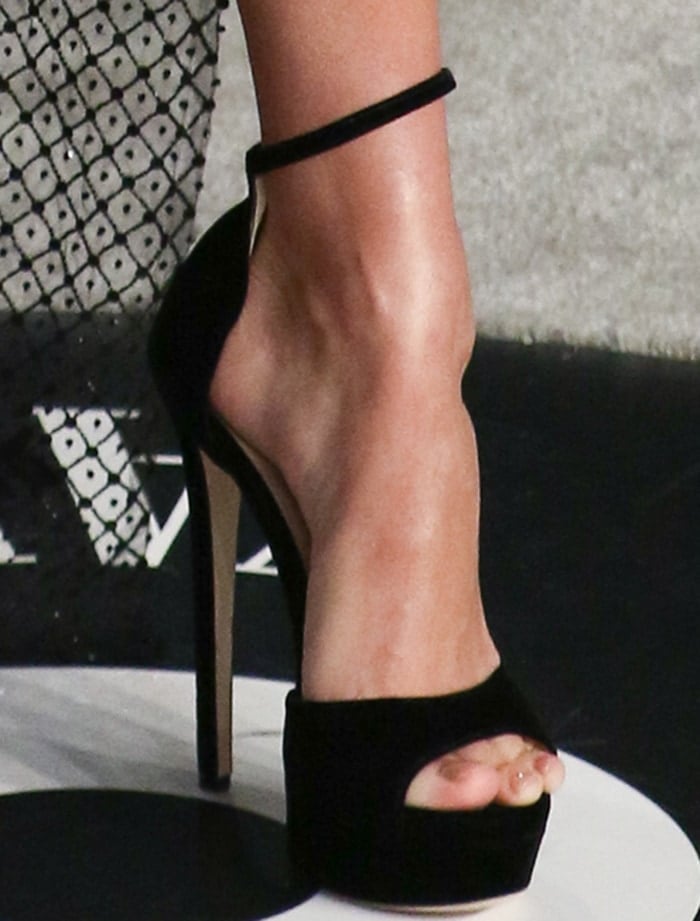 Hailey Bieber adds extra inches to her height with Jimmy Choo sandals
On January 27, Hailey showed her support for her husband Justin as she attended the premiere of his YouTube documentary series, Seasons. Justin couldn't keep his hands off his wife, who looked hot in a Zuhair Murad Spring/Summer 2020 dress.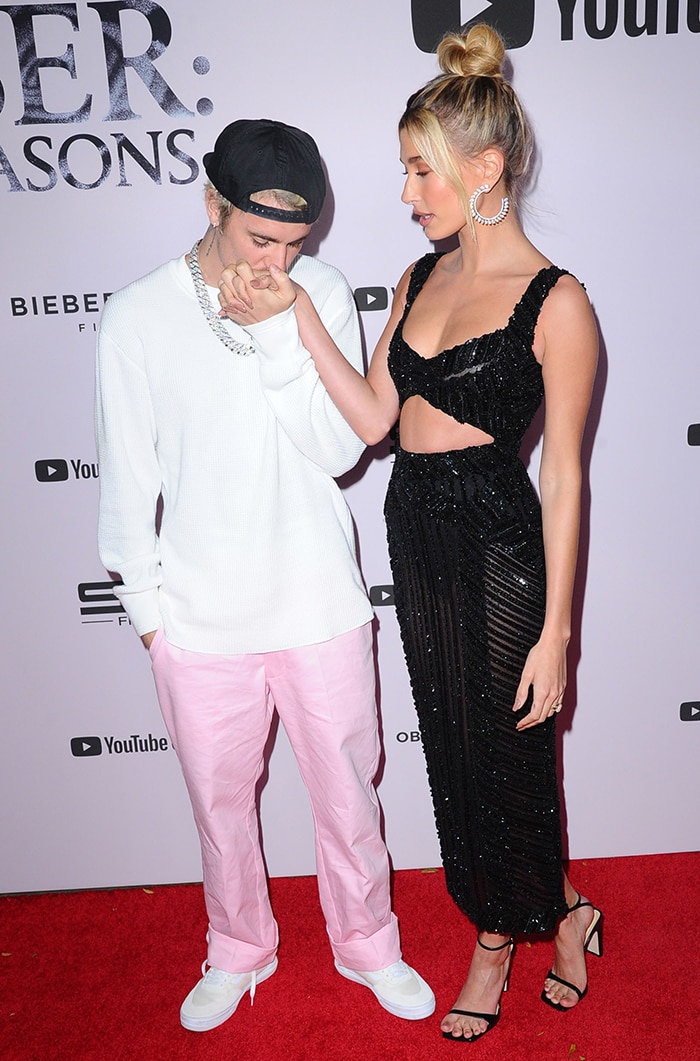 Justin Bieber kisses wife Hailey's hand at the premiere of his YouTube docu-series Seasons on January 27, 2020
The sexy number features a plunging neckline, a cutout waist, and an embellished sheer skirt that showed a glimpse of her legs and underwear. She teamed the look with a pair of Messika earrings and black Sergio Rossi sandals.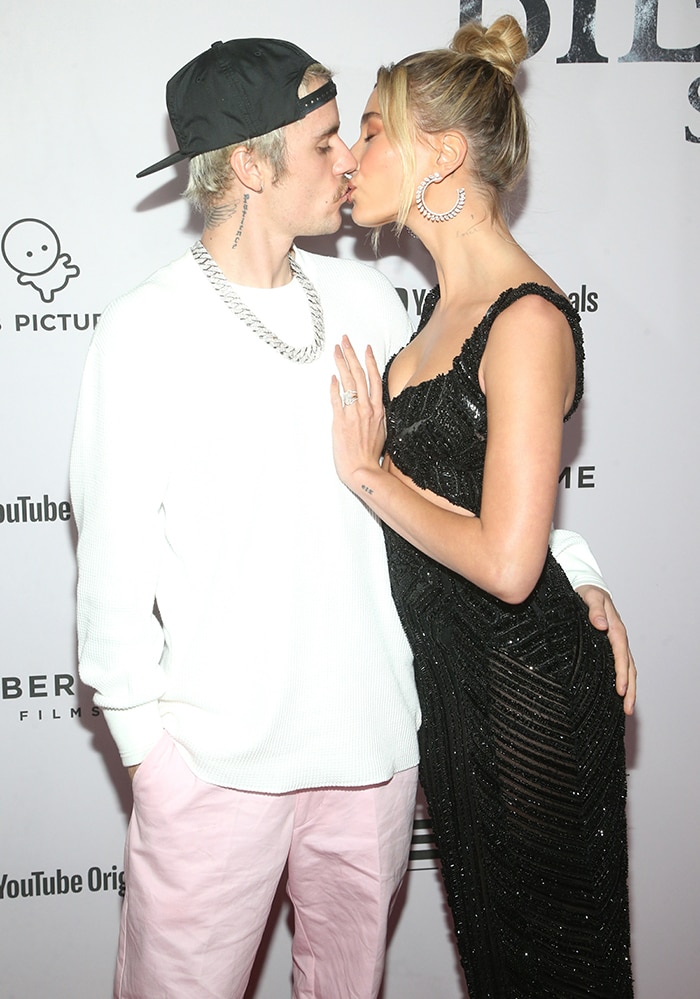 Justin Bieber and wife Hailey Bieber pack on the PDA as they kiss on the red carpet
How did Justin Bieber and Hailey Baldwin meet?
According to Today, Justin and Hailey met in the hallways of Today in 2009 when she was just 13 and he was 15. Justin was set to perform on the show for a concert when Hailey's dad, Stephen Baldwin, introduced the two together.
An embarrassed Hailey quickly shook hands with Justin, who then immediately went back to talking to Stephen.
Seven years later, in 2016, Justin retweeted a link to a video of their first meeting, describing the moment, "amazing."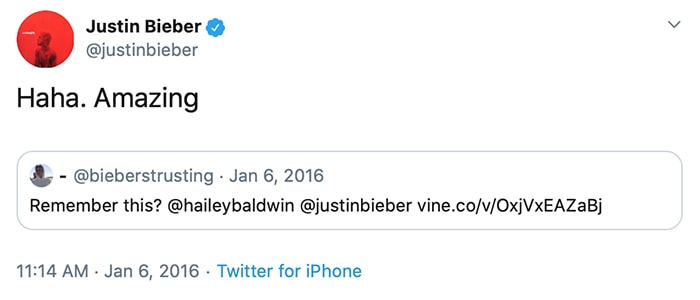 Justin retweets a link to a video of his first meeting with Hailey
They met again in 2011 after Hailey and her dad attended the New York premiere of Justin's Never Say Never concert film.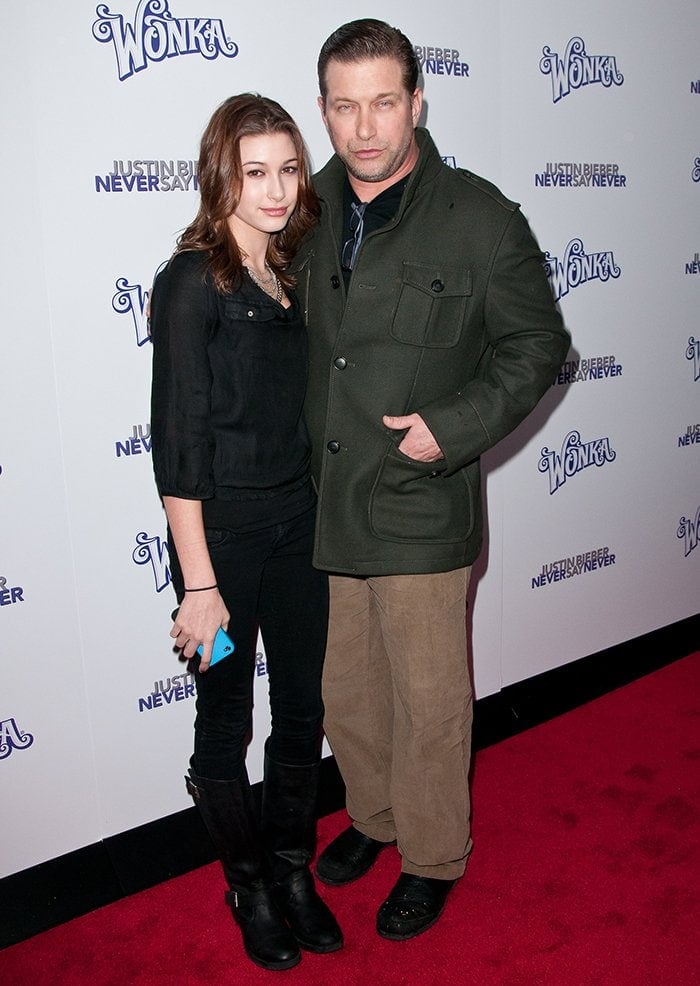 Hailey Baldwin and her father Stephen Baldwin attend the New York premiere of Justin Bieber's Never Say Never concert film on February 2, 2011
Justin and Hailey sparked dating rumors
After Justin's on-and-off relationship with Selena Gomez from 2010 to 2014, Justin was spotted going out with Kendall Jenner and Hailey Bieber. They were also spotted at Hillsong church together, sparking romance speculations.
Justin has also been posting photos with Hailey on his Instagram, but they made it clear that they were not romantically involved.
Hailey told E! News: "I've known him since I was so young, since I was like 13, and we've just been good friends over the years." "We have just stayed close and there's nothing more to it than that," she added.
In 2015, Justin and Hailey celebrated New Year's Eve together. Since then, they've been spotted a lot of times hanging out.
View this post on Instagram
Justin invited Kendall and Hailey to watch the LA Clippers game by the end of January 2015.
View this post on Instagram

During the summer of 2015, they were seen hugging poolside, with Justin kissing Hailey on the cheek.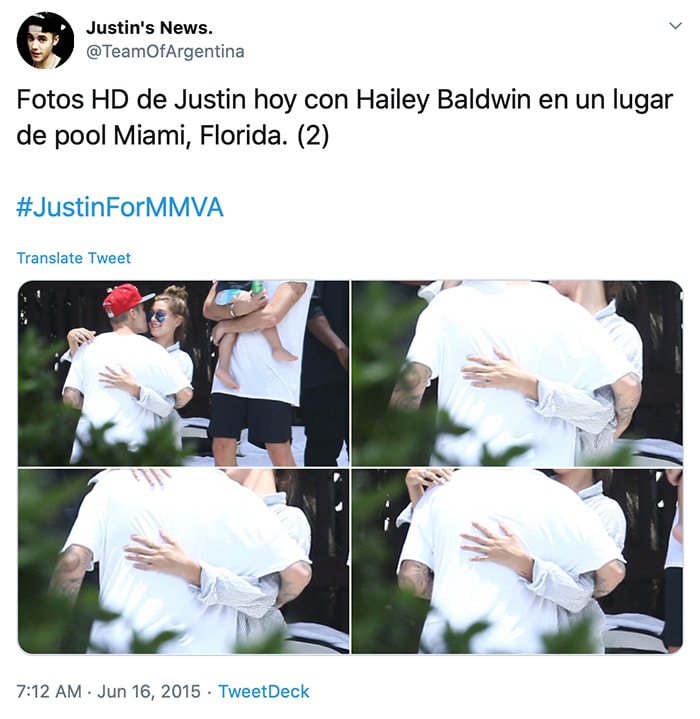 Justin Bieber and Hailey Baldin hug poolside in Miami during summer of 2015
In December 2015, Hailey joined Justin's family on a beach vacation in New York.
View this post on Instagram
Not long after, the two kicked off New Year 2016 together in St. Barts. It also appeared that Justin made their relationship Instagram-official after posting a photo that showed him and Hailey kissing.
View this post on Instagram
Justin and Hailey dated twice before tying the knot
Justin and Hailey had an on-and-off relationship before they married in 2018.
They first confirmed their relationship in 2016 after Justin Bieber told GQ Magazine that: "She [Hailey] is someone I really love."
During the 2016 afAR New York Gala, Hailey spoke to E! News about Justin's statement. "I think it's awesome. It wasn't a surprise to me. I knew it was coming out."
She made it clear, though, that they're not an "exclusive couple." "Relationships at this age are already complicated, but I don't really like to talk about it because it's between me and him," she said.
Hailey Baldwin in a white gown and a pair of black sandals at the 2016 amfAR New York Gala on February 10, 2016
Sometime in August 2016, the two ended their relationship, and Justin began dating Sofia Richie. But just after a month, the two called it quits.
Sofia Richie and Justin Bieber go on a hike at Hollywood Lake on August 10, 2016
Justin and Hailey were again spotted three months later, but in February 2017, Justin posted on his Instagram live feed that he didn't have a Valentine.
By the end of 2017, Justin was back with Selena Gomez. They were seen riding a bike, having breakfast, and going to church together. She was also seen cheering him on at a hockey game. By March 2018, however, the two broke up, again.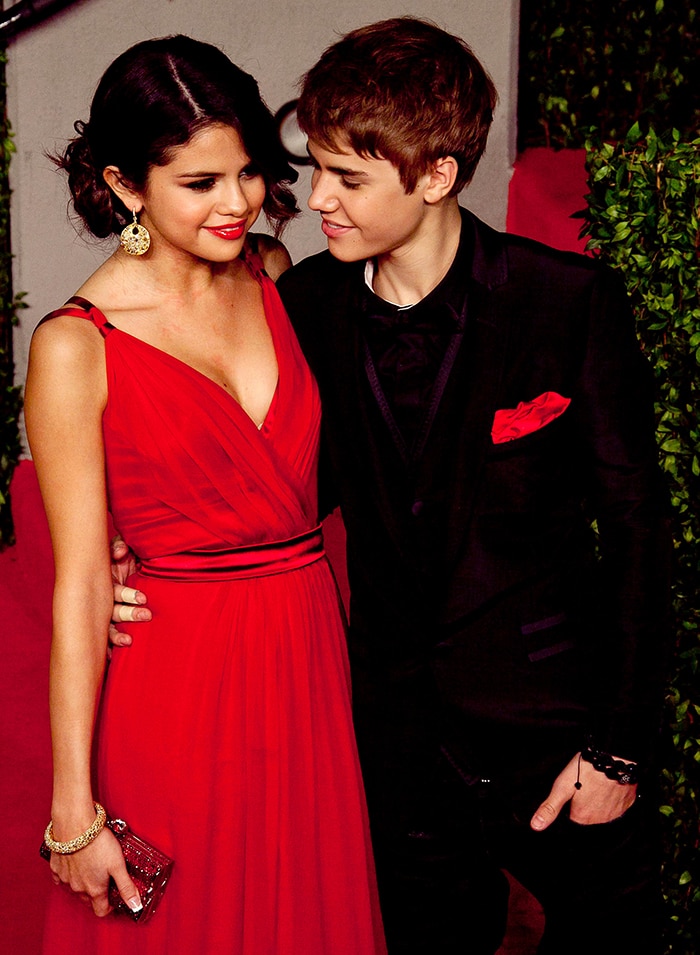 Selena Gomez and Justin Bieber at the 2011 Vanity Fair Oscar Party on February 27, 2011
In June 2018, Justin and Hailey reunited after running into each other at a conference hosted by pastor Rich Wilkerson Jr. in Miami.
Hailey told Vogue: "The common denominator, I promise you, is always church. By then we were past the drama. I just gave him a hug. By the end of the conference, he was like, 'We're not going to be friends.' I was like, 'We're not?'"
A month later, Justin proposed to Hailey while on a vacation in the Bahamas.
Justin and Hailey tied the knot twice
The couple married at a courthouse in Manhattan in September 2018. And by November of the same year, Hailey changed her Instagram name to @haileybieber. Justin confirmed their status by posting an Instagram photo, captioned: "My wife is awesome."
View this post on Instagram
A year later, in September 2019, Justin and Hailey tied the knot for the second time. They held a Christian wedding ceremony in South Carolina, which was attended by their friends and family.
View this post on Instagram
Credit: Cousart / JFXimages / Ivan Nikolov / Instar / Sheri Determan / WENN