From the way they talk, dress, and look to their preference in men, Chantel Jeffries and Catherine Paiz sure have a lot in common.
But while many mistake them for sisters or even twins, the two are nothing more than best of friends.
The 28-year-old social media personality is indeed super close with the 30-year-old YouTube star. Chantel has featured Catherine in some of her YouTube vlogs, while Catherine has also posted several photos with Chantel on her Instagram.
View this post on Instagram
Chantel once mentioned that she has the same body size as Catherine, and it's evident in their photos.
Both of their styles are also provocative and they never miss out on an opportunity to flaunt their figure.
Just recently, Chantel showcased her enviable toned physique while out and about in Beverly Hills.
Chantel Jeffries out and about in Beverly Hills on October 13, 2020
She showed a glimpse of her abs and cleavage in a matching mauve-colored athleisure, which included a ribbed SculptFlex bra top and matching leggings from Set Active.
Chantel Jeffries shows off her curves in Set Active athleisure look
The Californian DJ skipped wearing jewelry but injected a touch of luxe to her sporty look with a vintage black Chanel leather shoulder flap bag.
She pulled her tresses up into a high ponytail and wore barely-there makeup with nude lipstick and dark eyebrows.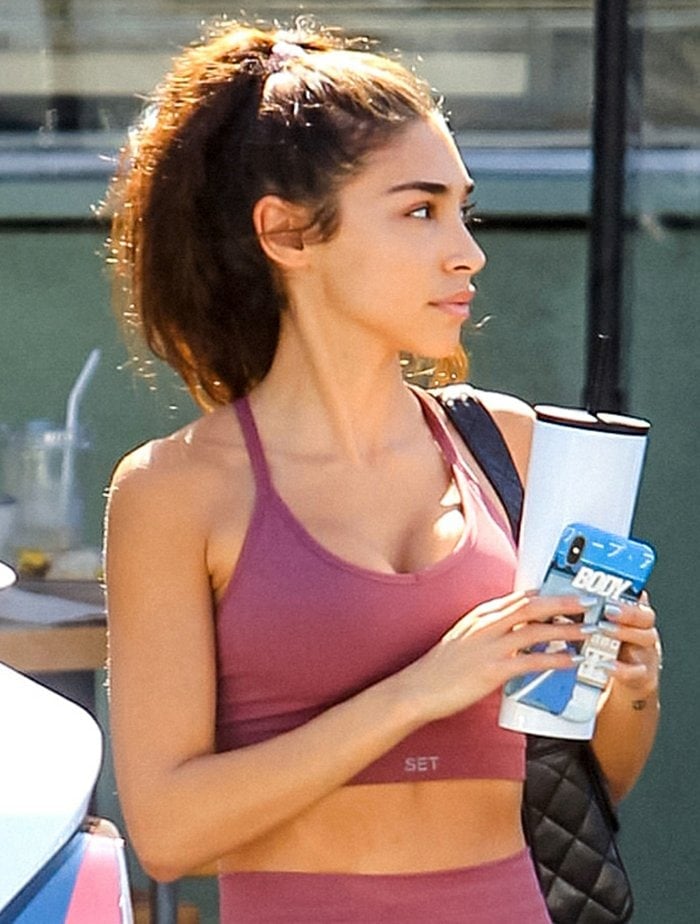 Chantel Jeffries wears barely-there makeup and a high ponytail
For her feet, Chantel traded sneakers for a pair of comfy Ugg Fluff Yeah Motlee slippers.
Made from dyed sheep fur, these slide slippers feature sheepskin footbed, an elastic back strap with UGG graphic, and 1.5-inch wedge heels with rubber outsoles.
Ugg's Fluff Yeah is available in over a dozen colors at Nordstrom and Zappos.
Chantel Jeffries gets comfy in Ugg Fluff Yeah slippers
How Did Chantel Jeffries and Catherine Paiz Meet?
In Chantel's YouTube video, she mentioned that she and Catherine met at a dinner with other girls that "hated" them both.
She said they were the only ones "who didn't want to go to a club after" and Catherine added that Chantel drove her home and that's how they connected.
However, there are persistent rumors that Chantel and Catherine met at an escort company.
While in her teens, Catherine reportedly dropped out of school and was kicked out of her mother's house. She had to look for a job until she met the Taz's Angels sometime in 2013 to 2014.
Catherine Paiz attends Thirst Project's 10th Annual Thirst Gala at The Beverly Hilton Hotel on September 28, 2019, in Beverly Hills, California
During that time, Chantel was also said to be part of Taz's Angels, which American blogger Nik Richie calls a "pseudo-modeling agency that supplies beautiful women to clubs."
Chantel Jeffries' Dating History
While she's an accomplished DJ, model, and YouTuber, Chantel seems more famous for her high-profile relationships. Rumor has it that she's after the rich and famous.
She dated P. Diddy's son Justin Combs from 2011 to 2012, rapper Lil Twist in 2012, Philadelphia Eagles receiver DeSean Jackson from 2012 to 2013, Justin Bieber in early 2014, and rapper Travis Scott in 2015.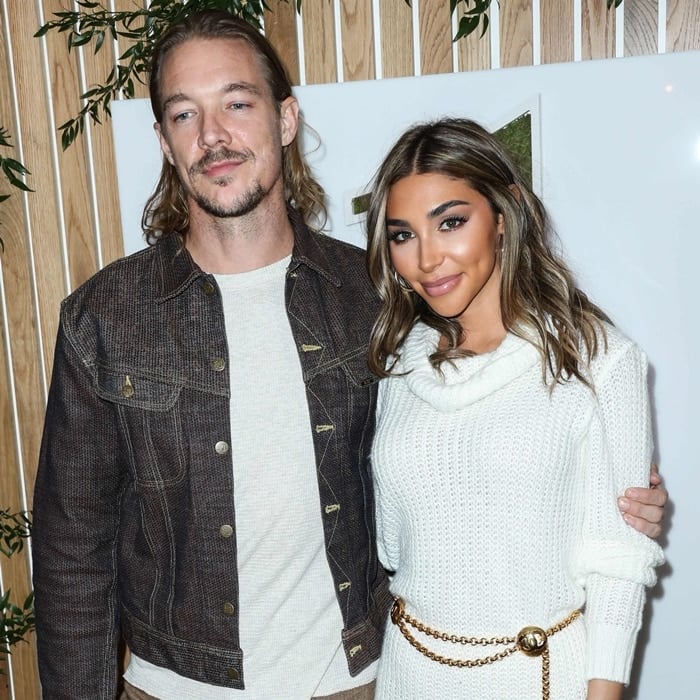 In 2019, Chantel Jeffries dated American DJ Thomas Wesley Pentz, known professionally as Diplo
Kylie Jenner's good friend also dated NBA players Jordan Clarkson and Kyrie Irving in 2016, YouTuber Logan Paul in 2017, rapper Machine Gun Kelly in 2019, and DJ and record producer Diplo early this year.
Currently, she's dating The Chainsmokers' disc jockey, Andrew Taggart. She made their relationship Instagram official in July after posting a photo of them kissing.
View this post on Instagram
Catherine Paiz and The ACE Family
Catherine, on the other hand, has not dated a musician but she shares Chantel's affinity for basketball players.
She's now married to Austin McBroom, who is a former basketball college player. He went undrafted in the 2016 NBA Draft, making him an unrestricted free agent in the NBA.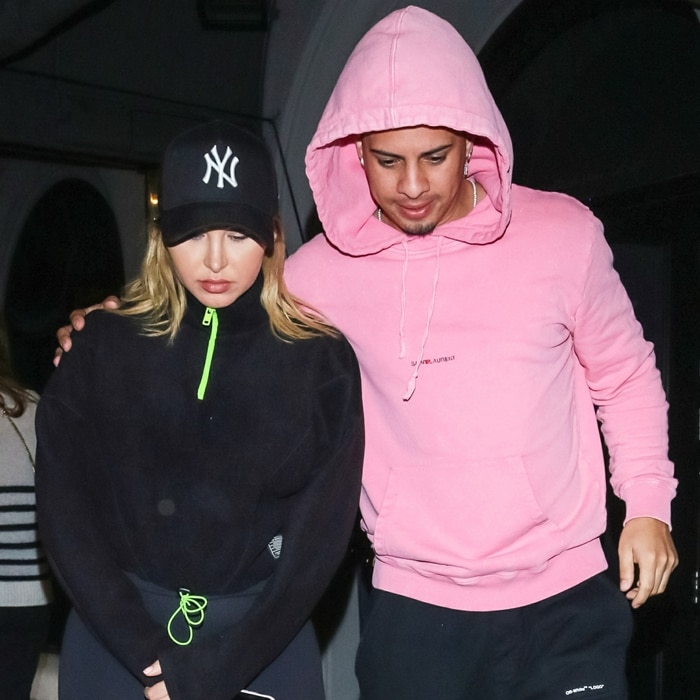 Basketball player Austin McBroom and his wife Catherine Paiz outside Craig's in West Hollywood on February 25, 2020
Austin and Catherine formed The ACE Family YouTube channel in 2016 and have quickly become one of YouTube's power couples. Their channel name stands for Austin, Catherine, and their first-born, Elle, who was born in May 2016.
View this post on Instagram
Two years later, in October 2018, Catherine gave birth to Alaia, followed by their first-born son and third child, Steel, in June 2020.
Prior to settling down with Austin, Catherine reportedly dated actor Michael B. Jordan in 2014.
Chantel Jeffries and Catherine Paiz Admit to Plastic Surgery
Chantel and Catherine have both admitted to going under the knife.
In 2017, Chantel documented her breast reduction and lift surgery. She opened up about her bad experience with breast implants, wherein she went from 32D to double DD. She said she "didn't look like" herself, which led her to get a breast reduction.
Chantel was also rumored to have undergone a nose job, lip fillers, and facial fillers but she has neither denied nor confirmed it.
Catherine is also candid about getting plastic surgery. But like Chantel, she only admitted to getting breast augmentation.
People speculated that she also had her nose done, but she has not commented about it.
Credit: FayesVision / Instar / WENN / Avalon