One of our favorite actresses, Rebel Wilson has become synonymous with weight loss and body transformation. Ever since she dedicated the year 2020 as her health year, she hasn't looked back.
And we happen to think it's pretty impressive that she has continued to maintain her weight loss but, more importantly, her vivacious outlook on life – this is definitely someone who has not let diet and exercise rule her life.
View this post on Instagram
For anyone who has attempted the latest diet and extreme workouts, fun often disappears from your day as you spend your time consumed by calories consumed versus calories burnt.
And yet, despite obviously having worked hard, let's be honest, you don't lose almost 80 pounds (about 35kg) without doing something. Rebel still seems to have loads of fun and enjoy life. Which got us wondering what her secret is when it comes to exercise.
Walking is the way forward
Whilst attending a health retreat, a doctor gave her some advice that we can all take on board (I have to admit its always a pleasure when celebrities reach their weight goal with something the rest of us can easily replicate)
According to the Senior Year actress, an Austrian doctor said, "Rebel, the best way for you to lose unwanted body fat is just simply walking. Doesn't have to be high-intensity, doesn't have to be uphill, just moderate walking an hour a day. And if you can do that, for you, for your body type, it's, like, the best way to lose unwanted body fat."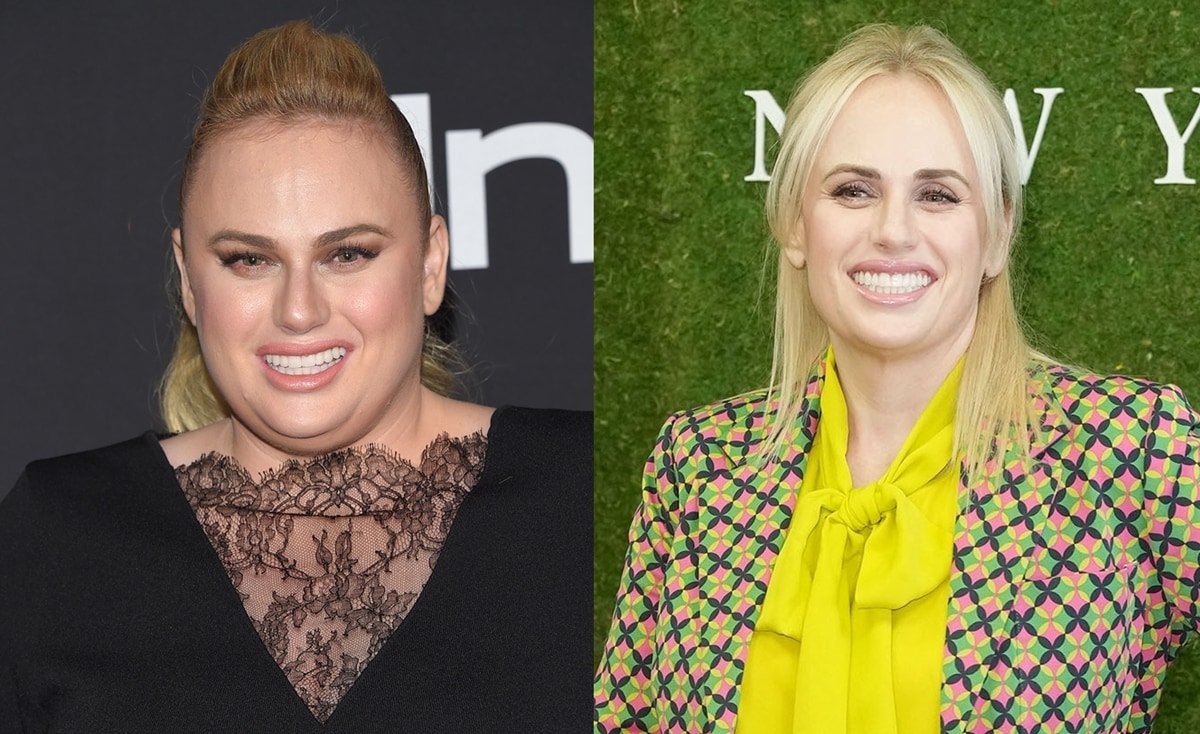 Before and after weight loss: Rebel Wilson in 2018 (L) and in 2022 (Credit: DFree / Shutterstock / John Nacion / Startraksphoto / Cover Images)
As Rebel Wilson says in the season three premiere of Apple Fitness+ Time to Walk on Apple Watch, "Anyone can go on walks and drink more water and do little, consistent things that'll improve their lives – and it's never too late. Sometimes the simplest thing like getting out and walking for an hour a day is the kindest thing to your body, and your body will respond to that."
But we would hate to mislead you. Walking isn't the only thing she did, but she does claim that walking plays a major role in helping her maintain her weight.
Before we delve into those initial workouts, we thought it's important to remember this great piece of advice she recently shared, "Just give it a go. Don't beat yourself up if in the past you were unhealthy, because I definitely was engaging in unhealthy habits like eating junk food and sugar all the time. But it doesn't do any benefit to beat yourself up. It's more about going 'OK, I'm going to do this for me.' Try things throughout the year, different lifestyle habits that are positive and healthy, and see what results you get. Any steps that you take towards having better health is a plus."
Putting in the work with Jono Castano
When she was working with Australian personal trainer Jono Castano, she was training six days a week. The program was intense with day one including a combination of HIIT and mobility.
Day two was all about weights and resistance training, while days three and four were purely HIIT, followed by weights and HIIT on day five. We are already exhausted and pleased that day six was a recovery day before you relax she was back to the gym on day seven for a final round of HIIT.
Rebel Wilson works out six days per week with a mix of high-intensity interval training, mobility, and weights (Credit: SkyPics Studio / Shutterstock)
Jono explained, "It might seem like a lot, in terms of the number of days you have to train, but it doesn't need to be done at 100 percent of your capacity. As long as you're getting your heart rate over a certain amount, that's high-intensity."
Rebel shared some of Jono's workouts, posting, @jonocastanoacero just put me and @hugh_sheridan through an epic Opera House stair challenge workout! We did 30 laps! Also walked to and from the Opera House as a warm-up/ cool down 🥵 (last week I could only do 25 laps …sooo already improving."
View this post on Instagram
But once again, what we love about Rebel is her normal attitude as she explained in an interview with Today, "It's just about keeping your body moving and keeping the blood pumping, I feel like sometimes people think you need to work your body really hard to get results, and yeah, if you were training to be the next Thor or something you would be doing hardcore things, but as a regular person, walking is just so healthy for you."
HIIT and functional training with Gunnar Peterson
Rebel also trained with Los Angeles-based personal trainer Gunnar Peterson, and in an interview with The Sun, he explained that the key is to switch up your workouts so that you target all areas of the body. He focuses on high-intensity workouts and functional training.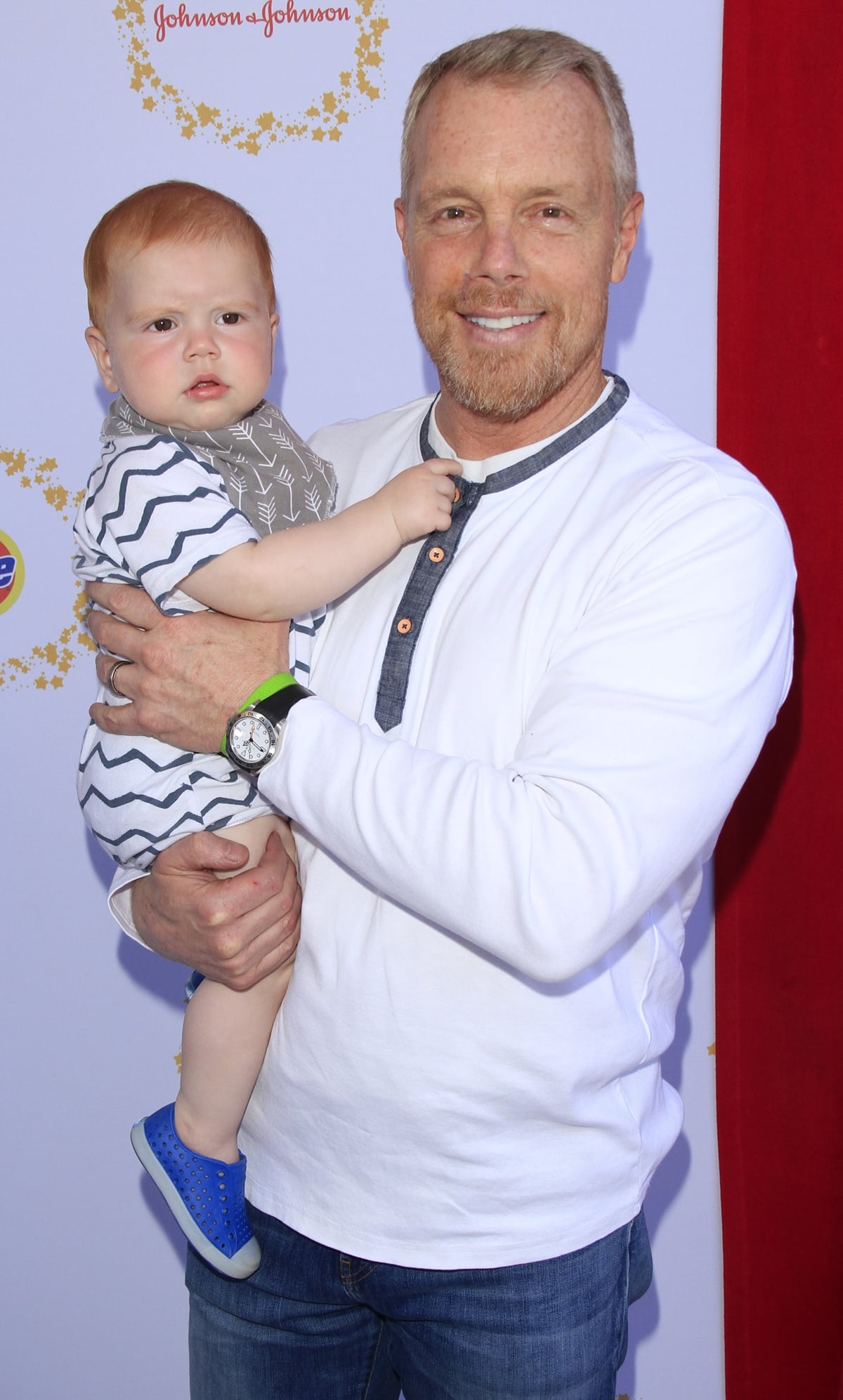 Rebel Wilson's personal trainer Gunnar Peterson and his son attend the Safe Kids Day on April 23, 2017, in Culver City, California (Credit: Kathy Hutchins / Shutterstock)
"You're not just working on one piece of equipment like a treadmill or a bike or a rower, you're working in different planes of motions (moving different sections of your body up, down, side to side, and backwards/forwards). The movements are functional, they will serve you in real life."
View this post on Instagram
But when it comes to working with Rebel, he explained that he uses a gentler mix of HIIT cardio, resistance training, and movement patterns.
His approach to Rebel's training is to use the body as a whole as opposed to targeting specific areas. "You'll be on the treadmill, squatting, pushing a sled, doing dumbbell rows. Think two to three sets of eight to 12 reps across five different exercises," he said.
Being the best version of yourself
What we really love about Rebel is that she is normal. She is someone who has inspired us, as she puts it, "to be the best version of yourself," but she's normal and goes through the same issues we all do.
In an Instagram post, she revealed, "I just noticed I put on 3 kgs on my holiday 🙈 I'm at an amazing all-inclusive resort…I've lost all self-control. But you know what? I can get up tomorrow and go to the gym, hydrate and eat healthily, and love myself. It doesn't help to be hard on yourself, but I know what it's like to feel guilty and not great after eating too much. But if you're like me, just know YOU are more than just your weight. Your weight doesn't define you, just try your best to be healthy and don't be so hard on yourself 💗 Be the best version of you 💗
View this post on Instagram
So yes, her workouts were tough and her transformation has taken a lot of hard work but through it all, she never lost her infectious bubbly personality and perseverance to become the best version of herself.