Jessica Alba has really gone plain and safe in the fashion department since she became a mother. So when she stepped out in this outfit at the 2010 Tribeca Film Festival Party held on March 23, I have to say that I was surprised: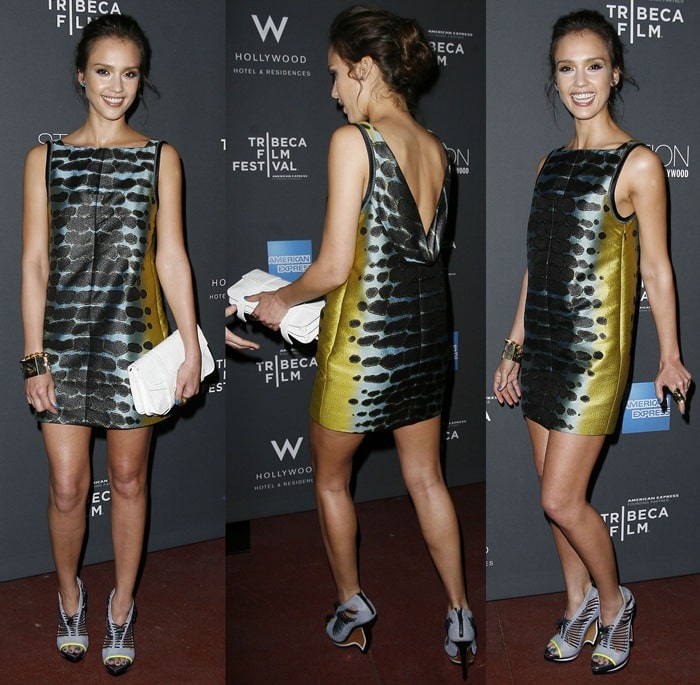 Jessica Alba attends the 2010 Tribeca Film Festival Program and Tribeca Film Celebration held at the Station at the W Hollywood Hotel & Residences in Hollywood on March 23, 2010
I wouldn't have pegged the Jessica Alba now as someone who would wear Proenza Schouler (I actually thought of Leighton Meester when I first saw these pictures), but here she was garbed head to toe in the designer's duds. Except for a change in the color of the shoes, Jessica Alba wore a look that was taken right off Proenza Schouler Spring 2010 the runway.
First things first: I really love the print on Jessica's dress. It's also semi-shiny, so the print looks extra reptilian-like. And if you look closer at the second picture, you'll notice that Jessica made an effort to match her makeup with her dress. I am also loving how the dress is cut straight across the neck in front but transforms into a really low cowl neck at the back.
And as for her shoes, it's total shoe love / shoe lust / shoe envy: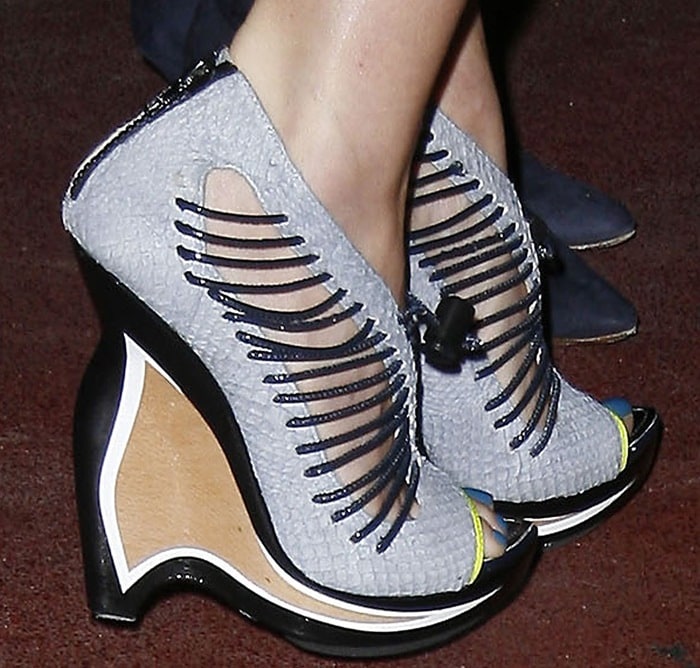 I feel like these Proenza Schouler Spring wedges are going to growl at me
I sort of wish that the shoes had some blue too instead of the color being on Jessica Alba's toes, but I'm nitpicking. I love the ribcage effect of the straps covering the cutout, the horn-like and spine-like appearance of the wedge heel, and the scaly leather used on the shoe's uppers. It's a match made in reptile heaven with the dress, but these could totally be worn with other outfits to amp them up.
No online retailer carries the shoes yet, but the dress is available at Neiman Marcus. The dress alone is already $1,520 so I wonder what the price tag on the shoes will be.
I hope Jessica Alba continues with these newer, fresher, and bolder red carpet looks!
Credit: Adriana M. Barraza/WENN