Leopard print, or any animal print for that matter, has a tendency to look tacky, trashy, and gaudy. We, women, have to be careful about getting it just right. Men generally just downright hate it.
So, when we came across pictures of Cameron Diaz arriving at Nice Airport and rocking leopard print in the most effortless, coolest, and non-cheesiest way possible (the complete opposite of Olivia Palermo in Roberto Cavalli), we just had to make an example of her.
Could Cameron Diaz make wearing leopard print look any easier? Here we are trying real hard not to cross leopard print's stripper-ish line, and Cameron Diaz comes out looking like she just mindlessly threw her leopard-print shoes on!
Cameron Diaz arriving at Nice Airport in France on May 25, 2013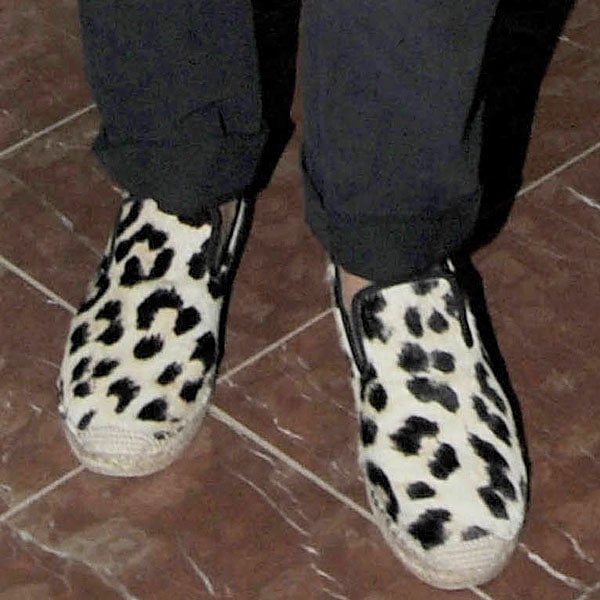 Closeups of Cameron Diaz's leopard-print espadrille slip-ons
A big factor in Cameron Diaz's lax leopard look is the fact that her leopard-print shoes are casual espadrille slip-ons.
Rock leopard print in the same easygoing, effortless way by wearing it on flats. We've put together three save, spend, and splurge options like Cameron Diaz's own pair for you below.
Here on Your Next Shoes, one way we know that summer's just around the corner is when we start spotting more and more flats on celebrities. They provide a nice break from all the heels, don't you agree?
Save
Enzo Angiolini "Austyn" Espadrilles, $49
Spend
KG Kurt Geiger "Leo" Printed Sneakers, $110.31
Splurge
Giambattista Valli Leopard-Print Espadrilles, $283.32
Credit: WENN