Staying up late, talking on the phone, going on fun outings… there's nothing more wholesome than making a new friend. Even when you're a 35-year-old man and your new pal is a teenage girl!
If it wasn't clear, that was sarcasm. It's strange and a bit creepy, right? That's why fans are still (reasonably) weirded out and concerned about the friendship between Stranger Things star Millie Bobby Brown and rapper Drake and their 18-year age gap.
View this post on Instagram
Millie Bobby Brown first met the recording artist in 2017 when they were both in Australia. At the time, Brown was only 13 and Drake was 31, but they apparently were close enough to become friends and have remained so ever since.
The young actress first revealed their friendship to the world at the Emmys in 2018, telling an interviewer, "I love [Drake]. He's honestly a great friend and a great role model. You know we text. We just texted each other the other day and he was like, 'I miss you so much,' and I was like 'I miss you more.'"
She continued on to say that they communicate frequently, explaining that the rapper gave her "advice" about navigating relationships with boys but deliberately refused to explain exactly what that advice was.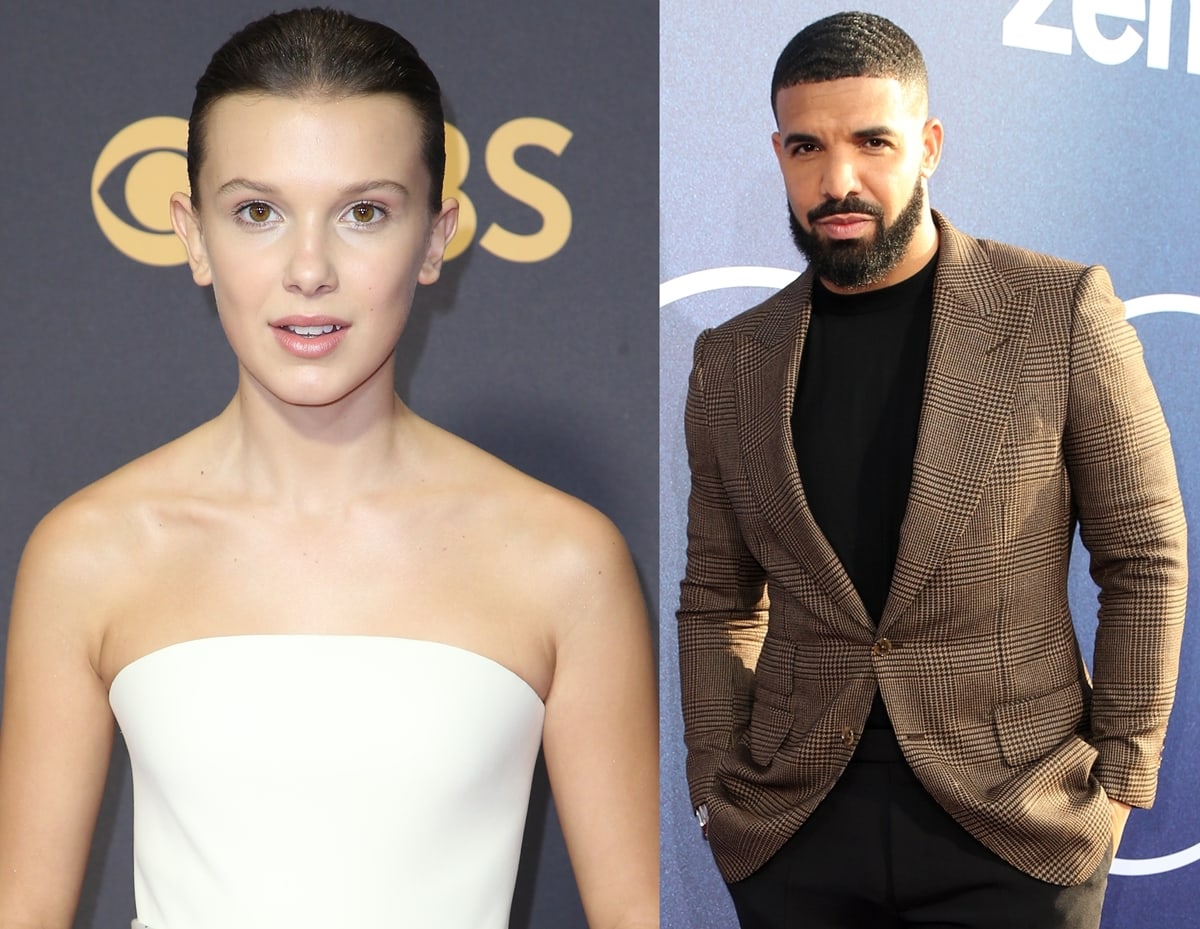 Millie Bobby Brown was 13-years-old and Drake was 31-years-old when they met in 2017 at the Emmy Awards (Credit: Euan Cherry / WENN / FayesVision)
Despite Millie Bobby Brown's insistence that there was nothing strange going on between the two and that Drake simply served as a "mentor" to her, alarm bells were already ringing.
Drake's creepy factor was only increased after it was revealed that he was texting another teenage girl, Billie Eilish, who was only seventeen at the time.
Millie Bobby Brown says she frequently exchanges messages with Drake and that he helps her with boy problems (Credit: Adriana M. Barraza / WENN)
"Drake is, like, the nicest dude I've ever spoken to," Eilish said in an interview with Vanity Fair. "I mean, I've only, like, texted him, but he's so nice. Like, he does not need to be nice, you know what I mean?"
To make matters worse, in 2018, Drake was seen on a number of dates with 18-year-old model, Bella Harris, who had only graduated high school months before. The pair had known each other long before that, meeting when Harris was only sixteen.
Model Bella Harris, pictured with her dad Jimmy Jam at the Clive Davis and Recording Academy Pre-GRAMMY Gala and GRAMMY Salute to Industry Icons Honoring Jay-Z in 2018, was reportedly dating Drake in 2018 (Credit: FayesVision / WENN / Ivan Nikolov)
Had Drake not been openly dating a teenager at the time, his "friendship" with Millie Bobby Brown would have felt much less creepy, or worse, predatory.
If you get the heebie-jeebies from their friendship, you're not alone. Fans took to Twitter to explain their feelings, most of them horrified about the way that Millie Bobby Brown apparently saw no issue with a mid-30s man taking such a personal interest in her.
"What the f*ck kind of boyfriend advice is Drake gonna give Millie Bobby Brown? Make sure you call him on his cellphone or he'll get possessive and weird, as is his right as a man," one user wrote, referencing Drake's hit song "Hotline Bling" which is essentially about a woman who doesn't call the rapper back, which means she must be a harlot galavanting about with other men! Again, sarcasm.
Drake has been criticized for his text messaging relationships with Millie Bobby Brown, Billie Eilish, and other underage girls (Credit: Judy Eddy / WENN)
Another Twitter user wrote, "I am sorry, but after news came out a while ago that 33-year-old Drake was texting 14-year-old Millie Bobby Brown, this is creepy as hell."
Millie Bobby Brown was seemingly upset with the way fans had responded to her relationship with Drake, calling out media outlets via her Instagram story, writing, "Why u gotta make a lovely friendship ur headline? U guys are weird… For real. I'm lucky to have people in the business extend their time to help me further my career and offer their wisdom and guidance. I'm very blessed to have amazing people in my life… U don't get to choose that for me. It's nice to have people understand what I do. Now get back to talking about real problems in this world other than my friendships."
Yet another person took to Twitter to explain the actress' behavior, explaining that she likely has no idea that Drake could possibly have ill intentions, saying, "I loved it when I was [a teenager] and adult men wanted to know me. It's only in hindsight that I found it weird, and it's really on adults to interrogate what 'being nice' actually means here."
In 2017, Drake had a son named Adonis with former French porn star Sophie Brussaux (Credit: Avalon / WENN)
Some fans see no issue with a grown man with a penchant for chatting with teenage girls to have a "friendship" with Millie Bobby Brown. However, for anyone who has been a teenage girl, this kind of relationship feels very, very off.
Even if Drake is a huge fan of Stranger Things, the best way to interact with Millie Bobby Brown would have been to meet her, maybe take a selfie, and move on.
Why would he need her phone number to chat personally? Even more, why would he even want to have intimate conversations like that with a fourteen-year-old girl? The world is a scary place, and any responsible adult would know that this kind of behavior does not reflect well on them, even if they have no ulterior motives.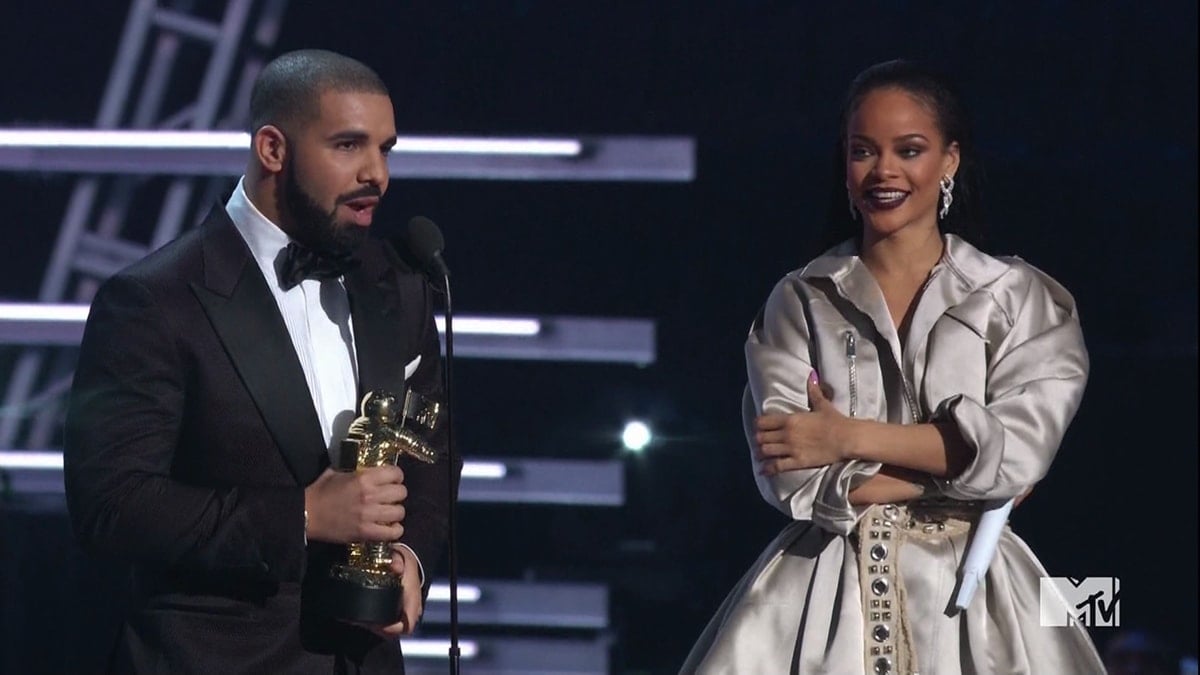 Rihanna and Drake reportedly dated on/off between 2009-2016 (Credit: WENN / MTV)
While there is no definitive evidence to say that Drake has ill-intent behind his relationship with Millie Bobby Brown, the fact that it is even happening is enough to raise eyebrows — and it should.
Too often, grown men take advantage of their age and maturity to charm underage girls into unsavory and dangerous situations. This tactic is especially effective for men in the public eye, who use their fame and platform to groom and abuse minors, something that is especially rampant in the music industry.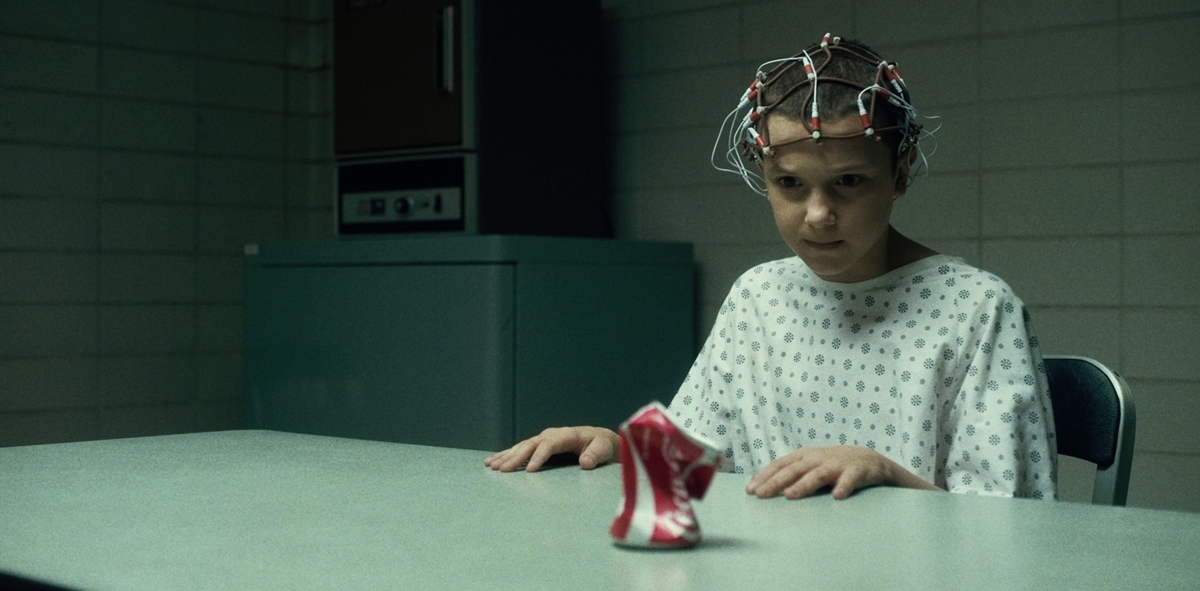 Drake is reportedly a fan of Millie Bobby Brown's sci-fi drama series Stranger Things (Credit: Netflix / WENN)
Even if Drake is completely innocent in his intentions, it is his responsibility as an adult to help children understand boundaries. By having this personal relationship with Millie Bobby Brown in the public eye, it is effectively normalizing it for other (grown) men to have these inappropriate "friendships" with children.
Not to mention, he has gotten himself in a sticky situation. The best way to protect yourself from this kind of negative publicity and not seem like a creep? Don't give your phone number to little girls.
Millie Bobby Brown wore black ribbons around her double buns (Credit: Adriana M. Barraza / WENN)
In January 2018, Millie Bobby Brown wore the most comfortable shoes on the red carpet at the 2018 Screen Actors Guild Awards at the Shrine Auditorium in Los Angeles.
Millie Bobby Brown in a sequined pink dress with matching manicure (Credit: Adriana M. Barraza / WENN)
"I've never worn pink… maybe tomorrow I can… what do you think???" the Stranger Things star tweeted prior to the event.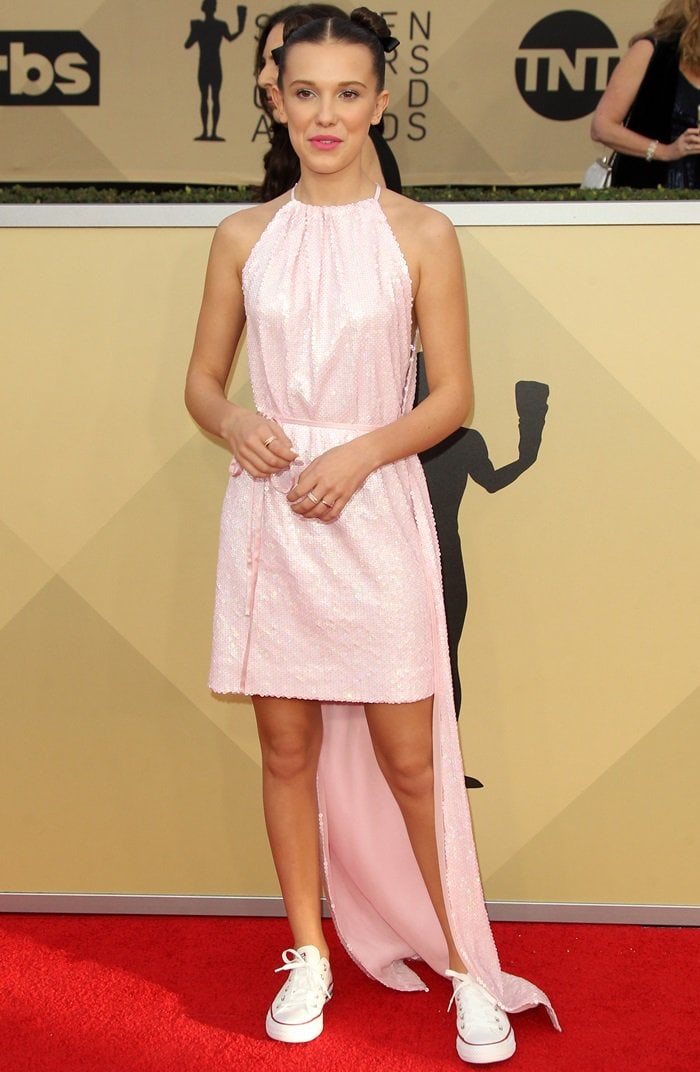 Millie Bobby Brown wearing a Calvin Klein By Appointment dress and Repossi jewelry on the red carpet at the 2018 Screen Actors Guild Awards at the Shrine Auditorium in Los Angeles on January 21, 2018 (Credit: Adriana M. Barraza / WENN)
The then 13-year-old English actress dressed age-appropriately in a pink sequin Calvin Klein by Appointment cape-back dress and accessorized with Repossi jewelry.
Her outfit was completed with classic Converse Chuck Taylor All Star sneakers that you can buy for $50 at Amazon and Nordstrom.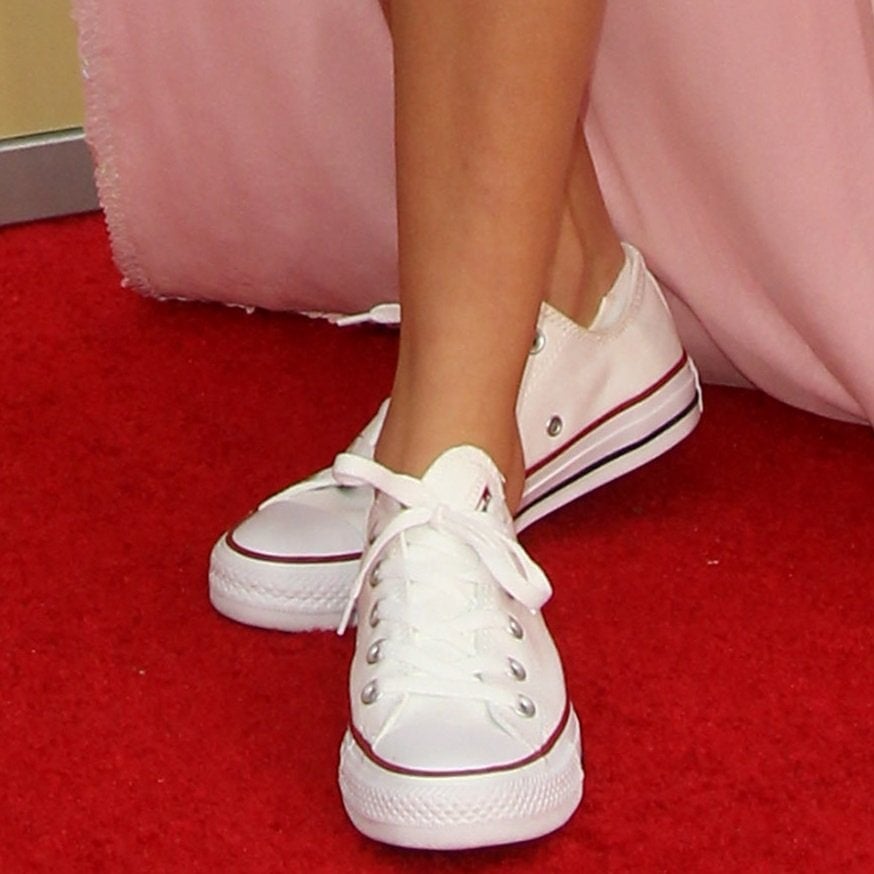 Millie Bobby Brown wearing classic Converse Chuck Taylor All Star sneakers (Credit: Adriana M. Barraza / WENN)
This iconic canvas sneaker is available in many colors and exudes a cool, old-school vibe in a low-top silhouette.
Converse Chuck Taylor Low Top Sneakers, $50