Britney's recent Instagram post has gone insanely wild. A picture of a relaxed-looking Britney, our favorite "…Baby One More Time" pop star, and her fiancé Sam Asghari, with the ever so glamorous Donatella Versace, featured between them, captioned, "Look who came to visit …. These 2 bad bitches are up to no good".
The post went instantly viral, with 5k likes in the first minute, jumping to 100k after 20 minutes, and now up to over 1.5 million and counting.
View this post on Instagram
Donatella responded on her own Instagram account, "It was so nice to see you again" We all love to speculate and a few moments earlier, Britney had shared a carousel of their meeting, but it was deleted 18 seconds later – Curiouser and curiouser, what was that all about?
We love Britney's fitted white and brown crop top, with its romantic puff sleeves, paired with cute white shorts and brown pumps. Sam looked equally relaxed in a classic white cotton t-shirt and jeans combination.
Donatella as usual brightened the day in her hot pink bellbottoms and a neon green figure-hugging sleeveless top. The trio couldn't have looked happier.
View this post on Instagram
Britney Spears and Donatella have a special friendship which was highlighted by a Donatella post last year May.
Donatella took to Instagram with a photo of her and Britney from the Versace Spring/Summer 2003 show in Milan, with the caption, "This flashback is from when she came to my show in 2002, looking glamorous in Versace."
Britney looked fabulous in a one-shouldered gown, in shades of muted pink, blue, and gold, embellished with sparkles.
She ended the post with, "I'll never forget when you came and stayed with me Britney, you were and will always be magical!!!!"
View this post on Instagram
So, what is the big deal? Last November, Britney shared with fans that Donatella would be designing that all-important dress for her wedding day.
Britney had posted various photos on Instagram, one of which showed her in a pink tulle gown. Knowing how we all love to speculate, Britney made sure to clarify "No… this is not my wedding dress bahahah!!!!" followed by "Donatella Versace is making my dress as we speak …. Have a good night folks."
If you're like us, you've been wondering what's in that Versace bag in the background. Is that a whisper of a white dress?
View this post on Instagram
But playing detective when it comes to Instagram posts is never easy and a whole different train of thought occurred to us after Sam's comment – "Versacney". Is that a hint?
Is there going to be a collaboration between our 2 favorite icons? We love the idea of a collaboration and are ready to start placing orders right now. These 2 iconic women who are leaders in their fields would be a formidable combination.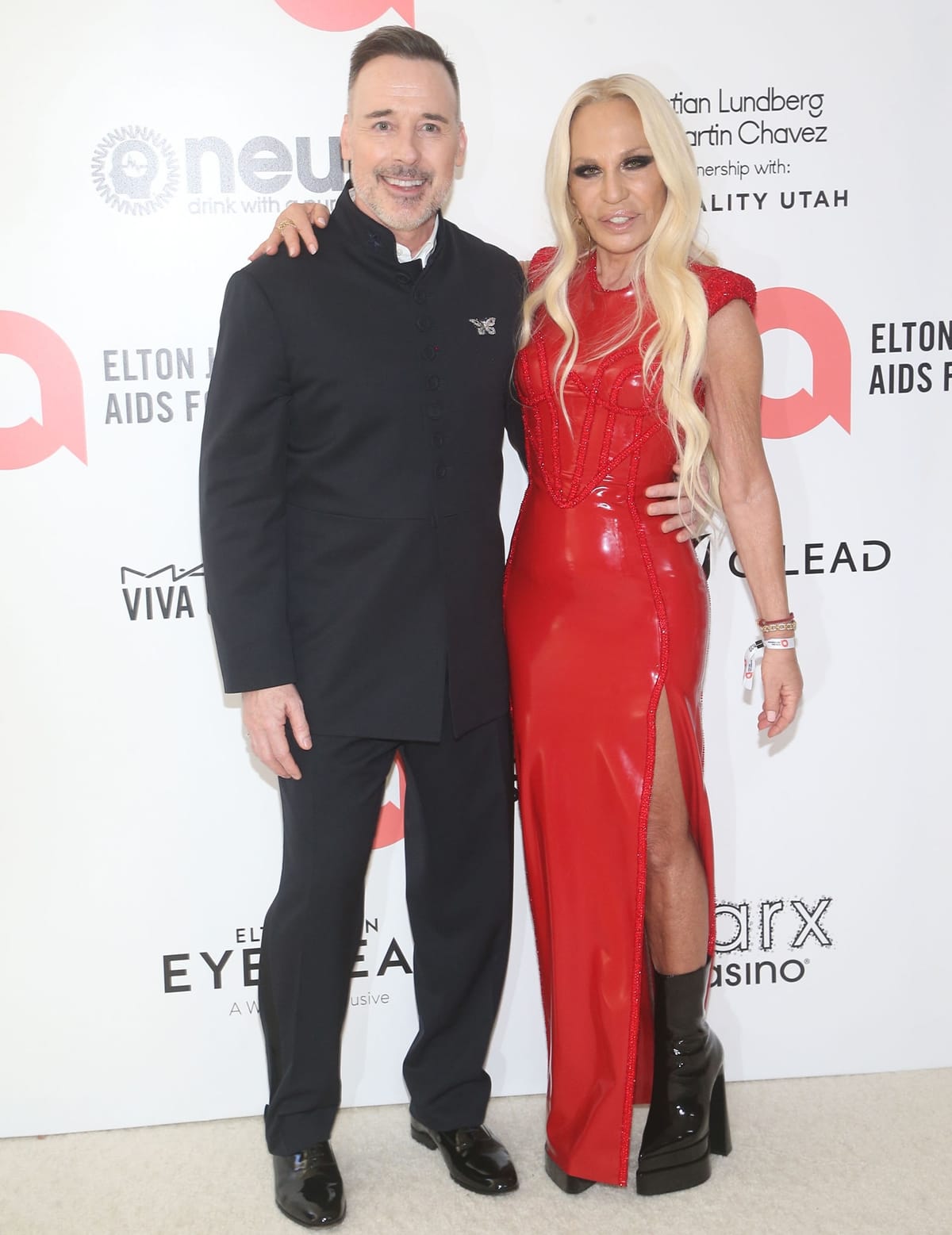 David Furnish and Donatella Versace in a red vinyl outfit arrive at the Elton John AIDS Foundation's 30th Annual Academy Awards Viewing Party on March 27, 2022, in West Hollywood, California (Credit: Fayes Vision / StartraksPhoto)
Who knew that one post could have us asking so many questions? And to be honest, we just aren't sure what those two are up to but if we get our way, there will be hints of the wedding dress, as well as a collaboration announcement very soon.
Britney Spears in a super-short embellished lace dress featuring sheer crystal-studded sleeves (Credit: WENN)
In May 2016, Britney Spears did not leave much to the imagination on the hot pink carpet at the 2016 Billboard Music Awards held at the T-Mobile Arena in Las Vegas.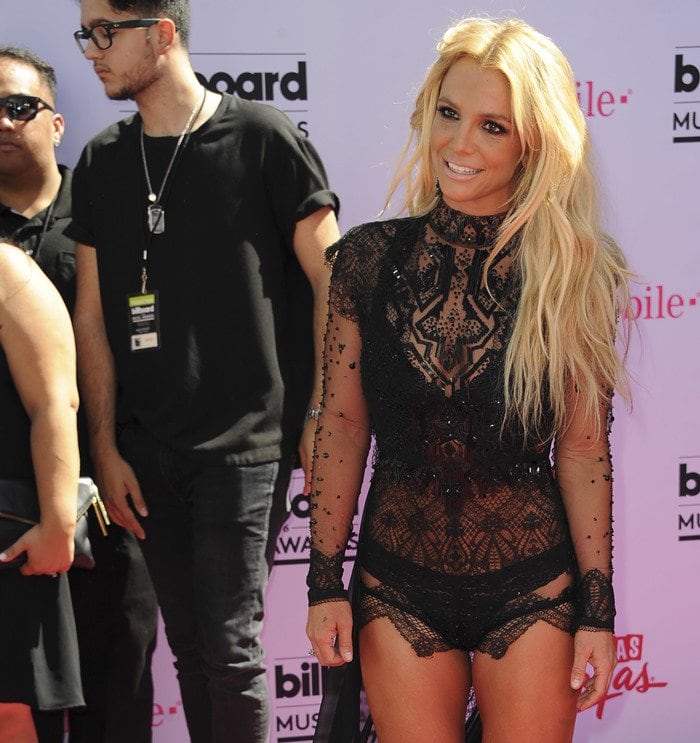 Britney Spears revealed her black bra and panties underneath a see-through romper (Credit: WENN)
She was honored with the prestigious Millennium Award and opened the show with a performance of her greatest hits.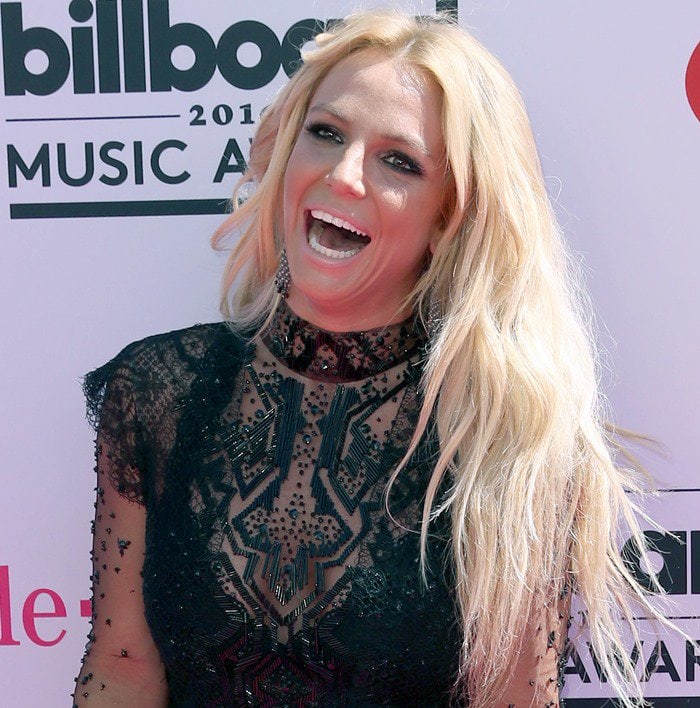 Britney Spears accessorized with Jacob & Co. diamond and briolette drop earrings (Credit: WENN)
The then 34-year-old "Toxic" pop star opted to wear a super-short embellished lace dress featuring sheer crystal-studded sleeves and a long sheer train.
Britney Spears in a black lace Reem Acra Fall 2016 romper with a train (Credit: WENN)
Her racy barely-there Reem Acra number left her lace bra and panties completely visible.
Britney Spears showed off her thighs on the hot pink carpet at the 2016 Billboard Music Awards held at the T-Mobile Arena in Las Vegas on May 22, 2016 (Credit: WENN / Apega / Judy Eddy)
To complete her see-through ensemble, Britney sported knee-high Schutz 'Karlyanna' heels.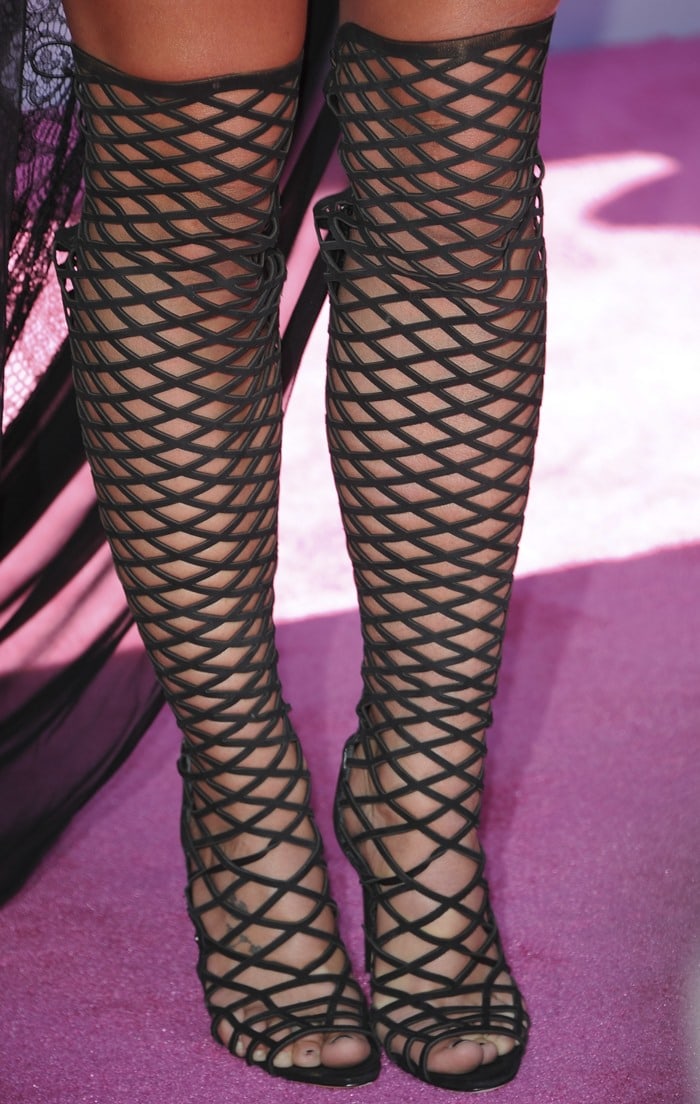 Britney Spears shows off her feet in Schutz 'Karlyanna' knee-high leather heels (Credit: WENN)
The caged version of her sexy knee-high sandals is available at Nasty Gal and Shopbop.
Schutz 'Karlyanna' Knee-High Leather Peep-Toe Heels, $395