Actors who take on challenging roles often try to morph themselves into their characters. But, in the case of Amy Adams, the transition into fashion designer-turned-director Tom Ford's character didn't exactly work for her.
However, the actress did take home a few valuable life lessons after the designer yelled, "That's a wrap!"
Amy recently arrived at Tom Ford's film "Nocturnal Animals" premiere in New York looking absolutely stylish.
Amy Adams diverged from her typical black Tom Ford premiere dresses, opting for a stunning siren red gown (Credit: Ivan Nikolov / WENN)
Amy Adams played an emotionally guarded, fiercely intelligent woman in Tom Ford's Nocturnal Animals, to critical acclaim.
The film is based on Austin Wright's novel Tony and Susan (available on Amazon), and tells the story of an unhappily married art dealer, Susan (Adams), who is traumatized when reading a violent novel written by her ex-husband (Jake Gyllenhaal).
Adams found little resemblance between herself and the "poised" and "aloof" Susan in the novel, so she modeled the character's personality on Ford himself.
After starring in "Nocturnal Animals," Amy Adams reflects on the valuable life lessons she learned from director Tom Ford, emphasizing the importance of holding onto loved ones, avoiding disposable relationships, and staying true to her authenticity (Credit: Focus Features / Universal Pictures)
Stephanie Zacharek of Time magazine found the film visually arresting but thematically weak. She credited Adams and Gyllenhaal for making their characters' pain seem genuine.
"Adams and Gyllenhaal do some real acting here: Their characters' pain feels genuine, even in the midst of all the careful art direction," Zacharek wrote.
Tom Ford is a talented and creative individual who has excelled in both the fashion and film industries. He is known for his meticulous attention to detail and his luxurious aesthetic.
However, when directing his second film, Nocturnal Animals, Ford consciously decided to leave the costuming to costume designer Arianne Phillips. He did not want the movie to feel like an advertisement for his eponymous fashion brand.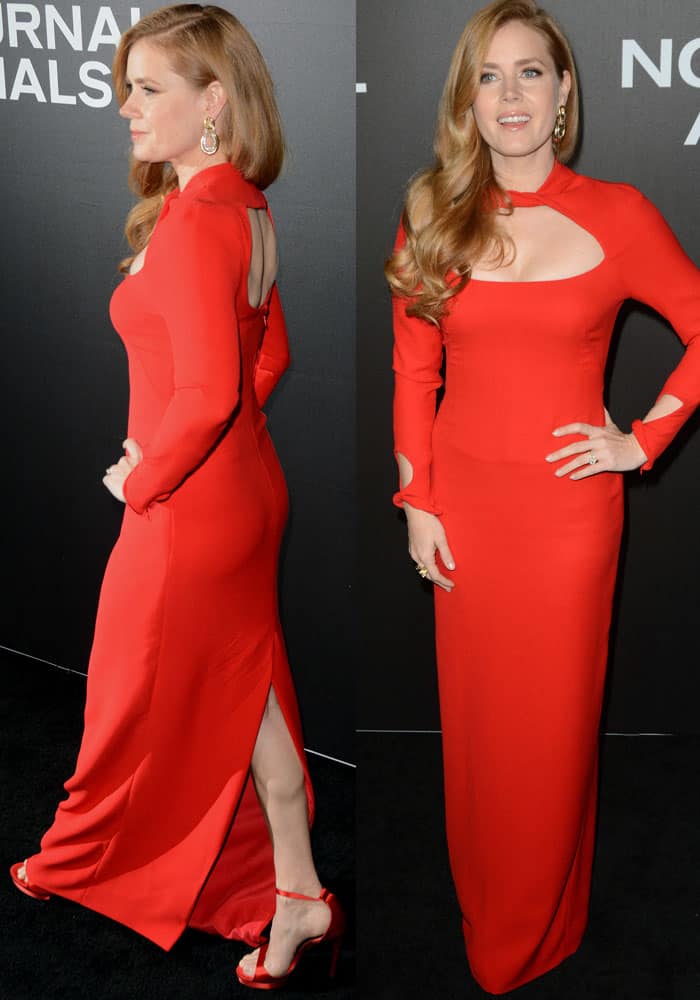 At the premiere of "Nocturnal Animals" at The Paris Theater in New York on November 18, 2016, Amy Adams stunned in a form-fitting dress adorned with intricate twist embellishments at the neckline and cuffs, elegantly complemented by strategically placed front and back cutouts (Credit: Ivan Nikolov / WENN)
Amy took a break from her usual black Tom Ford premiere dresses, choosing a siren red one instead for the New York leg of film promotions.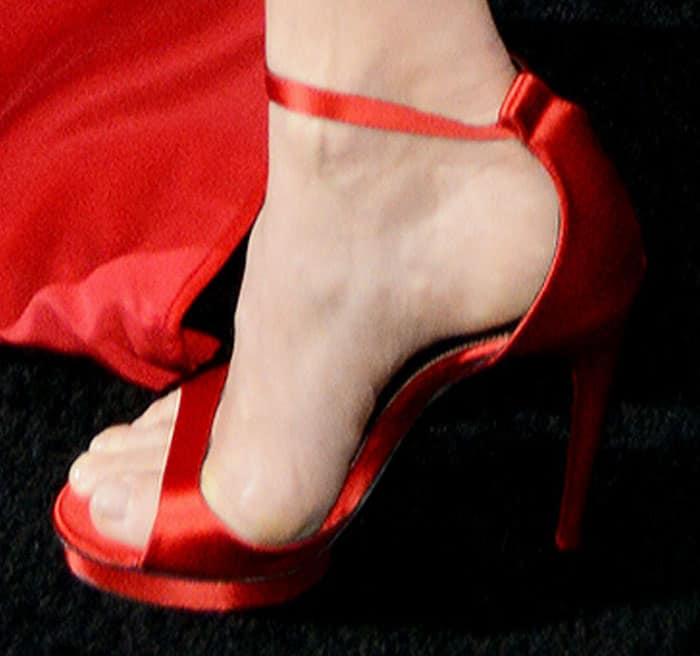 Amy Adams contrasted the black carpet with her red custom Tom Ford satin sandals (Credit: Ivan Nikolov / WENN)
The figure-hugging dress had a gorgeous twist detail at the neck and wrists, complemented by front and back cutouts.
The Enchanted actress finished her red hot look with David Webb jewelry and custom Tom Ford satin sandals.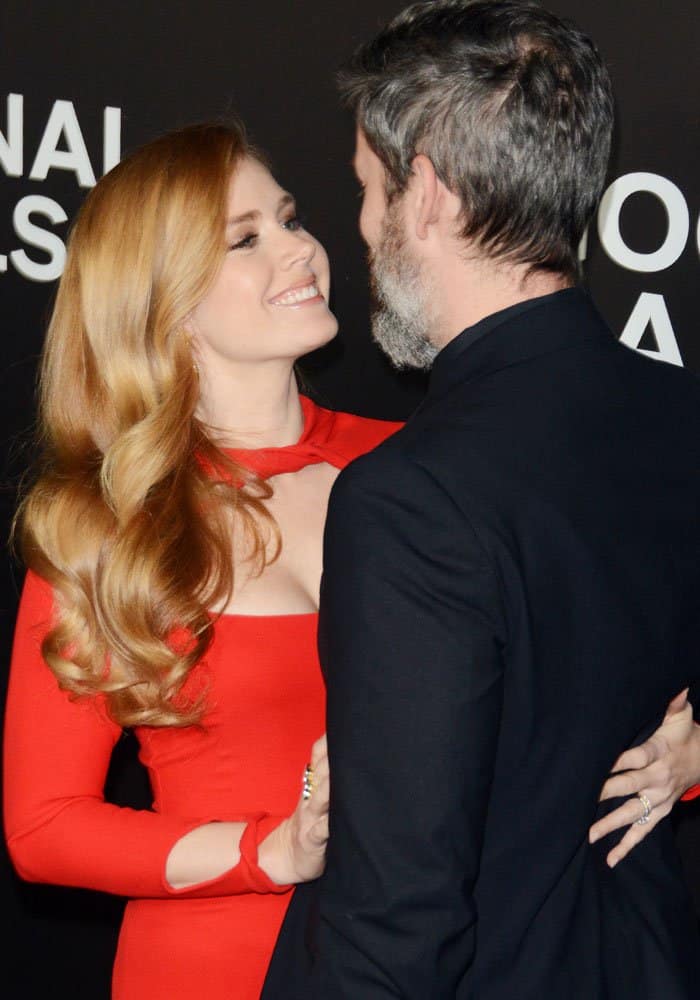 Amy Adams trades loving looks with her husband Darren Le Gallo (Credit: Ivan Nikolov / WENN)
Amy spoke briefly about what she learned during the filming process. The Arrival actress said she now emphasizes holding on to her loved ones, avoiding disposable relationships, and remembering "to not veer off the road of (her) authenticity."
Shop similar Tom Ford sandals at Farfetch and Net-a-Porter: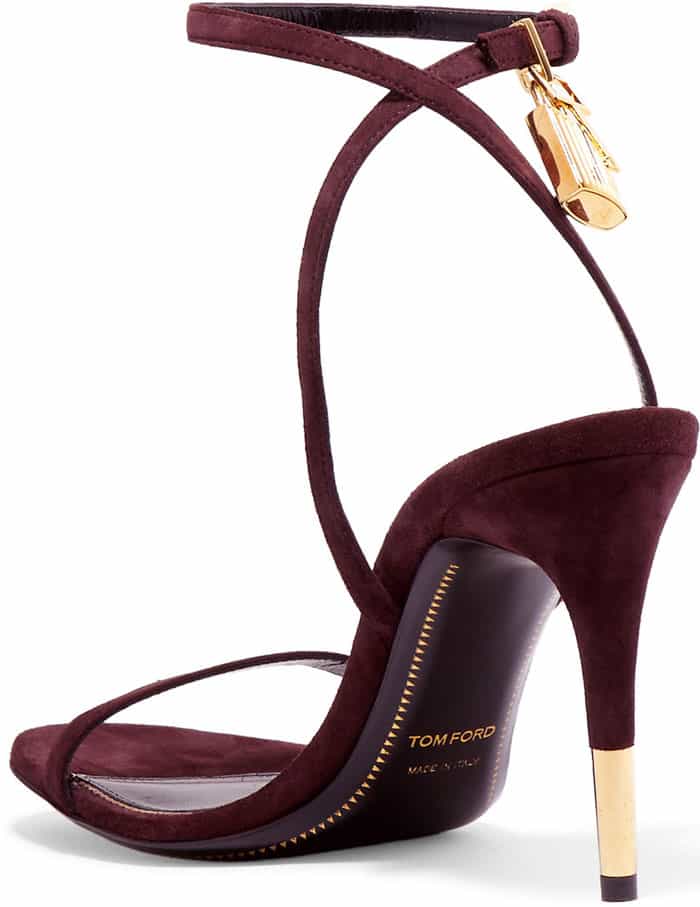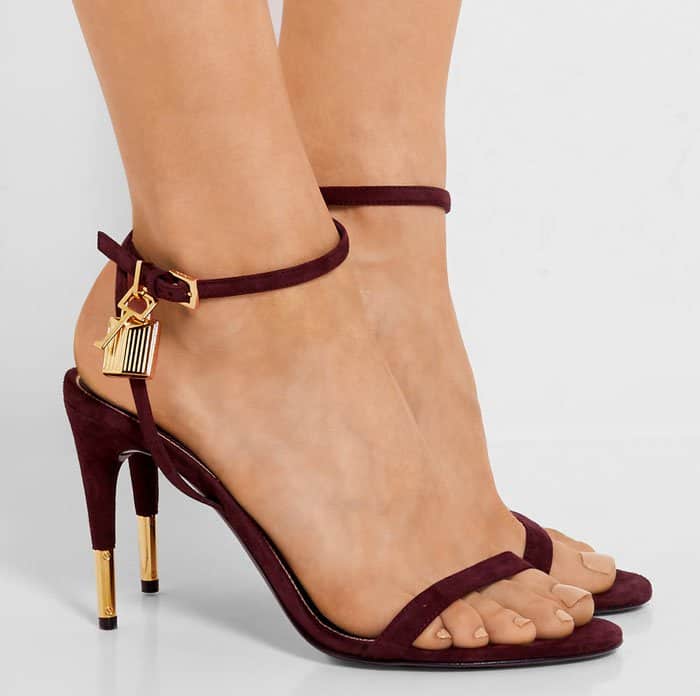 Tom Ford Suede Sandals, $890