Patrick Dempsey dropped into our primetime lives in 2004 as Dr. Shepherd, or as most of us knew him, "McDreamy." The perfect hair, eyes, and sly grin- they all seemed to go unnoticed before his role on Grey's Anatomy.
Patrick Dempsey and Jillian Fink met when he visited the salon she was working at (Credit: ATP / WENN)
The heartthrob has actually had a long and storied career both before and after his time on the show.
Where Is Patrick Dempsey from?
Patrick Dempsey was born and raised in Maine. As a young man, he actually participated in juggling competitions, placing second in an international youth juggling competition.
| What is Patrick Dempsey's net worth? | He is an American actor, producer, and race car driver with an estimated net worth of $85 million. |
| --- | --- |
| Full Name: | Patrick Galen Dempsey |
| Born: | January 13, 1966, in Lewiston, the second largest city in Maine and the most central city in Androscoggin County. |
| Kids: | He has three kids with wife Jillian Fink. |
| Is Patrick Dempsey related to Sean Penn? | No, they may look alike but are not related. |
| How tall is Patrick Dempsey? | 5′ 10″ (178 cm) |
| Nationality: | American |
| Did Patrick Dempsey and Ellen Pompeo have feelings for each other? | No, they often fought on the set of "Grey's Anatomy" but are now good friends. They never dated in real life. |
At the age of twelve, he also was diagnosed with dyslexia. This has gone on to impact his professional life in terms of reading and memorizing his lines for both television and movie roles.
Patrick Dempsey Gets His Start on the Stage
Dempsey found himself in touring stage productions fresh out of high school. He bounced between his native Maine, Philadelphia, and New York before being cast in his first on-screen role opposite Beverly D'Angelo in In The Mood.
The subject of his first film, where a young man falls for an older woman garnered much scrutiny; however, it paled in comparison to his real-life relationship on subsequent marriage that we'll have to discuss shortly!
From then on, Patrick Dempsey minted box office gold in the following decades by being cast as the love interest in romantic comedies.
Dempsey began his foray into television by acting in several television pilots that never got picked up. He did a series of well-received guest appearances on popular shows like Will and Grace and several other television miniseries.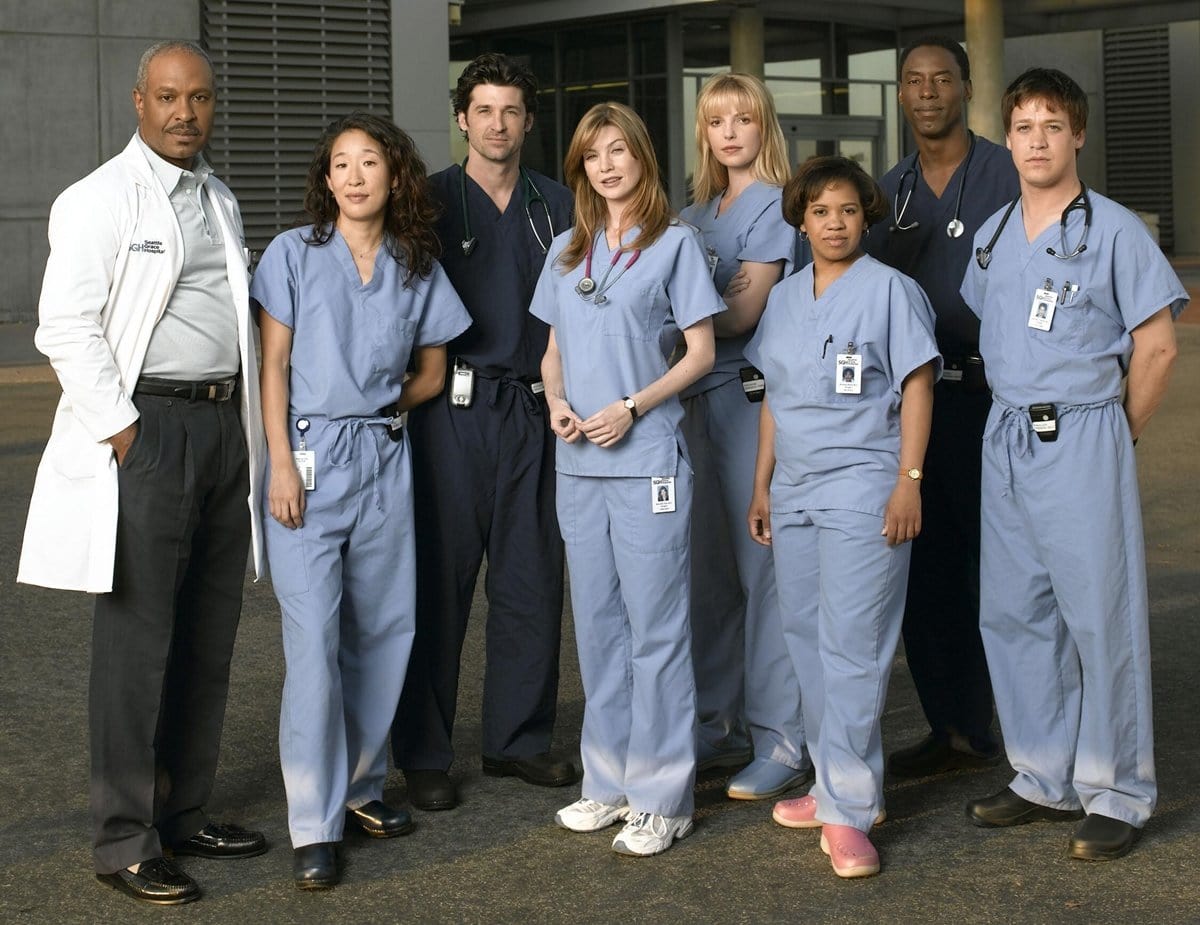 Born on January 13, 1966, Patrick Galen Dempsey was 39 years old when the American medical drama television series Grey's Anatomy premiered on March 27, 2005 (Credit: ABC / WENN)
It wasn't until 2005 that he was cast as Dr. Derek Christopher Shepherd on the long-running Grey's Anatomy. He was 39 years old when the first episode premiered on March 27, 2005.
The show continued for a total of 17 seasons, not including its spinoff, Private Practice, which he also starred in as Dr. Derek Shepherd.
It's rumored that McDreamy was actually eliminated from the show due to his "diva" like behavior on set. His character died from brain injuries suffered in a car accident in "How to Save a Life," the twenty-first episode of the eleventh season that aired on April 23, 2015.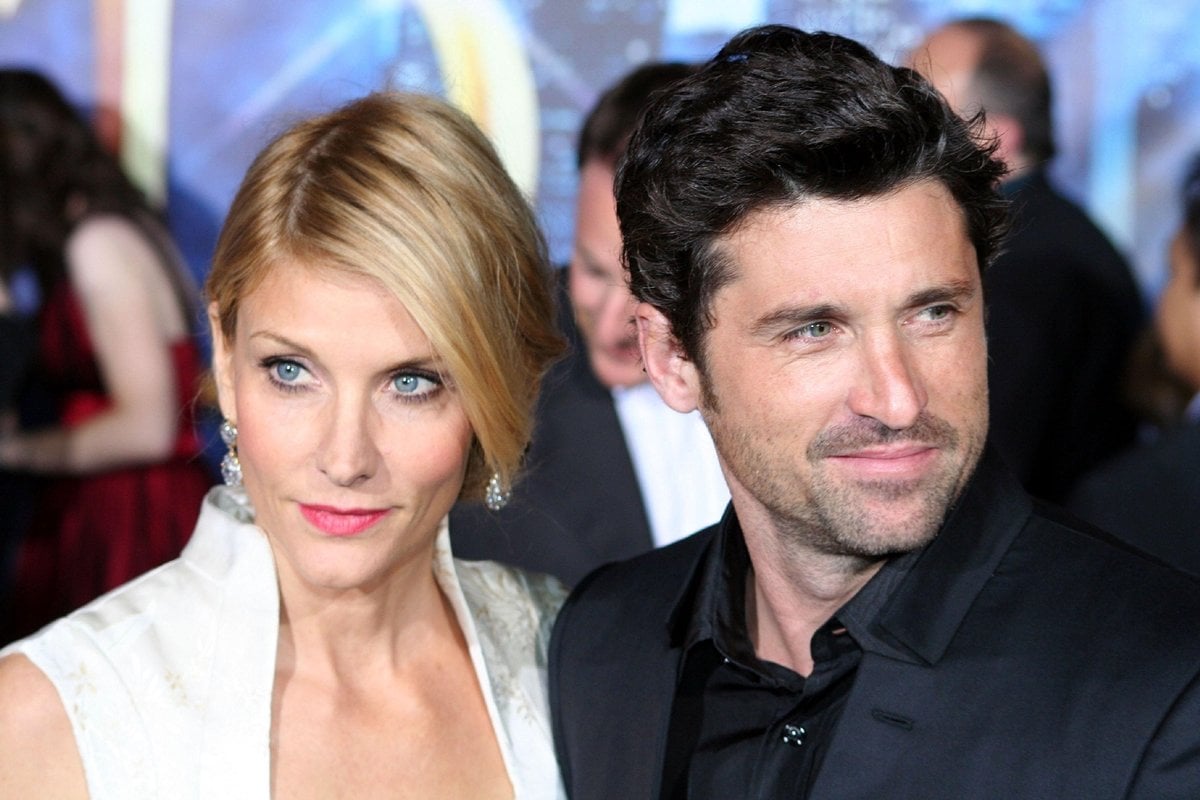 Actor Patrick Dempsey and his wife Jill Fink arrive at the world premiere of Disney's 'Enchanted' held at the El Capitan Theatre on November 17, 2007, in Hollywood, California (Credit: Katherine Christine / WENN)
During his time on Grey's Anatomy, Patrick also found work within ABC's parent company, Disney. He starred as the leading man in Enchanted and lent his voice to Brother Bear 2.
Dempsey's First Marriage Starred Much Older Leading Lady
Early on in Dempsey's career, he played the nephew of Rochelle "Rocky" Parker in the stage production of "Brighton Beach Memoirs." Patrick was 18 at the time of the production while Parker was more than twice his age at 45.
Patrick and Rocky Parker grew closer over the years, as she ended up managing him professionally as well as being his acting coach.
They also secretly developed a romantic relationship that led to their marriage three years later in 1987, when Dempsey was 21 and Parker was 48 years old.
View this post on Instagram
Dempsey was Parker's third husband, and her three children from previous marriages were all older than their new stepfather.
The two remained married for seven years before ending in a messy divorce. Their break was finalized in 1994, but not before sordid accusations of domestic abuse were touted by Parker against Patrick.
She claimed that his physical abuse was severe enough to leave her with permanent injuries in her hands. Years later, her allegations were rescinded in 2006 and the acting coach passed away in 2014.
Patrick Dempsey Meets Stylist Jillian Fink
Jillian Fink has always had a flair for hair and makeup. She ended up attending school for her craft in southern California, where she went on to open her own salon.
How did Patrick Dempsey meet Jillian Fink?
They met when he visited the Delux hair salon she was working at in Los Angeles.
Full Name:
Jillian Dempsey (née Fink)
Born:
February 4, 1966
Do Patrick Dempsey and Jillian Fink have twins?
Yes, their twin boys Darby Galen and Sullivan Patrick were born on February 1, 2007.

They also have a daughter, Talula Fyfe, born on February 20, 2002.
She also broke into the film industry by styling celebrities for the red carpet and other public events, as well as working on the set to style stars.
Over her career, she's gone on to partner with Avon on her own makeup line. She's also styled some of Hollywood's A-list celebrities like Kristen Stewart, Julia Roberts, and Irina Shayk's ex Bradley Cooper.
Actor Patrick Dempsey and his wife Jillian Fink arrive at the 80th Annual Academy Awards at the Kodak Theatre on February 24, 2008, in Hollywood (Credit: Starbux / WENN)
One day she saw a familiar yet unbelievable name on her appointment schedule for the day. She admits to thinking it was a joke when she saw "Patrick Dempsey" on the list.
Only a few days after Patrick's divorce was finalized, he went to Fink for a trim. She was in a relationship at the time, but she did think he was incredibly handsome.
She admitted, "I was shocked. But at the same time, I was happy because he was so cute."
Over the course of three years, Dempsey returned to Jillian's salon month after month to keep his famous tresses in check.
It wasn't until 1997 that Fink's relationship had ended and a mutual friend suggested that Patrick asked her out. The two moved in together after only three, short months; however, after five long years, they finally tied the knot in 1999.
Who Are Their Children?
The Dempseys welcomed their first child, daughter Talula Fyfe Dempsey in 2002. The couple were overjoyed when they learned they were soon expecting their twin boys that were born in February 2007. Sullivan Patrick and Darby Galen are fraternal twins.
Patrick said, talking about fatherhood, "I'm constantly amazed by their insight and their observations. It's fascinating and fun to come up with answers to their questions, and the questions are getting harder!"
You can often see pictures of this stunning family attending red carpet and charity events together. Their daughter, Talula Fyfe has since graduated high school and is currently attending George Washington University.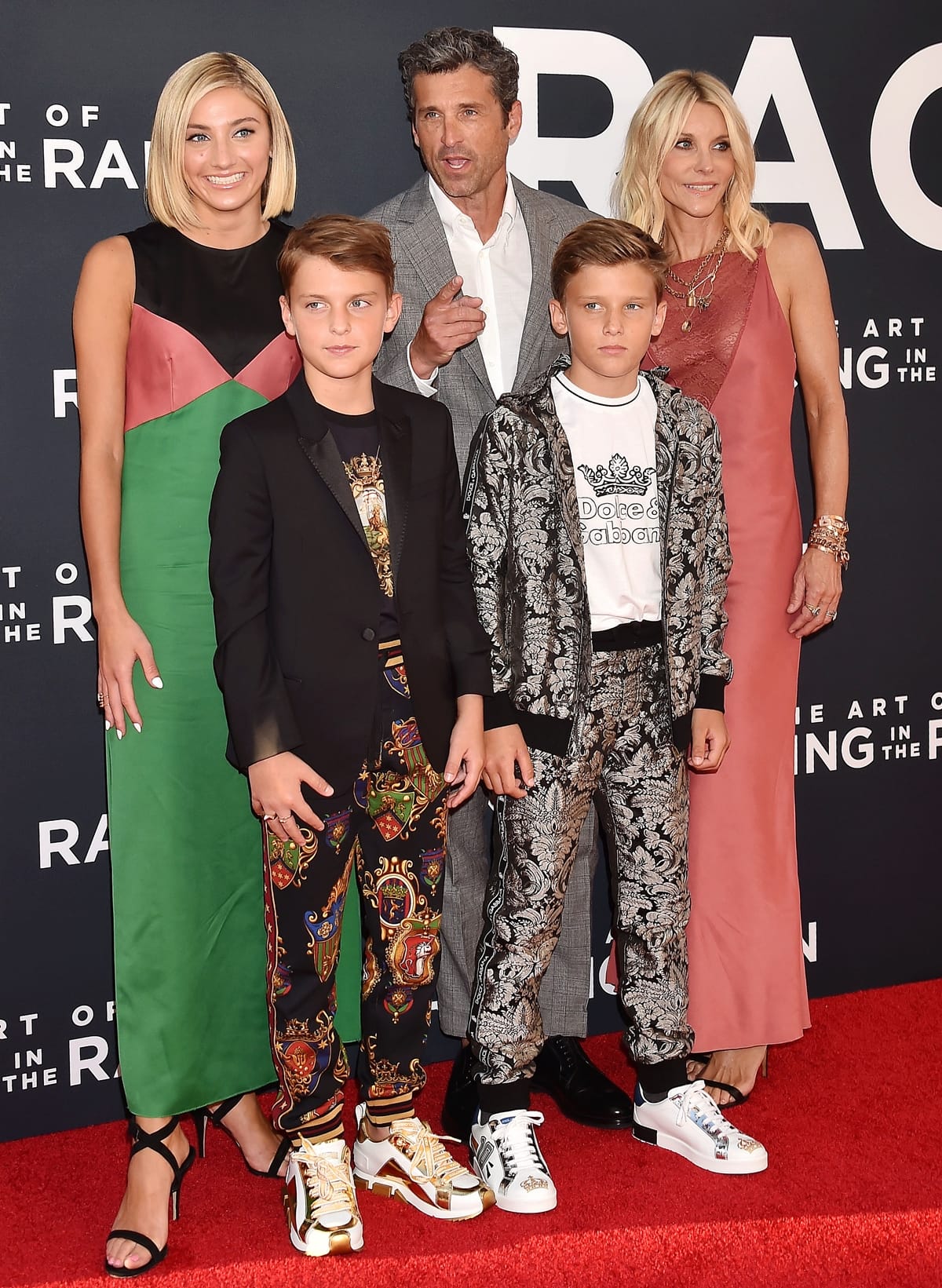 Patrick Dempsey in a Brunello Cucinelli suit with his wife Jillian Fink Dempsey and their daughter Talula Fyfe and twin sons Sullivan Patrick and Darby Galen on August 1, 2019, at the El Capitan Theatre in Los Angeles (Credit: Avalon / WENN)
We were offered a rare glimpse into the actor's home life when Dempsey opened up to Jimmy Kimmel, describing just how hard schooling remotely had been for his family.
It sounds like it was especially difficult for Talulah to miss out on her senior year, and a bit of a challenge to coordinate Zoom calls for their then-thirteen-year-old boys.
Patrick Dempsey's Racing Career
Unbeknownst to many, Patrick Dempsey has led a double life, or at least a double career, over the years. He's actually been an incredibly successful driver and has his own racing team. His passion for racing most likely stemmed from his love of both vintage cars and sleek sports cars.
Dempsey told Reuters in 2014, "It's all-consuming in many ways. I couldn't imagine not racing right now. It really keeps me motivated. It's all I think about on a daily basis."
Not just an actor, Patrick Dempsey is also a race car driver and TAG Heuer ambassador (Credit: TAG Heuer)
Dempsey Racing has been targeted by such elite sponsors as TAG Heuer and Konica Minolta. Dempsey would find, however, support for his racing career was not well endorsed at home. In fact, it has been mentioned specifically as a point of friction in his marriage to Jillian Fink.
Divorce Rocks the Dempsey Household
Sadly, in 2015, Jillian and Patrick Dempsey announced their divorce filing in a joint statement.
"It is with careful consideration and mutual respect that we have decided to end our marriage. Our primary concern remains the well-being of our children, and we ask with profound gratitude that you respect our family's privacy at this very sensitive time," the couple shared.
Luckily for their three children, Patrick Dempsey and his wife Jillian Fink Dempsey got back together after calling off their divorce in 2015 (Credit: WENN)
It has been speculated that Patrick's excessive dedication to his career as a professional racecar driver and television host contributed to the couple's problems. Patrick eventually reflected, "You have to work at everything. And you cannot do everything. Something has to be sacrificed."
The couple cited irreconcilable differences in their filing with Fink as the petitioner. But we would come to find out there was still hope for Patrick, Jillian, and their family.
A Change of Heart
In an unexpected turn of events following the issued statement, we actually began seeing more of the Dempseys together, even hand in hand in Paris, France.
As it turns out, both Jillian and Patrick were putting tremendous amounts of effort into rekindling their romance behind the scenes.
When asked about the relationship and the sudden onslaught of PDAs, he explained, "Our marriage was not something I was prepared to let go of. I didn't feel like we had done all the work. And we both wanted to do that work. That's where it started."
The couple started attending couple's therapy together. Patrick also stopped racing cars and refocused on acting.
As a complete 180 from his successful racing career, Dempsey released a statement saying that "at this point in my life… I need to take a step back and focus on both my family and my acting career."
Patrick Dempsey says saving his marriage took hard work and lots of sex (Credit: Patricia Schlein / WENN)
When asked about his seemingly healthy new outlook on marriage, he said, "You've got to keep at it. You've got to communicate, and stay open and not get lazy. And not give up. And lots of sex!"
Their divorce filing was dismissed in 2016, and Jillian and Patrick Dempsey have now been married for over twenty years, and perhaps thanks to their misstep, their marriage appears to be stronger than ever.
Where are Mr. and Mrs. McDreamy Now?
Following the divorce scare, Patrick has made his loved ones his top priority. "You can only do one thing at a time and do it well. I [learned] to prioritize."
He added, "Our union has to be the priority. I wasn't prepared to give up on her and she wasn't either."
Their separation served as a wake-up call for the actor. "It's always destabilizing when you're potentially breaking up a family or you have a big section of your life that's ending."
A fully masked Patrick Dempsey with a fan outside The Merrion Hotel in the heart of Dublin city center on August 5, 2021, after wrapping up filming for the Disenchanted movie in Ireland (Credit: WENN)
The actor has also resumed his screen work where he has recently been announced as reprising his role in Disenchanted, the sequel to Disney's Enchanted, which was released in 2022 on Disney+.
Meanwhile, Jillian Dempsey is very active on Instagram these days with over a quarter-million followers. She also had a successful YouTube channel where she worked within the beauty genre, offering makeup reviews and tutorials. Jillian has also gone on to release a successful line of lip, cheek, and eye tints.
With all the unexpected twists and turns of a truly great romantic comedy, we love to see the happily ever after for Patrick Dempsey and his beautiful wife, Jillian Fink.