Remember the Tony Awards? If you don't… we can't blame you. While it's easy to overlook the annual theater awards ceremony in favor of other, more lavish award ceremonies — like the Grammys, Oscars, or MTV Movie Awards — the annual Tony Awards do, on occasion, present us with some great looks.
Take, for example, Paradise Road actress Cate Blanchett's ensemble in June 2016 at the 70th Annual Tony Awards held to recognize achievement in Broadway productions during the 2015–16 season.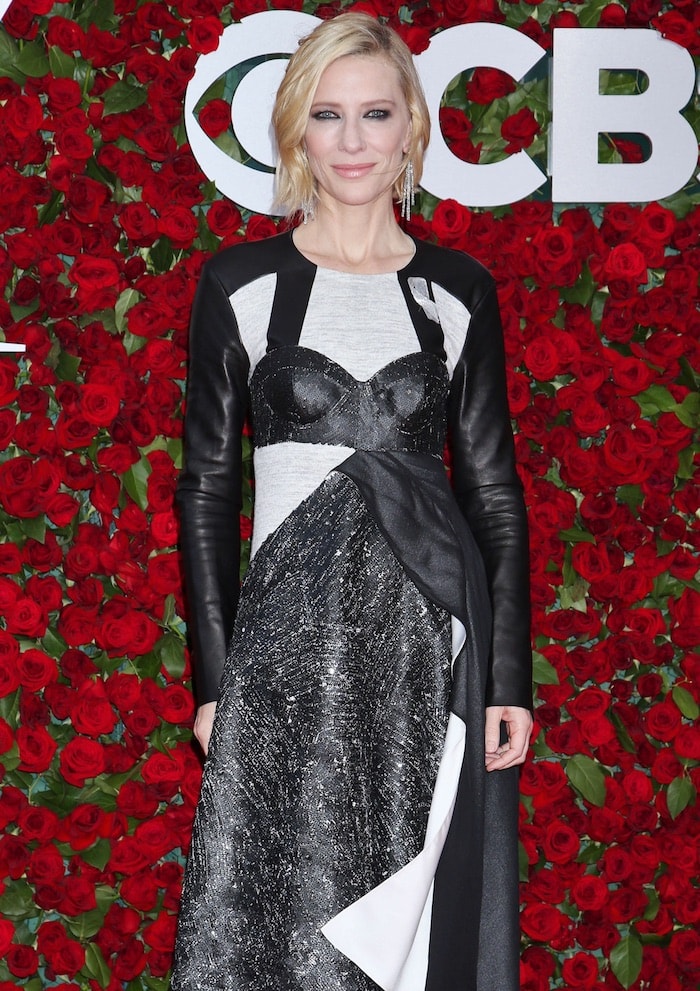 Cate Blanchett sweeps her hair back at the 2016 Tony Awards held on June 12, 2016, at the Beacon Theatre in New York City (Credit: Joseph Marzullo / Ivan Nikolov / WENN)
Almost 20 years earlier, the Australian actress made her feature film debut in the 1997 film Paradise Road, in which she played a supporting role as an Australian nurse captured by the Japanese Army during World War II.
The film was directed by Bruce Beresford and also starred Glenn Close and Frances McDormand. Despite a budget of $19 million, the film was a box office failure and received mixed reviews from critics.
Cate Blanchett as Susan Macarthy, Glenn Close as Adrienne Pargiter, and Jennifer Ehle as Rosemary Leighton-Jones in the water after their boat is bombed by Japanese fighter planes in Paradise Road (Credit: Fox Searchlight Pictures)
In the film, which is based on real events, a group of women from different countries and backgrounds is imprisoned in a Japanese internment camp during World War II.
Despite resistance from their guards, one of the prisoners, Adrienne Pargiter (Glenn Close), who is a graduate of the Royal Academy of Music, organizes a vocal band among her fellow inmates as a means of coping with the harsh conditions of the camp and maintaining their spirits. The film explores the themes of resilience and the power of music to bring people together in the face of adversity.
The film's music was based on real score transcripts from World War II internment camps that still exist.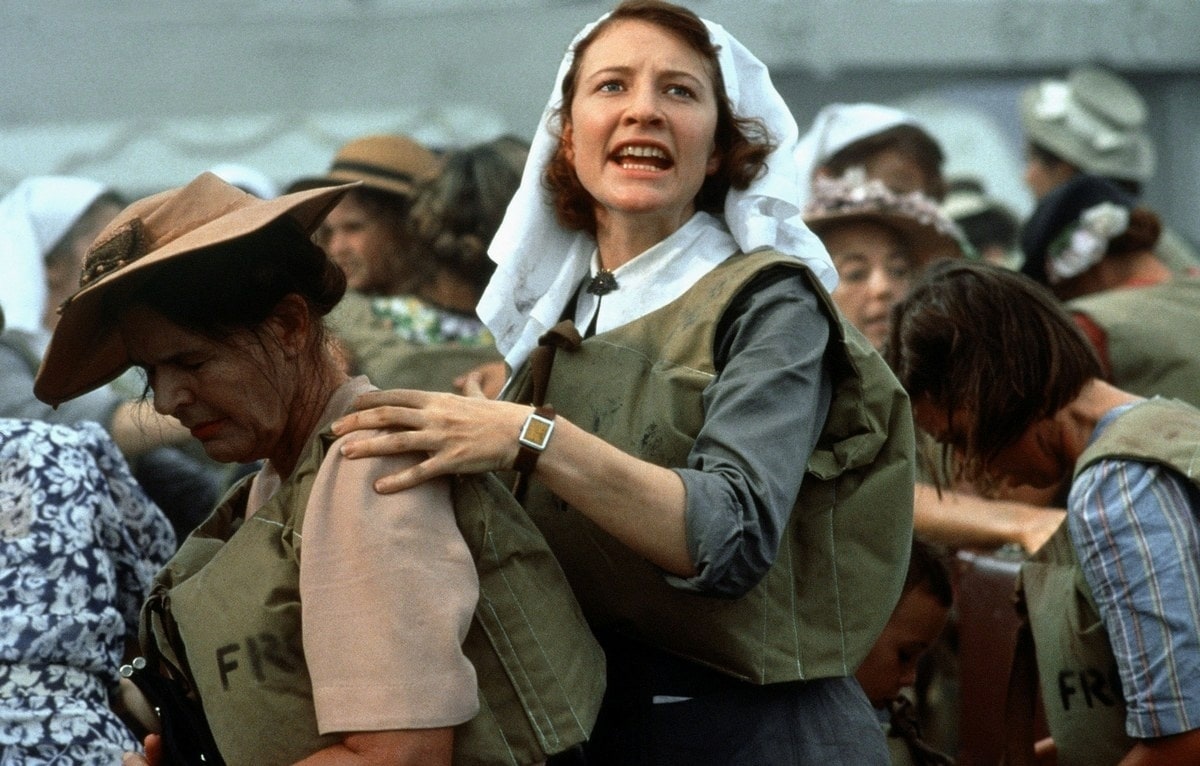 Cate Blanchett as Australian nurse Susan Macarthy in the 1997 Australian war film Paradise Road (Credit: Fox Searchlight Pictures)
When the film was released in the United States on April 11, 1997, Cate Blanchett was 27 years old. She celebrated her 28th birthday on May 14, 1997.
Paradise Road includes an ensemble cast of accomplished actors, including Cate Blanchett, who has won two Academy Awards, and Frances McDormand, who has won four two Academy Awards. Additionally, the cast includes Pauline Collins, who was nominated for an Oscar for her role in the film Shirley Valentine, and Glenn Close, who has been nominated for eight Academy Awards.
Cate Blanchett stuns on the red carpet in an intricate patchwork dress from Louis Vuitton (Credit: Joseph Marzullo / Ivan Nikolov / WENN)
The "Carol" star looked stunning in a metallic, embellished creation as she arrived at the Beacon Theatre.
Cate's Louis Vuitton patchwork dress featured a mash-up of different materials, including cotton, leather, and sequins.
Cate Blanchett wears a mixed-media dress from Louis Vuitton's Fall 2016 collection to the 2016 Tony Awards (Credit: Joseph Marzullo / Ivan Nikolov / WENN)
The edgy dress is from Louis Vuitton's Fall 2016 collection and was designed by Nicolas Ghesquière.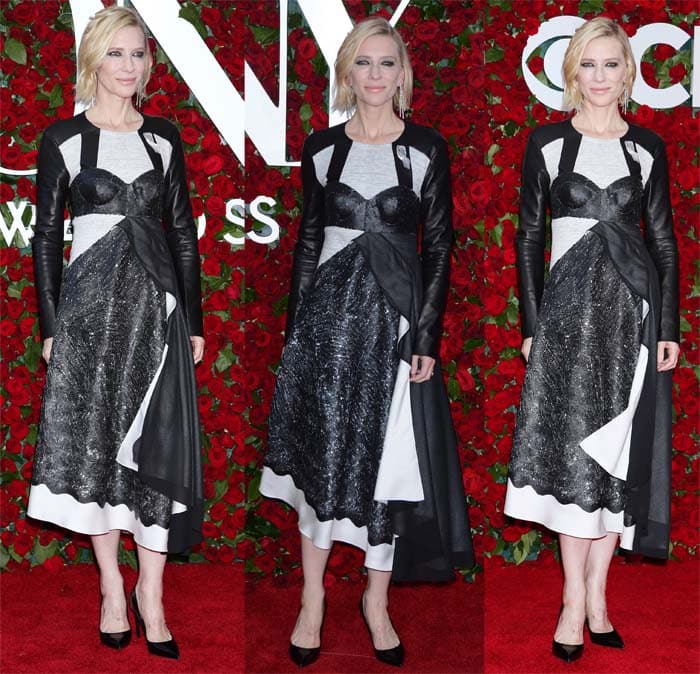 Cate Blanchett wears an interesting Louis Vuitton dress on the red carpet (Credit: Joseph Marzullo / Ivan Nikolov / WENN)
The Lord of the Rings actress accessorized the bold look with chandelier-style earrings and dark, smoky eye makeup.
Louis Vuitton Fall 2016 dress
Cate kept her shoes elegant and simple. She opted for a pair of Louis Vuitton's black "Eyeline" pumps, which feature a thin gold detail on the heel.
Cate Blanchett's feet in black Louis Vuitton pumps
With a dress so detailed and eccentric, it was a good choice to tone down the footwear and accessories.
The "Eyeline" pumps are available in a variety of colors, allowing you to choose your preferred hue.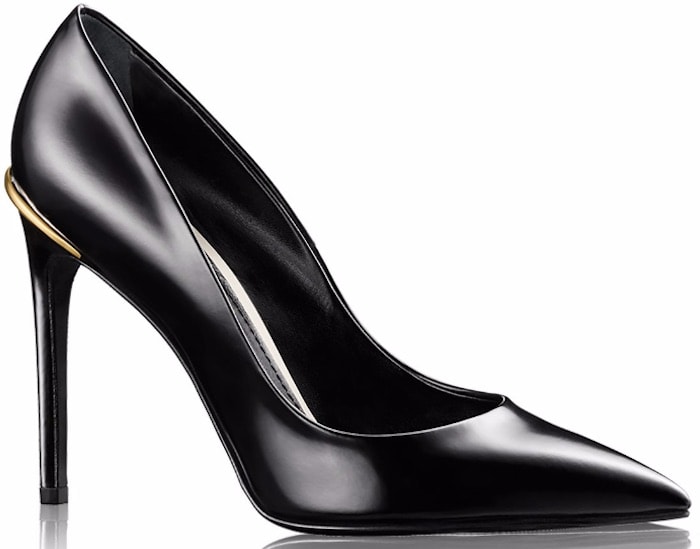 Louis Vuitton "Eyeline" Pumps in Black, $825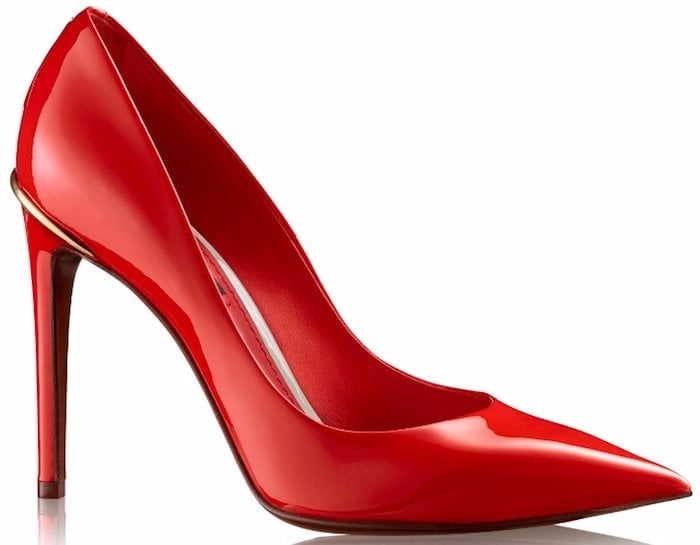 Louis Vuitton "Eyeline" Pump in Rouge, $855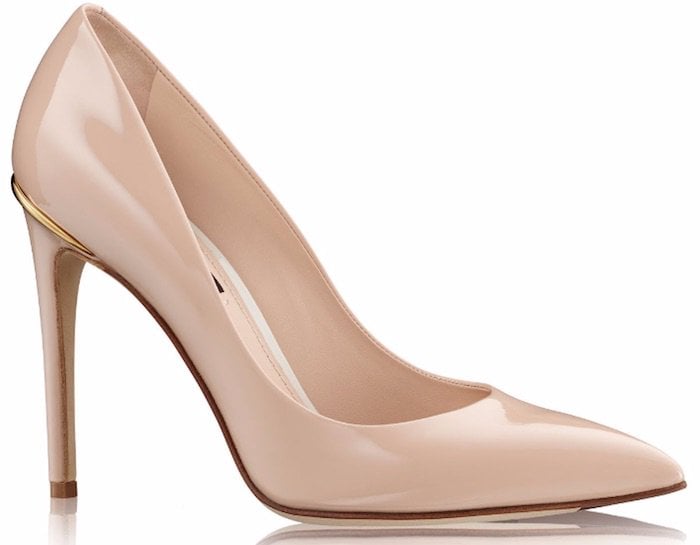 Louis Vuitton "Eyeline" Pump in Nude, $855
Louis Vuitton "Eyeline" Pump in Noir, $855
Louis Vuitton "Eyeline" Pump in Bordeaux, $855
Louis Vuitton "Eyeline" Pump in Indigo, $855
Louis Vuitton "Eyeline" Pump in Flamboise, $855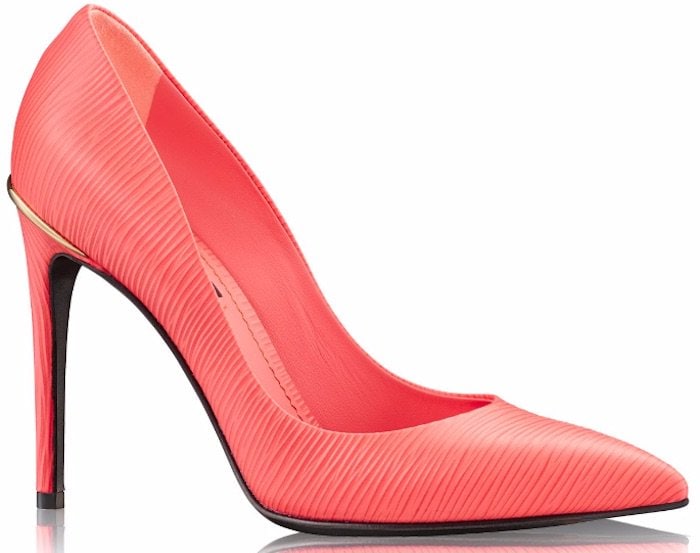 Louis Vuitton "Eyeline" Pump in Flamingo, $855