FILA is an athleisure brand you probably have in your closet. It began as an Italian brand and has evolved into one of the world's most recognizable sneaker brands.
While we're all familiar with FILA's classic navy and red logo, how much do you know about the brand's heritage?
Fila is a sportswear brand that's easily recognizable with its navy and red logo (Credit: Roman Zaiets / Shutterstock)
The brand has recently added Hailey Bieber as its global ambassador in a bid to win over Gen Z in the war of athleisure brands. FILA is attempting to blend the lines between streetwear and sportswear.
View this post on Instagram
We're deep diving into the world of FILA shoes to find out where they're made, the brand's origins, and how much FILA shoes cost.
How Did Fila Get Its Name?
FILA was launched in Italy in 1911 by Ettore and Giansevero Fila as a wool mill before evolving into a clothing brand in 1923.
It began with a focus on clothing designed for life in the Italian Alps before evolving into sportswear in the 1970s.
While many people seem to believe that FILA is an acronym or abbreviation, the company is actually named after the Fila brothers, who founded the brand.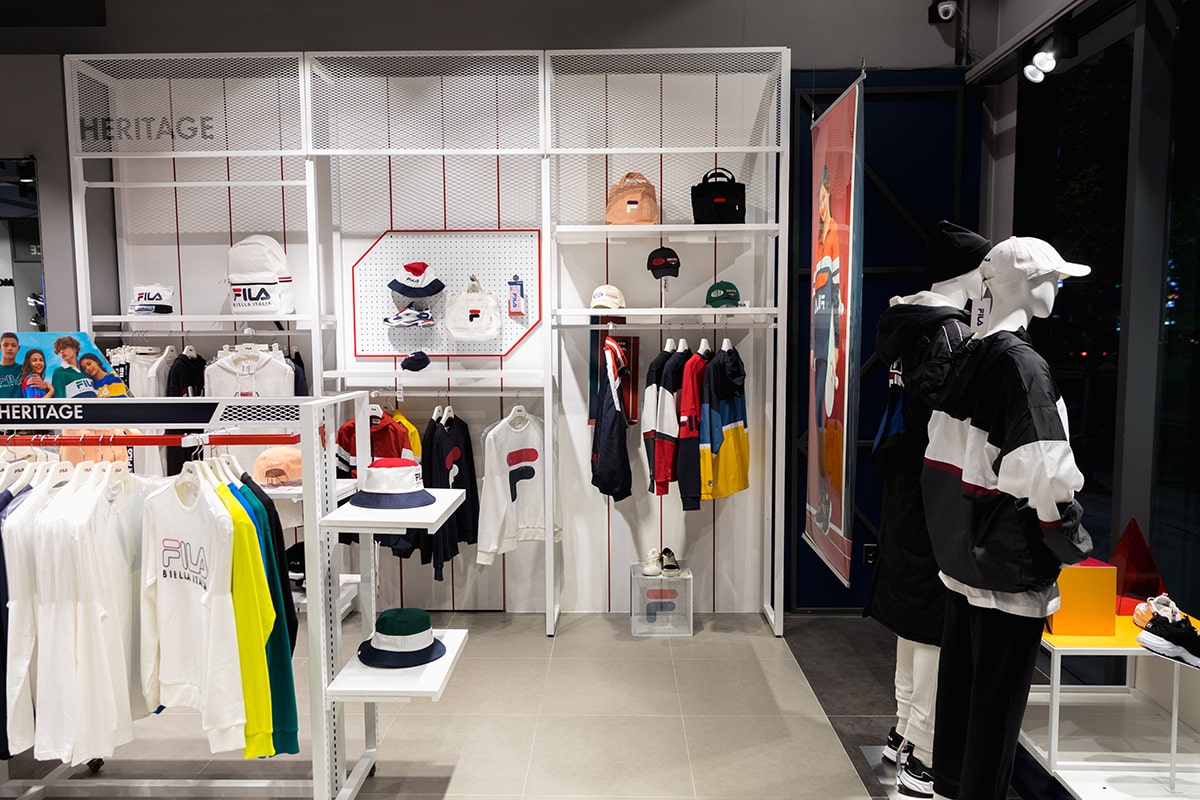 Fila originally made clothing (primarily underwear) for the people of the Italian Alps before moving into sportswear in the 1970s (Credit: 2p2play / Shutterstock)
It's gone on to become one of the most popular athleisure brands in the world after securing Bjorn Borg as an ambassador in the 1970s. FILA expanded outside of Europe into the US in the 1990s with the help of sponsorship deals with a series of American athletes, particularly tennis players.
Although FILA maintains its Italian DNA, it's now based in South Korea. The popular BTS K-pop band became global brand ambassadors for FILA in 2019.
While footwear is one of FILA's main categories, the brand also sells tennis clothing, menswear, womenswear, and a range of accessories. It sits at a more attainable price point in comparison to its main competitors, including Nike and Adidas.
Most 7 Popular FILA Shoes
What makes FILA popular is its futuristic take on athleisure shoes. You'll find everything from neutral color palettes to neon shades and contrasting textures. FILA has something to offer everyone, with most styles being $100 or under.
We're rounding up the most popular FILA shoes that deserve a spot on your shopping list.
1. Women's Unit V2 Chunky Sneaker, $100 at Fila
The Unit V2 sneakers are a utility-inspired silhouette designed to be as electric as your personality. This bold shoe features a detachable pouch with adjustable slider straps and Velcro closures. You can choose between fuchsia pink and neon yellow in the Unit V2 shoes.

Available in neon pink and yellow, the Unit V2 is a utility-inspired sneaker that boasts a logo-embossed detachable pouch and adjustable slider straps with velcro closure
2. Women's Spectra Cross Trainers, $85 at Nordstrom
The FILA Spectra sneakers are a modern take on a classic. It features a mesh overlay with speckled heel stabilizers and FILA logo-printed laces. These sneakers are available in an array of color options, from black to white and pastel shades.
The Spectra features a chunky silhouette with a retro design complemented by the colorful stitched overlays
3. Women's Original Tennis Lux X Barneys, $225 at Fila and Saks Fifth Avenue
FILA has upgraded its original tennis shoes as part of a collaboration with Barneys New York. These minimalistic low-top sneakers have a contrasting blush pink sole for a pop of color.

A collaboration with Barneys, the Original Tennis Lux sneakers feature a classic low-top silhouette, leather uppers, almond toes, and lace-up vamps
4. Women's F-14 High-Top Casual Sneakers, $75 – $80 at Fila and Nordstrom
Want the look of Air Force sneakers for less? Try the FILA F-14 shoes. This best-selling FILA style is available in a rainbow of bright colors with a minimalist silhouette. These shoes are designed to be seen with comfort in mind.
The F-14 boasts a minimalist silhouette similar to Nike's retro Air Force high-tops but with double hook-and-loop straps and an extra-cushy padded collar lock
One of FILA's most popular shoes is the Disruptor 2 Premium. They're available in a full range of feminine colors and earth-tone neutrals. These tonal sneakers are a contemporary take on a classic style that will take you anywhere.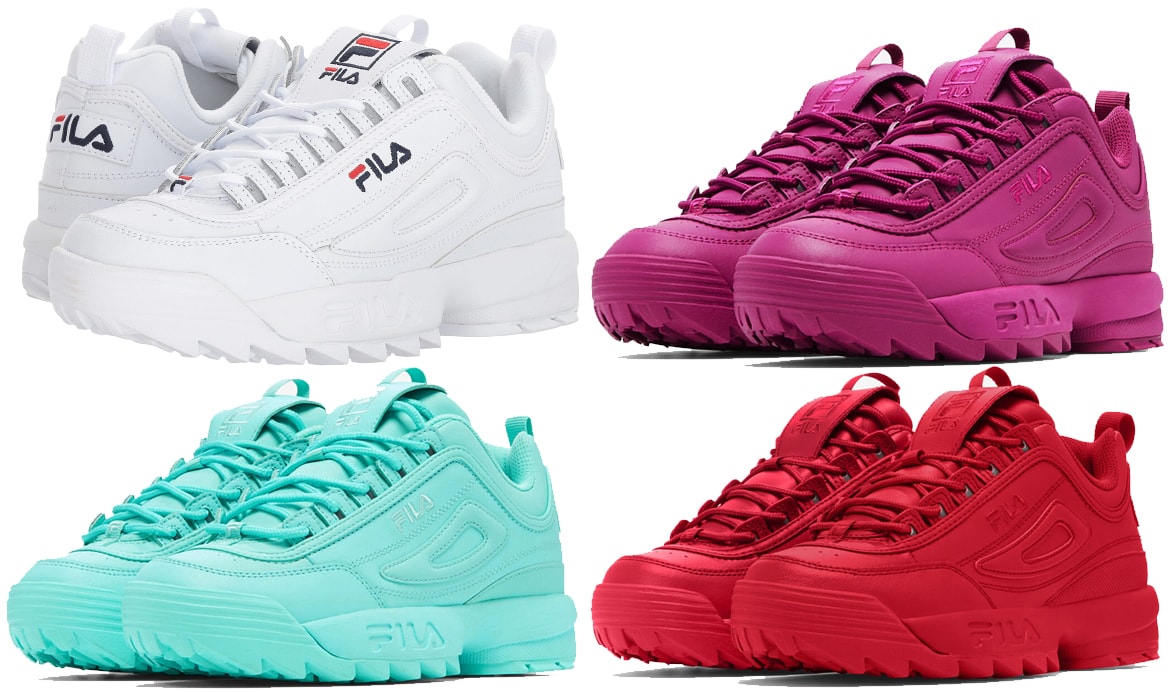 Designed to be comfy, the Disruptor II Premium is chunky but lightweight, thanks to its leather and textile upper and lightweight EVA midsoles
6. Women's Ray Tracer TR 2, $80 at Fila and Nordstrom
Upgrade your closet with chunky sneakers that are designed to be seen. The stylish Ray Trace TR 2 shoes blend contrasting leather, suede, and synthetic fabrics and incorporate printed, embroidered, and molded FILA logos.

Stylish and comfy, the Ray Tracer TR2 boasts contrasting wavy panels that bring retro playfulness to the mixed-media sneakers
7. Women's MB, $100 at Fila
Can't decide between a low or high-top sneaker? Get the best of both worlds with the FILA MB shoes. These sneakers feature contrasting leather and synthetic textiles with FILA's iconic midsole design and graphic detailing.

The MB sneakers are easily recognizable with the unique spiral design on the midsoles
Where are FILA Shoes Made?
While FILA began as an Italian brand, its headquarters are now located in South Korea. The brand moved from Italy to Seoul in 2007 after Fila Korea acquired the main Fila company.
FILA products are manufactured across the world with factories in China, Dominican Republic, Italy, India, Mexico, and Vietnam.
While most brands list the country their products are made in their product descriptions, FILA is an exception. It only lists the country of origin for the small number of products that are made in Italy.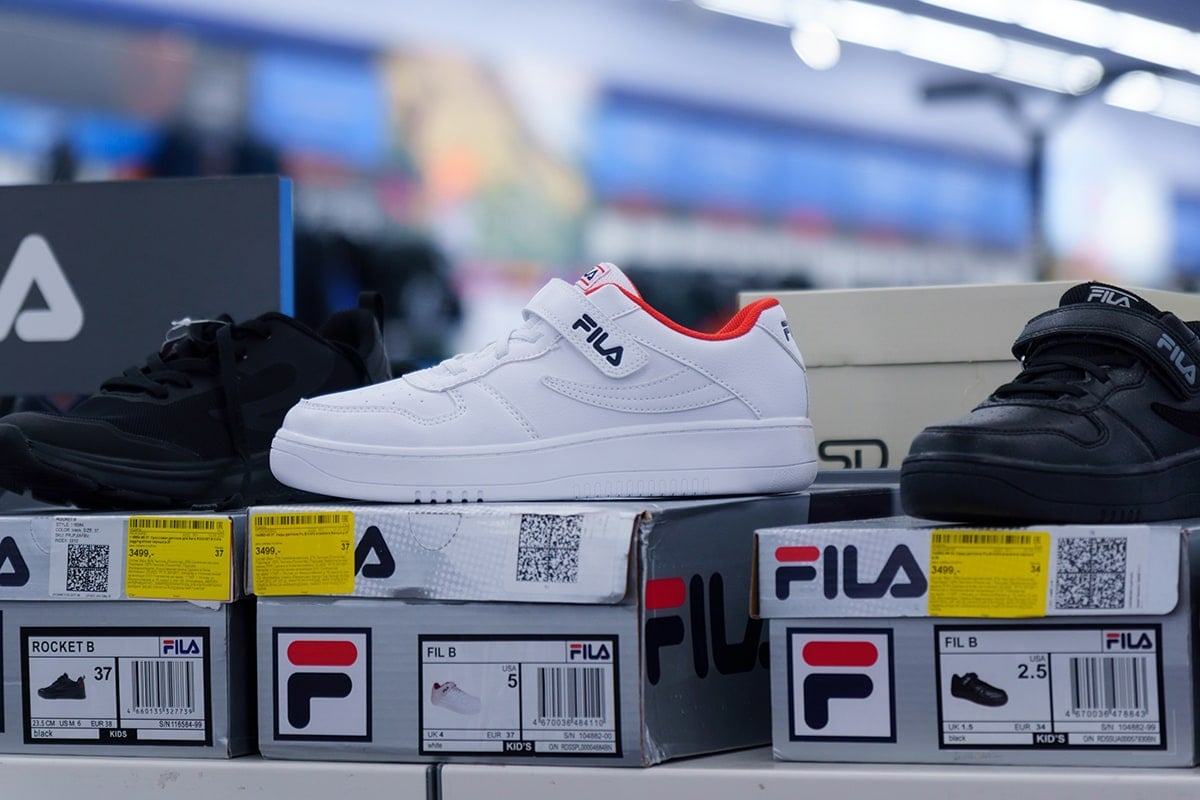 Fila has factories across the world, including in China and Vietnam (Credit: Darksoul72 / Shutterstock)
The reason why FILA skips over this fact in its product description is to present FILA as a luxury athleisure brand at an affordable price point. Although more brands are manufacturing in Asia, it's still a common perception that 'made in China' items aren't durable or high-quality.
However, you can check where your FILA shoes were made by looking at the label on the inside of the shoe tongue. Most FILA shoes are made in Vietnam and China.
FILA and Xinjiang Cotton
FILA is following in the footsteps of many other athleisure brands by moving their production abroad. There is some cause for concern around FILA's use of sourcing Xinjiang cotton, with potential questions around working conditions.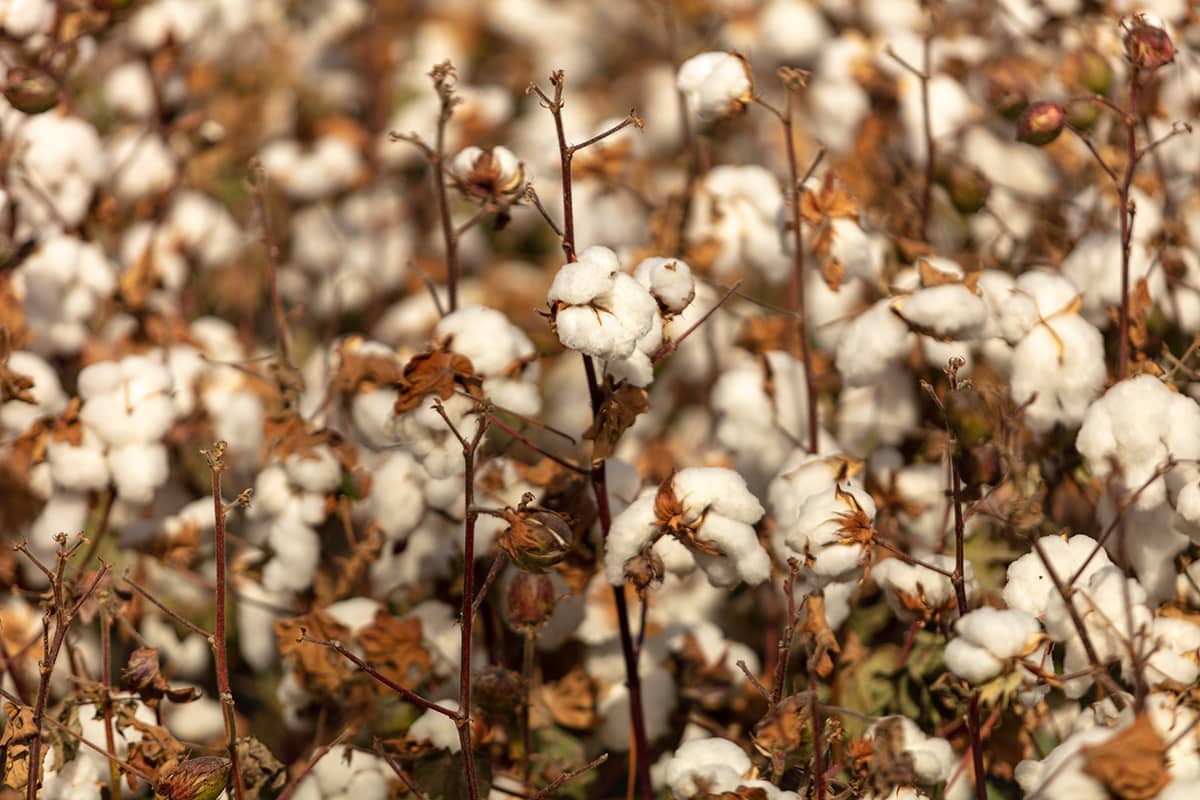 Fila uses Xinjiang cotton, which is produced by forced labor (Credit: RockyYan / Shutterstock)
Campaigners have long warned that Xinjiang cotton is produced by forced labor and is used throughout most of the fashion industry as Xinjiang produces a fifth of the world's cotton.
FILA refuses to speak against the criticism it faced in 2021 in response to its use of Xinjiang cotton, appearing to continue to use it. The fact that most FILA shoes are made in China and Vietnam suggests that FILA will continue to use Xinjiang cotton in the future.
How Much Do FILA Shoes Cost?
FILA is an athleisure brand that sits at a mid-tier price point that makes it slightly more affordable than Nike or Adidas. You can expect to pay between $25 to $250 for FILA shoes, with slides being the most affordable and high-spec sneakers having the highest price tag.
Fila shoes are priced between $25 and $250 (Credit: 2p2play / Shutterstock)
While FILA sneakers can range up to $250, you'll find most of the brand's footwear at under $100. It's worth looking out for discounts and sales to save money on your next pair of FILA sneakers.