Melanie Carmichael gets popped the big question by her boyfriend, Andrew Hennings. Andrew is her dream man – handsome, intelligent, and from a well-connected family.
However, Melanie, whose real surname is actually Smooter, has a secret back in Pigeon Creek that she must take care of first before getting married to Andrew.
Reese Witherspoon as Melanie Smooter, Josh Lucas as Jake Perry, and Patrick Dempsey as Andrew Hennings in the 2002 American romantic comedy-drama-fantasy film Sweet Home Alabama (Credit: Buena Vista Pictures Distribution)
Sweet Home Alabama is one of those timeless and iconic romantic comedies that will tug at your heartstrings each and every time you watch it. Jewel covered Lynyrd Skynyrd's "Sweet Home Alabama" on the soundtrack for the movie.
Reese Witherspoon played Melanie Smooter in Sweet Home Alabama at the age of 26. She is joined by co-stars Josh Lucas, who plays her estranged husband, Jake Perry, and Patrick Dempsey, appropriately chosen for the role of Andrew Hennings.
Reese Witherspoon and Josh Lucas also starred together in the 2000 Canadian-American horror film American Psycho.
Patrick Dempsey, Reese Witherspoon, and Josh Lucas played the lead roles in Sweet Home Alabama (Credit: Cover Images)
The film celebrates its 20th birthday this year, and Witherspoon seems to have a special soft spot for it. She recently shared a post on Instagram with the following caption:
"20 years ago Sweet Home Alabama came out and completely changed my life. 💫✨🌟Incredible memories of shooting this movie with these amazing actors—Josh, Patrick, Dakota, Melanie, Jean, Ethan, Mary Kay, Fred, and Candace, of course! So many great scenes and my favorite line… "So I can kiss you anytime I want." 💖🎬🥰 Do you remember seeing it for the first time?"
Reese Witherspoon with her husband Ryan Phillippe at the world premiere of Touchstone Pictures' Sweet Home Alabama at the Chelsea West Cinema on September 23, 2002, in New York City (Credit: Everett Collection / Shutterstock)
At her 40th birthday celebrations in 2016, Witherspoon sang Sweet Home Alabama with Keith Urban leading on the guitar.
She then mentioned in 2019 that she "would happily make a Sweet Home Alabama 2" during a Facebook Live Q&A session.
Last month she brought it up again on TODAY with Hoda & Jenna, saying that she hoped that there could be a reboot.
"That would be a great idea," she told Hoda Kotb. And speaking about whether she would star in the reboot, "Maybe. I don't know. That sounds fun." Three years earlier, Josh Lucas also discussed the possibility of a sequel.
"Look, I would love to do the sequel," Lucas said in another interview on SiriusXM's Pop Culture Spotlight with Jessica Shaw.
"The issue is Reese has got a book club. And I'm saying that like, laughingly, but Reese is, you know, I've heard like, 'Oh, you can talk to her about stuff five years from now, now.'… She's a mogul," he added about Reese's book club.
The very first scene of the movie, featuring Witherspoon's favorite line, captures young Melanie and Jake. Dakota Fanning played young Melanie at the age of seven, and this scene also happened to be her first kiss.
"Why would you want to marry me for, anyhow?" young Melanie asks. "So I can kiss you anytime I want," young Jake responds.
Dakota Fanning and Thomas Curtis as the childhood versions of Melanie and Jake in the 2002 American romantic comedy-drama-fantasy film Sweet Home Alabama (Credit: Buena Vista Pictures Distribution)
The film was mostly shot in Georgia – the streets and storefronts in some downtown scenes, as well as the catfish festival scenes, were those of Crawfordville, and Jake's glass-blowing shop is an old mill named Starr's Mill in Fayette County. The porch of the mill was rebuilt, and the exterior was refurbished for the film.
Reese Witherspoon as Melanie "Carmichael" Smooter, Nathan Lee Graham Frederick Montana, and Rhona Mitra as Tabatha Wadmore-Smith in the 2002 American romantic comedy-drama-fantasy film Sweet Home Alabama (Credit: Buena Vista Pictures Distribution)
In the film, Jake lands his plane on a lake. This lake is Lake Peachtree in Peachtree City, Georgia, where it is illegal to land a plane on the water, and the production company was reportedly fined $300 by the Peachtree City Police.
The bar in Pigeon Creek is Heavys Bar-B-Q, also located in Crawfordville, Georgia.
Some scenes were filmed in New York City. Sweet Home Alabama was the first film to shoot in New York City after the September 11, 2001, attack on the World Trade Center.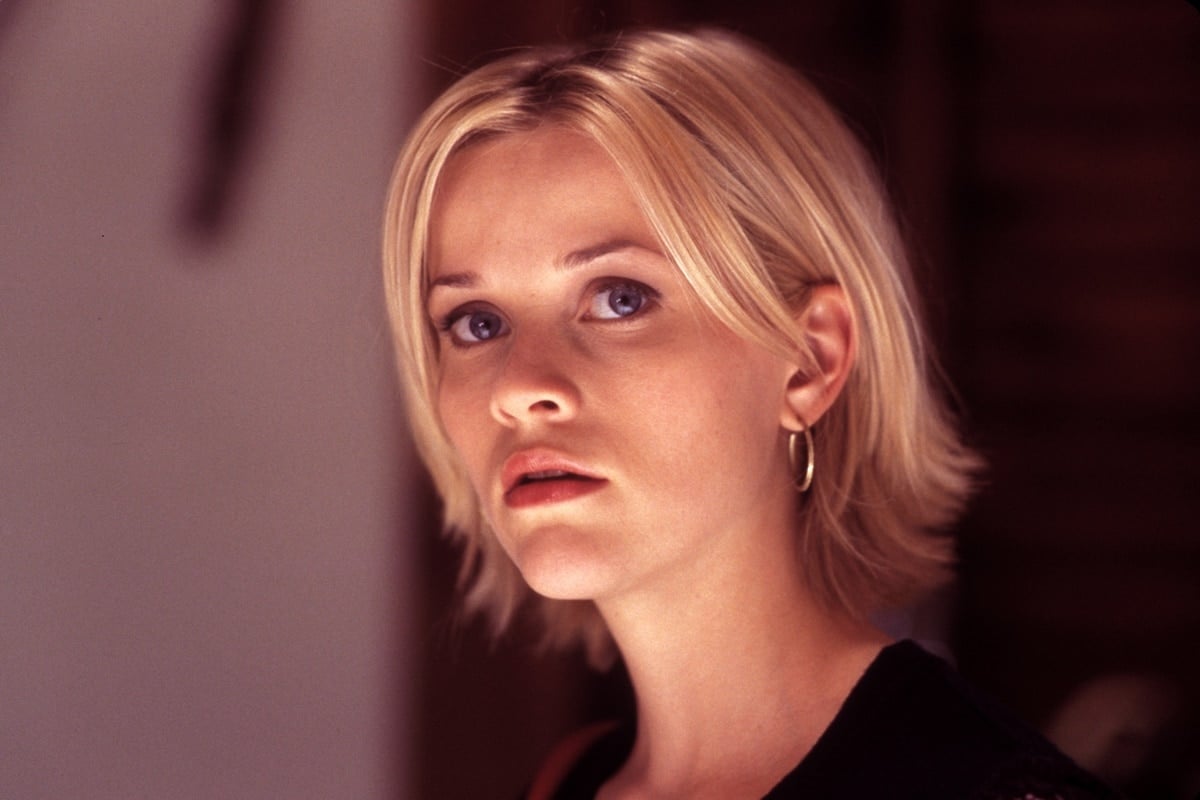 Reese Witherspoon's cute, short haircut in Sweet Home Alabama (Credit: Buena Vista Pictures Distribution)
Fashion designer Melanie Carmichael and hairstylist Anne Morgan told CNN how to get Reese Witherspoon's iconic short haircut.
"We spent six hours making her platinum," said Magnet hairstylist Anne Morgan. "With her blue eyes and pale skin, I like the palette more."
Morgan began by applying Kérastase Serum Nutri-Instant throughout Witherspoon's wet hair and Bumble and Bumble Thickening spray at the roots for texture. After blow-drying locks straight, she worked in a quarter-size dollop of MOP Pommade for control. Then she used a flatiron on the ends to create flips. Last, she made a side part and casually tucked hair behind the ears.
Reese Witherspoon shows off her new hairstyle while talking on the phone on June 20, 2016, in Beverly Hills (Credit: WENN)
Witherspoon debuted a new shorter hairstyle while running errands in Los Angeles in 2016. She wore a printed sleeveless top paired with a flared skirt — both by her own clothing line, Draper James.
The then-40-year-old American actress accessorized with a Rolex watch, a Tiffany & Co. bracelet, and cat-eye sunglasses by Le Specs x Self-Portrait.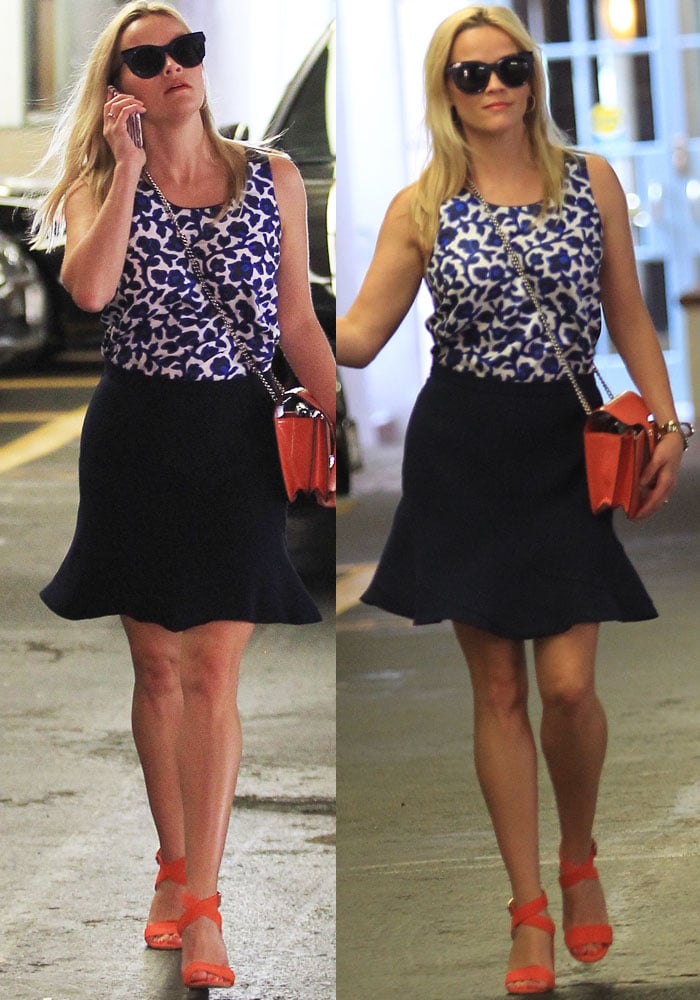 Reese Witherspoon wears pieces from her own collection, Draper James, while out in Beverly Hills (Credit: WENN)
The Fear actress added a pop of color to her outfit with a tangerine Gucci purse and matching Manolo Blahnik "Tondala" sandals.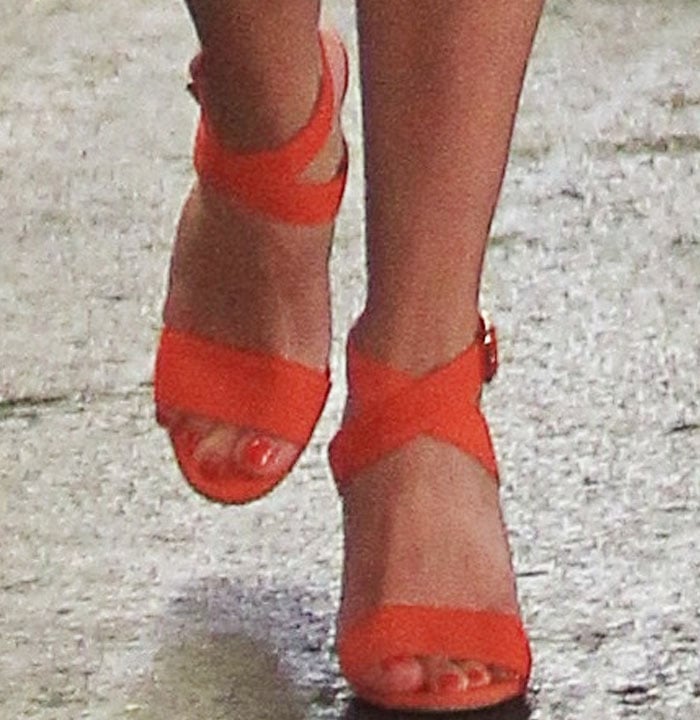 Reese Witherspoon's feet in orange Manolo Blahnik sandals (Credit: WENN)
Reese showed off her freshly-chopped and summer-ready locks as she made her way through the parking lot.
Itching for some summer sandals? You can check out her tangerine beauties from Manolo Blahnik at Nordstrom and Farfetch.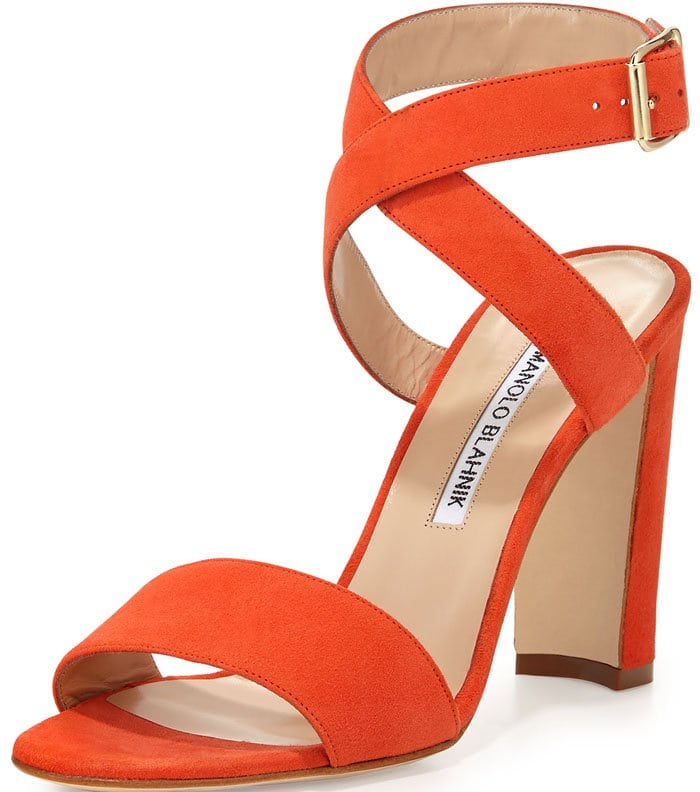 Orange Manolo Blahnik Tondala Suede Ankle-Wrap Sandal
Manolo Blahnik "Tondala" Suede Ankle-Wrap Sandal in Orange, $745