Kelly Brook, whose height is 5ft 6 (167.6 cm), was camera-ready while heading to the Riverside Studios to film "Celebrity Juice" in May 2013.
The British beauty posed a bit for the cameras as she left her home and walked to her car. According to the Office for National Statistics, the average height for an adult woman in the UK is around 5ft 4in (162.1 cm), so Kelly is slightly taller than average.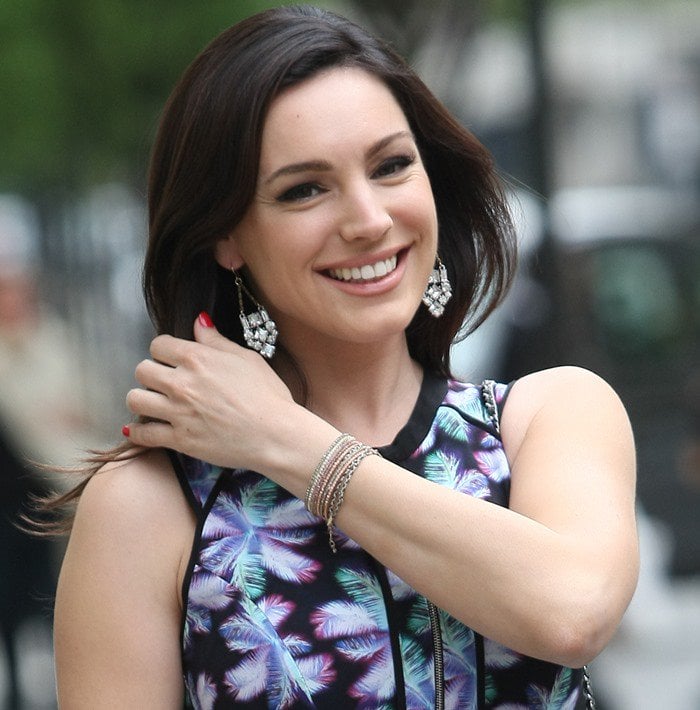 Kelly Brook arrives at Riverside Studios to film the final episode of "Celebrity Juice" on May 15, 2013, in London (Credit: WENN)
"I've always been about 8 and a half to 9 stone and I'm 5ft 6in. I think that's normal," she told The Mirror about her height in 2007. She wears a shoe size 8.5 (US).
In an interview with OK Magazine in 2012, she expressed her desire to maintain a toned and healthy physique. Standing 5 feet 6 inches tall, she believed that the thinnest she could be without compromising her health was 119lbs and a UK size 8.
However, she noted that people tend to comment on her weight loss at that size. At the time, she weighed 126 lbs and wore a size 10, which made her feel content and satisfied with her body.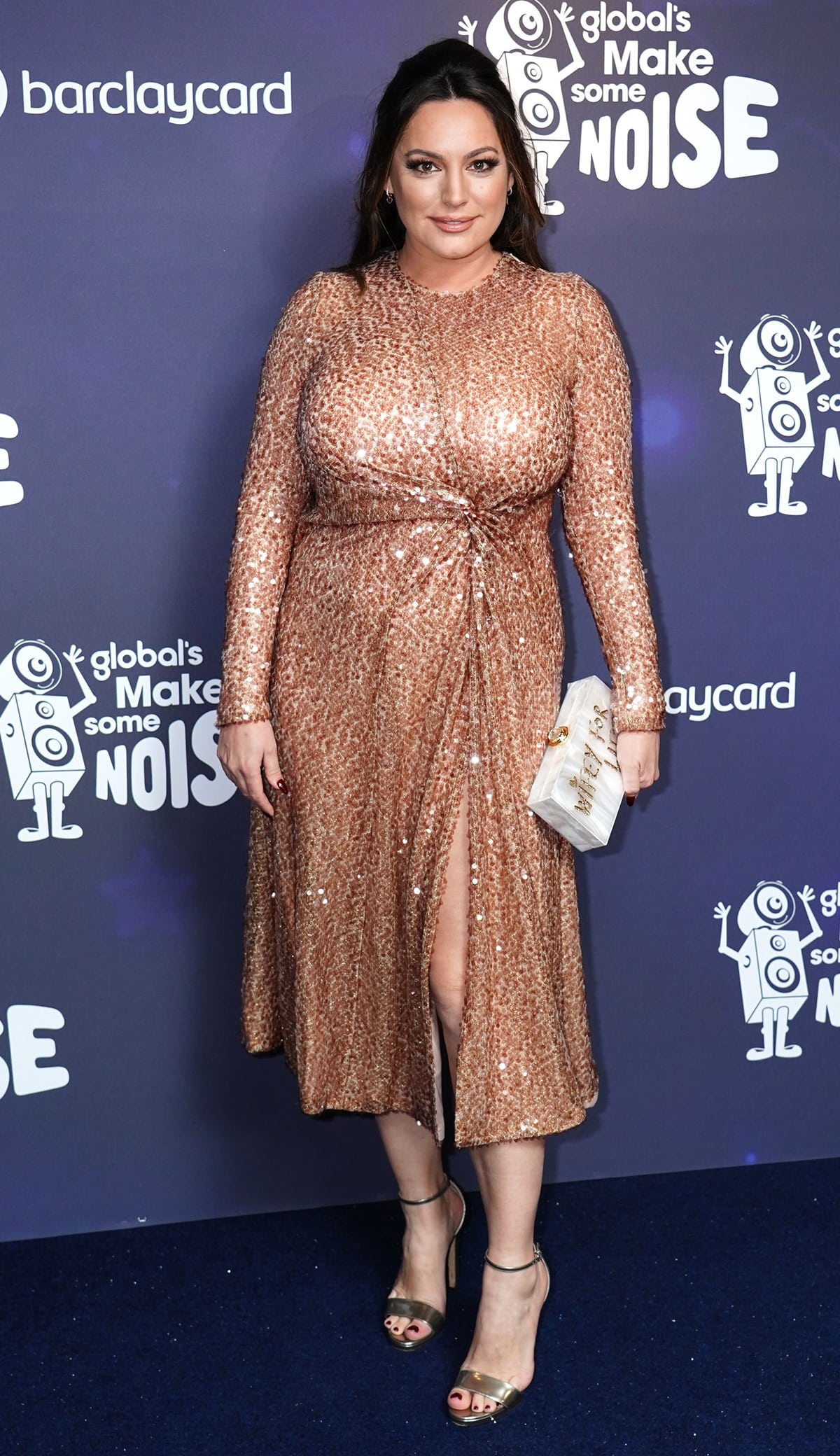 Kelly Brook flaunts her legs in a stunning copper-hued sequined dress with a thigh-high split at Global's Make Some Noise Night 2022 at The Londoner Hotel in London on November 22, 2022 (Credit: PA Images / INSTARimages / Cover Images)
In a 2010 interview with Daily Mail, she stated that she previously had difficulty finding clothing that flattered her curvy figure. As a younger person, she would follow trends without considering if they complemented her body shape.
Nowadays, instead of copying others, she focuses on highlighting her waist, as it evens out her hips and chest. During her teenage years, when she started modeling, she didn't fit the mold of a tall, slender model with a small, perky bust or a boyish figure.
In Autobiography: My Story, a book published in 2014 and available on Amazon, she wrote, "I'd started out at Models 1…But within a few seconds of my being there it was fairly obvious I was not the right height or shape for them. I was 5 foot 6 inches with a 30E chest, 24-inch waist and 36-inch hips. I was far too short with massive boobs and a curvy body; I had completely the wrong proportions. I was a round, sexy girl when the whole heroin-chic waif thing was at its height."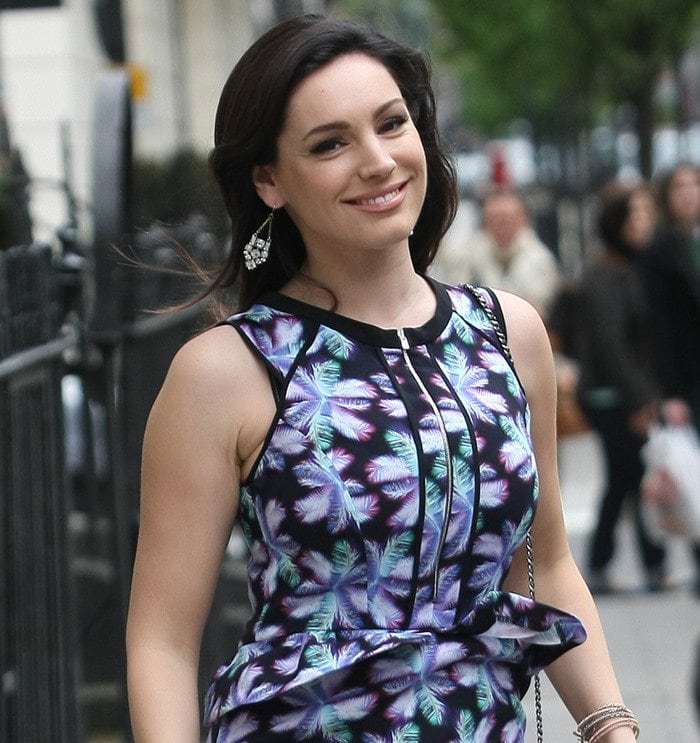 Kelly Brook poses for the camera in a pastel-patterned black peplum dress (Credit: WENN)
The SlimFast devotee wore a pastel-patterned black peplum dress with a black pair of Christian Louboutin "Zoulou" platform sandals, a sexy combo that made her legs look long and lean.
Kelly kept her makeup natural and wore a few jewelry pieces, including chandelier-style earrings and bangle bracelets.
Kelly Brook shows off her legs in a thigh-length peplum dress with sky-high platform sandals (Credit: WENN)
In July 2010, Kelly Brook joined the call for airbrushed photos to be clearly labeled, stating that if people are being digitally slimmed down, a clear warning should appear.
Speaking at the launch of her new poster campaign in London, Brook emphasized the importance of not portraying unrealistic and unachievable standards to young teenage girls.
"If people are being slimmed down in photographs then I think that should definitely be pointed out," she said. However, she acknowledged that her own picture on the new billboard was "probably" airbrushed.
Brook, who is a fan of Hollywood and the whole era of glamour, acknowledged that airbrushing has been around since the '50s and said that any label at the bottom of photos saying 'this is airbrushed' should be "small". She also emphasized that her own looks were perfectly normal: "I guess I'm not a typical 5'10 skinny supermodel, I'm 5'6 I'm curvy, I've got real boobs – that hang! I'm just normal."
Kelly's red pedicure matched both her red manicure and the red soles of her Louboutins.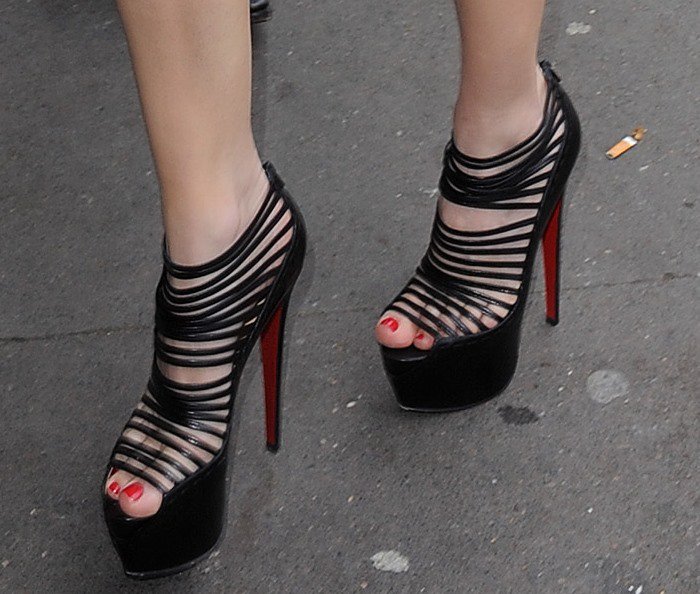 Kelly Brook's feet in platform Christian Louboutin sandals (Credit: WENN)
What do you think of Kelly's ensemble? The popular "Zoulou" sandals she wore were originally sold in black, nude, and printed python.
While the only style of these shoes available at Mytheresa is the printed python print, we found a similar style at a much lower price on Zappos.
Christian Louboutin "Zoulou" Python Platforms, $2,095
Chinese Laundry 'Two Stops' Platform Sandals, $114.99