While we're soaking up the summer sun, it's not too early to start thinking about fall shoe trends. Fall 2022 shoe trends are all about juxtaposition. Everything, from oversized rain boots to Parisian satin ballet flats, is back in vogue.
Fall is a time when fashion meets functionality. You never know what the weather will do. Your closet must be ready for anything, from unexpected heatwaves to snow and rain.
We're focusing on the latest runway collections to find the biggest fall 2022 shoe trends you need to know. This list of 2022 shoe trends has something for everyone, whether you can't abandon your trusty flats or want to experiment with metallic shoes.
1. Mary Janes
One shoe trend that was all over the Fall/Winter 2022 runway was Mary Janes. These aren't the Mary Janes you were wearing in the '90s. No, these Mary Janes aren't the styles that were mainstream in the '90s—they're even better.
The Mary Janes of fall 2022 go the extra mile, from oversized platforms to buckle detailing and wedge heels.
Versace 'Medusa Aevitas' embellished satin platform pumps, $1,425 at Net-A-Porter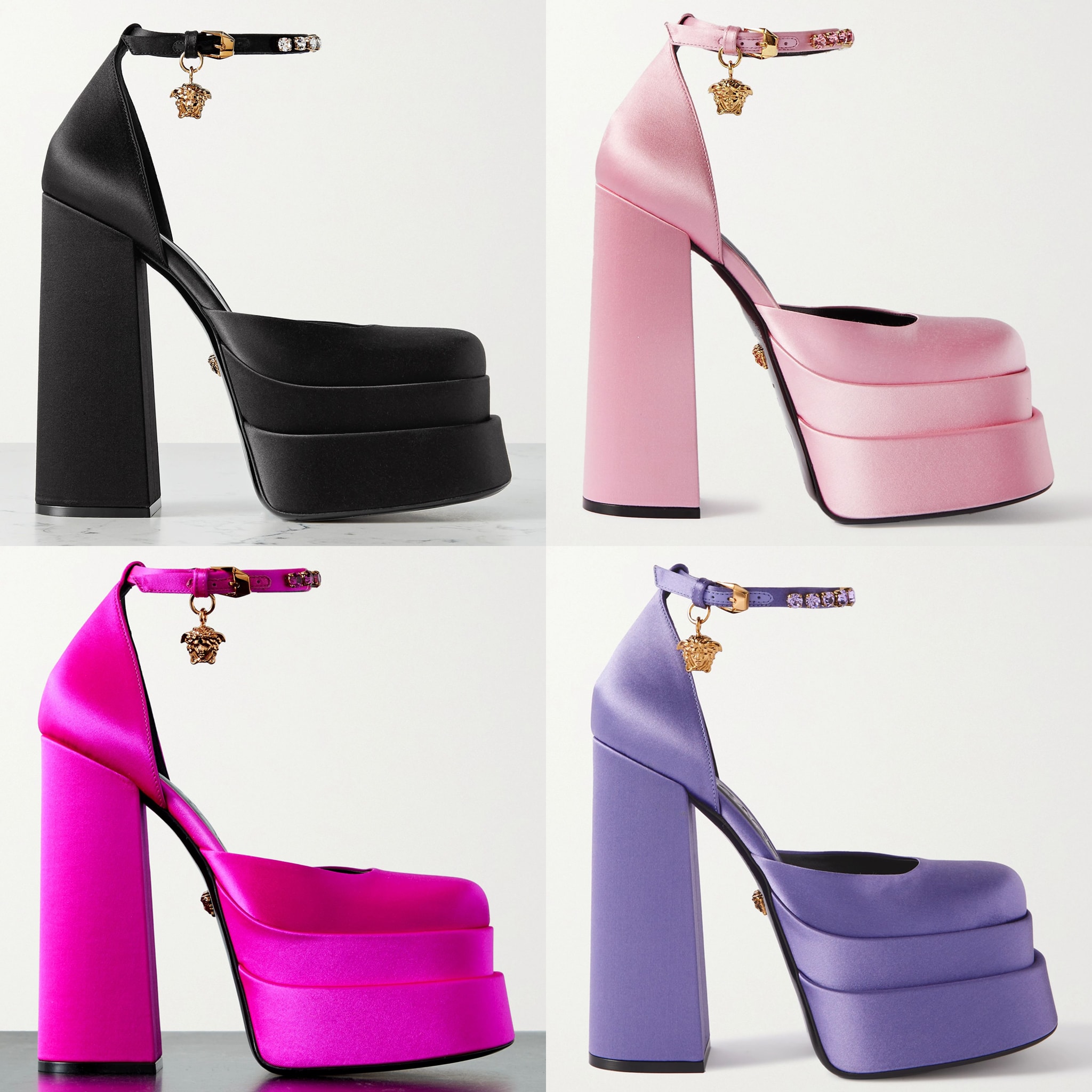 Not only are the Medusa Aevitas chic, but they also add height with stacked platforms and 6-inch towering block heels
These Mary Janes are guaranteed to take center stage. Everyone, from Prada to Versace and Bottega Veneta, had this style in their Fall/Winter 2022 collection.
Available at Mytheresa, the Versace "Medusa Aevitas" platform Mary Janes is one of the most sought-after styles for fall 2022.
2. Ballet Flats
Ballerina flats are the comeback kid of fall footwear trends. It's time to take a leaf from the Parisian style book by discovering your love for classic ballet flats.
With the balletcore aesthetic going viral online, it's no surprise that these versatile shoes have found their way back onto the runway. While high heels are having a comeback moment post-pandemic, we're not ready to get rid of our loyal flats just yet.
Miu Miu Satin Ballerinas in Orchid Pink, $950 at Miu Miu
Presented during the Fall/Winter 2022 show, these ballerinas are an iconic Miu Miu style decorated with a feminine bow and a logo-detailed elastic band
Luxury fashion brands like Proenza Schouler and Miu Miu are once again making ballet flats 'cool girl' chic. Get your closet ready for fall 2022 with an elevated ballet flat with a satin finish.
Vivaia 'Merry' Square-Toe Ballerina Flats, $89 on Amazon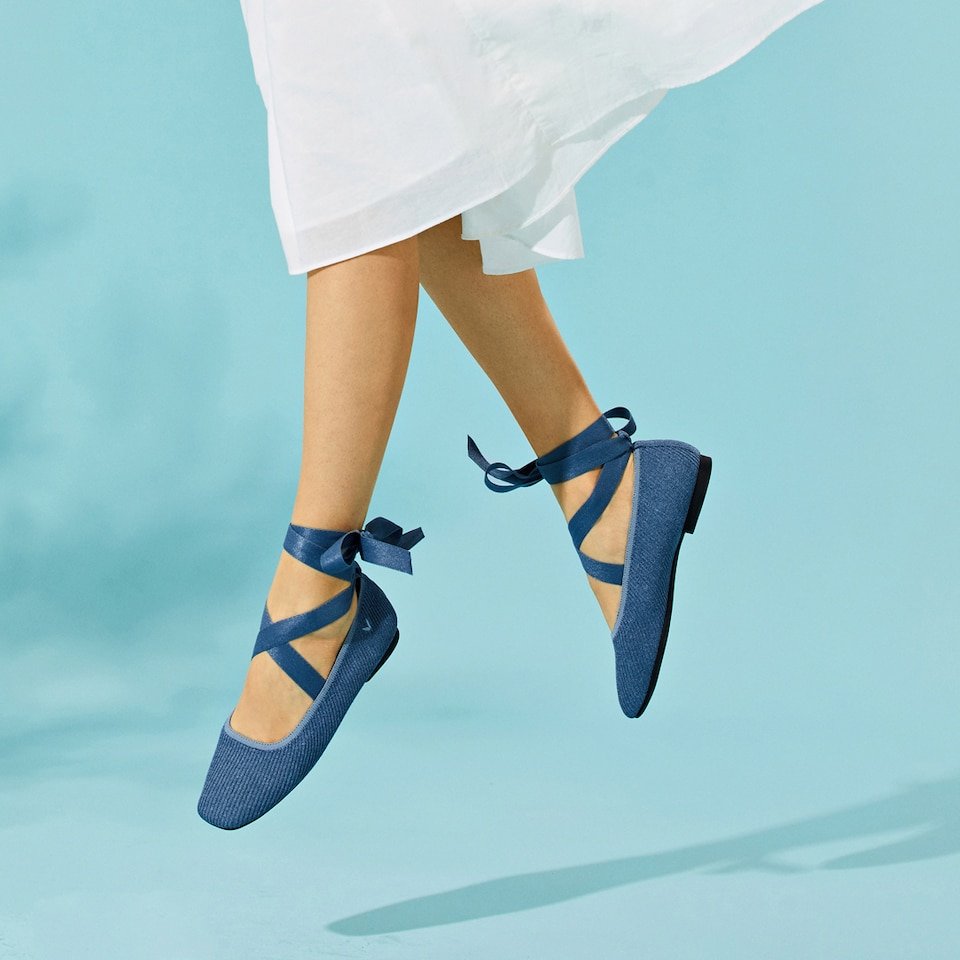 These comfy Vivaia ballerinas have removable bow ties, offering different ways in which they can be worn
Splurge on the Miu Miu satin ballerinas or get the classic ballerina look for less with Vivaia's square-toe flats.
3. Leather motorcycle boots
Channel your inner maverick with these masculine motorcycle boots. No closet is complete without at least one pair of go-to fall boots. This season, we'll be rocking the leather motorcycle boots.
Balenciaga 'Cagole' Leather Ankle Boots, $1,690 at Farfetch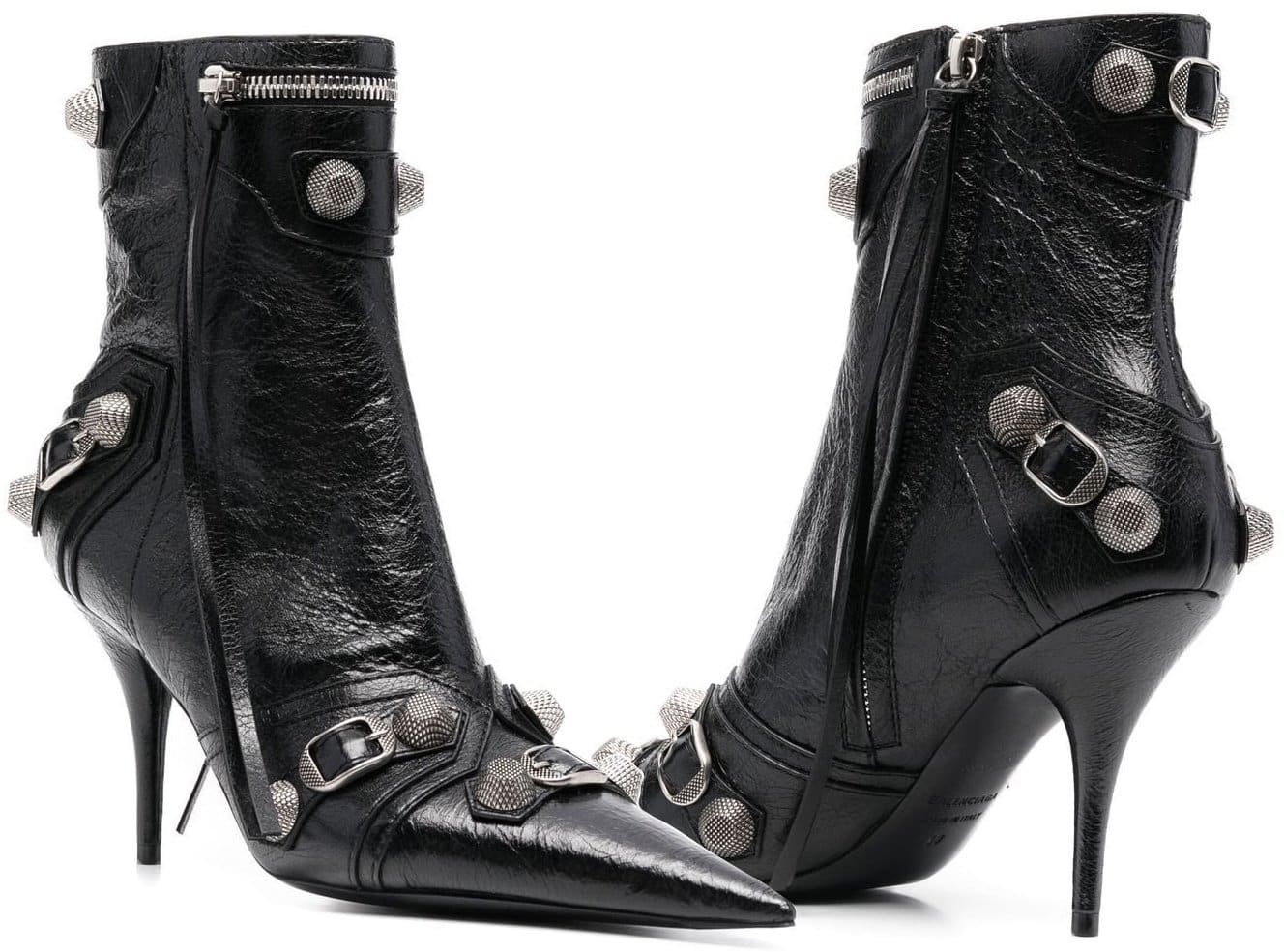 Balenciaga's Cagole boots have a crinkled finish, toughened with silver-tone stud detailing
These laidback boots are making a comeback from the height of 2010s streetwear when they reigned supreme during the era of Balenciaga's iconic motorcycle bags.
The Fall 2022 motorcycle boots have a vintage feel with a contemporary twist, adding stiletto heels and extra tassels. It's no surprise that Balenciaga is spearheading this 2022 fall shoe trend with the resurgence of its classic motorcycle-inspired handbags.
Kurt Geiger 'Stoop' Leather Crystal Biker Boots, $260 at Selfridges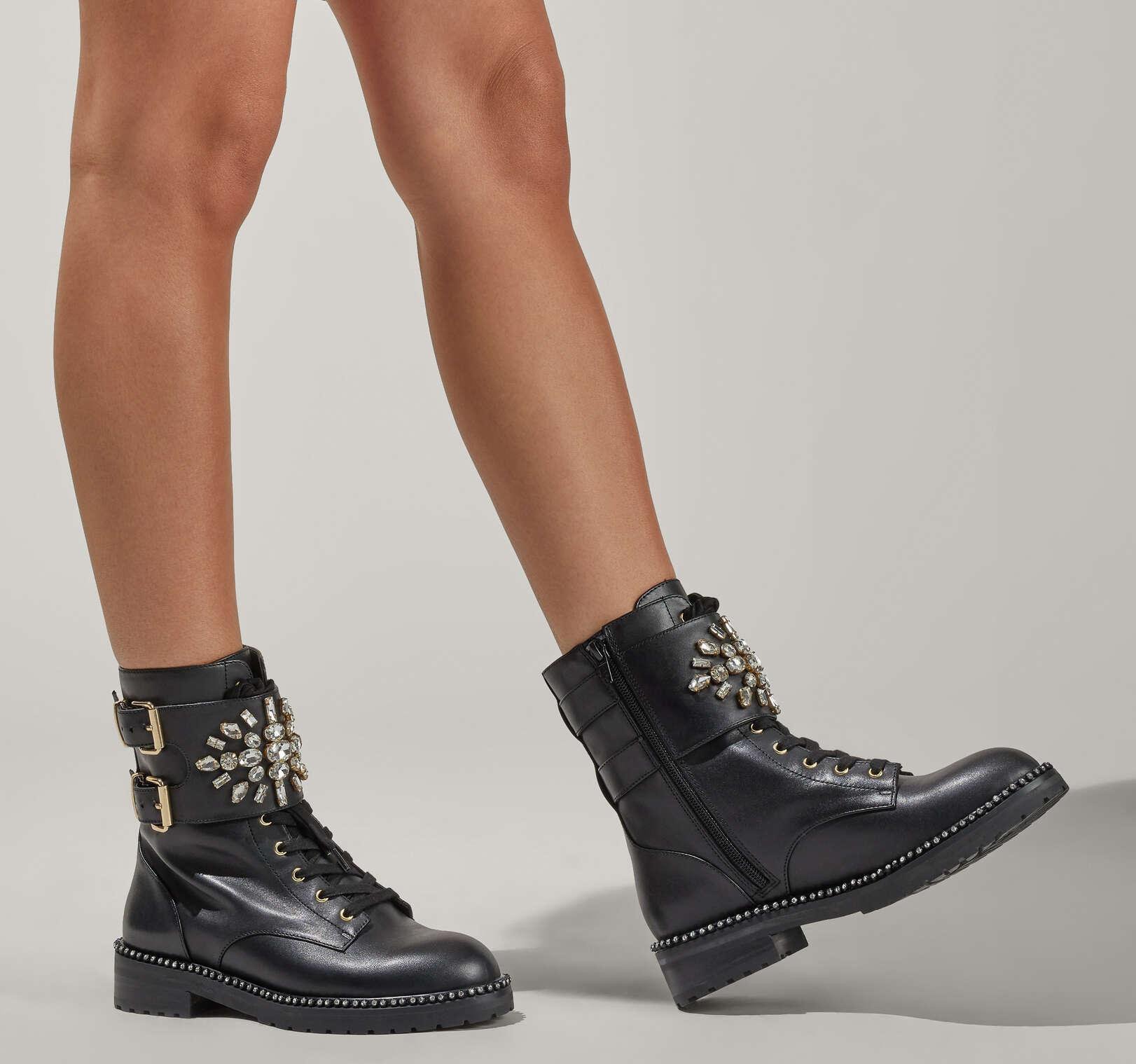 A bestseller, the Kurt Geiger Stoop is designed with sparkling crystals on the twin strap, finished with side zips, lace-up fastenings, and 1-inch heels
If you're hunting for designer boots for 2022, check out the Balenciaga "Cagole" leather ankle boots. Kurt Geiger's "Stoop" boot is at a more attainable price point with a touch of sparkle.
4. Wader Boots
One type of shoe that graced the runways of brands as diverse as ACNE Studios, Bottega Veneta, and Chanel was the 'Waders' shoes. These distinctive tall boots aren't your usual over-the-knee boots.
Burberry Porthole Detail Wader Boots, $1,137.74 (from $2,409.77) at Cettire
These Italian Wader boots are contoured with a cutout detail, which is a nod to the maritime influences of the house's Spring/Summer 2021 collection
What makes the Wader style different is that these boots have a wide silhouette that comes to the middle of your thigh.
Unlike traditional boots designed to be styled with sweater dresses and maxi skirts, the Wader Boots are your going-out shoes. They're the style you'll reach for when hitting the town in a mini skirt and tweet jacket.
Brands spearheading this utilitarian-inspired trend include Burberry with its porthole detail boots.
5. Fuzzy Fur Shoes
Fuzzy textures are making a comeback for fall 2022. While it's mainly faux fur rocking the runway, fuzzy things appear in the collection of almost every major designer.
Khaite is one of the designers leading the way by helping us rediscover our love for faux fur fuzz.
Celine Fur Slides Triomphe Open Slides, $730 at Celine
Splurge on these Celine fluffy slides made of 100% shearling with the Triomphe signature leather patch on the upper
These fuzzy fur shoes add a playful look to your fall 2022 closet, whether you're rocking platform loafers or adding cozy fuzzy fur to your casual clogs.
UGG 'Fluff Yeah' Slides, $99.95 to $109.95 at Zappos
A lightweight slipper and sandal in one, the Fluff Yeah is made of shearling and comes in a variety of prints and colors
The Celine fur slides are the ultimate splurge, while the Ugg "Fluff Yeah" slides are at a more attainable price point.
6. Metallic shoes
We've fallen head over heels for metallic shoes. Whether it's metallic mules or ABBA-inspired knee-high boots, metallic shoes are everywhere you look for fall 2022.
This shoe trend is an easy way to change up your style without going too far outside your comfort zone. These shoes are a style you can wear with a floral midi dress for a winter wedding or style with your signature tailored pantsuit.
Prada Metallic-Finish Slingback Pumps, $1,200 at Farfetch
Prada's slingback pumps feature a rubber shell sole that envelops the metallic upper, blending feminine pointy shape and sporty references
The Prada brushed leather slingback pumps give a classic silhouette a new lease of life with a silver metallic finish.
7. Skinny, over-the-knee boots
Boots are a fall closet staple. For fall 2022, it's all about creating the illusion of a second skin with skinny over-the-knee boots. These boots fit like a glove, giving you the appearance of longer legs and a slimmer silhouette.
Proenza Schouler Stretch-Leather Over-the-Knee Boots, $975 at Net-A-Porter
From the Fall 2020 runway, these Proenza Schouler over-the-knee boots fit like a glove with their stretchy leather construction
Our favorite fashion houses, from Burberry to Balenciaga, are all over this fall 2022 footwear trend.
These second-skin boots are the perfect way to style a leather maxi skirt or to take your little black dress to the next level.
Michael Costello x Revolve 'Marian' Boots, $379 (from $498) at Revolve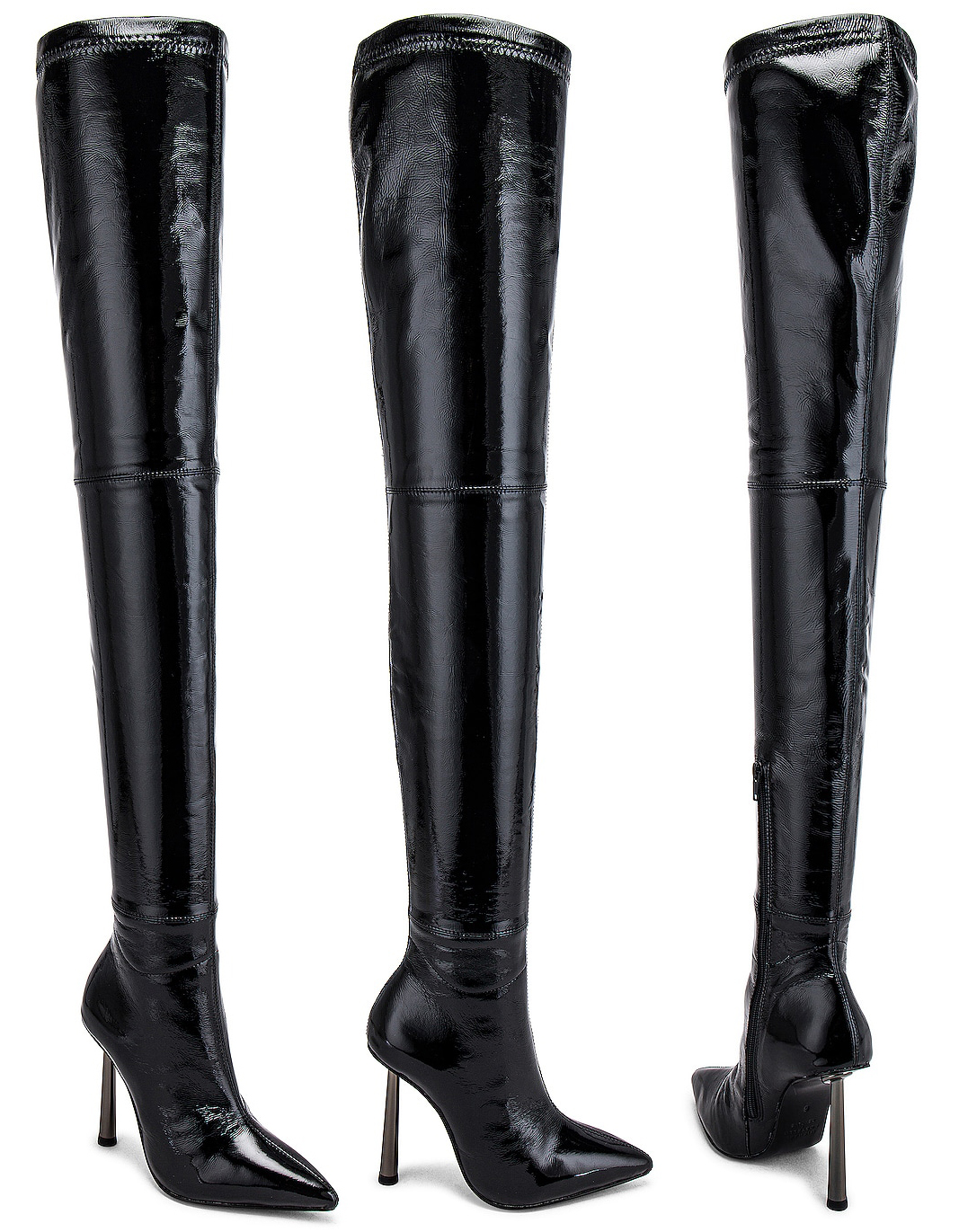 The Marian boots are designed from supple patent leather with a super high over-the-knee styling and metal heels
Proenza Schouler is one of the brands to look out for in fall 2022 with its stretch-leather over-the-knee boots. The Michael Costello x REVOLVE "Marian" boots give you the same look without totally breaking the bank.
8. Wedge Heels
Another nostalgia-inspired trend making a comeback for fall 2022 is wedge heels.
Trend-setting fashion houses like Bottega Veneta and Tom Ford are all over this trend, giving it a contemporary look as slingbacks, sandals, and pumps.
Raye 'Bikini' Wedge Sandals, $168 to $188 at Revolve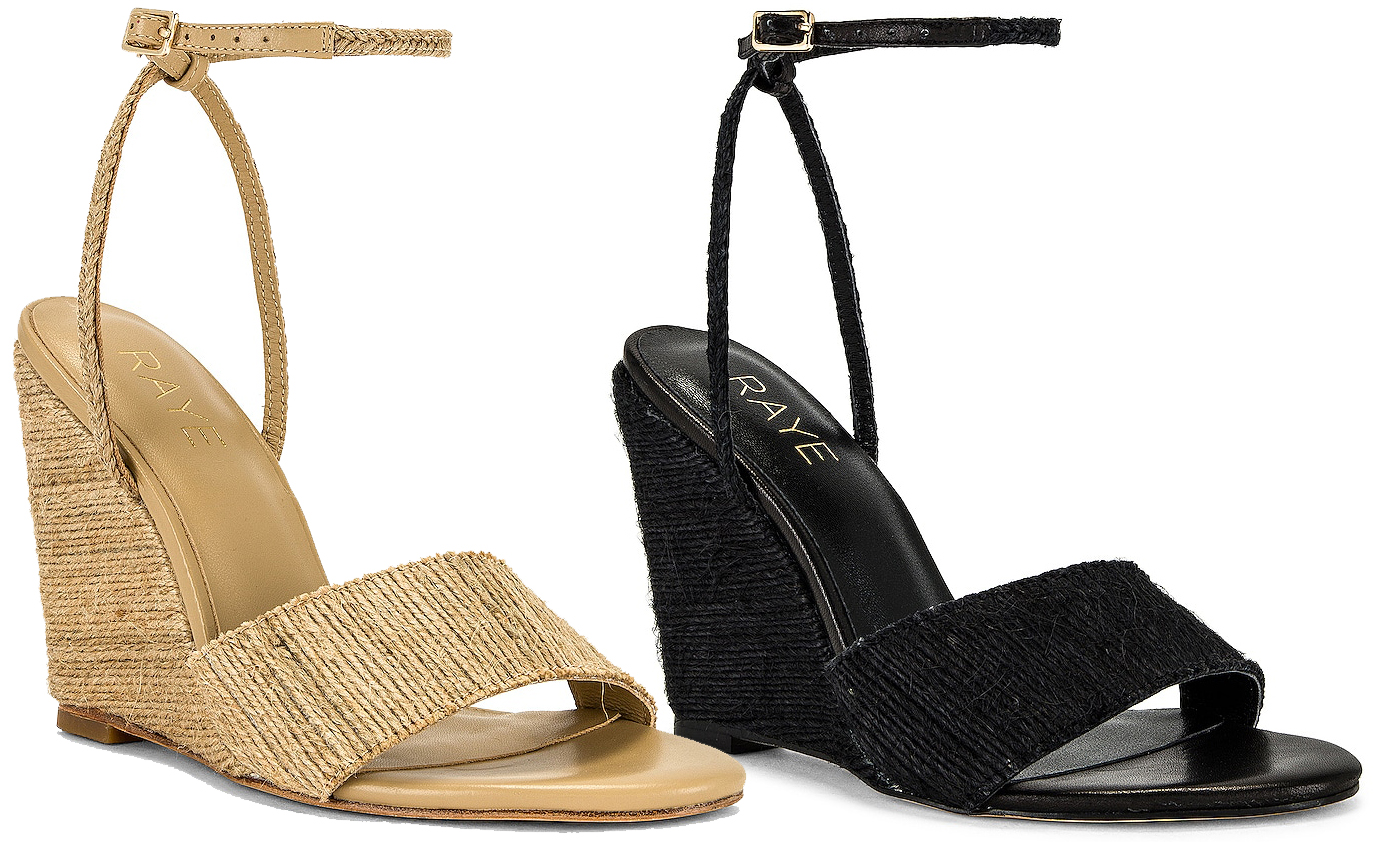 Crafted from jute, the Raye Bikini wedges feature a slender ankle strap, a wide toe strap, and 4-inch wedge heels
Everything in life can be made better with a wedge heel. Raye's Bikini Wedge is top of our shopping list, while the Moncler "W" Short shearling-lined suede wedge ankle boots will have you prepared for any weather.
Moncler 'W' Short Shearling-Lined Suede Wedge Ankle Boots
Moncler's W boots are made in Italy from supple suede, trimmed and lined with plush shearling
9. Oxfords and Loafers
One aesthetic making a comeback for fall 2022 is 'old money' – more commonly known as the preppy trend. You can thank TikTok for making us fall back in love with this mid-2010s aesthetic.
Saint Laurent Army Derbies in Patent Leather, $845 at YSL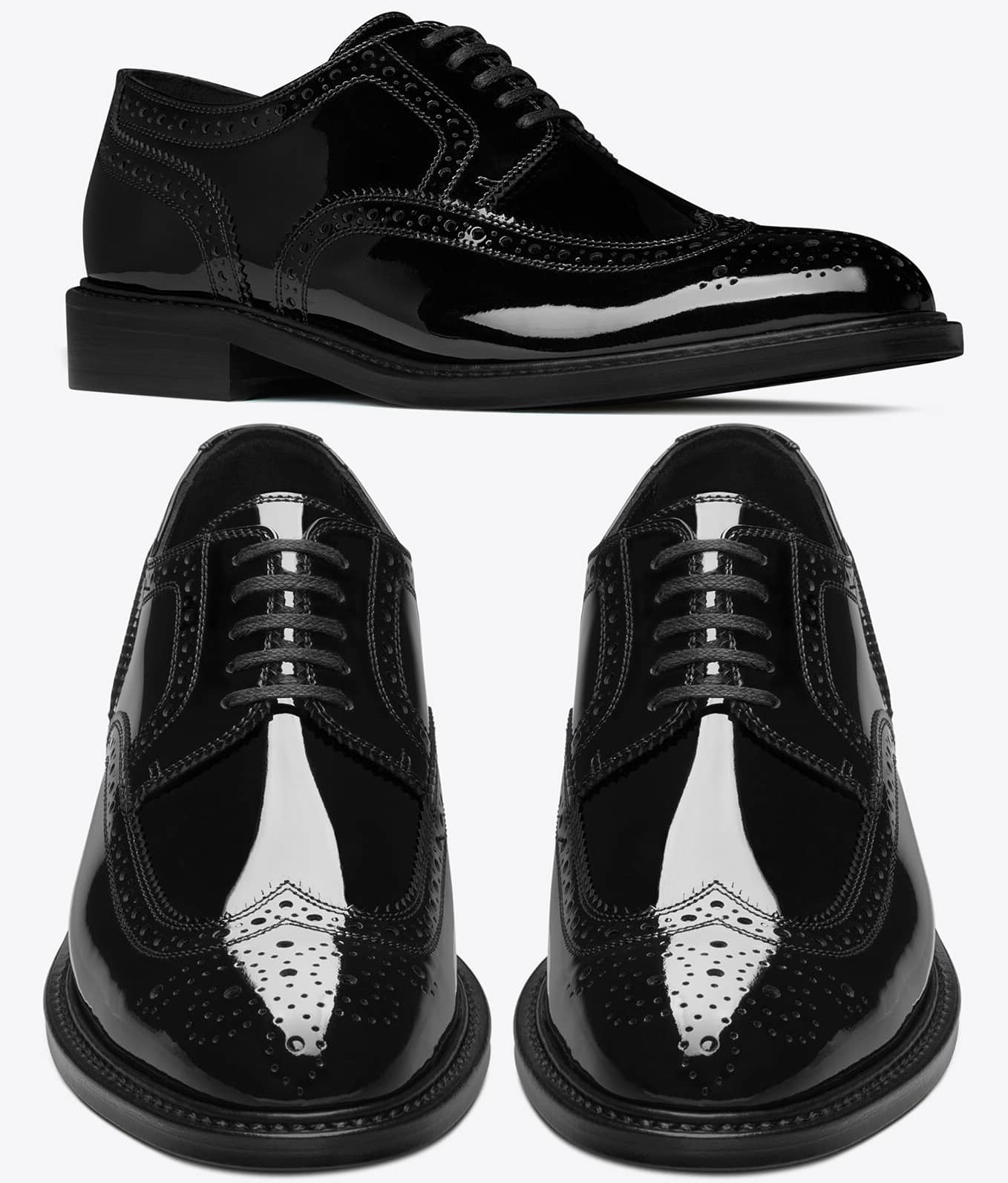 These laced derbies from Saint Laurent are decorated with perforated detailing, finished with lace-up upper and 0.7-inch heels
Part of this comeback includes the resurgence of classic school-girl shoes, such as oxfords and loafers.
The good news is that this trend is one of the most accessible to add to your fall 2022 closet. Splurge on oxford shoes from Saint Laurent, or opt for mid-tier alternatives from Reformation.
Reformation 'Adina' Chain Loafers, $248 at Reformation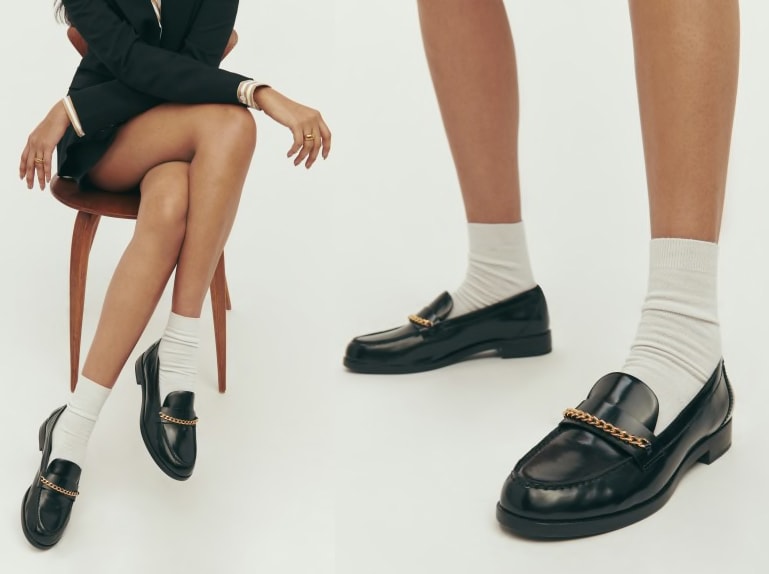 Reformation's Adina is a minimalist loafer that boasts vintage-inspired chain hardware on the upper
Fall 2022 shoe trends are all about rediscovering classic silhouettes and giving them a contemporary twist. The nine must-have shoes for fall 2022 are all styles that blend fashion with functionality.