Known for her uncanny resemblance to Isabel May, Jennifer Lawrence is one of the most popular actresses in the world.
In an interview with Entertainment Tonight, Isabel May admitted she gets told she looks like Lawrence "all the time." It started when she was just 13 years old, but she doesn't mind it one bit. Born in 2000, Isabel May is 10 years younger than Jennifer Lawrence.
Isabel May (L) has been told she looks like Jennifer Lawrence (R) since she was 13 years old (Credit: Tinseltown / Featureflash Photo Agency / Shutterstock)
"It's not a bad thing at all," she said. "It's the biggest compliment in the world. I admire that woman to death."
May, who starred as Katie Cooper on the Netflix series Alexa & Katie, described Lawrence as "the coolest human being I've ever seen in my life."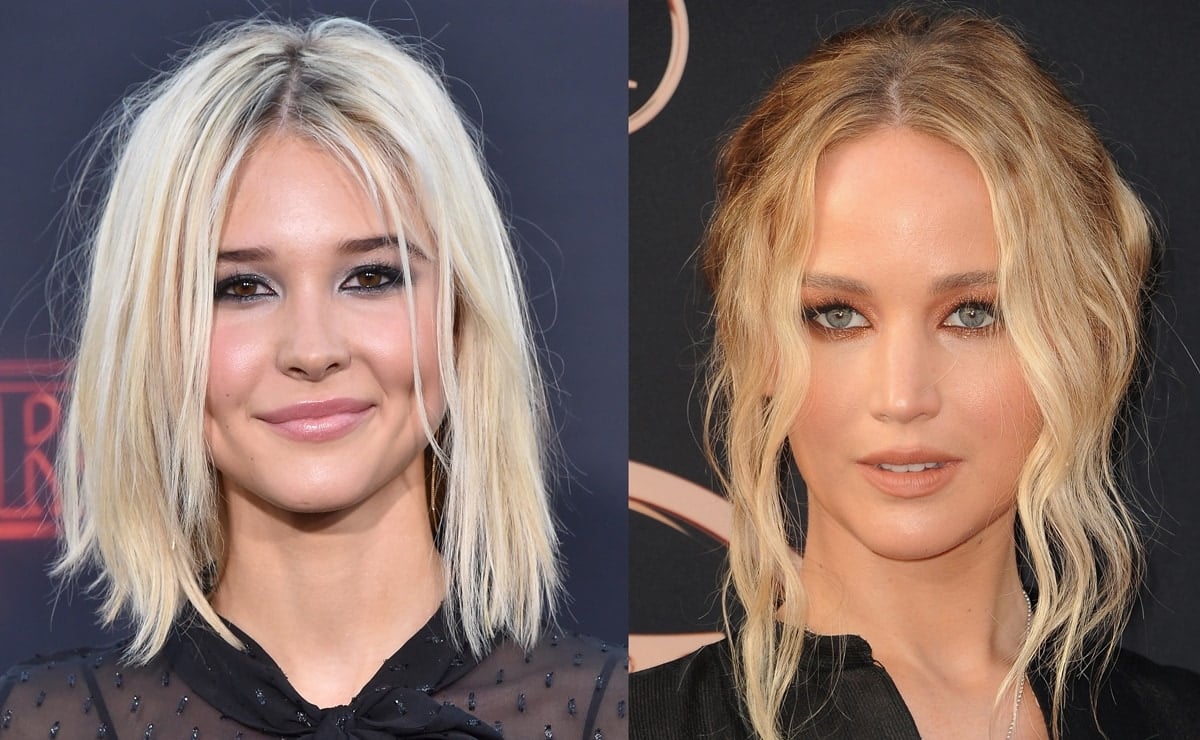 Isabel May (L) bears a resemblance to Jennifer Lawrence (R) and is known as her doppelganger (Credit: Tinseltown / DFree / Shutterstock)
2014's most Googled celebrity was not Kim Kardashian but a wealthy award-winning actress who knows how to keep her clothes on. Yes, ladies. It was Jennifer Lawrence!
Jennifer Lawrence shows off her feet in studded Manolo Blahnik Rocco ankle-band sandals (Credit: TNYF / WENN)
Her frequent red carpet mishaps and blockbuster movie Mockingjay might have catapulted her to internet search engine royalty status, but we suspect a big part of her popularity is caused by her impeccable style.
Jennifer Lawrence styled her leather moto jacket with Topshop Dogtooth cigarette pants (Credit: TNYF / WENN)
We dare you to look at her red carpet photos and not go to your favorite search engines and see what brands she's wearing!
Jennifer Lawrence wears Manolo Blahnik Rocco ankle strap heeled sandals with edgy silver stud accents (Credit: TNYF / WENN)
Even off the red carpet, the X-men actress still looks sharp and put-together. In fact, she even makes an edgy leather moto jacket look so classy.
In December 2014, Jennifer rocked an Isabel Marant Etoile Bacuri leather moto jacket. She styled it with a pair of tapered cropped pants, a black top, and a pair of studded Manolo Blahnik Rocco ankle-band sandals. Black sunglasses hid most of her makeup-bereft face.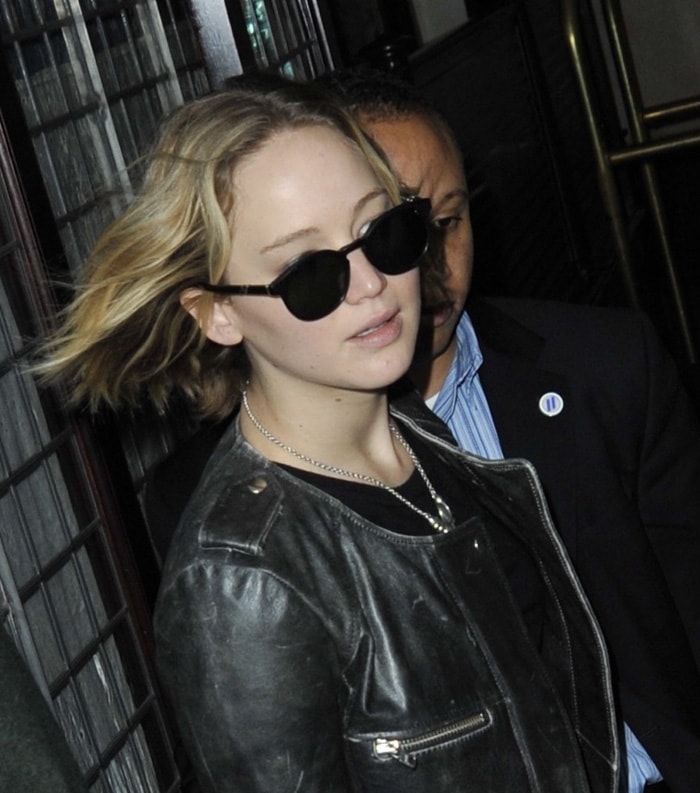 Jennifer Lawrence wears an Etoile Isabel Marant Bacuri leather biker jacket outside her hotel in New York on December 17, 2014 (Credit: TNYF / WENN)
We don't know about you, but we're itching to get to our closets and assemble something like this. But first, a cute leather jacket is a must.
Here are some similar leather jackets you can order at Shopbop:
1. BB Dakota Alec Jacket, $308.00
2. Versace Leather Jacket, $1998.00
3. IRO Joss Leather Jacket, $1,077.30
4. Anine Bing Quilted Leather Jacket, $1,099.00
5. RtA Leather Jacket, $995.00
Use these jackets to assemble a Jennifer Lawrence-inspired outfit!