Danner boots have been a classic American brand for decades, but they skyrocketed in popularity after Cheryl Strayed's movie Wild began airing on Netflix in 2014 (featuring Reese Witherspoon).
In the movie, Reese Witherspoon was wearing Danner boots nearly the entire time, and they quickly became a footwear staple around the world.
Reese Witherspoon wears chunky Danner boots while hiking the Pacific Crest Trail in Wild, a 2014 American biographical adventure drama film
Danner boots are known to be of exceptional quality, and they are a popular choice among hikers around the world. A go-to brand for hiking and work boots, the American footwear label has been around since 1932 – that's nearly a century!
The shoe industry has definitely changed since they started operations in the '30s, but the quality of Danner boots has remained consistent throughout.
Brand History
Charles Danner is the founder of Danner boots. The company was launched in the midst of The Great Depression in the United States– what a time to start a business!
Danner was an American shoemaker, who was passionate about his craft. In 1932, he opened a factory in Chippewa Falls, Wisconsin, and he had one goal in mind – to make the best work boots in the United States.
Offering superior traction and lightweight durability for easy transitions from urban walks to trail hikes, Danner's Jag shoes debuted in the '80s as a lightweight alternative to heavy-duty hiking boots
Even when supplies were expensive and hard to come by, Danner believed in creating durable, well-made boots that would last for years to come. The opposite of fast-fashion, Danner boots were always made to last.
Back in the 1930s, you could purchase a pair for only four dollars – hard to believe, isn't it?
Though Wisconsin was a great location for Danner boots in the early years, he found something better – a place that is known today as a hiker's haven.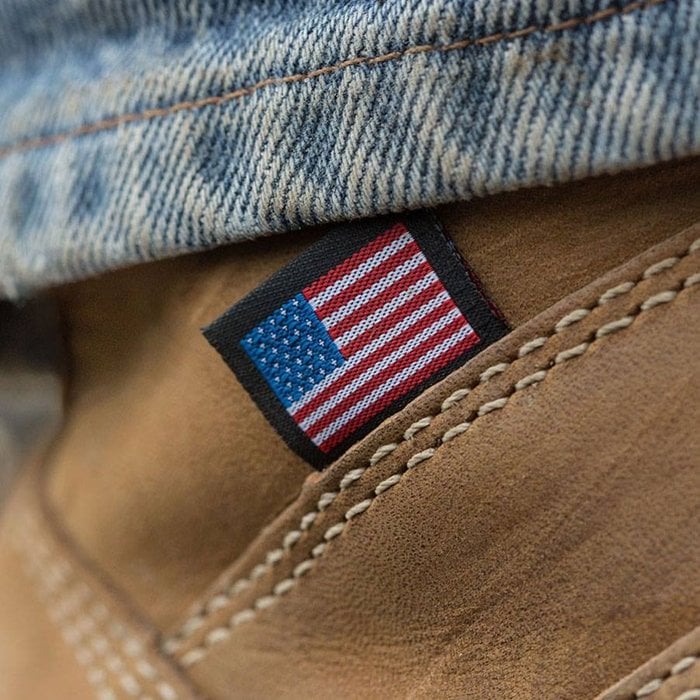 Danner boots have been manufactured in the United States since 1932
In 1936, Danner relocated to the Pacific Northwest, the ultimate location for a factory to manufacture work boots for hardworking men and across the United States.
In the 1930s and 40's the Pacific Northwest experienced a significant influx of longshoremen and loggers, who came to the area after the expansion of shipping and logging ports around Oregon and Washington.
Hardworking men need hardworking boots – Charles Danner was committed to fulfilling this need and with the small factory in the PNW, they did just that.
Portland, Oregon became the stomping grounds of Danner boots, and the factory remains there to this day. This relocation was an incredibly smart business move as it meant they were closer to their target audience and were also able to turn a profit and bring in more clientele.
Through the 1940s there was a significant increase in demand for high-quality boots, mostly as a result of WWII. Bill and his brother, John Danner, took over the company from their father Charles after returning from World War II.
Bill Danner, who died in 2016, was the longtime president of Portland-based boot manufacturer Danner and took over the struggling Danner Shoe Mfg. Company in 1945
The company was struggling to meet the demand in their current factory, and later moved to a larger factory and hired additional staff. They were soon making up to 240 boots per day and growing!
Danner's manufacturing facilities later moved several times as they continued to grow. In the 1950s, the company opened its first retail store, and it was the beginning of a whole new world for this PNW company.
Danner's iconic Mountain Light hiking boots were introduced in 1979 and are considered one of the best boots of all time
In the following decades, the company turned around to meet the increasing demand for hiking boots.
Their signature style, the Mountain Light trail boot, became incredibly popular and contributed to the success of the company for years to come.
Who Owns Danner Boots?
In the 1980s, the Danner family decided to sell the company to businessman Eric Merk. One key condition of the sale was that Eric Merk had to agree that he would continue to maintain the Danner approach to shoemaking and craftsmanship for years to come.
Quality was not to be compromised, even under the new ownership. About a decade later, the company was acquired by LaCrosse Footwear, which was established in Wisconsin in 1897. In 2012, the formerly publicly-traded company was bought by Japanese-based ABC-Mart.
Quality Of Danner Boots – Worth The Price?
Their shoes can be costly, we can probably all agree on that. But is it worth it?
Most people agree that Danner boots are some of the best quality hiking boots out there, so the price is justifiable. Each piece of leather used to create a boot is tested at least six times for quality. That doesn't come cheaply.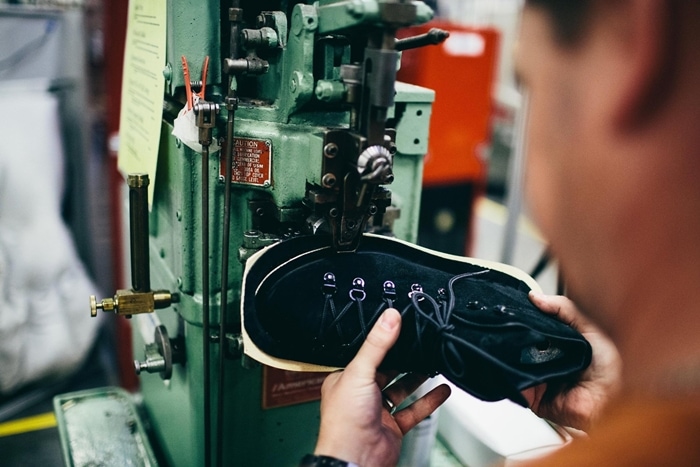 Stitching the upper to the midsole at Danner's factory in Portland, Oregon
Because each boot and shoe produced is touched by at least 100 different craftspeople, they have higher labor costs than what you might see with fast-fashion and lower-quality shoe factories.
The meticulous checks are carried out from beginning to end, so you are guaranteed to receive high-quality products when purchasing Danner boots.
Additionally, Danner boots are extremely waterproof, and extensive tests are carried out to ensure the waterproof liner is perfect, each and every time.
Where Are Danner Boots Made?
To this day, Danner boots are still made in their factory in Portland, Oregon. Due to their considerable success over the years, the factory has grown in size and they now employ hundreds of workers from around the world.
Not all Danner products, particularly sneakers and cheaper shoes, are made in the United States. Danner's website makes it easy to check where each product is made.
You can check Danner's website to see if the product you're intending to buy was made in the USA
How Much Do Danner Boots Cost?
The cost of Danner boots will depend on where you buy them, and what style you're choosing. The average range in price will be from $120 to $300 USD.
Some retailers may offer sales from time to time, but it's a very rare occurrence for these high-quality boots.
Where To Buy Danner Boots
There are many authorized retailers around the world, including Zappos, Amazon, and Moosejaw. When looking to shop for Danner boots, ensure you are choosing an authorized retailer that you trust.
Like most popular brands, you can run into knockoffs, so you'll want to be very selective when purchasing and do your homework. You can also purchase their shoes directly on the Danner website.
Danner's retail stores have knowledgeable staff to help you find the best fit
You can find brick and mortar stores, or online boutiques that offer Danner boots at a fair price. Many online retailers offer worldwide shipping, so wherever you're located you should be able to find a retailer that delivers straight to your door.
How To Find the Right Size
If you're planning to invest in a good pair of hiking boots, you need to ensure you have the right size. Nothing would be worse than spending $200 on boots that don't even fit!
The good news is, Danner boots follow standard American sizing. According to their website, all Danner footwear products are sized according to the Brannock device that you can find on Amazon.
Danner's boots and shoes are sized according to the Brannock device and are in US sizes
This makes it incredibly easy to shop as you may already know your size or, you can go to a local shoe store and use the Brannock device to find out.
That being said, Danner boots are known to be 'true to size' so if you know your American size already, you will likely find a great fit without much variance.
Danner is a classic American brand that has lived up to its reputation for exceptional quality and craftsmanship since the 1930s. One of the company's most popular styles is Pronghorn, which has been a trusted cornerstone in the hunt line for decades.
They have maintained their popularity over the years, and have proven that despite changing ownership and merging with LaCrosse years ago, the original passion and care for quality never left the brand.
Now let's grab our Danner boots and hit the trail!