Hiking is one of the best hobbies you can have. It's the perfect way to get your steps in and enjoy a digital detox. While we love hiking at the weekend, you need the right footwear.
Nothing is more important than your shoes when hiking. You could be walking for hours. Your shoes need to be comfortable enough to keep you going for hours while supporting you through rough terrain.
Good hiking boots prevent the ankle from twisting and protect your feet against bruising and abrasion from rough wilderness terrain (Credit: Leah-Anne Thompson / Shutterstock)
We're sharing everything you need to know about the best outdoor shoe brands. This guide shows what to look for in hiking boots and what shoes will help you climb any mountain.
What to Look For in Hiking Shoes
Shopping for hiking shoes is like shopping for running shoes. You're looking for similar features for both types of shoes. While you want stylish hiking shoes, support, stability, and shock absorption are the most important.
Choosing the right hiking shoes will make long-distance walking easier and reduce your risk of injury. While hiking can feel less stressful than running, walking on uneven terrain can injure your ankle and damage your shoes.
When selecting your hiking boots, consider the terrain you will hike on and the loads you expect to carry (Credit: Antonio Guillem / Shutterstock)
Fashion sneakers aren't suitable hiking shoes. It's best to invest your money into brands that specialize in hiking shoes.
There are several specific features to look out for:
Shock-absorption
Shape retention
Adequate foot support
Waterproof material
You'll also need to invest in hiking socks. The type of socks you wear will depend on where you're hiking. Thick socks are essential for hiking in colder temperatures.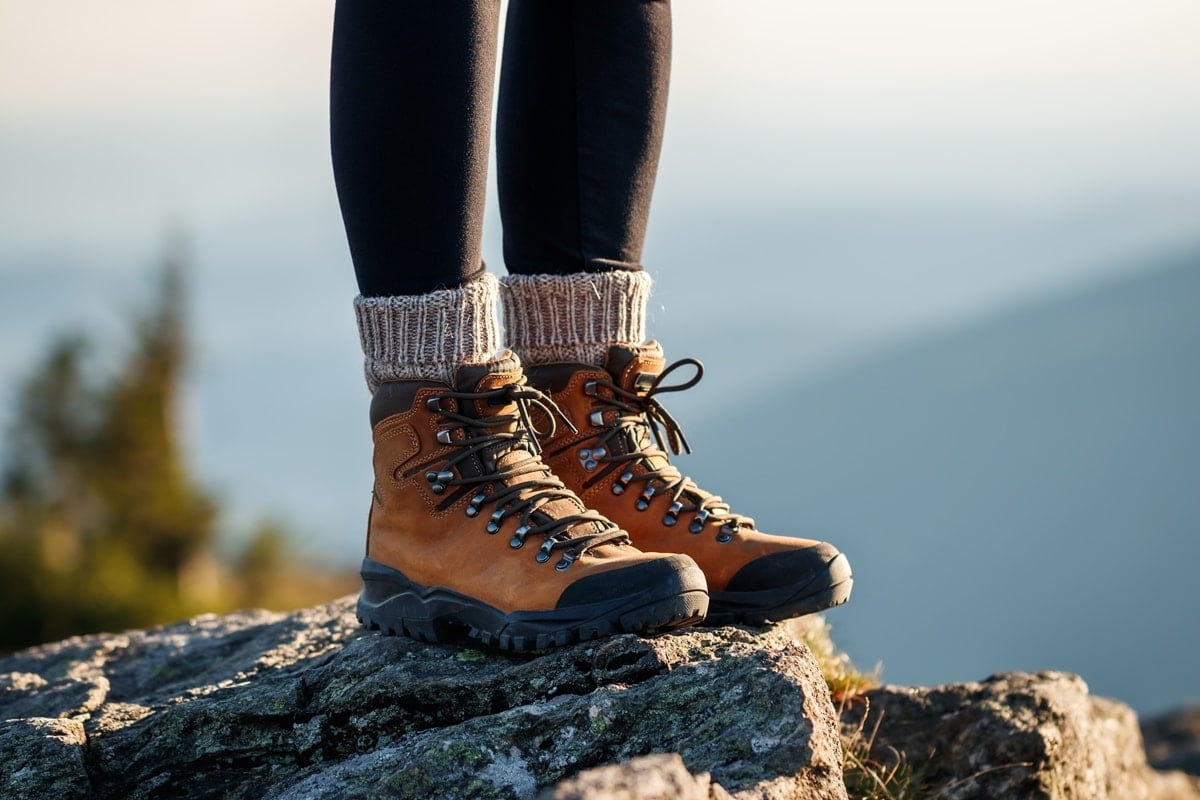 Hiking socks stop painful blisters from forming by keeping your feet dry, less sweaty, and cushioned (Credit: Encierro / Shutterstock)
Take your hiking socks with you to try on your new shoes to make sure they fit. Your hiking shoes should lace firmly without any space outside your socks.
Here are seven of the best hiking shoe brands for women:
1. Salomon – French Sports Equipment Company
Salomon is a brand born in the French Alps that has been reinventing sports experiences since 1947. The brand's mission is to help people unleash the best version of themselves through fulfilling outside sports experiences.
While Salomon is famous for its ski boots, the brand is one of the most popular brands for women's hiking shoes. The goal of their hiking shoes is to get you outside and moving.
IN 2022, after many years of making shoes in Asia, Salomon opened a new shoe factory in Ardoix, a small town in the Ardèche department in the Auvergne-Rhône-Alpes region of southern France, to produce trail-running and hiking shoes.
Salomon is a French sports equipment manufacturing company known for high-quality hiking shoes and boots (Credit: Mate Karoly / Shutterstock)
Salomon launched its first hiking boot range in the spring of 1992 with a focus on a lightweight silhouette that didn't compromise on support and quality.
The brand's most popular hiking shoes are the X Ultra 4 Gore-Tex, which is also available in a wide-fitting size. The X Ultra 4 is designed specifically for women with a softer cuff and anatomical design for greater stability.
2. Adidas – Iconic German Athletic Brand
Not every activewear brand makes hiking shoes, but Adidas is one of the few who can do both. The brand's hiking shoes sit at the top tier of the pricing structure.
Adidas' range of hiking shoes for women is primarily from the TERREX collection. You can choose from a low-ankle silhouette or a classic boot style.
Adidas Terrex hiking shoes are famous for being supportive, lightweight, responsive, and weather-resistant (Credit: Valdis Skudre / Shutterstock)
The most popular Adidas hiking shoes are the TERREX Free Hiker 2. These shoes offer a snug, sock-like fit that hugs your feet and adapts to your strive. You can take these shoes across almost any terrain with its Continental rubber outsole.
Adidas' hiking shoes are made using high-performance yarn that has less than 50% Parley Ocean Plastic with recycled polyester. These are next-generation hiking shoes that will bring you closer to the mountaintop.
3. Merrell – American High-Performance Hiking Boots
A subsidiary of Wolverine, Merrell is a footwear brand that uses top-tier technology to help you reach new heights and smash your personal best.
The best-selling hiking shoe from Merrell is the Women's Moab 3 GORE-TEX. This style has been the brand's most popular style for over 15 years. It's a go-to choice for hikers of all levels, with over 25 million pairs sold.
Merrell is an American manufacturing company that makes some of the world's best women's hiking shoes (Credit: Chema Grenda / Shutterstock)
These shoes feature the GORE-TEX waterproof membrane that is common to most hiking shoes. The Moab 3 shoes are the newest generation style and the most environmentally friendly, focusing on recycled materials.
4. Columbia – Global Leader in Outdoor Apparel and Footwear
Rain or snow, nothing will stop you from hiking in Columbia shoes. This popular activewear brand is famous for its footwear with hiking shoes designed for long hikes and treks.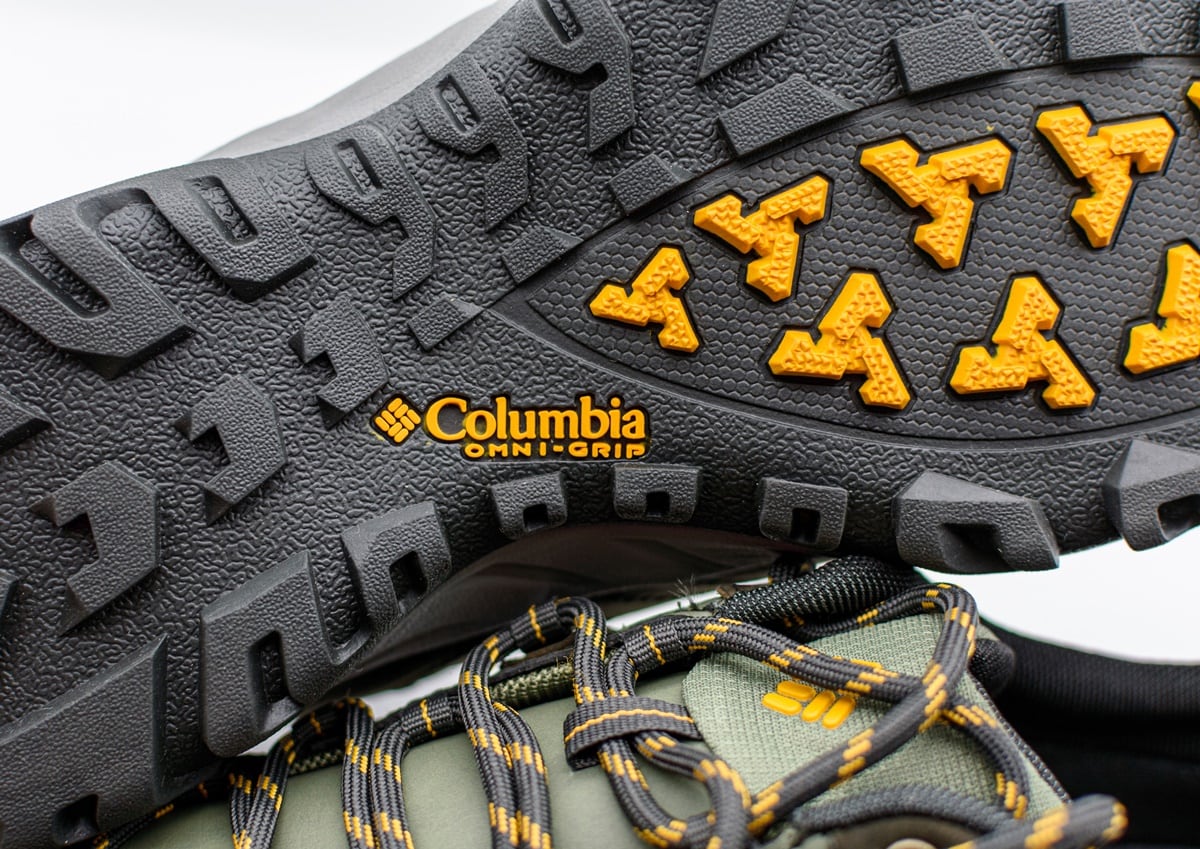 Columbia has a variety of non-slip hiking shoes available with Omni-Grip technology that ensures stability and the right grip for every environment (Credit: Michael Vi / Shutterstock)
Columbia has something for every hiker – from the newbie to the mountain climber. The best-selling Columbia hiking boots for women is the Peakfreak II Outdry Waterproof Walking Shoe.
These shoes have a breathable construction with waterproof protection and seamless mesh that can withstand all weather conditions. Throw these hiking shoes into your bag for your next adventure.
5. KEEN – Family-Owned Maker of Hybrid Footwear
KEEN hiking shoes are designed to take you to any destination. Whether you're running up a mountain or camping, these hiking shoes have you covered. The brand is committed to using premium technical materials and high-traction soles for the best walking experience.
The most popular KEEN hiking shoes for women are the Pyrenees boots. These shoes have a traditional hiking boot silhouette designed to keep your feet dry, whatever the weather.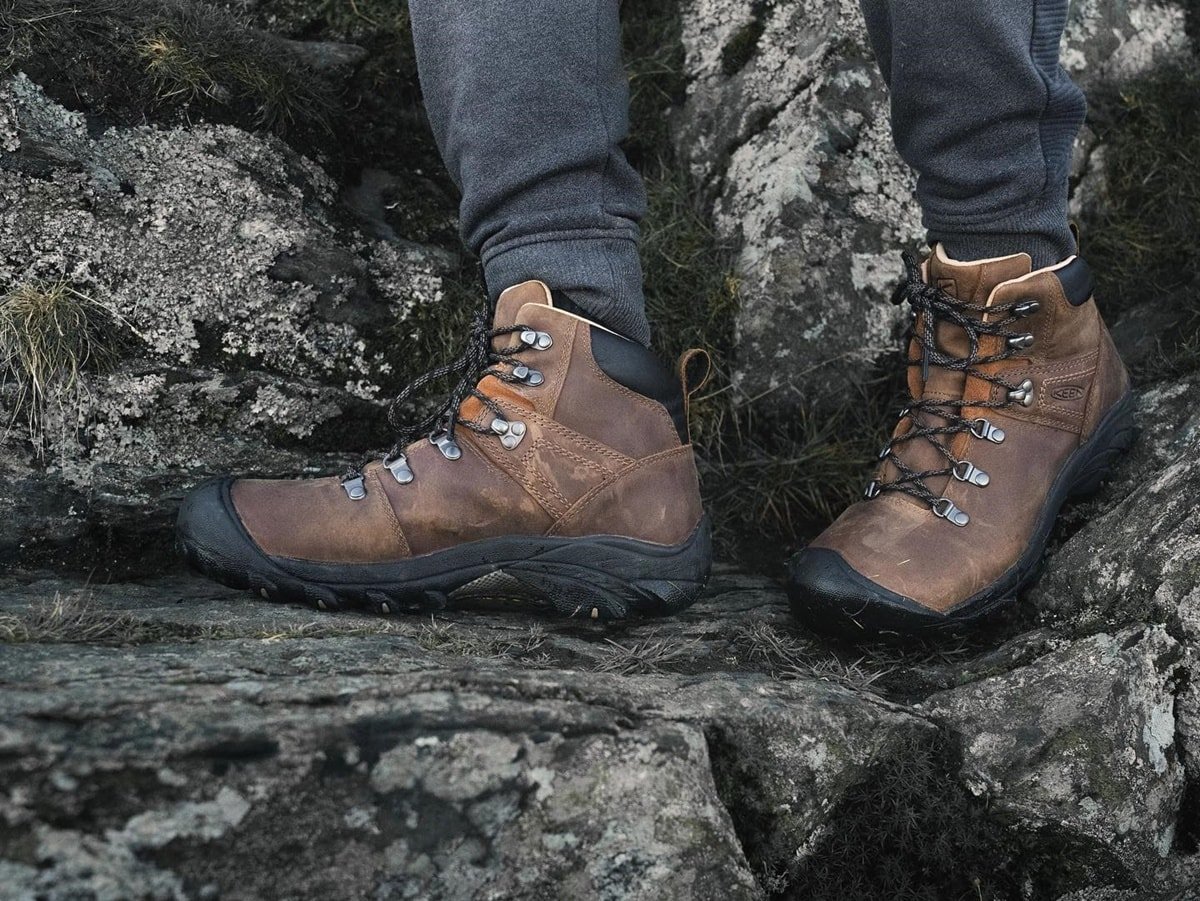 The KEEN Pyrenees hiking boots are built using a traditional all-leather construction with breathable and waterproof technology (Credit: KEEN Facebook)
They feature an all-leather construction with contemporary technology that blends breathability with weatherproofing. The hiking shoes also feature a Metatomical footbed design to offer extra arch support.
6. Hoka One One – French High-Performance Shoes
Hoka is a next-generation athleisure brand designed to inspire people to move. Its footwear is for specific activities, from hiking to running and overall fitness. The brand is known for its enhanced cushioning and technologically driven designs.
Hoka's latest hiking shoe is the 'Anacapa,' a lightweight shoe designed to help you get off the grid.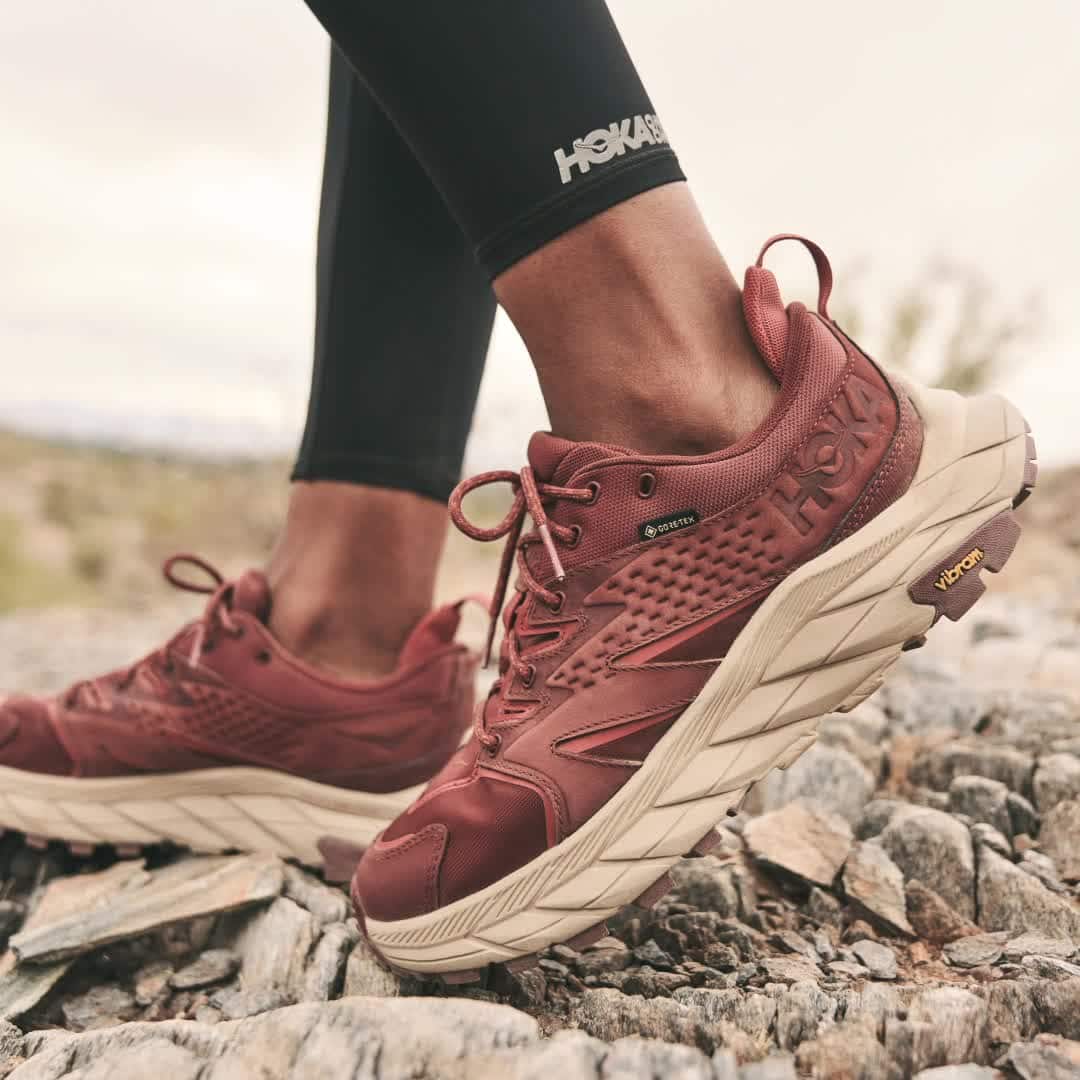 A day hiker designed with responsible manufacturing in mind, Hoka's lightweight Anacapa Low GTX uses recycled polyester in the collar, mesh, and laces (Credit: HOKA)
The Anacapa Low GORE-TEX is a daytime hiker show made with responsible manufacturing in mind. It has a low profile and features lightweight leather for a stylish finish.
7. New Balance – Iconic American Sports Brand
Another mainstream brand known for its hiking shoes is New Balance. The brand is ideal for those just getting started with hiking and who want a more contemporary look.
The New Balance 840v2 is a hiking and walking shoe that is one of the most versatile on this list. The cushioning is designed to help absorb forceful impacts with a durable outsole for added support. These shoes are your new go-to sneakers for every season.
New Balance makes lightweight boots and comfortable sneakers that are perfect for casual hiking (Credit: JR-50 / Shuterstock)
Before you can start hiking, you need the right footwear. These seven outdoor footwear brands are known for offering the best hiking shoes for women. Buy the best hiking boots, and the sky's the limit!