Heidi Montag, age 35, entered the public eye in 2006 when she first appeared as a cast member on the hit reality TV show, "The Hills."
Her career in reality TV took off from there and she still appears on the show in its reboot form today.
Heidi Montag met her boyfriend Spencer Pratt while filming The Hills in 2006 (Credit: WENN)
Montag's notoriety grew in 2010 when she underwent 10 cosmetic procedures in one day.
Since having those procedures, Montag admits to regretting many of the surgical enhancements and is one of the few celebrities who are honest about their journey with plastic surgery.
Heidi Montag Gains Fame
"The Hills" was a spinoff from MTV reality show "Laguna Beach: The Real Orange County," which featured real teenagers growing up in the OC. One of those teens was Lauren Conrad.
Lauren Conrad and Heidi Montag started feuding after Spencer Pratt tore them apart (Credit: Adriana M. Barraza / WENN)
Conrad met Montag during their freshmen year of college at the Fashion Institute of Design & Merchandising, and the two became best friends.
The world watched as Montag's relationship with Conrad grew and then completely dissolved on screen.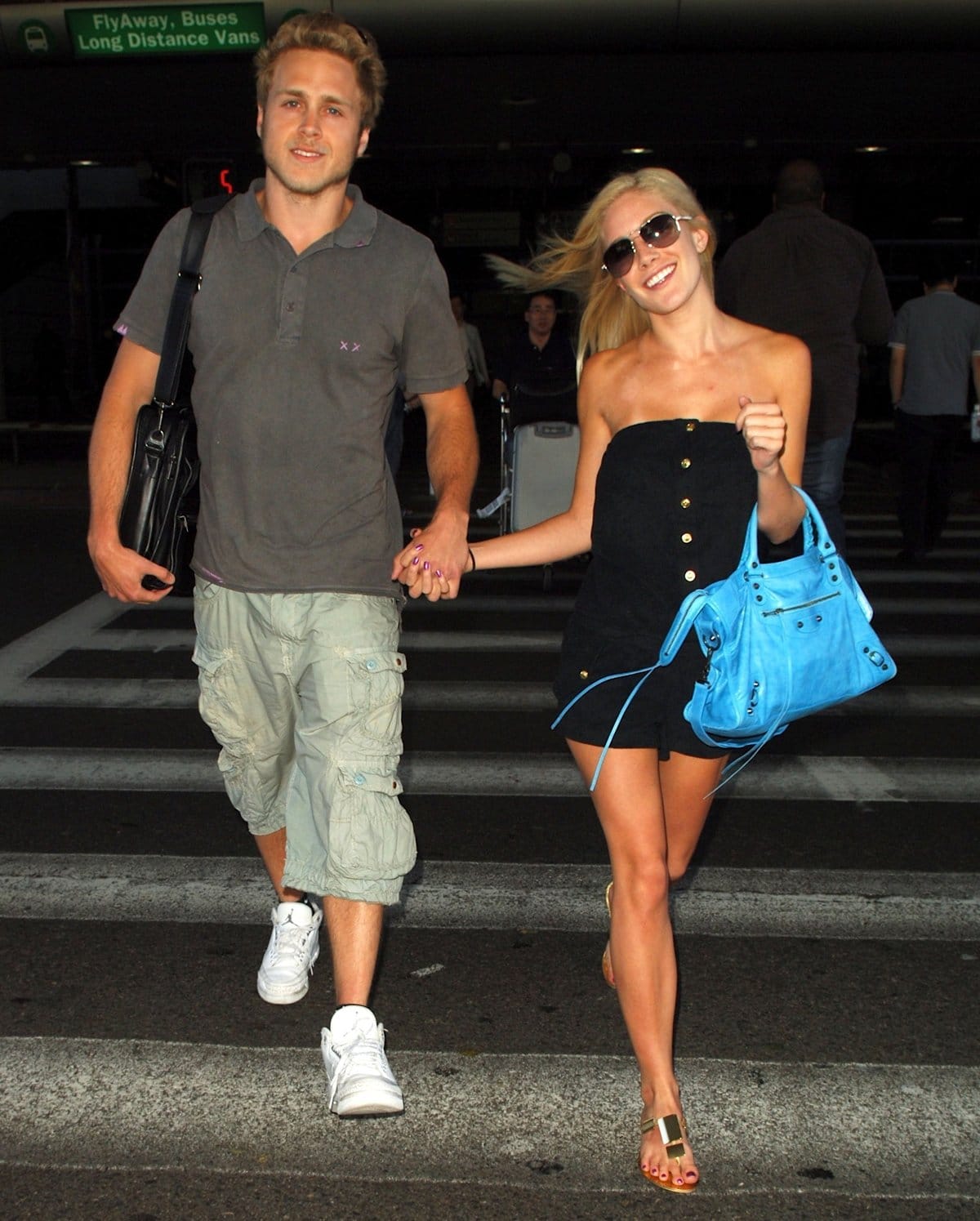 Heidi Montag and Spencer Pratt met at a club in Hollywood when she was filming "The Hills" and married in 2008 (Credit: WENN / Agega / Agent47)
The friendship ended because Conrad felt betrayed by both her best friend, Montag, and Heidi's then-boyfriend, Spencer Pratt. The couple is now known as "Speidi."
Spencer Pratt and Heidi Montag Become Speidi
Pratt and Montag met at a Hollywood club, Privilege, in 2006 while Montag was filming "The Hills." Montag says she knew immediately she wanted to marry him.
Their relationship was anything but smooth, with rumors of Pratt cheating and Heidi taking him back. Conrad, Montag's roommate and best friend, ended their friendship in April of 2007 because she did not like Pratt or the relationship between Montag and Pratt.
Heidi Montag at the launch of her new clothing line at Kitson on Robertson Boulevard in Los Angeles on April 19, 2008 (Credit: WENN)
Conrad also accused the couple of spreading rumors that she and Jason Wahler had a sex tape.
"I actually came dangerously close to not doing season three, because I really didn't want to do the show with Heidi and Spencer," Conrad told Seventeen in 2007 about considering leaving The Hills ahead of season 3.
"I'm not who they are. I don't stage my own publicity. I just kind of live my life and do my job, and I don't want to be grouped with them."
Ultimately, Montag chose to stay with Pratt, and the friendship between these two women dissolved overnight. Pratt and Montag eventually got married in November of 2008 during the fourth season of "The Hills" in a Mexican elopement.
Heidi Montag kissing her boyfriend Spencer Pratt in 2008 (Credit: WENN)
They later made the marriage official with a ceremony in Los Angeles in April 2009.
Heidi gave birth to their son, Gunner Stone, on October 1, 2017. Today, the family of three live in the Pacific Palisades in Los Angeles, California.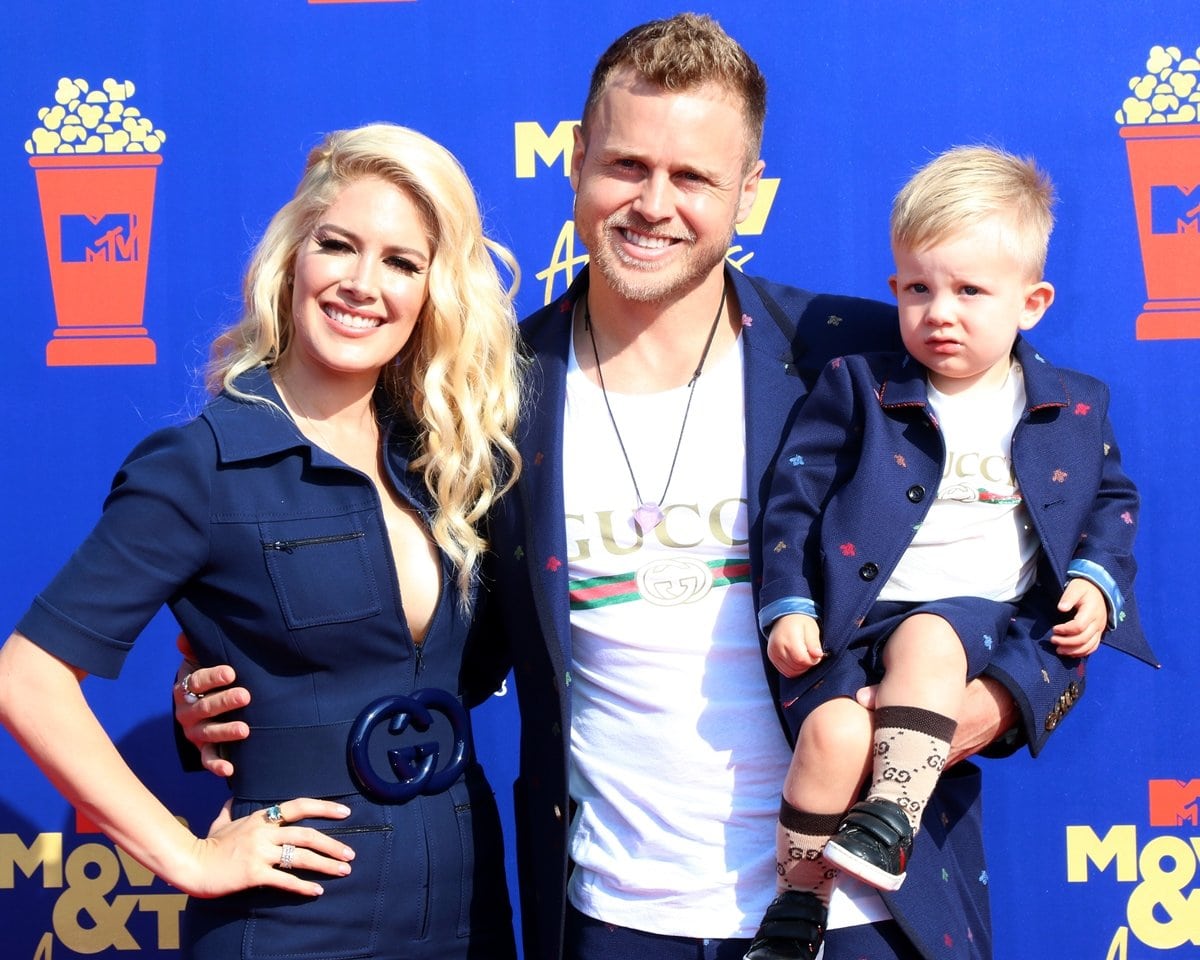 Spencer Pratt and Heidi Montag with their son Gunner at the 2019 MTV Movie and TV Awards at Barker Hangar on June 15, 2019, in Santa Monica, California (Credit: Nicky Nelson / WENN)
Montag Goes Under the Knife
At age 23 in 2010, Montag underwent 10 procedures in one day. These procedures were:
Eyebrow lift
Nose job
Lip injections
Cheek injections with her own fat
Ears pinned back
Chin reduction
Breast augmentation to a size E/F
Waist cinched-in on both sides
Back scooped
Butt Injections
After her recovery from these procedures, Heidi Montag went on a press blitz to share with every media outlet that would have her, just how happy she was with her new look.
You can watch interviews of her seemingly very excited and happy with her results in the months and years after her medical enhancements.
Before-and-after plastic surgery transformation: Heidi Montag in 2006 (L) and 2019 (Credit: Rachel Worth / WENN / FayesVision)
At age 23, plastered on the cover of People magazine, Montag told People, "I think I look way better and I'm way happier. Nobody ages perfectly, so I plan to keep using surgery to make me as perfect as I can be."
In an interview with Ryan Seacrest, Montag appears bubbly and giddy as she talks about her new appearance. She shares that her breast augmentation was the least painful procedure, while the ear-pinning was the most painful.
Watching the interview, you would never know what was brewing underneath. Years later, Montag and Pratt began to share the real story and the painful truth behind her altered public image.
Montag's Post-Surgery Struggle
At age 32, Montag came forward to Cosmopolitan magazine to reveal the real story. "I was way too young to make such a life-changing decision. I was under so much pressure because it was the beginning of comment sections and negativity and hate on the internet. I was also on TV where every perceived flaw is amplified. I think I looked in the mirror a little too much. I wish I had waited and not made a decision so young because I have long-term health complications."
Pictured in 2006 and 2019, Heidi Montag regrets her plastic surgery operations (Credit: PNP / Apega / WENN)
Pratt added, "I was there for every second, so I know all about that journey. Let me just tell any ladies and gentlemen and gender nonconforming folks out there — just everyone: The phrase 'minor surgical procedure' does not exist. That's the hard lesson we learned. There's no such thing as one minor surgical procedure. And there's certainly no such thing as 10 minor surgical procedures."
"I died for a minute"
Perhaps the most shocking revelation of this story is that Heidi's heart stopped during her recovery. "Spencer thought he lost me," she told Paper magazine in 2018.
"I died for a minute. With that much surgery, I had to have 24-hour nurse care and Spencer didn't want to leave my side. … My security guards called Spencer and told him, 'Heidi's heart stopped. She's not going to make it.' And I easily could've. Cutting yourself up isn't something I'd recommend."
"Heidi thought people would stop criticizing her if she got surgery," Pratt told Cosmopolitan.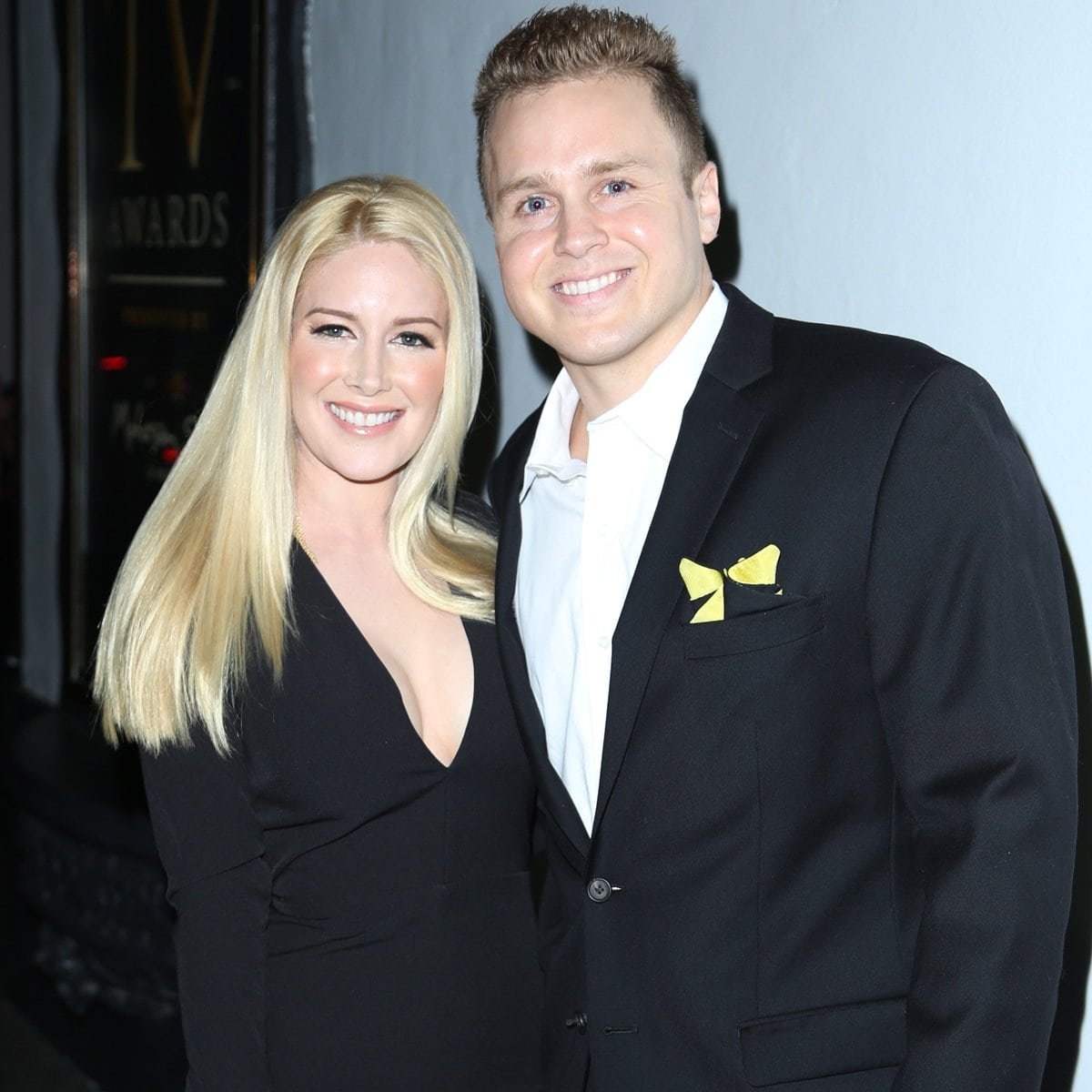 Spencer Pratt says his wife Heidi Montag decided to have surgery because of social media trolls and tabloid comments about her appearance (Credit: Guillermo Proano / WENN)
"Everything she did came from people criticizing her in the comments on Us Weekly and People magazine. She brought printouts of what the trolls and haters said to the doctor and said, 'Can we do something about this?' Everyone's insecure but it's different when you're young and on TV and everyone's talking about you. It's upsetting that you can go to a doctor and say 'Here's what I hate about myself,' and he'll say 'I can fix that. For free.'"
Pratt continued, "There's people all over television — maybe even MTV — with new faces and nobody attacks them because they never come forth and are honest with their journey. Everyone else is all, 'Oh, it's just my lip kit. It's squats.' The whole game is everyone's getting surgery and lying about it."
Montag's Devasting Recovery
While Montag does not regret every single enhancement she has had, she does have one message, "Everyone always shows you the before and after pics. They don't show you how devastating the recovery is."
Montag admits to suffering from both physical and psychological scars from her plastic surgery spree in 2010.
Heidi Montag shows off her size 7 (US) feet in glittering Christian Louboutin Straratata sandals (Credit: Judy Eddy / WENN)
She shared with Life & Style Magazine, "People have fewer scars from car accidents than I have on my body. I'm always going to feel like Edward Scissorhands."
For Montag, the scars serve as a daily reminder of her mistake to try and totally remake herself. The article goes on to share that Montag's scar inventory "includes a 2-inch-long scar from her chin reduction, two caterpillar-size bald spots on her hairline from a brow lift, a jagged line behind her ears from having her ears pinned back, lumpy legs, and four spots left on her lower back and below the buttocks from liposuction, uneven breasts, a chest stretch mark and scars around her nipples from a breast augmentation."
"You want to look like Barbie"
In perhaps one of the most heartbreaking episodes of "The Hills," Heidi Montag returns home to Crested Butte, Colorado post-surgery, where she has a very honest conversation with her mom, Darlene Montag. Darlene is visibly concerned and shares that she feels her daughter's elective surgery was completely unnecessary.
"I just feel like that when you left home, you had more confidence and more self-esteem than any person I've ever met in my life," shares Darlene Montag.
Heidi Montag highlights her boobs in a LaRok mirage sequined dress at Spike TV's 2007 "Video Game Awards" at the Mandalay Bay Events Center on December 7, 2007, in Las Vegas (Credit: Judy Eddy / WENN)
She continues, "it sounds to me like you want to look like Barbie…to everybody else that saw you, you were Heidi. Nobody in the world could have looked like Heidi Montag."
Heidi then asks her mom straight up, "Do I look good?"
Her mom responds by shaking her head and saying, "How do I go and say that of course, I thought you were more beautiful before? I thought you were younger, I thought you were fresher looking, I thought you were healthier. What's done is done. So that's a terrible thing for me to say, but yes, that's how I feel. I felt that you were much more beautiful before and I'm hoping that some of this will fade away and go away."
We got to see this very real and tender moment between Heidi and her mother, and maybe for the first time, the reality of the situation sunk in for viewers and fans of Montag.
Pratt Against Surgeries
It was not just Heidi's mom who did not approve of the surgeries, Spencer Pratt was also not on board. "Spencer begged me to have none of the surgery," Montag told ABC News.
Spencer said, 'I fell in love with Heidi Montag. It doesn't even matter what you look like. It's who you are."
Heidi Montag in an episode of The Hills: New Beginnings, an American reality television show, developed as a sequel to The Hills (Credit: MTV Entertainment Studios)
Montag knows the surgeries strained her marriage, "He didn't sign up to be the nurse to his 23-year-old wife at the time, day and night."
The pair also went broke after the surgeries, spending almost $10 million in her appearance-altering procedures. This financial stress further strained their marriage. At one point the two filed for divorce but never made it official.
Montag Speaks Out
Today, Montag is outspoken about the realities of plastic surgery. She advises other women to steer clear of these cosmetic procedures.
The reality television personality told ABC News, "You risk your life when you go under the knife. Is that worth your life? I hope that people really hear what I'm saying about plastic surgery, and I hope they really hear that I'm saying I would take it back. I almost risked everything, all my relationships, and myself, for vanity."
She has since sworn off any cosmetic procedures, stating, "I don't want to go under the knife again. I don't want to do that to my body again. I don't want to get any more Botox or any more surgery or any more lip injections. I think I'm fine the way that I am."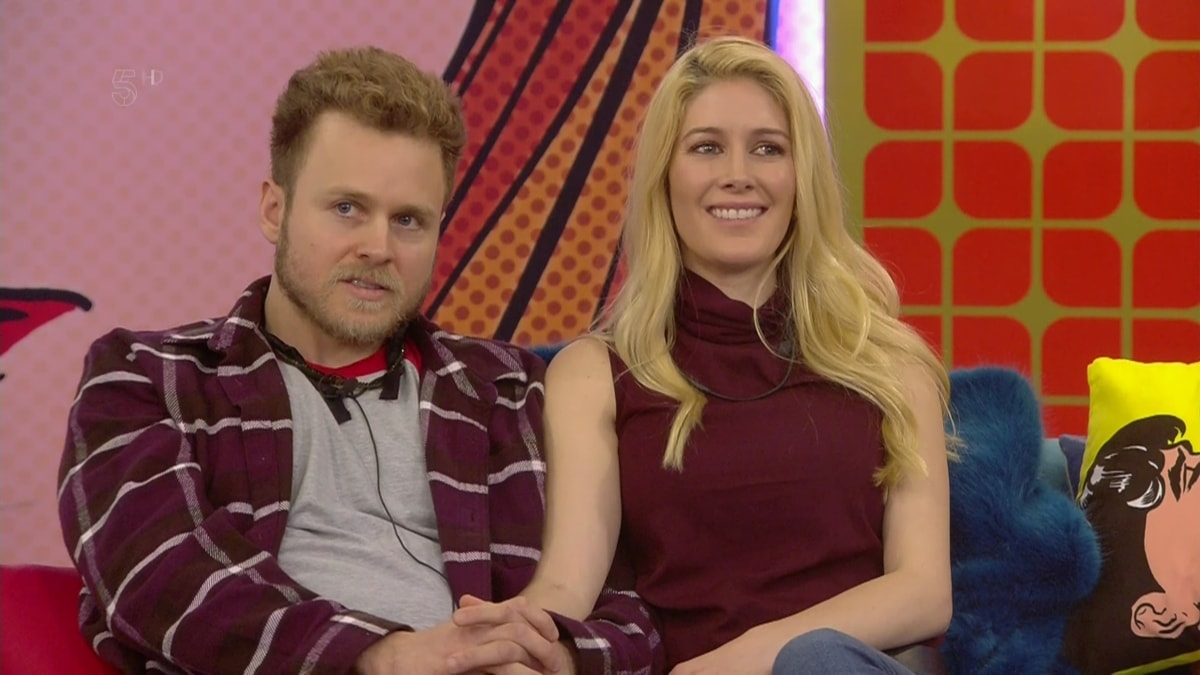 Heidi Montag and Spencer Pratt competed on the eleventh and nineteenth series of the British version of Celebrity Big Brother (Credit: Channel 5)
Heidi shares that a 2007 Playboy shoot first made her feel inadequate about her body. She said, "They digitally enhanced my breasts. That was one of my biggest insecurities. I had all these people in a room telling me, 'Your breasts aren't big enough,' and it just really got to me."
Currently, at a size E/F, she knows her breasts are too large. She told Life & Style magazine, "My boobs are crushing me. I'm obsessed with fitness but it's impossible to work out with these boobs. I can't live an everyday life. I feel trapped in my own body."
"Sometimes I wish I could just go back to the original Heidi with nothing," she said.
What's Next for Montag?
Montag joined the website, Only Fans, in early 2021. This website is known for its paid subscription model for adult content.
This decision by Montag surprised some of her fans, as she has always shared her Christian values with the world. If you want to see what type of content and images she is sharing, you must subscribe to her page.
You can also now see both Montag and Pratt on "The Hills: New Beginnings" which is a reboot that premiered in 2019 and has new episodes in 2021.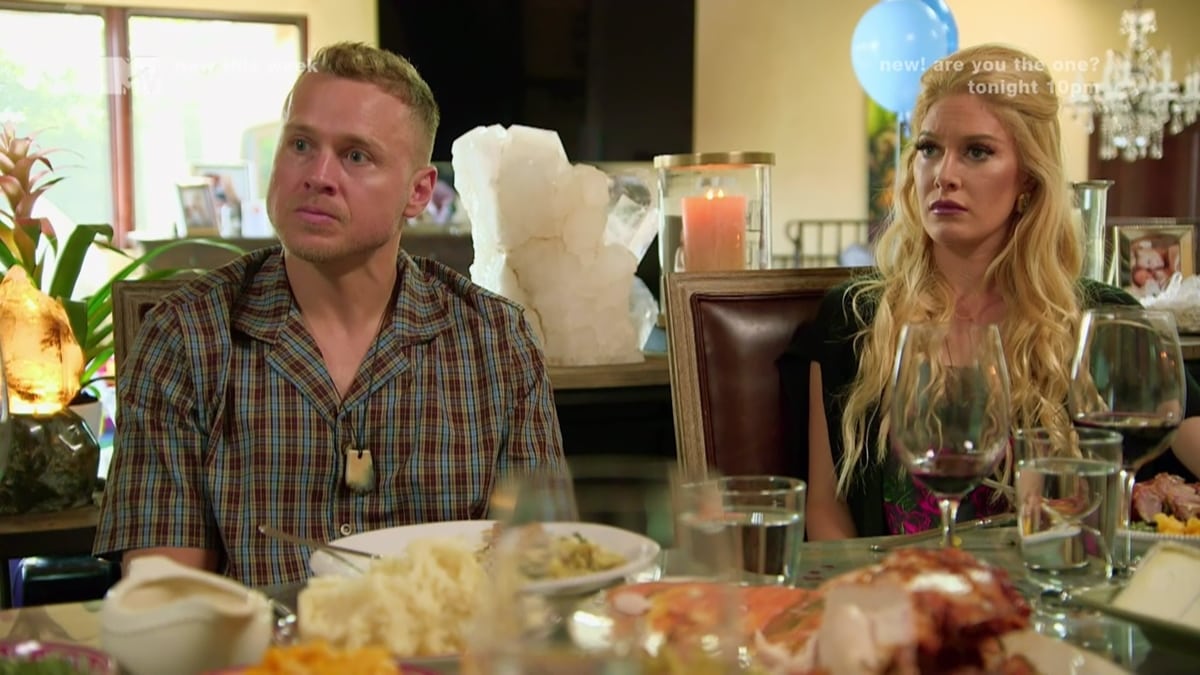 Heidi Blair Pratt (née Montag) and Spencer William Pratt are still married and currently star in The Hills: New Beginnings (Credit: MTV Entertainment Studios)
Heidi and Pratt seem hopeful for the future. They want to have another child and give their son a sibling. As for her elective cosmetic procedures and marathon surgeries?
Heidi confesses, "A lot of positive things came out of [the surgery]. I had to look at myself in the mirror every day healing, and be like, 'What did I do to myself? How did I get here? What is going on?' I basically had to hit that rock-bottom moment in my life, to realize what was important to me. If you're having those kinds of thoughts and issues, it's important to seek advice from those you love and professionals who want to help. Figure out why you feel that way and what's behind it."