Olivia Rodrigo is set to release new music two years after skyrocketing to international acclaim with her debut album Sour in 2021.
The pop singer's sophomore album, Guts, will drop on September 8 and feature 12 tracks, including the lead single Vampire, which came out June 30, and Bad Idea Right? released on August 11.
The Highschool Musical: The Musical: The Series star is currently in London to promote her upcoming album, which she said is about "growing pains" and figuring out who she is at this point in her life.
"I feel like I grew 10 years between ages 18 and 20. It was such an intense period of awkwardness and change. I think that's all just a natural part of growth, and hopefully, the album reflects that," she said in a statement.
View this post on Instagram

Arriving at Global Radio on Tuesday, Olivia waved to her fans while sporting her signature pop-punk style.
She wore a vintage gray tee from Pat Benatar's Seven the Hard Way 1986 tour, emblazoned on the front with an image of the legendary American rock singer, well known for her song Hit Me with Your Best Shot.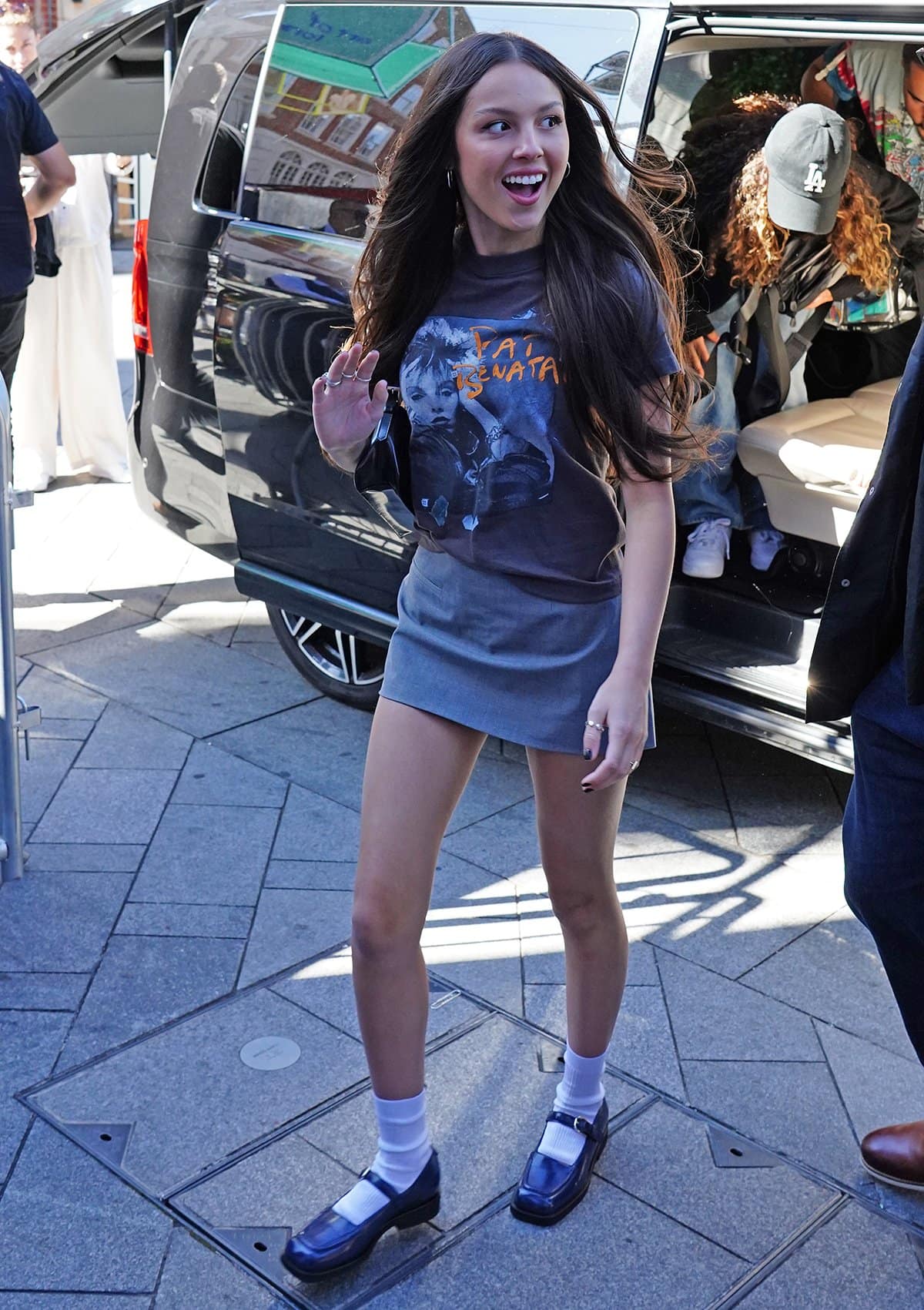 Olivia Rodrigo promotes second studio album Guts in a Pat Benatar tour tee and a gray Sandy Liang mini skirt in London on August 15, 2023 (Credit: PA Images / INSTARimages)
Putting on a leggy display, the 20-year-old Filipino-American singer partially tucked her graphic tee into an ash gray mini skirt by Sandy Liang, a fashion designer from New York City known for her nostalgic designs. It costs $300 at Ssense and features a low-rise silhouette with a single-pocket styling.
She continued with her outfit's punk-rock aesthetic by adorning her black manicured fingers with gleaming statement silver rings and shielding her eyes with the Khaite x Oliver Peoples 1969C oval sunglasses ($525 at Ssense).
Olivia Rodrigo lets her brown tresses fall freely over her shoulders and wears minimal soft pink makeup with Khaite x Oliver Peoples sunglasses covering her eyes (Credit: PA Images / INSTARimages)
To complete her '90s-style look, Olivia toted a black By Far "Dulce" shoulder bag and wore white ankle socks before slipping her feet into a pair of Mary Jane flats by contemporary footwear brand Labucq.
Mary Janes were popular in the United States during the early aughts, particularly within the punk rock subculture.
The hot Deja Vu hitmaker selected the $450 "Norman" Mary Jane pumps in navy patent leather, featuring rubber and EVA outsoles, loafer-style stitching around the toes, and adjustable buckles.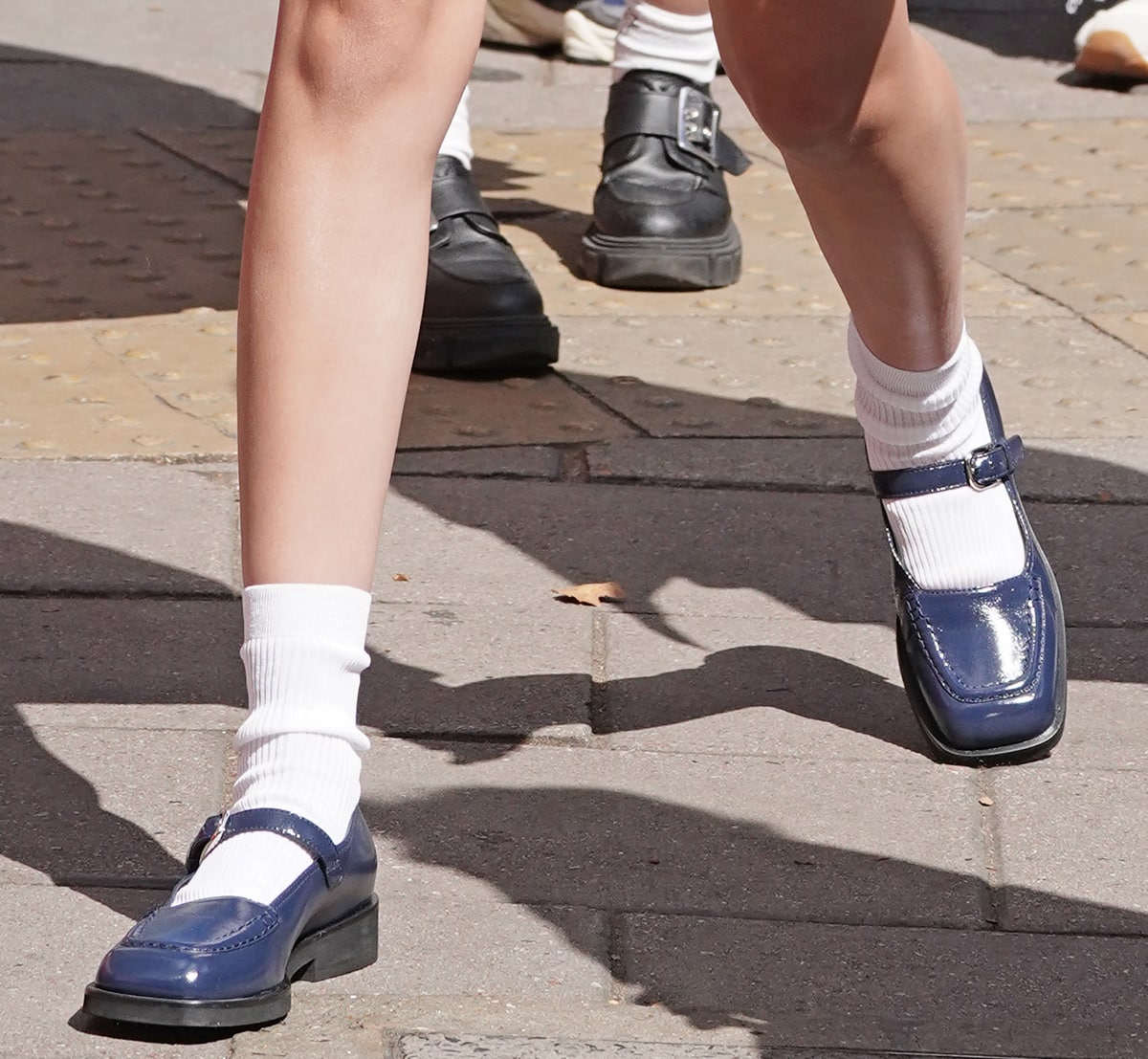 Olivia Rodrigo completes a Y2K look with white ankle socks and navy blue Mary Jane flats by Labucq (Credit: PA Images / INSTARimages)
Speaking on Hits Radio Breakfast Show, Olivia opened up about the pressure she felt while working on her new album.
"Making this album definitely had its ups and downs. And there were some days where I'm just like, wow, the pressure is just insurmountable," she explained.
"I just feel, I don't know what I'm gonna do, and other days where it was really fun and, you know, had a great time. But you know, I think at the end of the day, the most important thing, it sounds so cheesy and cliché, but I just wanted to make an album that I really liked and felt really proud of."
Olivia Rodrigo admits feeling pressured while creating her second studio album Guts (Credit: PA Images / INSTARimages)
In June, Olivia unveiled the title of her sophomore album along with the cover art, which resembled that of her debut record Sour.
Olivia is seen lying down against a purple backdrop while clad in a purple bra and a black tank top. She styled the look with silver rings on each finger that spelled out "GUTS."
View this post on Instagram

Olivia Rodrigo turned into one of today's biggest pop stars when she dropped her debut album's lead single, Drivers License, which topped several music charts and set numerous records, including the most single-day streams for a non-holiday song on Spotify and the biggest first-week for a song on Spotify and Amazon Music.
She then continued to dominate the awards circuit, winning three Grammys, seven Billboard Music Awards, three American Music Awards, three MTV Video Music Awards, and more.
View this post on Instagram