If you're a Game of Thrones fan, you might be one of many men and women who have a crush on Pedro Pascal, also known as Oberyn Martell, The Mandalorian, and Javier Peña.
But who's the Chilean-American actor dating? There's a lot of buzz around Pascal and his dating life for a good reason.
Is Pedro Pascal Gay?
Pascal keeps his dating life on the down low. In fact, he hasn't had a publicly confirmed relationship since 1990! This has piqued fans' interest and even sparked questions about his sexuality.
Narcos' Pedro Pascal and Edgar Ramirez at the 2020 Vanity Fair Oscar Party following the 92nd Oscars at the Wallis Annenberg Center for the Performing Arts in Beverly Hills, California on February 9, 2020 (Credit: Sheri Determan / WENN)
Since Pascal's iconic character Oberyn in Game of Thrones is bisexual, Pascal became somewhat of a gay icon –– BIcon, if you will –– after his fourth season appearance in the HBO series.
But this isn't the first time Pascal has portrayed an LGBTQ+ character –– and he's all for it.
Pascal repeatedly shows support for and defends the LGBTQ+ community on social media. This is a passionate topic for him, as his sister Lux Pascal is transgender.
Pascal has not come out as LGBTQ+ and keeps his dating life private.
Gay for Oberyn
A BIcon, Pascal has sparked fandoms across the board –– including from straight men. There was even a group on Reddit for straight men who said they were "Gay For Oberyn."
Pedro Pascal as Oberyn Martell and Indira Varma as Ellaria Sand in Game of Thrones (Credit: HBO)
In response to this, Pascal told The Los Angeles Times, "It's so wonderful. I think it's all a spectrum, right? Straight men can have — do have — crushes on other men. It doesn't make them gay, it doesn't make them bi. I was super-flattered. The guys that picked on me in middle school in Corona del Mar probably have a crush on me now. Maybe they had a crush on me then and that's why they picked on me."
His Dating History: All the Rumors
Pascal has been rumored to have dated everyone, from men such as Oscar Isaac to women such as Lena Headey, Sarah Paulson, Maria Dizzia, Robin Tunney, Lily Rabe, Gillian Jacobs, and Heidi Klum.
Game of Thrones star Pedro Pascal and Robin Tunney of The Mentalist take a romantic stroll as they head for breakfast at Kings Road Café in Hollywood on July 29, 2015 (Credit: WENN)
Is Pedro Pascal Dating Lena Headey?
People love when their favorite TV show characters end up together in real life. In 2014, Pascal Pascal and his Game of Thrones costar, Lena Headey, were rumored to be dating.
They spent a lot of time together outside of filming and posted friendly pictures together. A year later, Headey got pregnant, which sparked even more speculations, as many wondered if Pascal was the father.
Lena Kathren Headey claims Dan Cadan, not Pedro Pascal, is the father of her daughter Teddy Cadan (Credit: JRP / WENN)
However, Headey quickly extinguished that rumor, stating that Dan Cadan (her now husband) is the father of her child.
Pedro Pascal and Sarah Paulson
American Horror Story's Sarah Paulson has been BFFs with Pascal for longer than Gen-Z has been alive.
Paulson and Pascal met in New York when they were just teenagers, both with dreams to become actors. For nearly 20 years, the two have supported each other, hitting the red carpet and town together.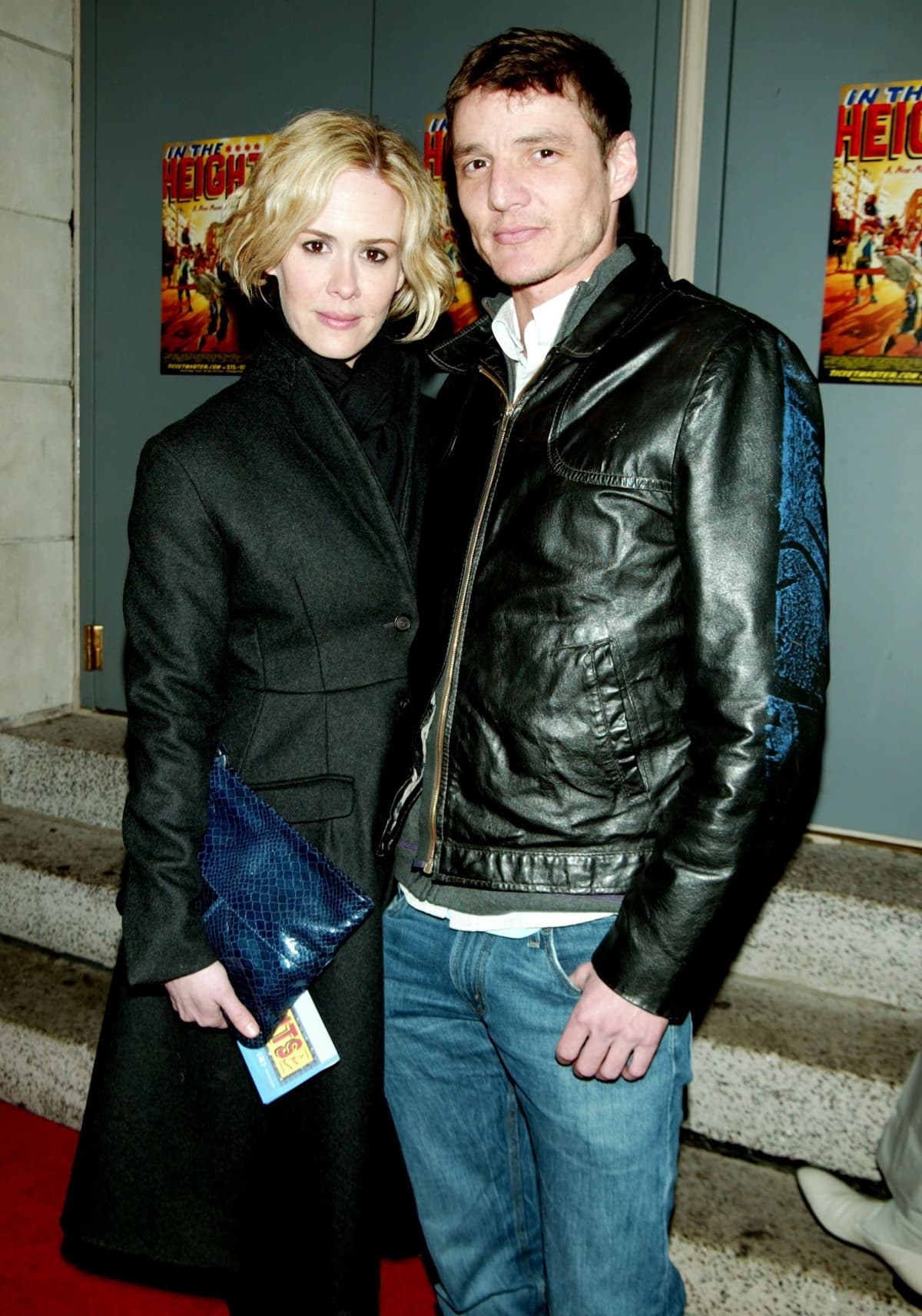 Sarah Paulson and Pedro Pascal have been best friends since they were teenagers (Credit: Joseph Marzullo / WENN)
However, no dating rumors have been confirmed. For now, they're just lifelong best friends!
Maria Dizzia and Pedro Pascal
Finally, a confirmed relationship. Though no longer together, Pascal and the Orange Is the New Black actress Maria Dizzia were together for a short time in 1990 after working together on Law and Order.
Pedro Pascal and Oscar Isaac
In a galaxy far, far away, Oscar Isaac and Pascal met and became the best of friends, bonding over their shared experience as Latino actors.
While Pascal and Isaac both play characters in Disney's Star Wars universe, they met and worked together before, back in 2005, when they starred in the theater production Beauty of the Father –– a show with a plot based around accepting homosexuality.
Oscar Isaac has been married to Danish documentary producer and director Elvira Lind since 2017 (Credit: Avalon / WENN)
The two spent New Year's Eve together in 2021. There are several rumors that they could be dating or have dated in the past.
But for now, they're two best friends with common roots and interests. Let's also not forget that Oscar, for several years, has been married to Elvira Lind, a Danish documentary producer he met on the set of her experimental doc project, "Staircase Session."
Does Pedro Pascal Have Any Kids?
No, Pascal does not have a wife or kids. He's never been married and has no kids, to the public's knowledge.
His nephews joined Pedro Pascal at the Disney+ premiere of his new series The Mandalorian held at El Capitan Theatre on November 13, 2019, in Los Angeles (Credit: WENN / Avalon)
As you can see, Pascal's last confirmed relationship dates back about 20 years ago. If you're a fan, it's hard not to wonder what he's up to, if he's going to get married, if he has a girlfriend, or if he's gay.
Throughout the years, he's been spotted with celebrities like Robin Tunney, Gillian Jacobs, and Heidi Klum, but nothing has ever been confirmed. To this day, he remains a man of mystery.
His Acting Career
Pascal went from struggling to make a paycheck to becoming one of Hollywood's brightest stars. How did he get there?
Credited as Pedro Balmaceda, Pedro Pascal portrayed Eddie in the Buffy the Vampire Slayer television series (Credit: 20th Century Fox Television)
Pascal has taken a variety of roles and is a man of both theater and film. Getting his start in features like Buffy the Vampire Slayer (remember Eddie? That was him!), The Good Wife, Homeland, Graceland, and Law and Order, you now might recognize him and his name most from Game of Thrones, The Mandalorian (well, at least his voice), Narcos, and Wonder Woman: 1984.
Pascal's Opinion on His Co-star Gina Carano's Controversy
His Mandalorian co-star Gina Carano caused much controversy recently from her lack of support for the LGBTQ+ community on social media –– specifically regarding pronouns.
Since Pascal's sister, Lux, is transgender, he talked with Carano regarding the importance of the topic to both him personally and the LGBTQ+ community.
Pedro Pascal in an Alfred Dunhill suit and Christian Louboutin shoes at the 26th Annual Screen Actors Guild Awards at The Shrine Auditorium on January 19, 2020, in Los Angeles, California (Credit: Adriana M. Barraza / WENN)
Carano did not seem to change her mind, as she sarcastically wrote her pronouns as "beep/bop/boop" on social media.
Pascal is reportedly "disappointed" in Carano and the overall situation.
What's Next for Pascal?
While Pedro Pascal is adored by both male and female fans, it remains unclear who he reciprocates those feelings towards.
He keeps his dating life under the radar, but his acting career is under the spotlight. He currently plays Joel Miller in the extremely popular drama series, The Last of Us. The show, which premiered on January 15, 2023, follows Joel as he escorts a teenager across a post-apocalyptic world.
Due to the massive success of The Last of Us and The Mandalorian, Pascal is most likely to be very busy in the year ahead with renewed seasons of the shows.