Gina Carano may be the most hated person involved with the Star Wars universe.
The 39-year-old MMA fighter-turned-actress played the role of Cara Dune for the first two seasons of the hit Disney+ and Lucasfilm television show, The Mandalorian.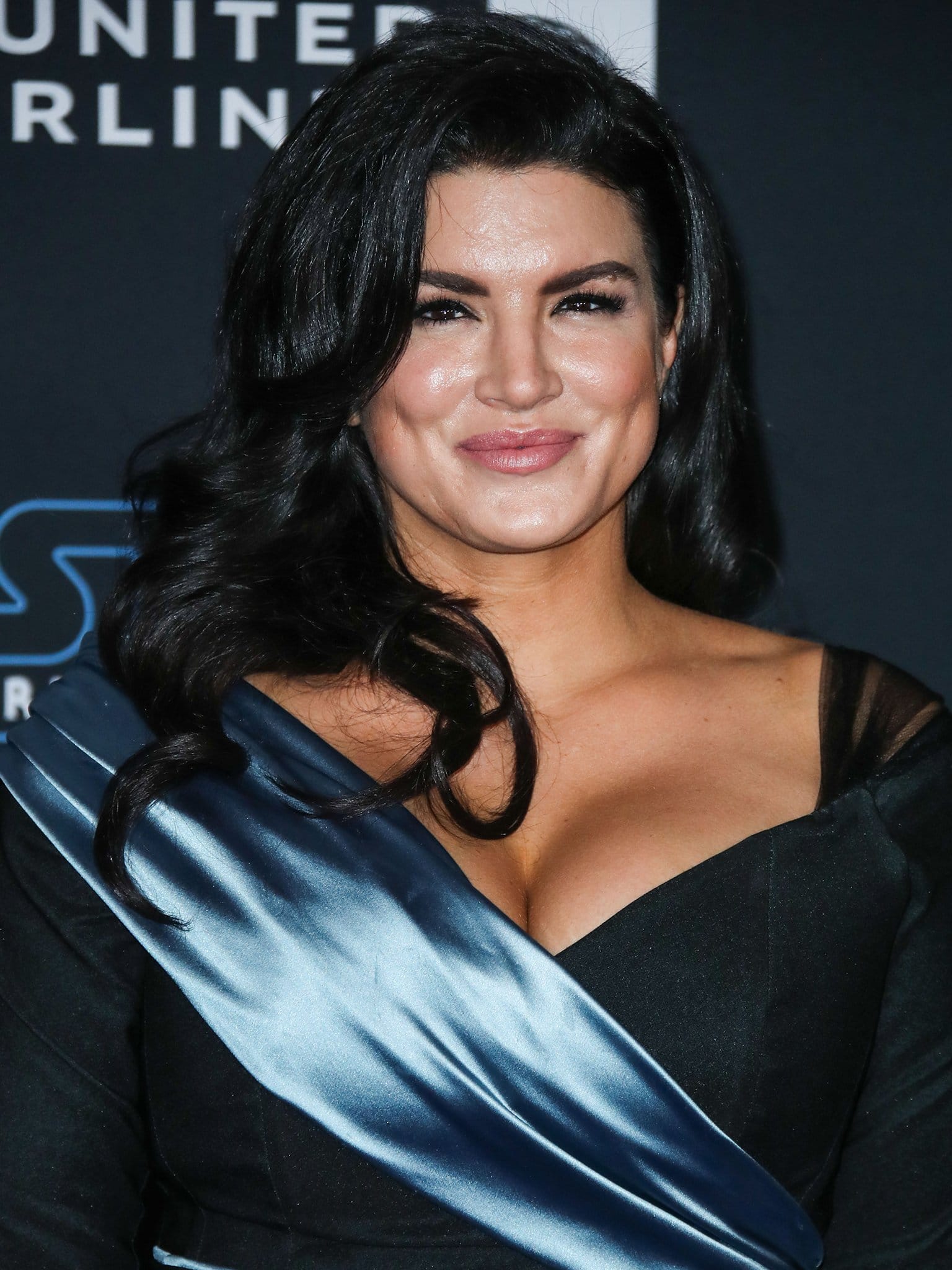 Gina Joy Carano at the world premiere of Disney's Star Wars: The Rise Of Skywalker in Hollywood on December 16, 2019 (Credit: Avalon / WENN)
Carano is well known for posting extremely controversial content on her social media pages. Some of these hot takes include posts claiming statements like: the 2020 Presidential Election was rife with voter fraud; the COVID-19 pandemic was fabricated by the government in order to brainwash citizens; and that mask mandates are unconstitutional and that people who wear them are sheep.
Gina Carano has questioned whether vote counting during the US presidential election was fair
Henry Cavill's ex-girlfriend has also been making fun of the way many social media users display their pronouns on their accounts, as her Twitter name was "Gina Carano boop/bop/beep". While many find it humorous, others consider her openly transphobic.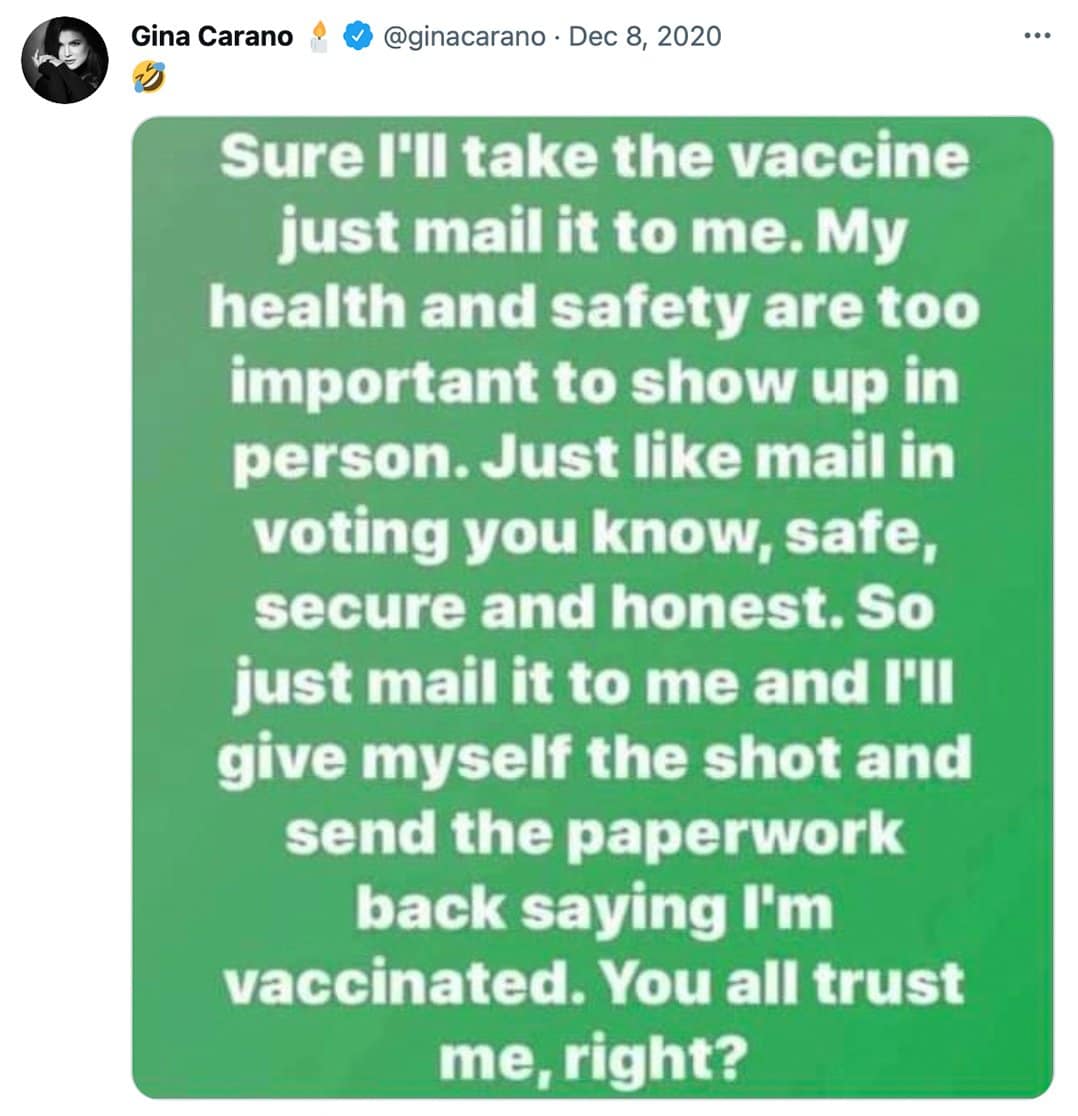 Mandalorian actress Gina Carano is known for tweeting anti-vax sentiments and voter fraud posts
The final straw came when Carano shared two specific posts. The first, a TikTok video comparing the United States' political climate to Nazi Germany.
Carano said, "Jews were beaten in the streets, not by Nazi soldiers but by their neighbors…even by children. Because history is edited, most people today don't realize that to get to the point where Nazi soldiers could easily round up thousands of Jews, the government first made their own neighbors hate them simply for being Jews. How is that any different from hating someone for their political views."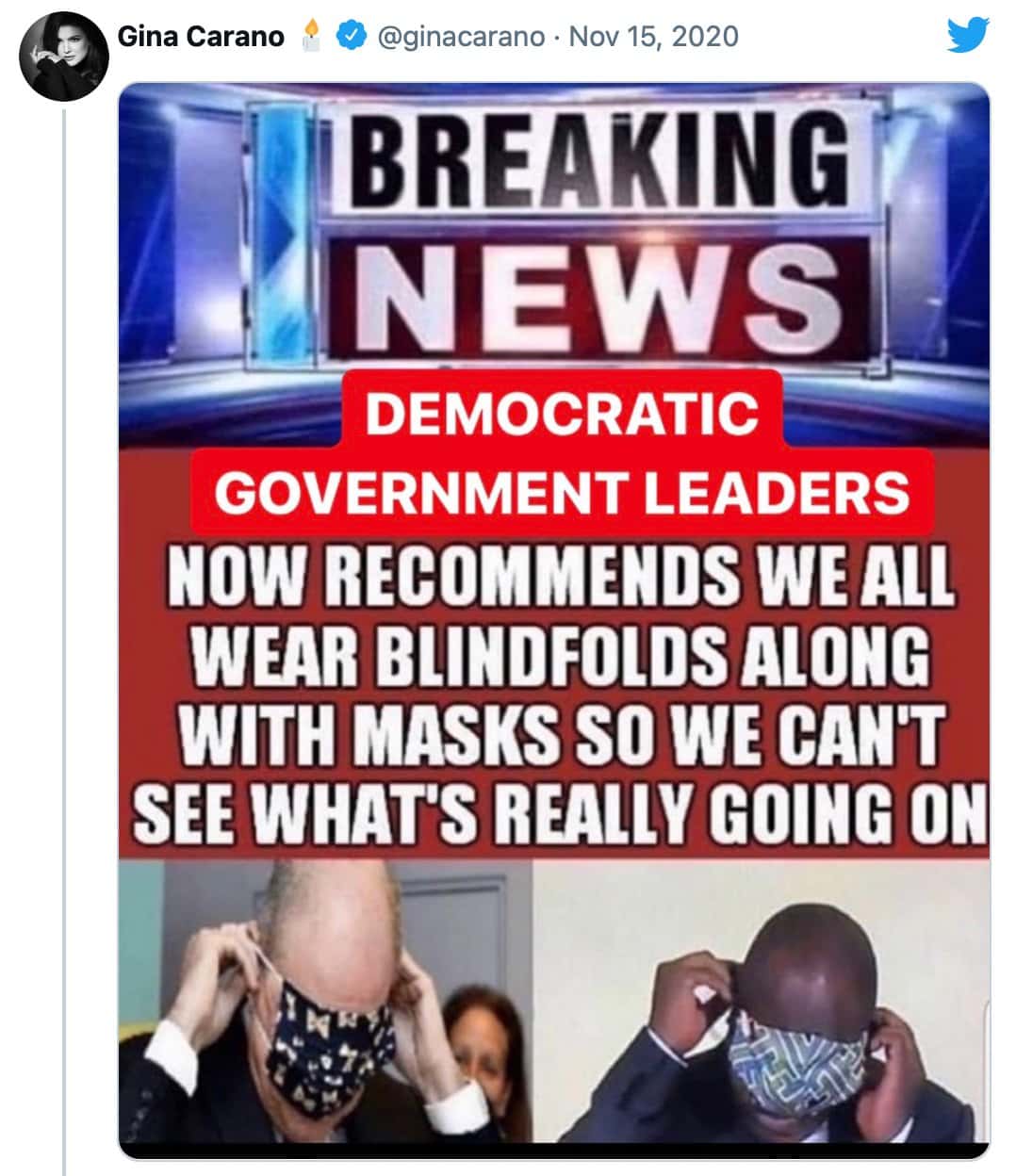 Gina Carano is known for posting controversial content on her social media (Credit: Gina Carano's Twitter)
The second post was an image of someone wearing multiple masks that covered their entire face, captioned: "Meanwhile in California."
Though Carano deleted both posts, the damage was already done. The hashtag #FireGinaCarano quickly began trending on Twitter, and Disney+ and Lucasfilm took notice.
On February 10, Lucasfilm released a statement revealing that Carano had indeed been fired, saying, "Gina Carano is not currently employed by Lucasfilm and there are no plans for her to be in the future. Nevertheless, her social media posts denigrating people based on their cultural and religious identities are abhorrent and unacceptable."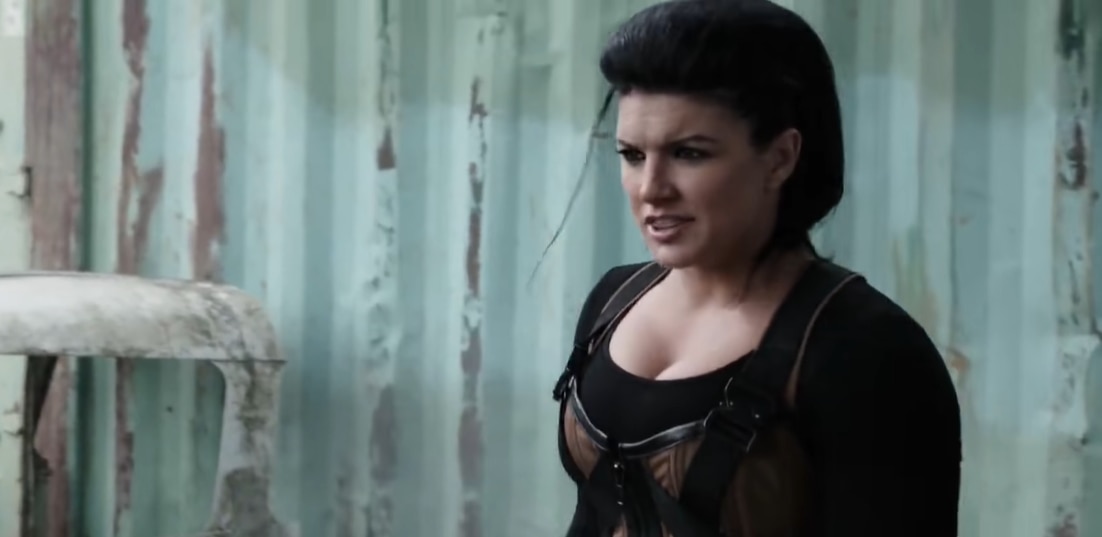 Giana Carano played Angel Dust in the 2016 film Deadpool (Credit: 20th Century Fox)
The internet is forever, kids. Words have consequences. Toy company Hasbro also stopped producing new action figures of Carano's Cara Dune character. Carano told former New York Times opinion writer Bari Weiss that she was shocked to have been "fired" from "The Mandalorian" via social media.
"I was in utter shock and confusion when certain people said it was anti-Semitic," she told Weiss over email.
"Then, as I went to take it down, I noticed that the image was not the same as the one people were referencing. I was honestly confused: should I take it down, or leave it up? I still don't know the answer to that question, because taking it down only makes the mob attack you more."
Gina Carano at the premiere of Disney's Lion King on July 10, 2019 (Credit: FayesVision / WENN)
Despite Carano's subsequent termination, the actress has still been receiving massive amounts of hate on social media, the worst coming from Twitter and Reddit.
Instead of attacking Carano for her beliefs, social media users have decided to attack the actress for her weight gain.
Users have said things like: "Can she afford a personal trainer? Or maybe some fat-free water?" and "Eat more chocolate…nice to see you're bringing the stupid to match the fat" and "Is she pregnant or is that her off-season weight? What's going on, she looks so puffy."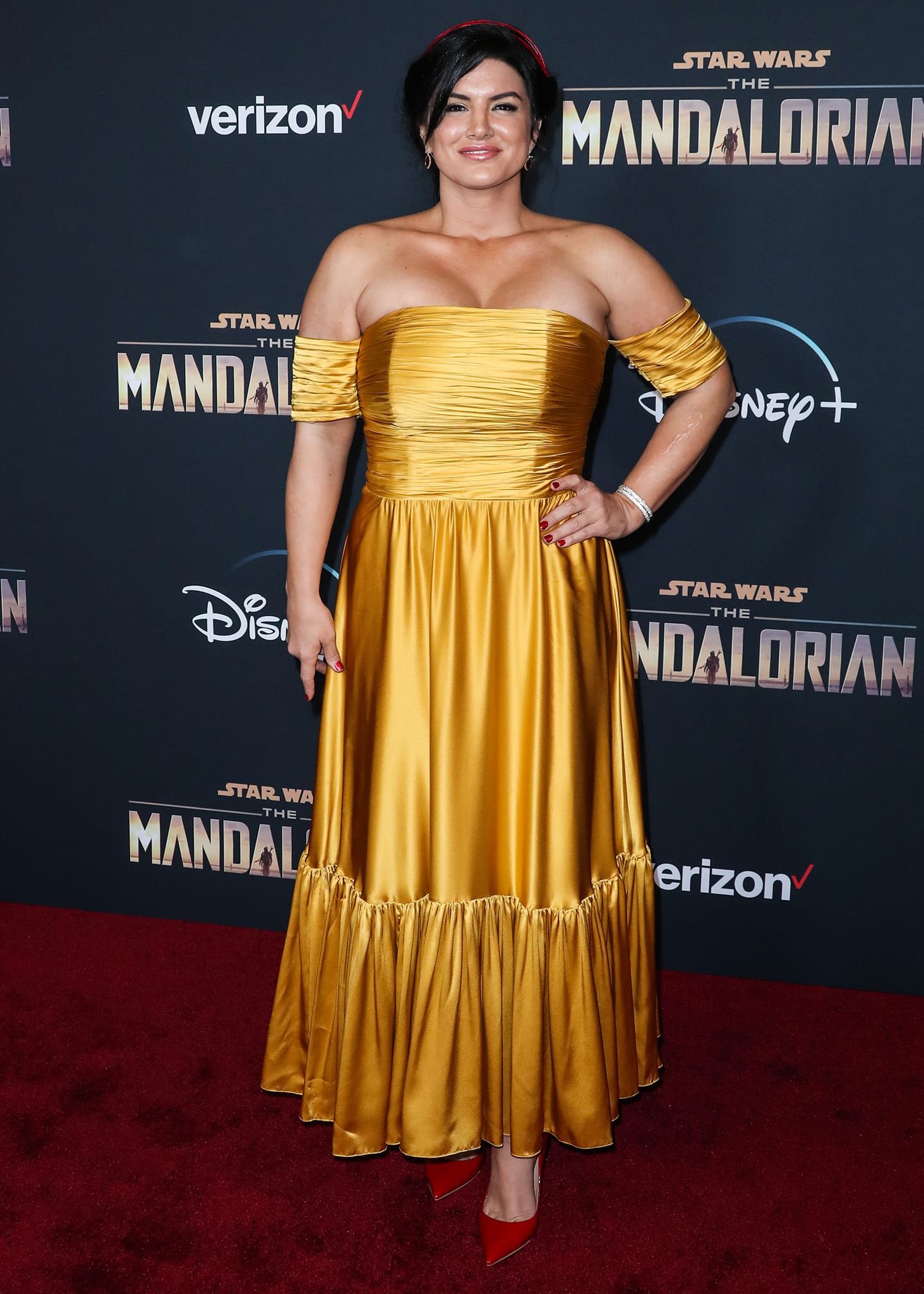 Gina Carano at the Los Angeles premiere of Disney+'s The Mandalorian held at the El Capitan Theatre on November 13, 2019 (Credit: Avalon / WENN)
Carano did gain some weight between the first and second seasons of The Mandalorian, but she still appeared healthy and confident in her body. Some social media users theorized that her weight gain—not her series of controversial and offensive posts—was the reason behind her termination by Disney+ and Lucasfilm.
Carano has yet to address her recent weight gain or the criticism she is receiving online about it. However, in a prior interview, she said, "I know I don't look like all these other women. I know I don't look like the skinny, slender model. I know I look a little bit different, but people like to watch me for some reason. It feels good."
This is not the first time Carano has been scrutinized for her weight. Before she transitioned to acting, Carano was a prolific MMA fighter.
After her win against Kaitlin Young, critics said things like, "Gina was over the weight limit and shouldn't have been allowed to fight in the first place" and "Gina was tired and out of shape".
Former MMA fighter Gina Carano pictured in 2006 at the Showtime and Pro Elite press conference in Los Angeles (Credit: Dimitri Halkidis / WENN)
The actress has spoken about body image before and how it can be difficult in a sport where your body is your only tool. She says that she was a "big girl" but that she "carried it pretty well".
This did not stop professionals in the MMA industry from commenting on her weight, though, as she said, "I walked into the gym and this little Thai man walked up to me and said, 'Oh, baby, you fat. You need to lose weight.' I was chubby. I really needed to get back into shape and I started training with him, the same guy that called me fat."
It seems that Carano does not care much about her weight, as the former athlete has a body type that reflects her athleticism. In fact, during her fighting career, electronic monitors determined that Carano was extremely powerful, as her punches could exert up to 650 pounds of pressure. Carano still uses many of the exercise techniques that she learned as a Muay Thai and MMA fighter to keep her in shape.
Gina Carano, pictured in 2006, says she works out twice a day to keep her in her fighting form (Credit: Mary Ann Owen / WENN)
Carano says that to stay in her "fighting form", even if she is preparing for a role in a movie, she works out twice a day, every day. Typically, she will run on a treadmill for at least 15 minutes as a warm-up, then incorporates weight training and techniques taken from Jiu-Jitsu and Muay Thai.
Gina Carano says that she has tried a plethora of diets due to career pressure and body image issues, but often found them too restrictive, "When you start putting too many rules on something, you get a bit anal about it and it's counterproductive."
Now, the actress sticks to a nutrient-dense diet, focusing on healthy proteins with low fat and carbs. Carano does not deprive herself, though, as she said to an interviewer, "Sometimes, you have to cheat and eat some pasta, you know?"