Fantasy movies existed in cinema dating all the way back to the silent film era, but it wasn't until recently that this quirky genre really started to gain traction.
In just two decades since the turn of the century, the fantasy genre has exploded in popularity, giving birth to some of the most beloved franchises of our time.
Whether it's Harry Potter, The Lord of the Rings, or any of the spectacle-heavy movies of the Marvel Cinematic Universe, pop culture at large has been driven by fantasy movies for quite some time now.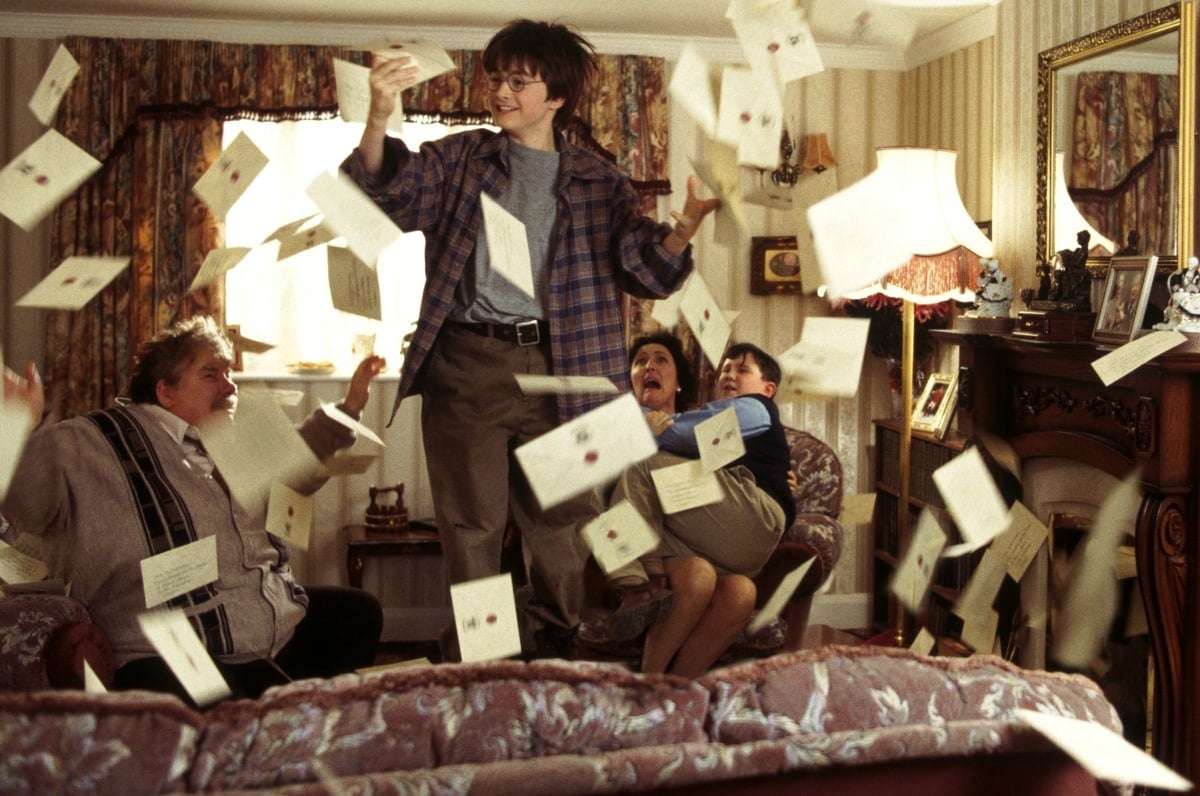 Harry Potter is still one of the most popular and beloved film franchises to this day (Credit: Warner Bros. Pictures)
While the early 2000s saw a massive boost for the fantasy genre and its various sub-genres, there were plenty of wonderful films in the decades prior.
The 1990s were an especially experimental time for the genre, with movies blending drama, sci-fi, and fantasy to massive success.
Spurred on by stellar Disney animated films and a handful of truly creative projects, the rise of the fantasy genre was in full swing during the decade, leading to some timeless movies.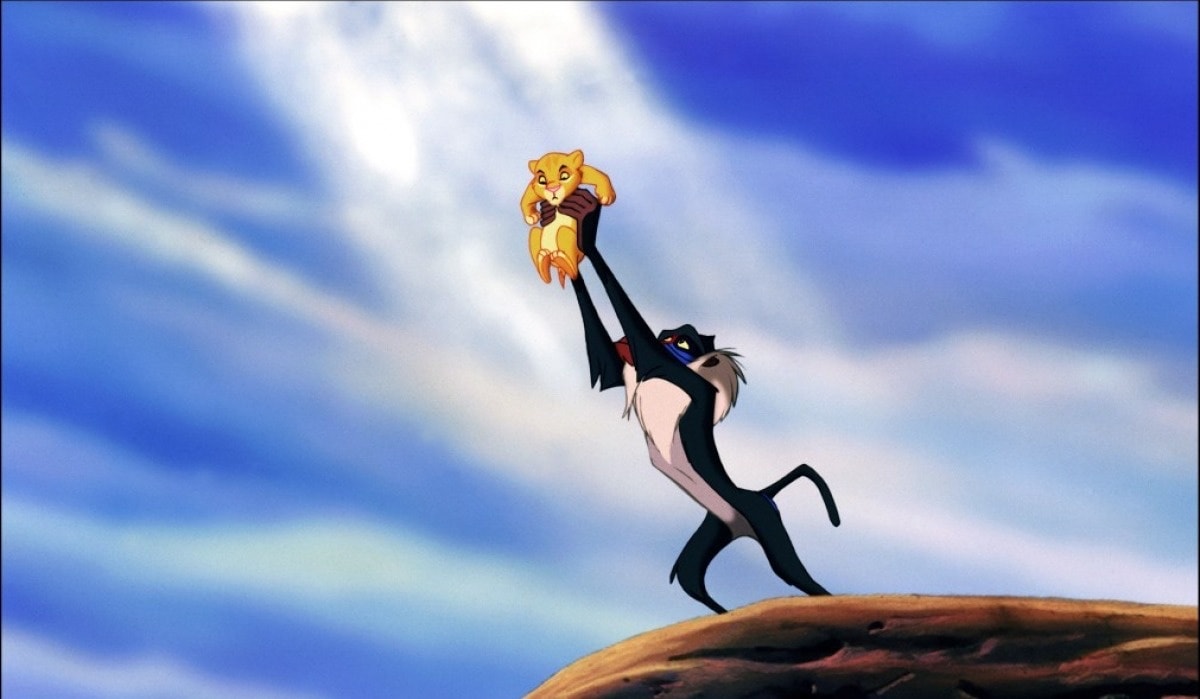 The Lion King is a 1994 animated musical drama film and is still one of the most beloved Disney movies of all time (Credit: Walt Disney Pictures)
As many of these movies approach the 20-year anniversary of their release, we've compiled a list of the best fantasy movies of the 1990s to celebrate this often-underappreciated genre.
Ranked in order of their Rotten Tomatoes critics score, these are our picks for the best fantasy movies of the 1990s!
10. Jumanji (1995) – 52% Score
While Jumanji didn't exactly wow critics at the time of release, this goofy fantasy adventure has maintained a sizable fanbase throughout the years, leading to a handful of sequels in recent years.
Directed by Joe Johnson, this uproariously funny film focuses on two children, Judy (Kirsten Dunst) and Peter Shepherd (Bradley Pierce), who discover a supernatural board game called Jumanji.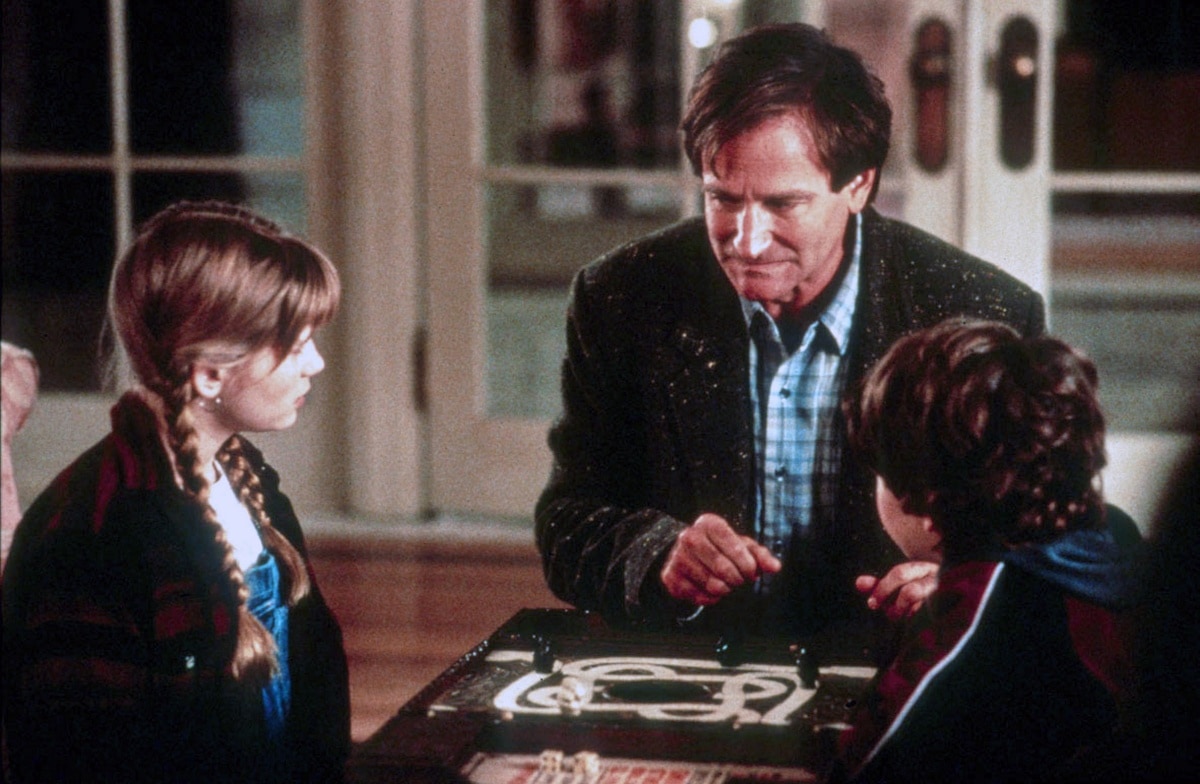 Kirsten Dunst as Judy Shepherd, Robin Williams as Alan Parrish, and Bradley Pierce as Peter Shepherd in the 1995 fantasy adventure film Jumanji (Credit: Sony Pictures Releasing)
After starting the game, a middle-aged man named Alan (Robin Williams) is summoned from the board, who warns Judy and Peter of the very real dangers that Jumanji will bring. Together, the trio must recruit an old friend of Alan's and finish the game before chaos is unleashed.
Thoroughly goofy and tons of fun to watch, Jumanji is an imaginative adventure that's wholly elevated by a wonderful performance from Academy Award winner Robin Williams. Combined with a slew of jungle-themed action scenes, it's a fun family adventure that isn't afraid to showcase a bit of fear.
To coincide with the release of the movie, Milton Bradley even made a real Jumanji board game, beckoning viewers to tempt fate and roll the dice.
Despite its lackluster performance with critics, Jumanji is an exceptionally fun film and easily one of the best fantasy movies of the 1990s.
9. Dogma (1999) – 67% Score
If there's one topic that is rarely the source of satire in films, it's religion. Most writers and directors lack the confidence to poke fun at such a divisive subject, but that didn't dissuade the creators of Dogma.
Written and directed by Kevin Smith and often regarded as one of his best films, Dogma tells the story of Bartleby (Ben Affleck) and Loki (Matt Damon), two fallen angels who attempt to break back into heaven after being cast out by God.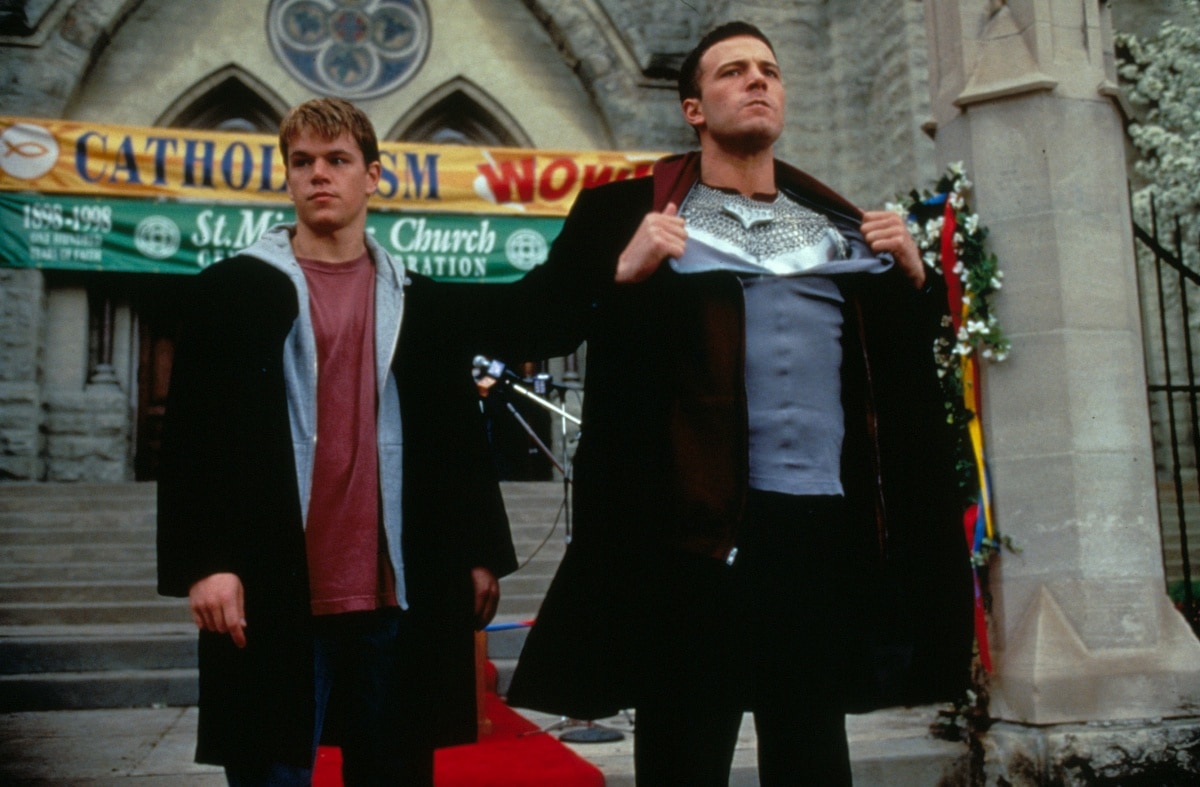 Matt Damon as Loki and Ben Affleck as Bartleby in the 1999 fantasy comedy film Dogma (Credit: Lionsgate Films)
In true Kevin Smith fashion, Dogma is hilarious, introspective, and full of foul-mouthed characters, which drew plenty of ire from conservative religious groups around the country. Considered one of the most divisive yet best fantasy movies of the 1990s, Dogma was heavily protested, but fans still flocked to the theaters to check it out.
Complete with angels, demons, and philosophical discussions on the meaning of life and faith, Dogma is simultaneously more comedic and more serious than your average fantasy film.
By boldly tackling the pitfalls of religion and offering an enjoyable viewing experience at the same time, Dogma is a must-see film with a remarkably strong cast to boot.
8. Army of Darkness (1992) – 74% Score
The first two Evil Dead films helped reignite interest in the horror genre in the late 1980s, while the third film, Army of Darkness, shot for a completely different vibe. Part horror film, part adventure, and set in a medieval world with flying demons and creatures of the night, this third installment in the Evil Dead franchise was as unique as it was exciting.
Directed, co-written, and edited by Sam Raimi, Army of Darkness stars Bruce Campbell as Ash Williams, a tough-chinned hero who falls through a time portal and lands smack dab in the Middle Ages.
As two kingdoms clash in battle, Ash must bring them together to repel a dark and evil force that threatens to overtake the entire world.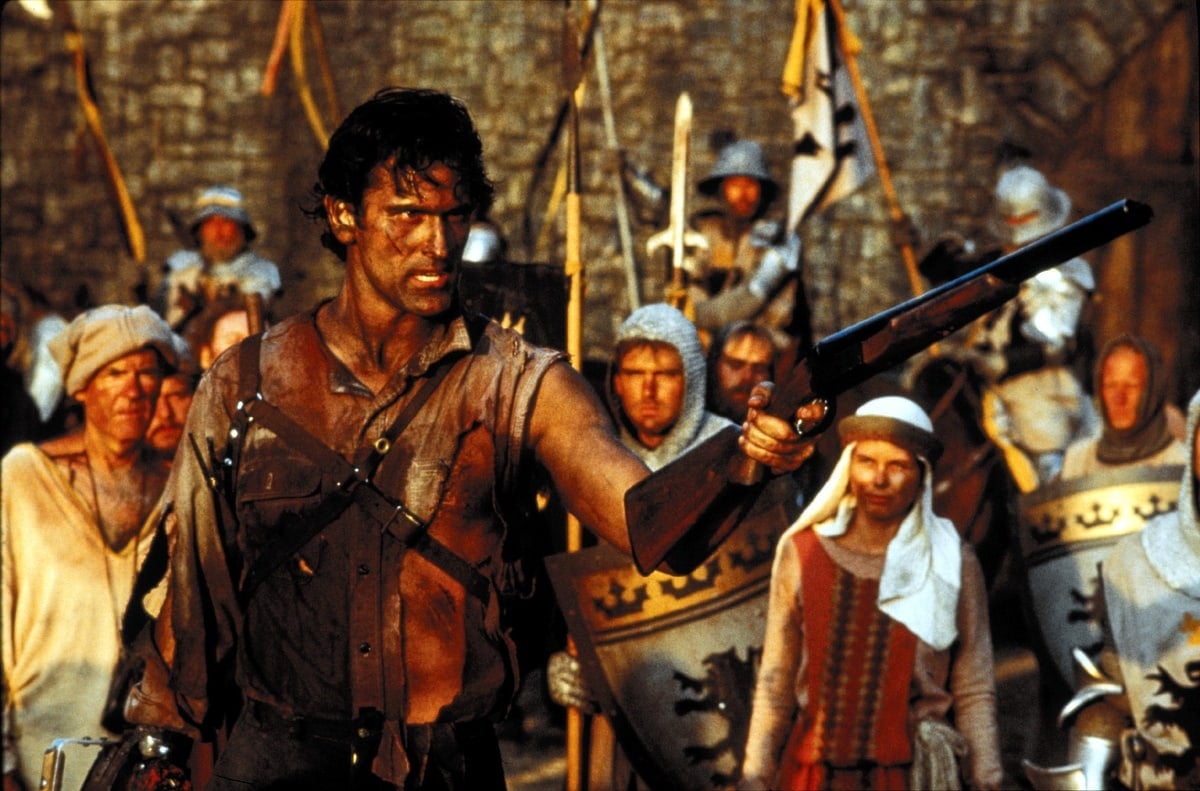 Bruce Campbell as Ash Williams in the 1992 epic comedy horror film Army of Darkness (Credit: Universal Pictures)
For both new fans of horror films and those looking to dip their toes into dark fantasy, Army of Darkness is one of the best places to start. It's goofy, lighthearted, and features some hilariously quotable lines.
Calling back to classic fantasy films like 1963's Jason and the Argonauts, this jovial yet violent film has everything a fan of the genre might want – from castles and sentient skeletons to magic and monsters.
7. The Green Mile (1999) – 79% Score
Although arguably more of a drama than a fantasy film, it's hard not to talk about the best fantasy movies of the 1990s without bringing up The Green Mile. Based on the novel by Stephen King and directed by Frank Darabont, this emotional story will tug on your heartstrings and leave you in awe.
The movie follows Paul Edgecomb (Tom Hanks), a prison guard working on death row at Cold Mountain Penitentiary. When a new inmate, John Coffey (Michael Clarke Duncan), arrives at the jail, Paul's life is changed when John showcases his extraordinary ability to heal through touch alone.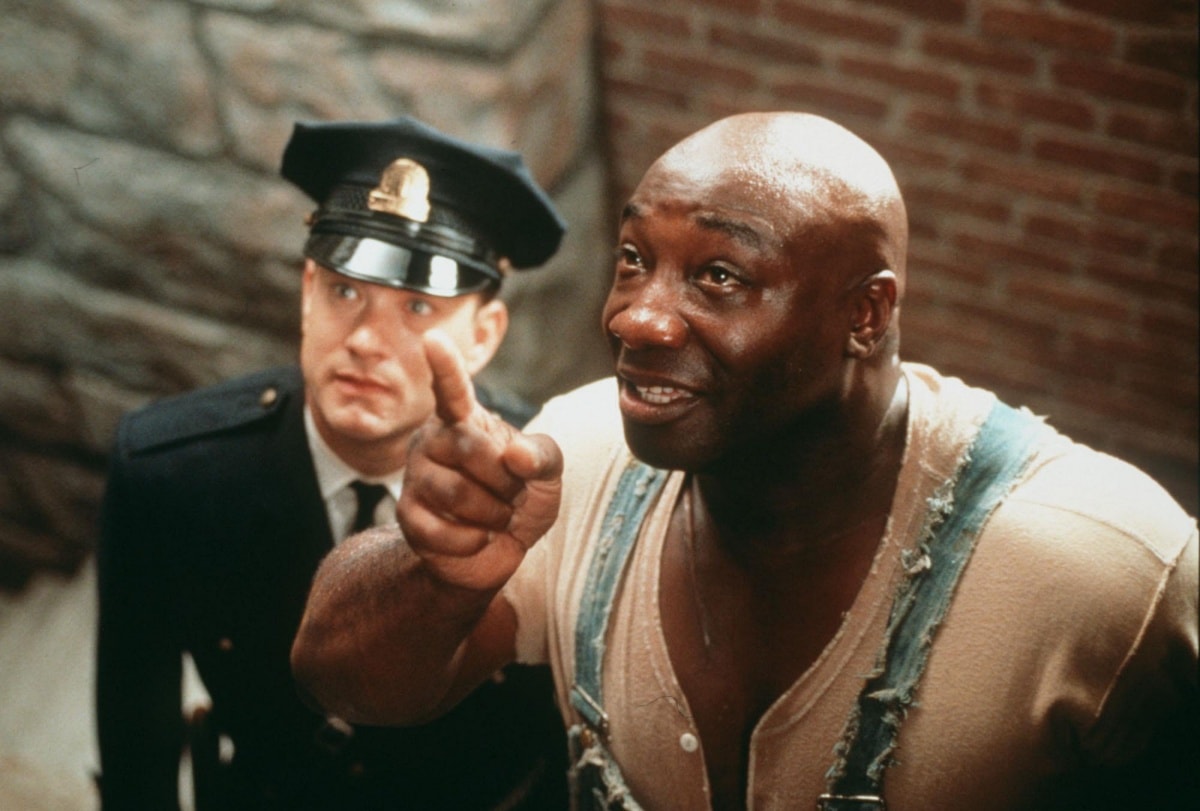 Tom Hanks as Paul Edgecomb and Michael Clarke Duncan as John Coffey in the 1999 fantasy drama film The Green Mile (Credit: Castle Rock Entertainment / Darkwoods Productions)
Using fantastical concepts like magical healing to tell a haunting story about wrongful conviction and racism, The Green Mile was a major success upon release. The film was nominated for four Academy Awards and is considered one of the top 50 movies of all time by the Internet Movie Database.
In the vast sea of films based on Stephen King's books, The Green Mile stands out as an effective drama and one of the best fantasy movies of the 1990s.
6. Edward Scissorhands (1990) – 90% Score
Coming in hot off the release of successful films like Beetlejuice and Batman Returns, director Tim Burton had something exceptionally weird in store for his 1990 movie, Edward Scissorhands.
Starring Johnny Depp in the lead role, this quirky fantasy movie was a major hit and remains one of Tim Burton's most celebrated films.
The movie follows the eponymous character Edward Scissorhands, a humanoid created by an eccentric inventor who dies before completing work on Edward.
Left with massive blades for hands, Edward struggles to take care of himself until a kind woman named Peg Boggs (Dianne Wiest) takes him in and shows him some care and attention.
Johnny Depp as Edward Scissorhands in the 1990 fantasy romance film Edward Scissorhands (Credit: 20th Century Fox)
Inspired by Tim Burton's isolated childhood and inability to make meaningful friendships, Edward Scissorhands smartly uses the limitless boundaries of the fantasy genre to tell an impacting story.
Including elements of romance, suspense, and a healthy dose of comedy, this is definitely one of Tim Burton's most well-rounded films.
It seems critics and fans wholeheartedly agree, as Edward Scissorhands was nominated for an Academy Award in 1991, and many recall Johnny Depp's performance as one of the best in his career.
5. Matilda (1996) – 91% Score
Based on Roald Dahl's 1988 novel and directed by Danny DeVito, Matilda is a charming comedy featuring a young girl who uses her telekinetic powers to overcome obstacles at her elementary school.
Dealing with her less-than-lovable family and a particularly crude principal, Matilda (Mara Wilson) decides to use her abilities for good and help her classmates excel.
Mara Wilson as Matilda Wormwood in the 1996 fantasy comedy film Matilda (Credit: Sony Pictures Releasing)
While Danny DeVito is a beloved actor and comedian, many overlook his stint as a director, with Matilda being a standout project in his filmography. Together with Mara Wilson and the rest of the cast, DeVito successfully nails the whimsical nature of childhood while touching on more serious topics.
As far as family-friendly movies from the 1990s are concerned, Matilda stands strong as a heartfelt fantasy film with a meaningful message and plenty of emotions.
The movie has served as inspiration for tons of creative minds, including the likes of masterful horror author Stephen King. In the early 2010s, Matilda was adapted into a musical to notable success, continuing the legacy of one of the best fantasy movies of the 1990s.
4. Princess Mononoke (1997) – 93% Score
Fusing history, drama, and fantasy into one remarkable movie, Princess Mononoke is decidedly one of the best fantasy movies of the 1990s.
Written and directed by Hayao Miyazaki, one of the undisputed kings of Japanese animation, this colorful and emotional film is often regarded as one of his finest works to date.
Hayao Miyazaki is a co-founder of Studio Ghibli and is highly regarded as one of the most accomplished filmmakers in the history of animation (Credit: Yusuke Nakanishi / Startraksphoto)
Princess Mononoke is set in 14th century Japan and follows Ashitaka, a young prince who attempts to strike a balance between the spirits of a powerful forest and the townsfolk who live off of its bounty. Complete with demons, supernatural powers, and magical deities, Princess Mononoke is a unique fantasy film that still holds up decades later.
It seems like from the beginning, Princess Mononoke was destined to be a hit, as Hayao Miyazaki spent a whopping $23 million on the production. In the time leading up to the film's release, Miyazaki fought for his original vision, often disregarding studio notes and refusing to cut down the runtime.
To this day, Princess Mononoke is not only considered one of the best fantasy movies of the 1990s, but also one of the best animated films ever made.
3. Aladdin (1992) – 95% Score
In the 1990s, Disney was on a roll with their animated movies, with Aladdin being one of the first massive hits of the decade. Directed by Ron Clements and John Musker, with voice talents from Robin Williams, Gilbert Gottfried, and more, Aladdin is easily one of the most beloved Disney films of all time.
This bright and vivid fantasy adventure follows the eponymous hero Aladdin (voiced by Scott Weinger), a homeless child living on the streets of Agrabah in the Middle East.
When Aladdin discovers a mystical lamp and summons the genie inside, his life takes an unexpected turn, leading him to a face-off against the evil vivizier, Jafar (voiced by Jonathan Freeman).
Aladdin is a 1992 animated musical fantasy comedy film and is one of the most beloved Disney films of all time (Credit: Walt Disney Pictures)
Between its brightly colored art, gorgeous animation, beautiful musical score, and immensely catchy songs, Aladdin was a favorite among audiences during the 1990s. Critics were also in love with this magical story, as it won two Academy Awards and received hundreds of other nominations.
While the 2019 live-action remake wasn't the best, the original Aladdin is still regarded as one of the best fantasy films of the 1990s.
2. Groundhog Day (1993) – 97% Score
Comedies starring Bill Murray are always pretty good for a laugh, but Groundhog Day offers much more than simple chuckles, as this fantasy flick doubles as a time-loop adventure. Co-written and directed by Harold Ramis, this oddball comedy sees one man living the same day over and over, unable to break the cycle of monotony in his average life.
The story focuses on Phil (Bill Murray), a television weatherman living in Pennsylvania, who attends a local Groundhog Day festival.
After a blizzard forces him to spend the night, Phil awakens the next morning to find that, for some unknown reason, he is living the same day on repeat. Eager to change his circumstances, Phil does everything in his power to institute chaos and break the endless loop.
Bill Murray as Phil Connors in the 1993 fantasy comedy film Groundhog Day (Credit: Columbia Pictures)
While it's hard to see anyone else but Bill Murray in the role of Phil, it's interesting to learn that at one point, Tom Hanks was considered for the lead. However, Bill Murray proved to be a formidable force during filming, as he was actually bitten by a real groundhog multiple times on set.
Thanks to a wholly original story and an amazing performance from Murray, Groundhog Day is now considered a timeless comedy and one of the best fantasy movies of the 1990s.
1. Toy Story (1995) – 100% Score
The best fantasy films take seemingly normal concepts and inject them with starry-eyed magic, which is exactly why Toy Story succeeds and won over the hearts of both parents and kids. This computer-animated film was directed by John Lasseter and features voice work from Tom Hanks, Tim Allen, Don Rickles, and more.
Set in a sleepy suburb, the movie centers on a young boy named Andy (voiced by John Morris) and his collection of toys, which become sentient whenever they are left alone. As Andy and his parents plan a big move to a new house, the toys prepare themselves for the long trip ahead.
Toy Story is a 1995 computer-animated comedy film produced by Pixar Animation Studios (Credit: Walt Disney Pictures)
By now, Toy Story has become a major animated franchise with four feature-length films and dozens of animated shorts. Of course, this wouldn't be possible if the original film wasn't so brilliant, but luckily, Toy Story contains an impressive amount of emotion and charm for a mid-90s comedy.
Thanks to several fantastic performances and a brilliant premise, Toy Story is one of the few films to earn the coveted 100% rating on Rotten Tomatoes, cementing it as one of the best fantasy movies of the 1990s.