When it comes to everyday life, shoes have always been one of the most overlooked aspects of our wardrobes.
However, this may be changing in the near future, as the rise of the "sneakerhead" has provided a renewed sense of attention and appreciation for footwear in general.
In this article, we'll be taking a look at some of the most iconic and instantly recognizable shoes in the history of cinema.
Whether used as a plot device or known for just looking memorable, these shoes left a lasting footprint on a cinematic culture that we've managed to remember for decades to come.
15. The Silver Boots – Barbarella (1968)
Blasting off to outer space with these far-out boots, aesthetics definitely took prominence in this Jane Fonda lead sci-fi journey directed by French director Roger Vadim.
In the film, Fonda plays the titular role of Barbarella, a space heroine who readily uses her sex appeal to remain victorious in her interplanetary exploits.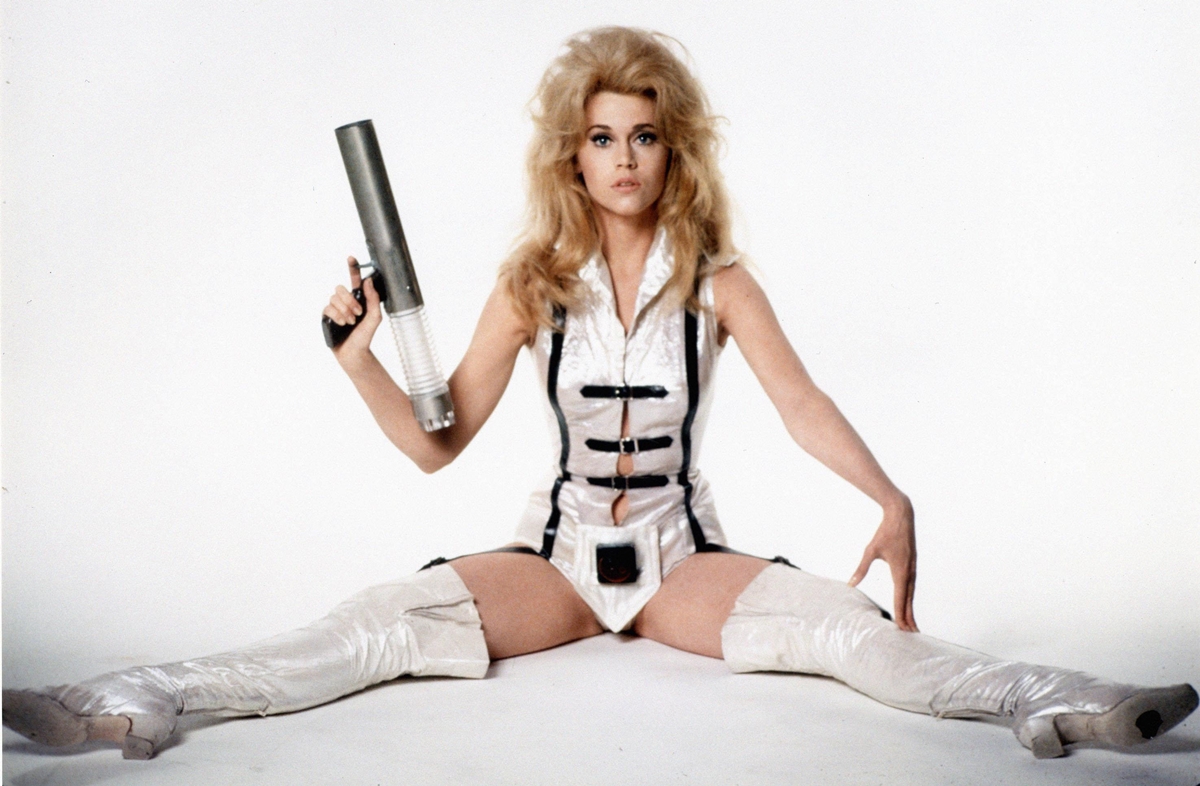 Jane Fonda as the title character with silver boots in the 1968 science fiction film Barbarella (Credit: Paramount Pictures)
The film was very popular with UK audiences in particular, and Barbarella's striking silver outfit remains an identifiable aspect of popular culture in the British isles.
This outfit included Barbarella's famous silver boots, which feature black stripes and heels, and was designed by famous Italian designer Paco Rabanne.
14. Rosie Beltzer's Shoes – JoJo Rabbit (2019)
Another instance where a pair of shoes take prominence as a major plot device, Rosie Beltzer (played by Scarlett Johansson) acts as the mother of the protagonist JoJo in Taika Waititi's JoJo Rabbit, which is an interesting black comedy that satirizes aspects of Nazi Germany, including the institution of the Hitler Youth.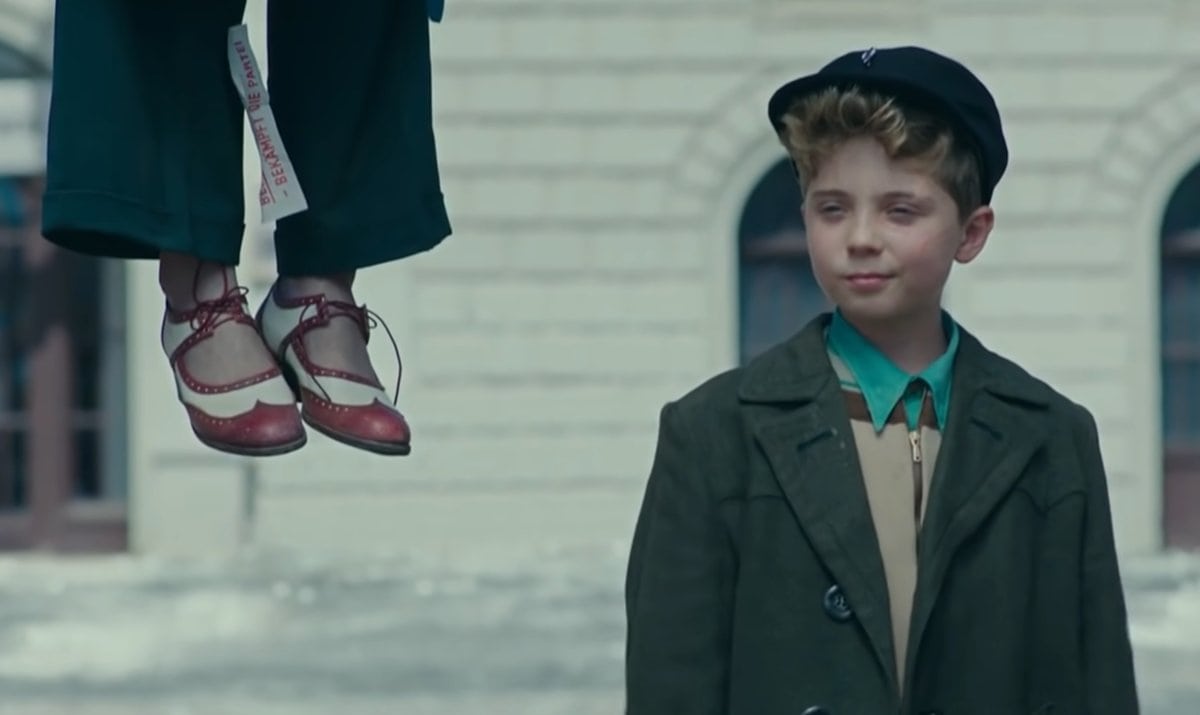 Roman Griffin Davis as Johannes Jojo Betzler with the single lace-up red and white spectator shoes worn by his mother (Credit: Fox Searchlight Pictures)
In the film, Rosie, who is a Nazi resistor, ends up being captured by the Nazis and is hung in the middle of the public square. JoJo doesn't recognize his mother's hanging corpse at first but identifies her by her recognizable shoes.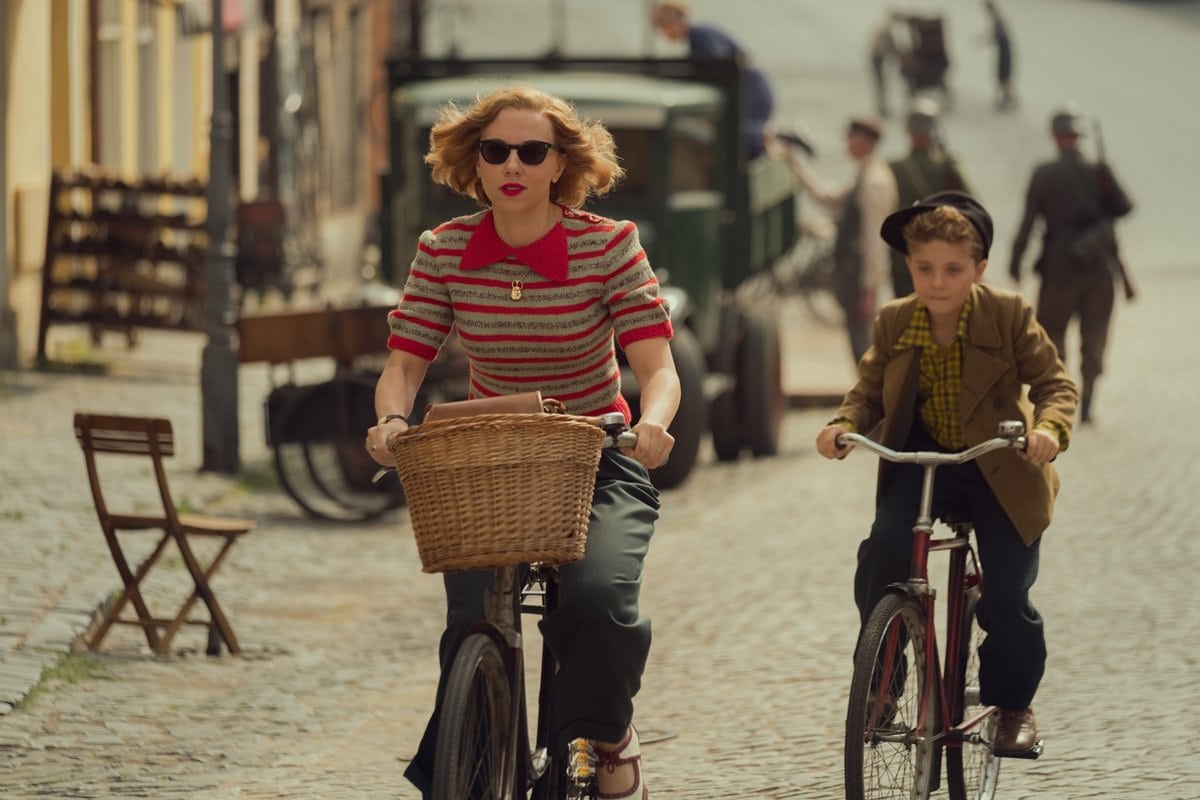 Roman Griffin Davis plays a young German boy who is a member of the Deutsches Jungvolk, and his mother, Rosie Betzler, is portrayed by Scarlett Johansson (Credit: Fox Searchlight Pictures)
The moment remains one of the most tragic in the often-comedic film, earning Rosie's shoes a spot on this list.
13. The Parrish Sneakers – Jumanji (1995)
Often hailed as a classic of family-friendly 90s cinema, Jumanji deals with a mystical board game that wreaks mayhem on those who decide to play it. Kirsten Caroline Dunst played Judy Shepherd in the first installment of the Jumanji franchise.
While the board game certainly takes the cake as the most recognizable prop in the film, shoes become an important plot device as well, as Alan Parrish (played by Robin Williams) is the child of Sam Parrish, who owns a shoe factory in Brantford, New Hampshire.
The Parrish shoe prototype seen in the 1995 American fantasy adventure film Jumanji is almost an exact copy of the Nike Air Max 2 Charles Barkley sneakers (Credit: Sony Pictures Releasing)
The prototype Parrish shoe is seen at the beginning of the film and sets the pace for the rest of the film, as Alan misplaces the Parrish sneaker, which acts as a domino effect that leads him to disappear for decades. The Parrish sneaker was actually based on a Nike design, as per movie legend.
12. The Edible Shoe? – Werner Herzog Eats a Shoe (1980)
We admit this is definitely one of the more obscure choices on this list. In Werner Herzog Eats a Shoe, the popular German-born documentarian, you guessed it, eats a shoe.
The film was created as the result of a bet between Herzog and fellow filmmaker Errol Morris, who was working on the ambitious documentary film Gates of Heaven.
The 1980 short documentary film Werner Herzog Eats His Shoe depicts director Werner Herzog living up to his promise that he would eat his shoe if Errol Morris ever completed the film Gates of Heaven (Credit: YouTube)
Herzog bet Morris that if Morris were ever to finish Gates of Heaven, he would eat his own shoe.
Two years after Gates of Heaven was finally released to the public, Herzog boiled his leather shoe in garlic, herbs, and stock for 5 hours, and proceeded to eat it on camera in this 21-minute-long short film.
11. The One Red Shoe – The Man With One Red Shoe (1985)
There was no way we could leave a film that references a shoe in its title off this list.
In this film (which combines comedy with a crime thriller), Tom Hanks plays Richard Drew, a concert violinist who becomes framed for a drug smuggling crime orchestrated by dirty agents within the CIA.
Tom Hanks as Richard Drew and Lori Singer as Maddy in the 1985 American comedy film The Man with One Red Shoe (Credit: 20th Century Fox)
These CIA agents continue to track Drew down, although he manages to evade their efforts for most of the film (unintentionally, I might add).
Drew features one red shoe due to a prank that his friends pull on him before his flight, though this becomes of the features that the CIA agents use to track him down. For that reason, the one red shoe deserves a spot on this list – it's a Nike shoe, after all!
10. The Magic Jordans – Like Mike (2002)
The sweet memories of product placement fill our minds when we think of Like Mike, a family-friendly comedy that features Lil' Bow Wow as Calvin, an orphaned child who aspires to be a professional basketball player akin to Michael Jordan.
Calvin ends up finding a thrifted pair of sneakers that were worn by Jordan, and discovers that when he puts them on, he gains miraculous basketball skills.
Shad Gregory Moss, better known by his stage name Bow Wow, plays a 13-year-old orphan who becomes an NBA superstar after trying on a pair of sneakers with the faded initials "MJ" inside them in the 2002 American sports comedy film Like Mike (Credit: 20th Century Fox)
These skills allow him to play in the NBA, alongside his favorite players. The film ends with Calvin helping the team win a key victory against their rivals, without the help of the shoes. How cute.
9. The Knife Boots – From Russia With Love (1963)
One of the most popular and iconic Connery-lead James Bond installments, From Russia With Love was a massive hit when it burst onto silver screens in the early 1960s.
Lotte Lenya as the murderous and sadistic Rosa Klebb with poison-tipped shoes in the 1963 James Bond movie From Russia with Love (Credit: United Artists)
In the film, James Bond is tasked with stopping the plot of Rosa Klebb, a Russian SPECTRE agent who wants Bond dead. Rosa is depicted as a middle-aged woman with a strong aptitude for conniving, which is exemplified in her signature weapon: the shoe knife.
Hidden within her pair of dress shoes, she uses a small knife to stab her enemies with precise, powerful kicks. In the climax of the film, Klebb attempts to use this weapon (which is also tipped with poison) on Bond, who foils her plans, resulting in Klebb's death.
8. The Cobbler's Shoes – The Cobbler (2014)
While it's hard to call these shoes iconic (since this film was a box office bomb and was critically panned), we decided to include them on this list since they place such a prominent role in the film as a whole.
This movie combines elements of fantasy with elements of comedy and sees Adam Sandler playing the role of a local cobbler (or shoe repairman) who discovers that his old stitching machine contains magical powers, causing Sandler to transform into the owner of any shoe that it works on.
Adam Sandler as Max Simkin looking at a pair of red high heel shoes in the 2014 American magic realism comedy-drama film The Cobbler (Credit: Image Entertainment)
Sandler uses this power to comedic effect, transforming into people of different gender identities, ethnicities, and social standings. For that reason, we think these shoes deserve a spot on this list.
7. The Red Shoes – The Red Shoes (1948)
While The Man With One Red Shoe was certainly a film that had a red shoe as a central plot device, it wasn't the first, nor was it the most iconic.
Released in 1948, this Michael Powell and Emeric Pressburger-directed masterpiece is an epic drama that centers around performers in a ballet show entitled "The Red Shoes."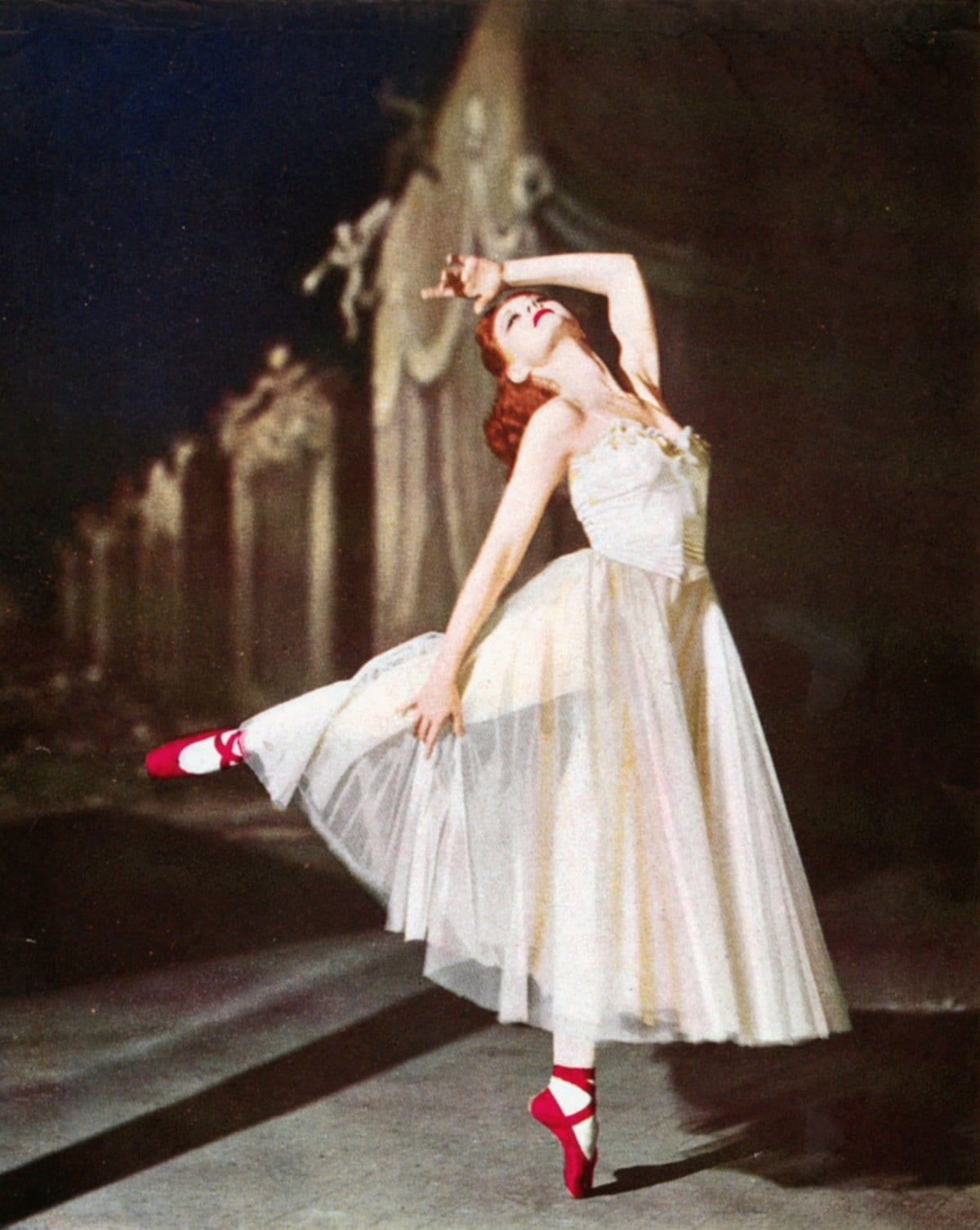 Moira Shearer as Victoria Page in the 1948 British drama film The Red Shoes (Credit: General Film Distributors / Eagle-Lion Films)
In the film, ballerina Victoria Page is thrust into a love triangle consisting of herself, ballet director Boris Lermontov, and aspiring composer Julian Craster.
The film is famous for its impressionistic depiction of the ballet show, which centers around the titular red shoes. The shoes end up gaining magical properties, to disastrous effect. Hailed as one of the greatest cinematic achievements of all time, The Red Shoes are certainly the 2nd most popular red footwear in cinema history.
6. The Ruby Slippers – The Wizard of Oz (1939)
This film needs no introduction, and neither do these famous red shoes! A central plot device of this iconic fantastical film, Dorothy (famously played by Liza Minnelli's mom Judy Garland) wears these magical ruby slippers to return back home from the magical land of Oz, doing so by clicking her heels three times and saying the famous phrase "There's no place like home."
The ruby slippers worn by Judy Garland in the 1939 American musical fantasy film The Wizard of Oz are now among the most treasured and valuable film memorabilia in movie history (Credit: Metro-Goldwyn-Mayer)
Due to their worldwide appeal, the ruby slippers have gone on to be one of the most valuable pieces of film memorabilia of all time, and five pairs of the famous shoes have survived since the production of the film wrapped in the late 1930s.
Originally, the shoes were set to be silver, as they were in the original novel. However, screenwriter Noel Langley desired to take advantage of the technicolor technology (which was novel and popular at the time) and changed the shoes to be red in color.
5. The Scuffed Jordans – Do the Right Thing (1989)
One of Spike Lee's most celebrated films, Do the Right Thing takes place on a swelteringly hot day in Brooklyn, New York, and sees the residents of one neighborhood begin to turn on one another due to racial tensions surmounting between African American residents and Italian American residents.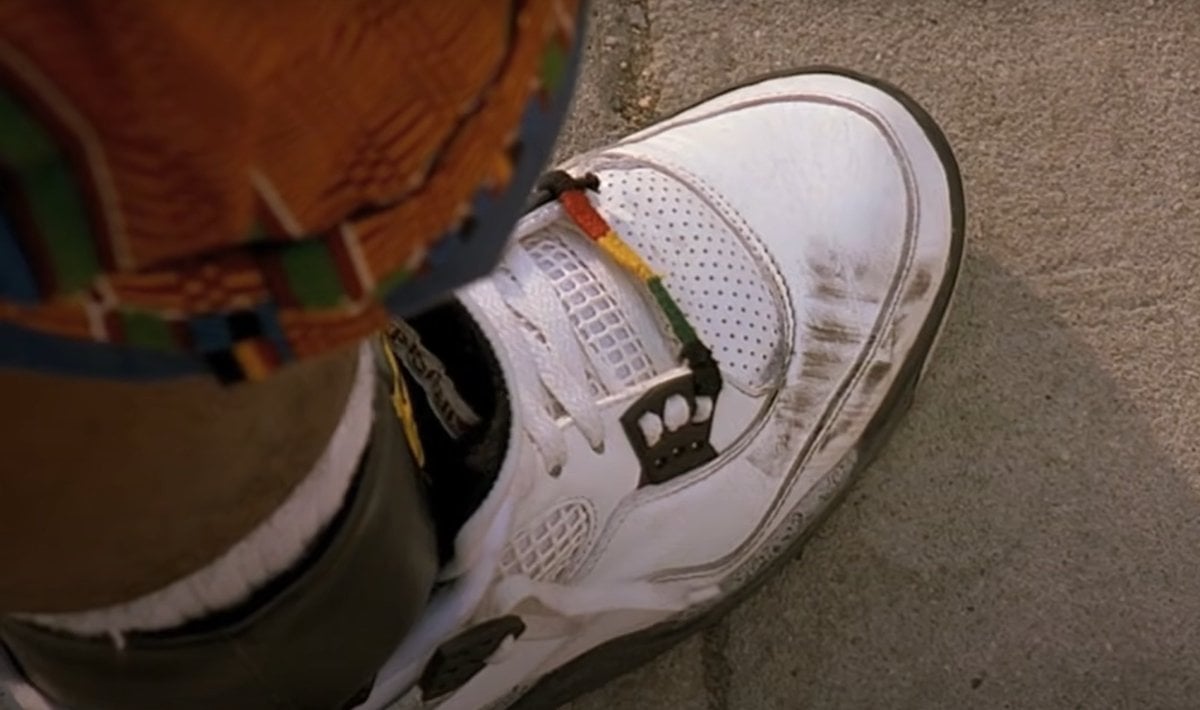 Giancarlo Esposito as Buggin' Out gets his Air Jordan 4 "White/Cement" sneakers tarnished after a Boston Celtics fan steps on them in the 1989 American comedy-drama film Do the Right Thing (Credit: Universal Pictures)
One classic scene of the film involves Buggin' Out (played by Giancarlo Esposito) – who has a brand new pair of Nike Air Jordan 4's that get scuffed when a fan of the Boston Celtics steps on his shoes, causing Buggin' Out to fly into a rage at the unsuspecting Celtics fan.
The scene became so iconic that Nike eventually introduced a special edition of the Nike Air Jordan 4's which feature a permanent scuff mark in the same spot as featured in the film!
4. Nike Air Mags – Back to the Future Part II (1989)
Of all of the sci-fi-influenced shoes featured in cinema, these are perhaps the most iconic of the bunch.
Featured in the sequel to Rob Zemeckis' famous Back to the Future – these shoes are depicted as a future release, as protagonist Marty McFly (played by Michael J. Fox) travels into the future, from 1985 to 2015.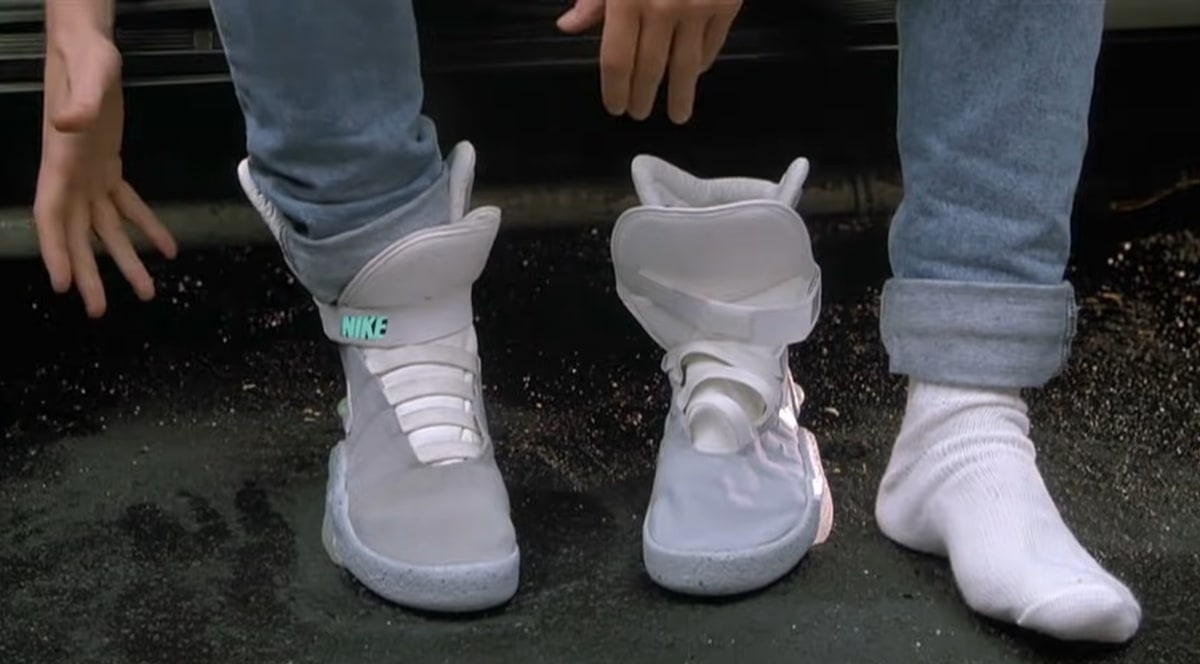 Self-lacing Nike Mag sneakers worn by Marty McFly in the 1989 American science fiction film Back The The Future II (Credit: Amblin Entertainment / Universal Pictures)
In 2015, he stumbles upon a pair of Nike Mag, which feature a futuristic cool-grey color scheme, and famously feature a self-lacing mechanism that allows the shoes to fasten to Marty's feet effortlessly.
Nike eventually released a limited run of replicas of the shoes in 2011, with only 1,510 pairs produced. The proceeds from this run went to the Michael J. Fox Foundation, which provides funds for Parkinson's Disease research.
3. Forrest Gump's Nike Cortez – Forrest Gump (1994)
"My mama always said you can tell a lot about a person by their shoes…" – this quote uttered by Tom Hanks (who played the famous titular role) sums up Forrest's personal inclination towards footwear, which plays out in multiple ways throughout the 1994 American comedy-drama film Forrest Gump.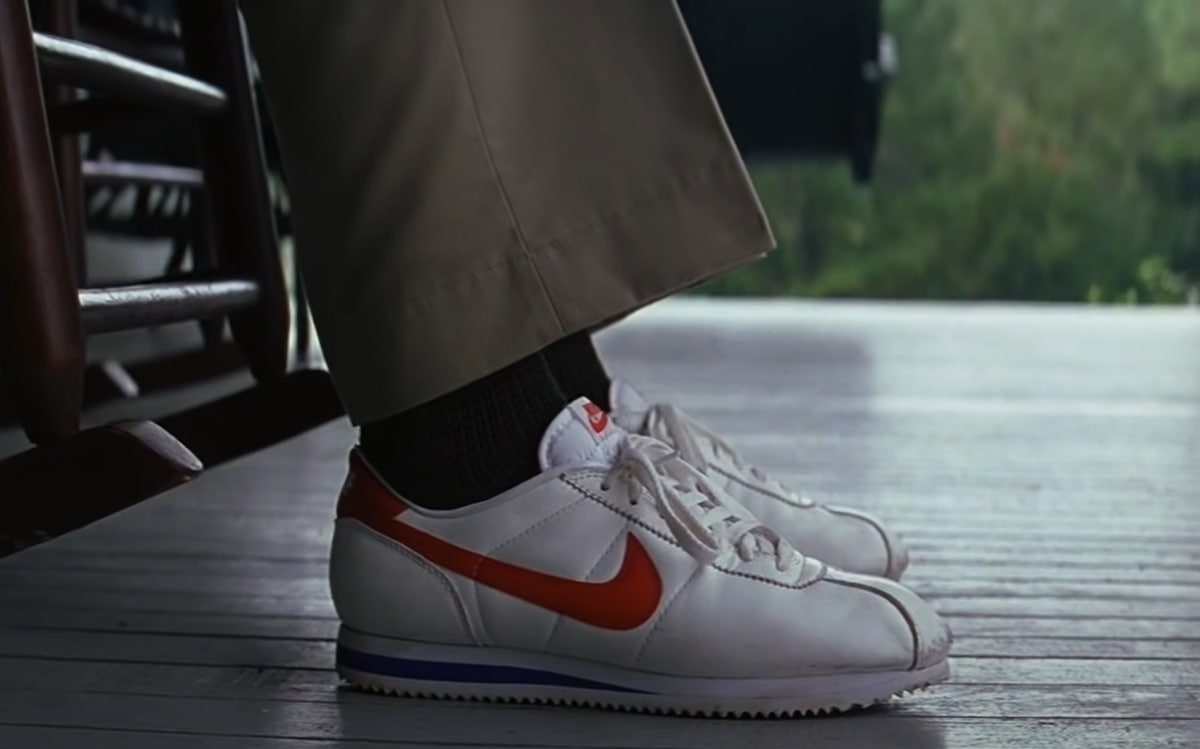 Tom Hanks as Forrest Gump wears leather Nike Classic Cortez shoes in the 1994 American comedy-drama film Forrest Gump (Credit: Paramount Pictures)
The most iconic by far is the scene in which Forrest devotes himself to running across the country, causing his love interest, Jenny, to purchase him a pair of new Nike Cortez sneakers, which feature a light blue sole and the logo in a splash of bright red.
Forrest continues to wear the Cortez sneakers throughout his run across the nation, establishing their place in the cinema lexicon of shoes.
2. Data's Slick Shoes – The Goonies (1985)
One of the biggest cult films of the 80s, The Goonies managed to impress audiences with its irreverent style of humor and its youthful and colorful cast of characters.
The film takes place in Astoria, Oregon, and sees a young group of kids known as "The Goonies" saying goodbye to each other once their homes have all been foreclosed.
Customized Nike Sky Force High "slick shoes" worn by Jonathan Ke Huy Quan as Richard "Data" Wang in the 1985 American adventure comedy film The Goonies (Credit: Warner Bros.)
However, after noticing a piece of treasure in their attic, the kids go on a treasure hunt to secure the gold and their homes. One of "The Goonies" is an inventor named Data (played by Jonathan Ke Huy Quan) – who is obsessed with James Bond and constructs gadgets inspired by the spy.
One iconic scene sees Data use his invention of "slick shoes" – which are custom Nike Sky Force High sneakers that include a jet that squirts oil, allowing the children to escape from their foes.
1. Cinderella's Little Glass Slippers – Cinderella (1950)
Of all the famous cinema shoes on this list, perhaps few are as iconic as the glass slippers featured in the popular fairytale Cinderella, which was adapted by Disney in 1950.
In Disney's adaptation of the classic tale, the classic glass slipper takes on an important role as a plot device connecting the titular character to her love interest, Prince Charming.
The iconic glass slipper from the 1950 American animated musical fantasy film Cinderella (Credit: Walt Disney Productions)
The massive success of Cinderella saved the Disney Company from bankruptcy and established the glass slippers as an iconic piece of fairy tale imagery for decades. The rest is history.
Cinderella's glass slippers are the most iconic shoes in the history of cinema (Credit: Walt Disney Productions)
Can you think of any other cinematic shoes that deserve a spot on our top list? Throughout the decades, items as mundane as shoes have been reworked by screenwriters to become important plot devices, showcasing the ingenuity of screenwriters as a whole.
We're sure there will be more famous cinematic shoes in the future!