Tom Hanks, the celebrated actor who portrayed the titular character in the iconic 1994 film "Forrest Gump," candidly admitted that he had reservations about the film's potential during its production.
Hanks shared his concerns during a New Yorker Live event in New York City, shedding light on the uncertainty surrounding even the most successful cinematic endeavors.
He was in New York to promote his novel The Making of Another Major Motion Picture Masterpiece, which you can buy on Amazon.
Questioning the Film's Merits
In an intriguing revelation, Tom Hanks recounted his initial doubts about the appeal of "Forrest Gump" to the film's director, Robert Zemeckis.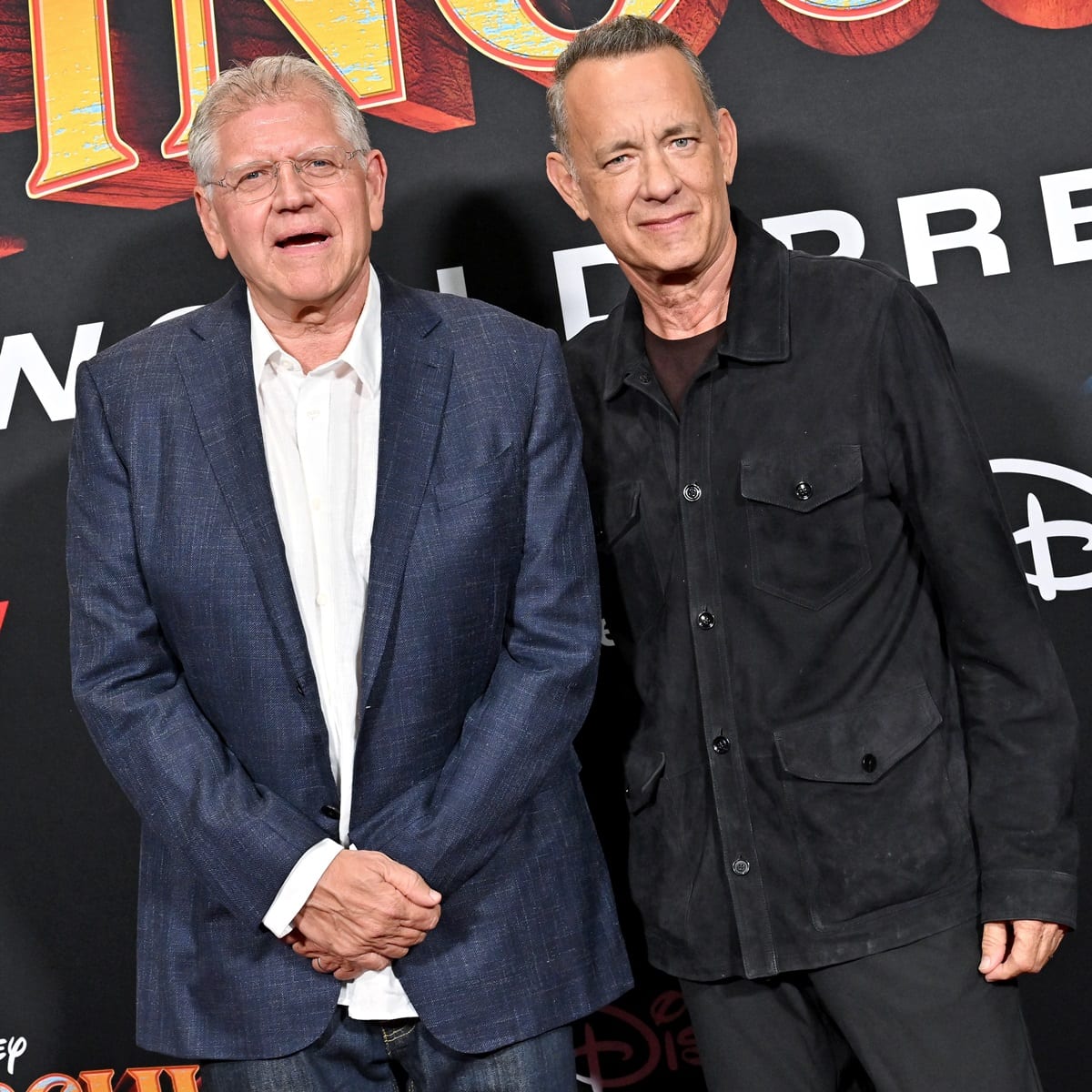 Tom Hanks (R) initially questioned the potential appeal of the iconic 1994 film Forrest Gump, expressing his doubts about the character's portrayal and whether the movie would make sense or resonate with audiences, as he discussed it with director Robert Zemeckis (L) (Credit: BauerGriffin / INSTARimages / Cover Images)
Hanks recalled asking Zemeckis, "Is anybody going to care about this movie?" He further expressed skepticism, stating, "This guy sitting on a thing in these goofy shoes and this cuckoo suit with a suitcase full of Curious George books and stuff like that. Are we doing anything here that is going to make any sense to anybody?"
Navigating Uncertainty
Acknowledging the creative risks involved, Robert Zemeckis responded to Hanks' concerns by likening the filmmaking process to a "minefield."
Zemeckis vividly described the precarious nature of their undertaking, remarking, "We may be sowing the seeds of our own destruction. Any footstep we take can be a bouncing Betty that'll blow our nuts right off."
This symbolic reference encapsulates the trepidation and potential pitfalls accompanying pursuing ambitious artistic ventures.
Triumph in the Face of Doubt
Despite their initial doubts, the collaboration between Tom Hanks and Robert Zemeckis was a resounding success. Forrest Gump defied all expectations, resonating deeply with audiences worldwide.
The film received critical acclaim and garnered numerous prestigious awards. Tom Hanks' remarkable performance earned him the Best Actor Academy Award, while Robert Zemeckis was honored as Best Director.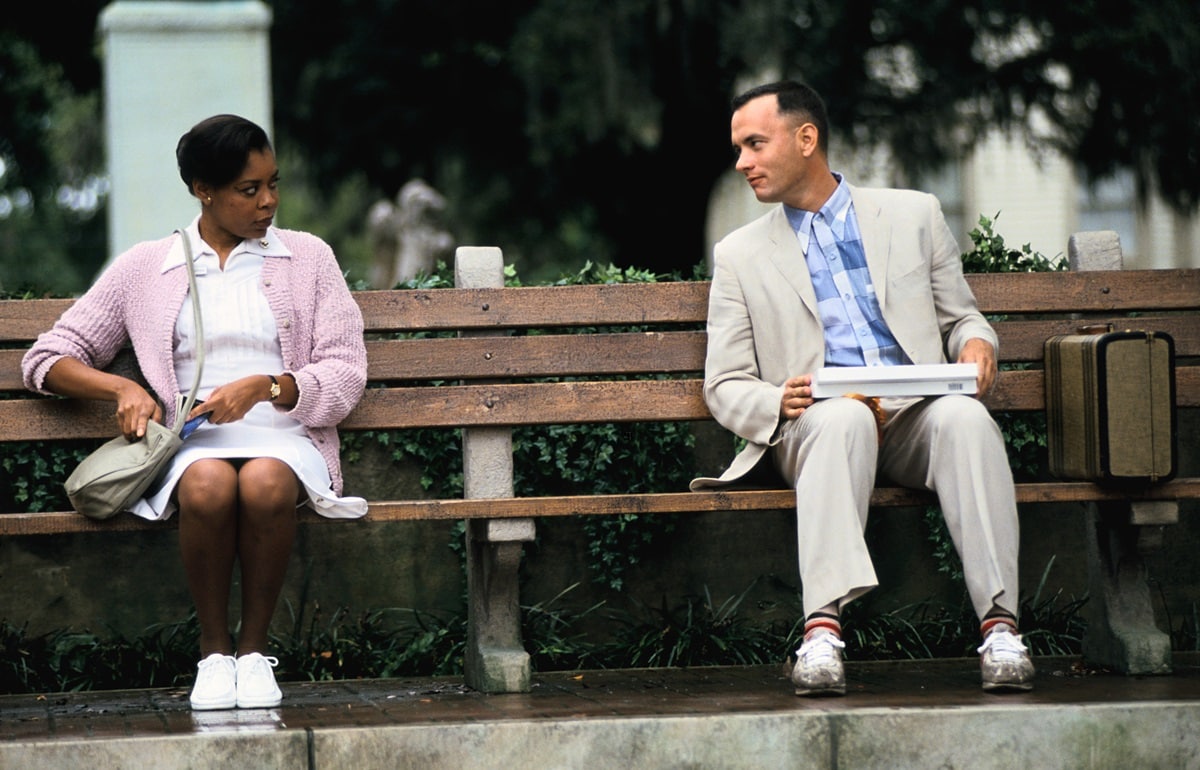 Rebecca Williams as a nurse on a park benk and Tom Hanks as Forrest Gump in the 1994 American epic comedy-drama film Forrest Gump (Credit: Paramount Pictures)
Furthermore, "Forrest Gump" was voted Best Picture, solidifying its place in cinematic history. The film's astounding global box office earnings, surpassing $1 billion, further attested to its widespread appeal.
Embracing Faith in the Creative Process
Reflecting on the triumph of "Forrest Gump," Tom Hanks expressed gratitude towards Robert Zemeckis for his steadfast belief in the project. Hanks emphasized the inherent uncertainty of the creative process and underscored the significance of having faith.
"Bob Zemeckis — God bless him, I've worked with him more than once — landed on the absolute truth of anybody who has gone forward and said, we are going to commit something to film today, and eventually we'll cut this into something," Hanks said. "You do not know if it is going to work out." He added, "You can only have faith."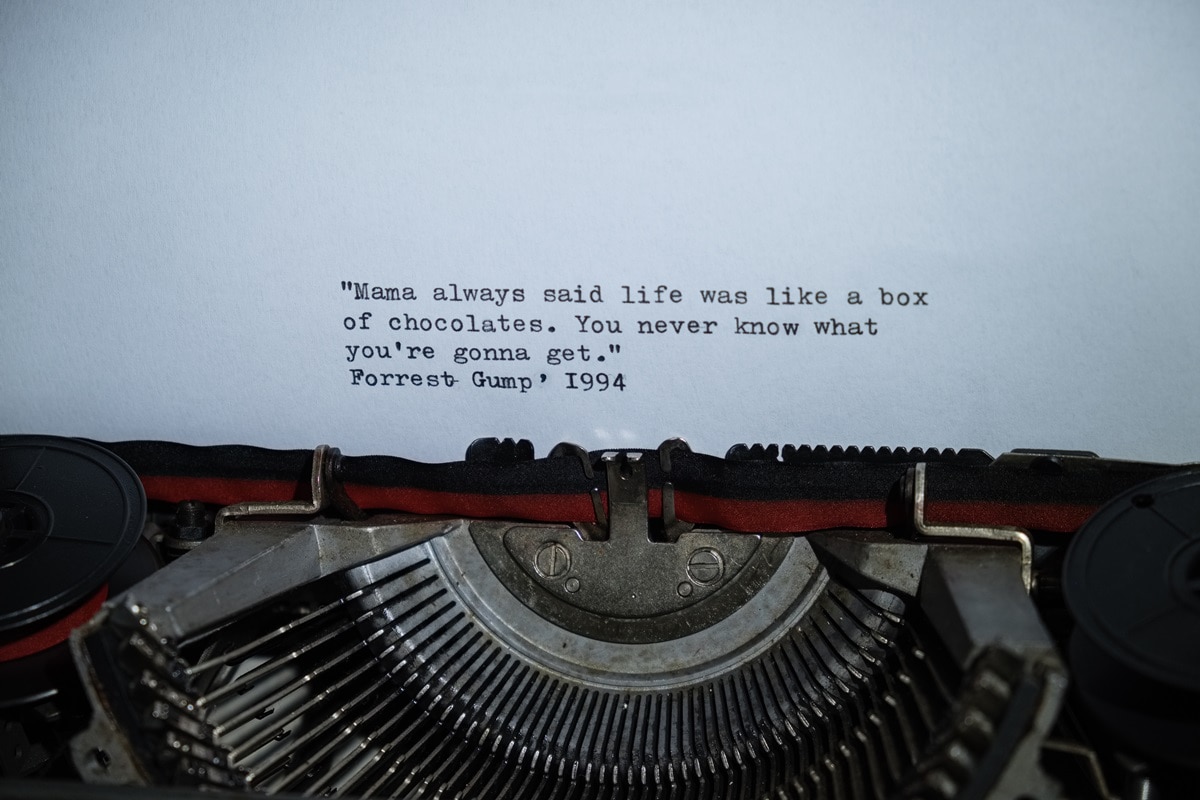 The famous quote from the movie Forrest Gump, "Life is like a box of chocolates, you never know what you're gonna get," captures the essence of life's unpredictability and has become widely recognized and quoted (Credit: Photostock360 / Shutterstock)
When "Forrest Gump" was released in the United States on July 6, 1994, Tom Hanks was 37 years old. Robin Wright, who portrayed Jenny Curran, was 28 years old.
Gary Sinise, known for his role as Lt. Dan Taylor, was 39 years old. Sally Field, who played Mrs. Gump, was 47, and Mykelti Williamson, who portrayed Bubba Blue, was 37.
Forrest Gump, the character portrayed by Tom Hanks in the movie Forrest Gump, wore Nike shoes known as the Nike Cortez throughout the film.