Robin Wright was 28 years old when she created history with her performance as Jenny Curran in Forrest Gump. The film was released in the United States on July 6, 1994, and Wright was born on April 8, 1966. Filming began in August 1993 when she was 27.
Jenny's character ages throughout the film, from childhood to adulthood, and Wright's performance was praised for its range and emotional depth. She was nominated for a Golden Globe Award for Best Supporting Actress for her role.
Robin Wright was cast as Jenny Curran in Forrest Gump after Jodie Foster, Nicole Kidman, and Demi Moore turned down the role (Credit: Paramount Pictures)
Jodie Foster, Nicole Kidman, and Demi Moore all turned down the role of Jenny Curran in Forrest Gump. The coveted role of Forrest Gump was declined by acclaimed actors Bill Murray, John Travolta, and Chevy Chase before it eventually went to its perfect fit, Tom Hanks.
Forrest Gump director Robert Zemeckis told The Los Angeles Times in 1994, "Robin exudes a kind of strength and, at the same time, a vulnerability. She doesn't bring any of her stardom to the role. You don't look at her on-screen and think that this is Robin Wright's interpretation of the character. She's a real chameleon."
Despite battling a cold, Robin Wright displayed her unwavering commitment and dedication while filming the nightclub scene. Remarkably, she delivered a captivating performance, showcasing her musical talents, even in the face of illness. The shoot lasted for an exhausting twenty-four hours without breaks, during which Robin fearlessly embraced the scene, nearly nude, with only her guitar serving as her cover.
While filming the nightclub scene, director Robert Zemeckis cleverly decided to ensure smooth continuity. He requested actor Jeffrey Winner to toss his drink at Robin Wright's leg instead of her face. By doing so, they avoided the need for frequent make-up touch-ups between takes.
The Nike shoes in Forrest Gump symbolize Forrest's life journey, encompassing his friendship with Jenny, the lessons imparted by Lieutenant Dan, and the significance of leading a virtuous existence (Credit: Paramount Pictures)
In the memorable scene from the movie, where Forrest joins the Army, a fellow recruit playfully tosses him a magazine. While not an actual Playboy, the magazine was a prop featuring actress Robin Wright on the cover, posing in a gorgeous red polka-dot bikini.
The prop was meticulously crafted to resemble the July 1967 issue of Playboy, albeit with a modified date of July 1966. To create this unique piece, the new cover was attached to an October 1967 copy of Playboy, with pages inserted showcasing Robin Wright posing as Jenny.
Within the magazine, the text described Jenny as a multi-talented individual, studying to become an entomologist while also excelling as a chess player on the university team.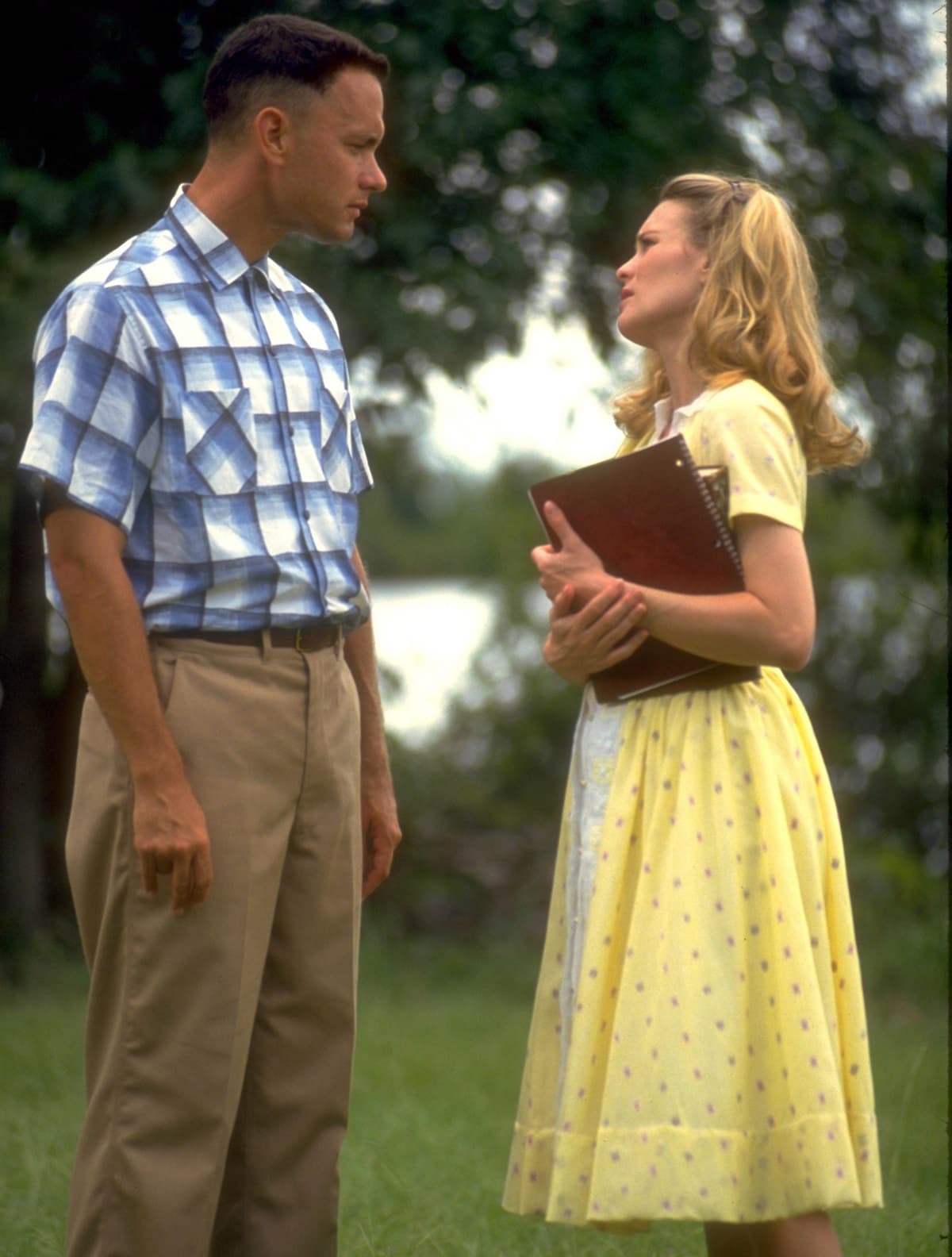 Bill Murray, John Travolta, and Chevy Chase all turned down the role of Forrest Gump for various reasons (Credit: Paramount Pictures)
Additionally, it highlighted her role as a dance instructor, specializing in the popular southern dance known as the "Shag." The caption beside her picture portrayed Jenny as both sassy and sultry, emphasizing her promising future as an entomologist and her enjoyment of the picturesque fields of Alabama.
This one-of-a-kind prop garnered significant interest and was auctioned off in December 2020, ultimately selling for an impressive sum of 3,500 pounds (approximately $4,800).
Wright's portrayal of Jenny Curran is one of the most memorable performances in the film, and she helped to make the character one of the most beloved in cinema history.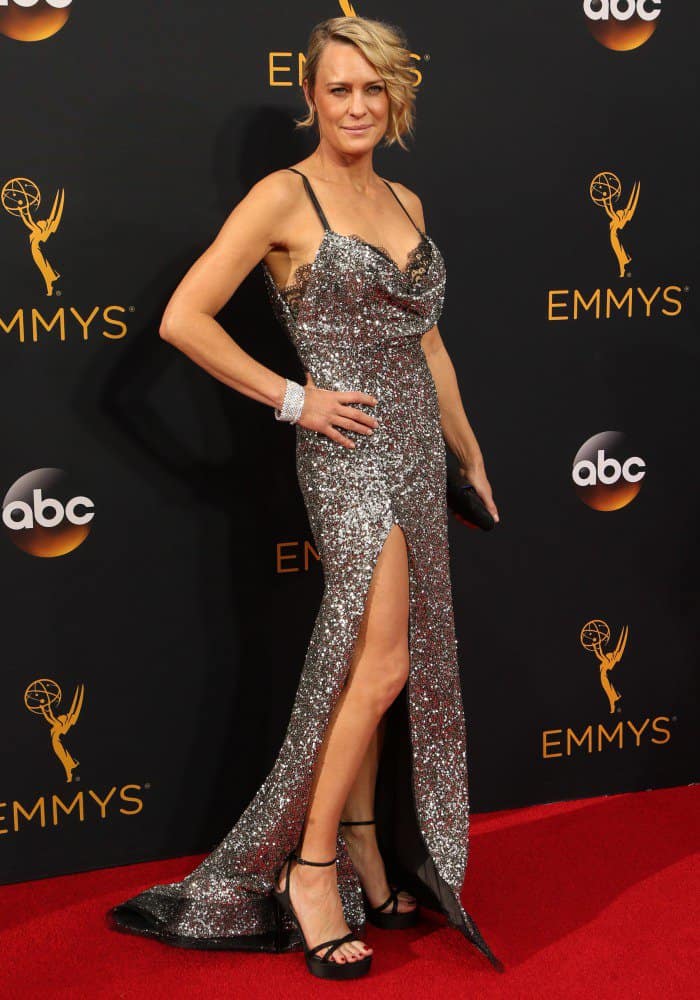 Robin Wright's stunning ensemble featured a thigh-high slit, revealing her sculpted legs and adding a touch of allure to the floor-length dress (Credit: FayesVision / Nicky Nelson / WENN
In September 2016, Robin Wright ditched her character Claire Underwood's sophisticated and monochrome sense of style for the 2016 Emmy Awards.
The then-50-year-old actress opted for something much flashier and sexier, donning a sparkling silver gown and strappy sandals for the awards show.
Robin Wright looked radiant in a dazzling gold Reem Acra gown adorned with black lacing, effortlessly showcasing her flawless figure (Credit: FayesVision / Nicky Nelson / WENN
The immensely talented actress received a well-deserved nomination for Lead Actress in a Drama Series for her exceptional performance in the critically acclaimed Netflix original series, "House of Cards," which was also in the running for the prestigious Best Drama Series award.
The category for Outstanding Lead Actress in a Drama Series included formidable nominees such as Claire Danes from "Homeland," Viola Davis from "How to Get Away with Murder," Taraji P. Henson from "Empire," Keri Russell from "The Americans," and the talented Tatiana Maslany from "Orphan Black," who emerged as the deserving winner.
The highly competitive category for Outstanding Drama Series showcased an array of exceptional shows, including "The Americans," "Better Call Saul," "Downton Abbey," "Homeland," "House of Cards," and "Mr. Robot."
However, the epic fantasy series Game of Thrones emerged as the victorious winner, capturing the hearts and attention of viewers worldwide with its gripping storytelling and unparalleled production quality.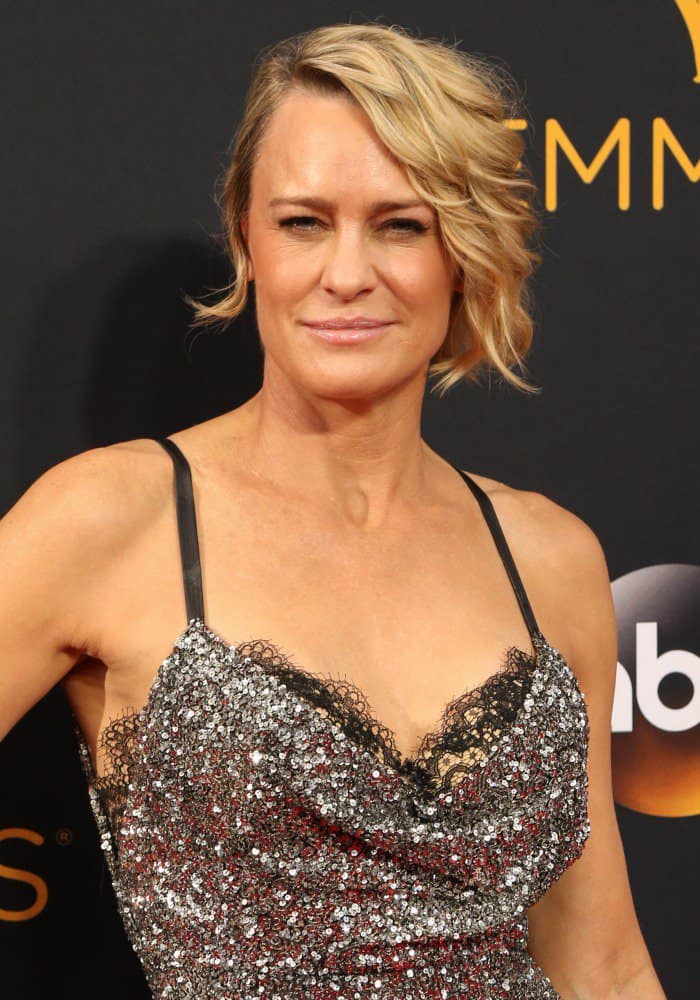 Robin Wright was an absolute vision of glamour and elegance at the 68th Annual Primetime Emmy Awards held at the Microsoft Theatre in Los Angeles on September 18, 2016 (Credit: FayesVision / Nicky Nelson / WENN)
Robin sparkled on the red carpet before the show and stole the spotlight in her glittering gown from Reem Acra.
This silver number featured a thigh-high slit, spaghetti straps, and a loose bodice dipped low on her chest to reveal sexy black lace underneath.
She adorned her wrist with Chopard jewels and carried a Tyler Ellis clutch. Robin swept her short blonde locks to one side, looking elegant and stylish as she headed into the Microsoft Theater in Los Angeles.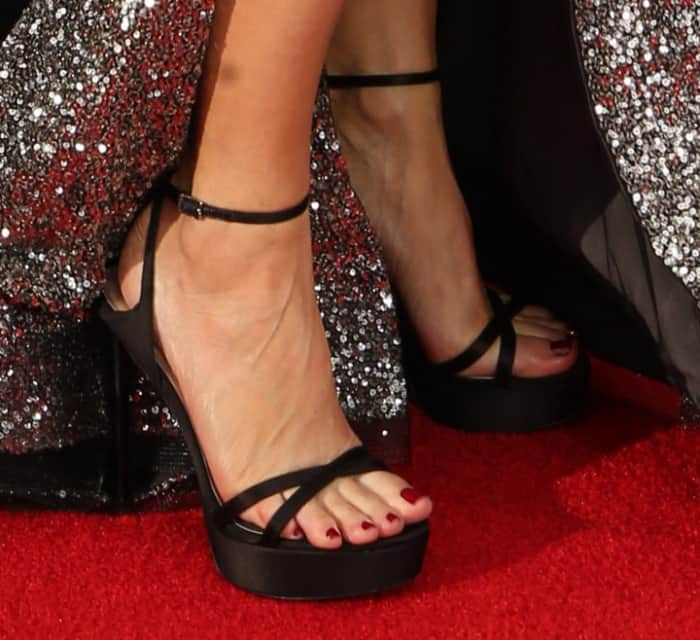 Robin Wright showcased her feet in sky-high black Stuart Weitzman heels, which perfectly complemented her shimmery gown (Credit: FayesVision / Nicky Nelson / WENN
Robin chose a pair of towering black platform "Bebare" sandals by Stuart Weitzman to add some extra edge to the look.
Available on Zappos, these shoes feature thin, crossed-toe straps, caged heels, and adjustable ankle straps. They are made of satin and pack in some height with 4.7-inch self-covered stiletto heels and about one-inch platforms.
Are you interested in stealing the show like Robin in a pair of Stuart Weitzman "Bebare" heels for yourself?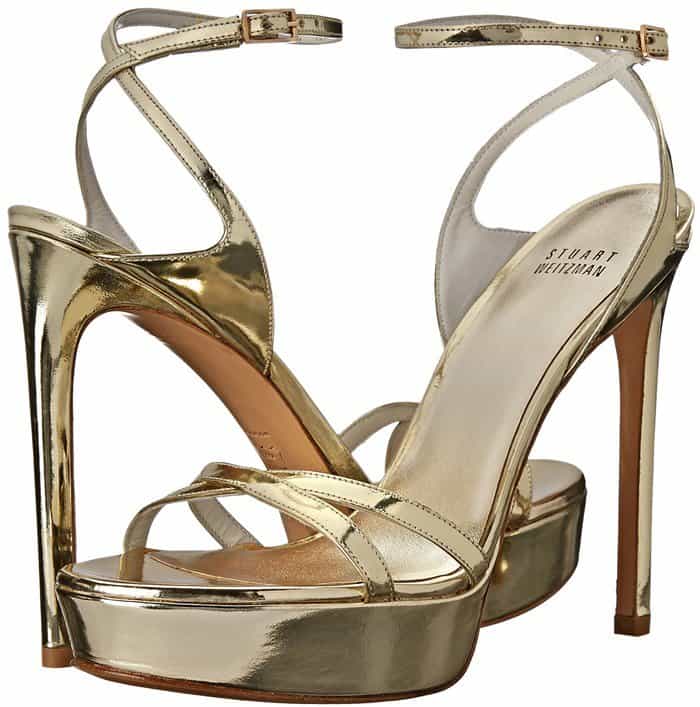 Stuart Weitzman "Bebare" Platform Sandals, $377.99 – $435.00