Lucy Liu got candid about the altercation between herself and co-star Bill Murray on the set of Charlie's Angels on the Los Angeles Times' Asian Enough podcast in July 2021.
Drew Barrymore as Dylan Sanders, Bill Murray as John Bosley, Lucy Liu as Alex Munday, and Cameron Diaz as Natalie Cook in the 2000 action-comedy film Charlie's Angels (Credit: Sony Pictures Releasing)
The story of Bill Murray's "inappropriate behavior" toward Lucy Liu has long been Hollywood lore. Since then, other stars have come forward about similar altercations with the 72-year-old actor.
How Does Lucy Liu Feel About the Allegations?
Lucy Liu told People that she doesn't find any comfort in hearing other actors have come forward about the same issues with the veteran actor.
"I felt sad that it happened to other people," the 54-year-old actress said. "It doesn't make me feel validated to hear other people having bad experiences."
Lucy Liu attending the UK premiere of Shazam! Fury of the Gods held at Cineworld Leicester Square in London, England on March 7, 2023 (Credit: PA Images / INSTARimages / Cover Images)
"I don't think it's a great feeling to have to live with that and to feel that you're punishing yourself for something that you had no control over," Liu added.
She continued saying that she feels "very grateful that people are able to speak their minds and release that because [she doesn't] think it's a positive energy to hold within yourself."
The Trouble with Bliss star also said that it's "valuable to be able to connect to other people and feel like you're not the only one."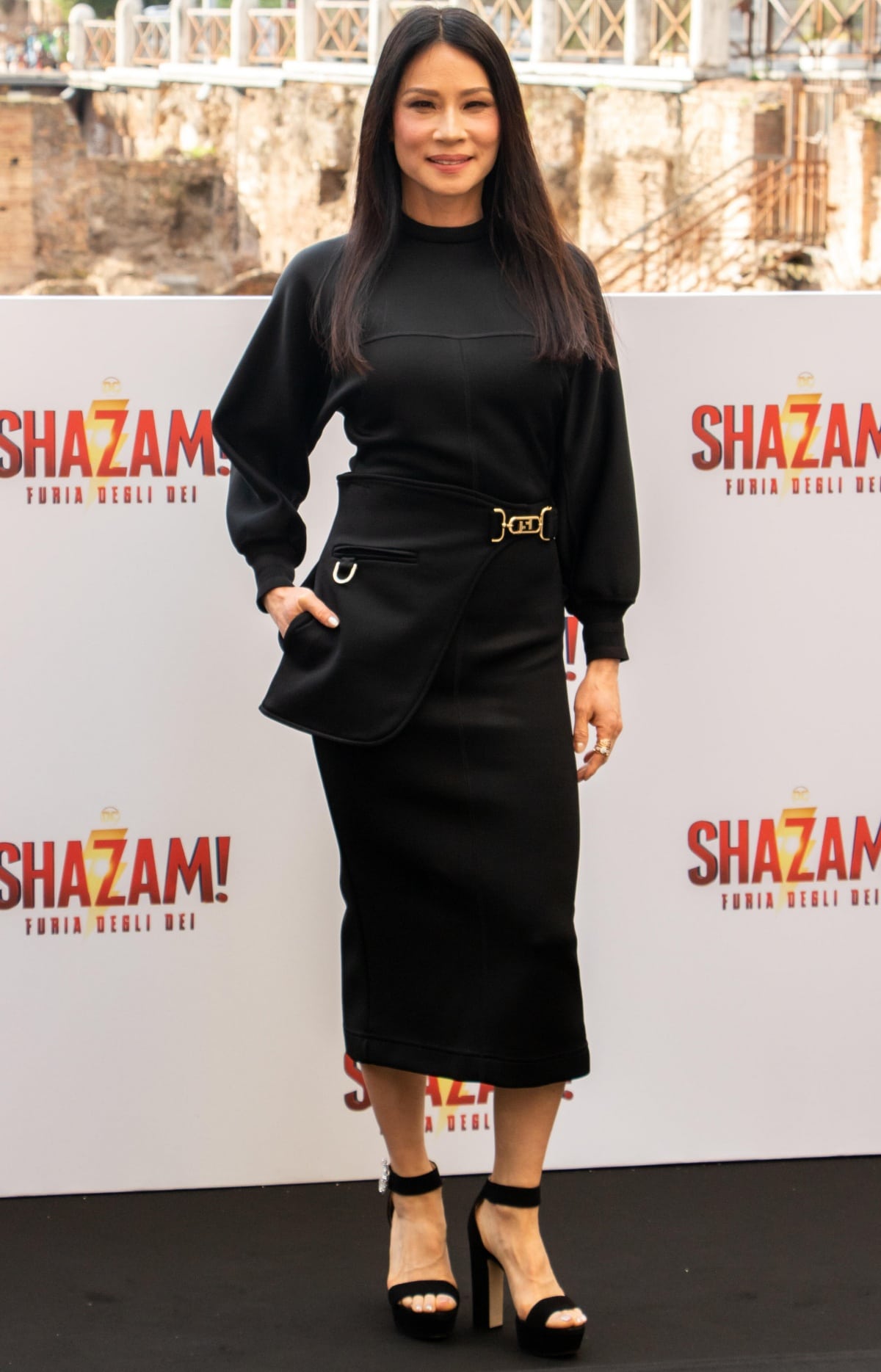 Lucy Liu attending the photocall of Shazam! Fury of the Gods in Rome, Italy on March 2, 2023 (Credit: KIKA Press / Cover Images)
What Happened During That Infamous Altercation?
Lucy Liu talked about the altercation for the first time on the Asian Enough podcast in 2021. The Shazam! Fury of the Gods star said her clash with Bill Murray occurred during a rehearsal for a scene in Charlie's Angels that had been reworked while Murray was away for the weekend.
After learning about the rewrites, the actor started to hurl insults, which seemingly were directed at Liu. When she asked if he was directing the accusations at her, the incident escalated.
Drew Barrymore as Dylan Sanders, Bill Murray as John Bosley, and Lucy Liu as Alex Munday in the 2000 action-comedy film Charlie's Angels (Credit: Sony Pictures Releasing)
Despite being one of the lesser-known actors on set, she stood up for herself.
As Lucy Liu stated, the accusations were out of place because "I was the last one cast, and I probably had the least amount of privilege, in terms of creatively participating at that time."
She avoided mentioning the details of the incident, but she asserted that the language used "was inexcusable and unacceptable."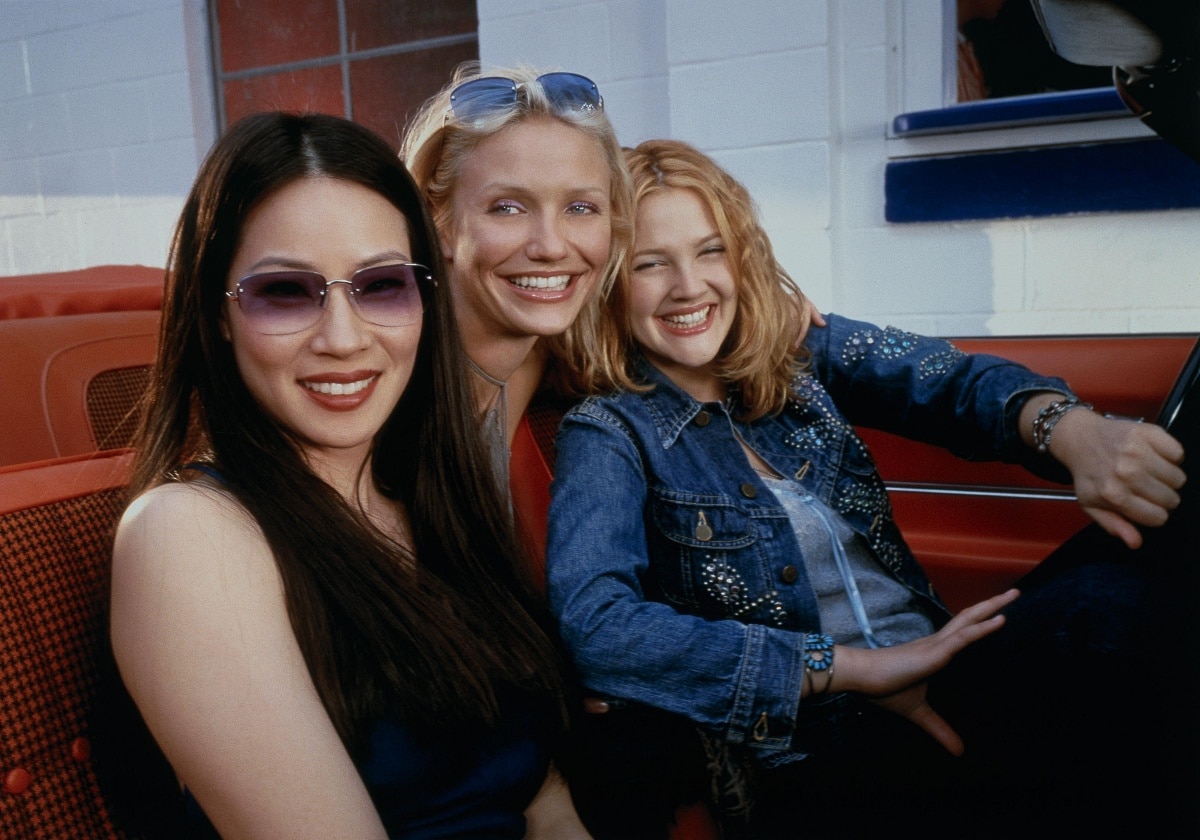 Lucy Liu as Alex Munday, Cameron Diaz as Natalie Cook, and Drew Barrymore as Dylan Sanders in the 2000 action-comedy film Charlie's Angels (Credit: Sony Pictures Releasing)
The Elementary actress has also dismissed any rumors that she didn't get along with her Charlie's Angels co-stars, Drew Barrymore and Cameron Diaz.
She told People, "What I love about that relationship is that so many people denied it and created these rumors that we were fighting and that we didn't get along. But ultimately, I think people miss that women can get along."
"We don't have to continue the idea that women are cat-fighting," Lucy Liu said. "And now we see with the #MeToo movement, all of these things happening, and it sort of breaks and shatters those old prejudices."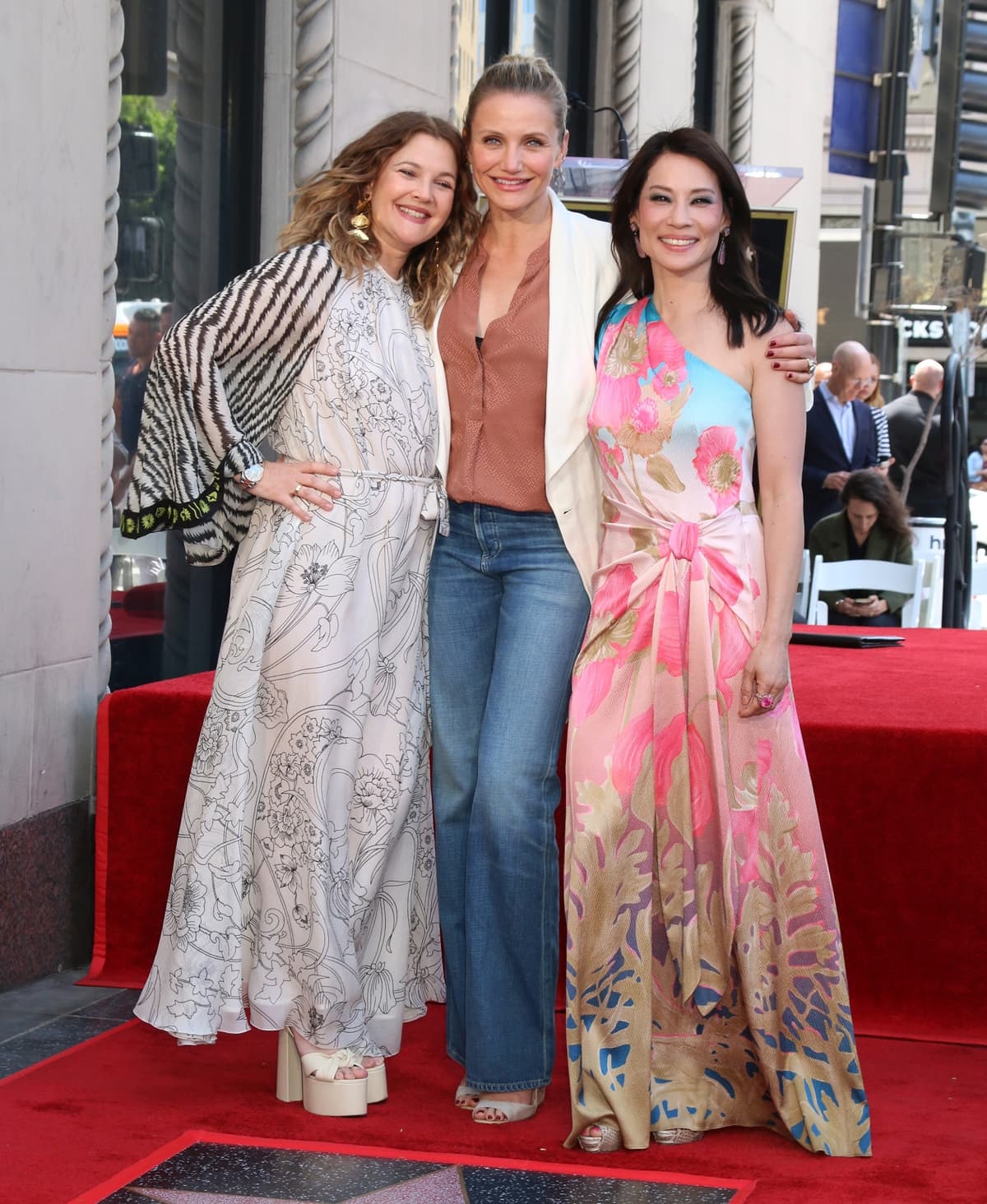 Drew Barrymore, Cameron Diaz, and Lucy Liu have remained best friends since the first Charlie's Angels film wrapped and still continue to maintain a strong relationship to this day, dispelling any rumors that they didn't get along while working on the movie (Credit: Kathy Hutchins / Shutterstock)
In fact, Drew Barrymore praised Lucy Liu for standing up for herself during that altercation. On an episode of The Drew Barrymore Show, the host recounted that day and mentioned how Bill Murray arrived in "a bad mood" and specifically "zeroed in on" Lucy Liu.
"You know comedians can be a little dark sometimes – and he just came in in a bad mood," Barrymore recalled. "What you have to know is how much Lucy stood up for herself, and that was the great thing that came out of an unfortunate circumstance."
She continued, "[Lucy] literally said, 'I do not accept that kind of behavior from you.' And we all supported her and backed her up and we moved forward."
What Other Incidents Has Bill Murray Been Involved In?
After Lucy Liu spoke about the incident on the Asian Enough podcast, other co-stars of Bill Murray came forward with similar issues. Seth Green, Richard Dreyfuss, and Geena Davis all shared similar encounters.
Seth Green attending Fox's Family Guy 400th Episode Celebration at the Fox Studio Lot in Los Angeles, California on November 12, 2022 (Credit: Xavier Collin / Image Press Agency / Cover Images)
Green recounted his experience when he appeared on Good Mythical Morning.
He said that he was only nine years old when Murray, who was in his 30s, picked him up and dangled him by his ankles over a trash can on the set of Saturday Night Live. The altercation was instigated by Murray after he saw a young Seth Green sitting on his chair.
Bill Murray as Bob Wiley and Richard Dreyfuss as Dr. Leo Marvin in the 1991 dark comedy film What About Bob? (Credit: Buena Vista Pictures Distribution)
Dreyfuss told Yahoo Entertainment in 2019 that Murray had been an "Irish drunken bully" on the set of What About Bob?
"I didn't talk about it for years," Dreyfuss said. "Bill just got drunk at dinner… He came back from dinner [one night] and I said, 'Read this [script tweak], I think it's really funny.' And he put his face next to me, nose-to-nose. And he screamed at the top of his lungs, 'Everyone hates you! You are tolerated!'"
He continued, "There was no time to react, because he leaned back and he took a modern glass-blown ashtray. He threw it at my face from [only a couple feet away]. And it weighed about three quarters of a pound. And he missed me. He tried to hit me. I got up and left."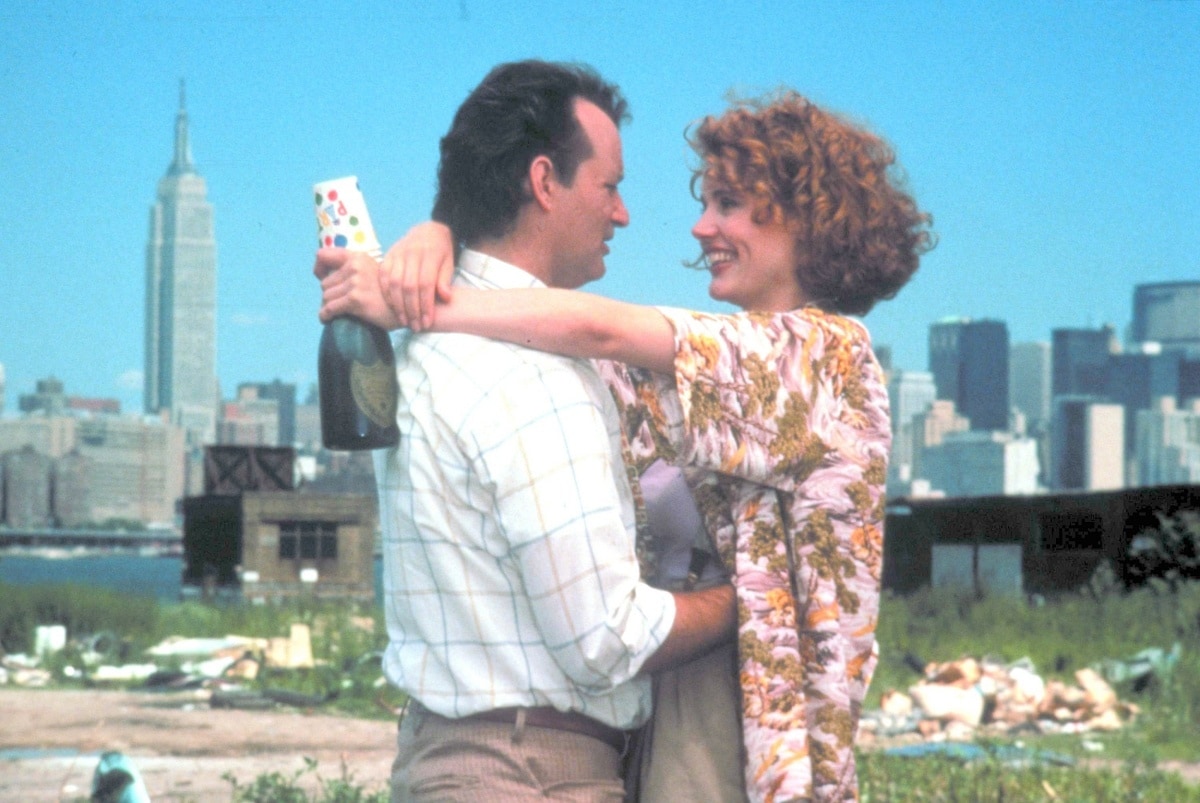 Bill Murray as Grimm and Geena Davis as Phyllis Potter in the 1990 crime comedy film Quick Change (Credit: Warner Bros.)
Meanwhile, Geena Davis commented in her 2022 memoir, Dying of Politeness, how Murray had behaved inappropriately on several occasions towards her on the set of Quick Change (1990).
Like Lucy Liu, he yelled at her in front of the crew, used a massager on her during the audition, and slipped the strap of her dress off her shoulder during an interview.
How Has Murray Responded?
Bill Murray, who appears in Ant-Man and the Wasp: Quantumania, did not respond when asked for a comment on the resurfaced allegations.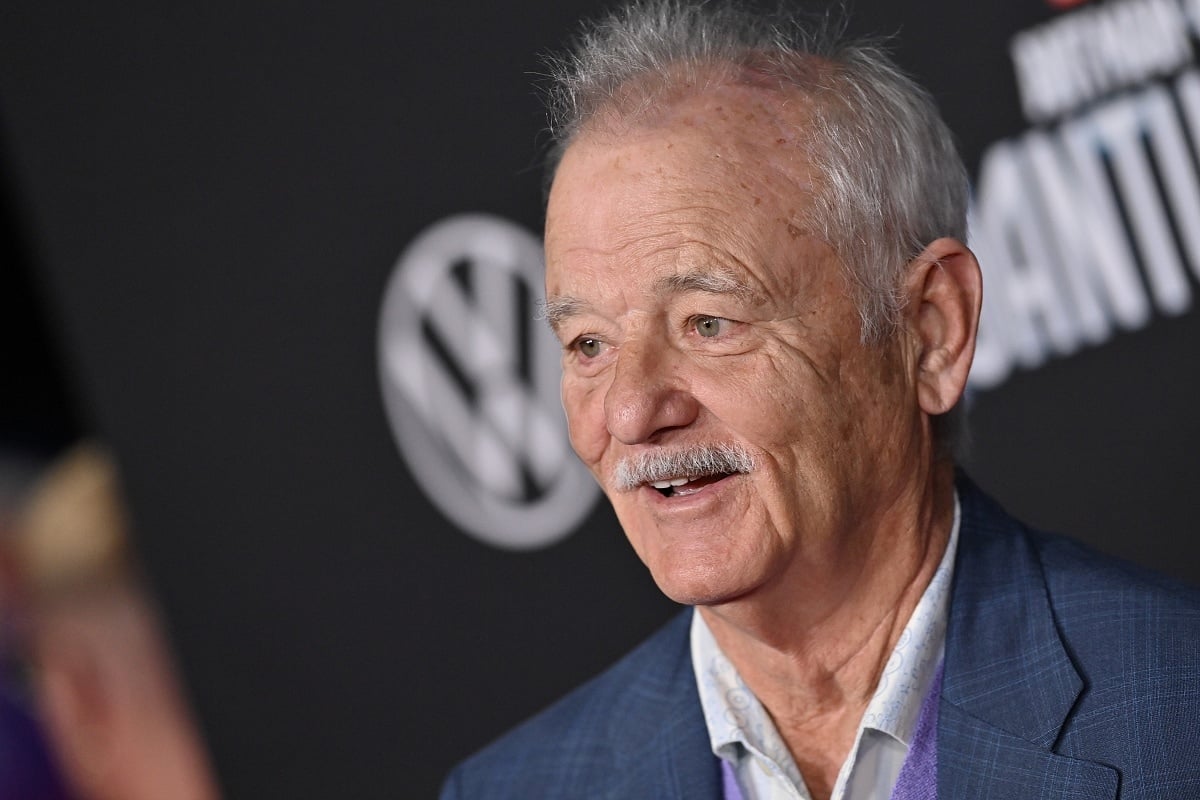 Bill Murray attending the premiere of Ant-Man and the Wasp: Quantumania held at Regency Village Theatre in Los Angeles, California on February 7, 2023 (Credit: BauerGriffin / INSTARimages)
More recently, Murray was accused of sexual misconduct on the set of Aziz Ansari's Being Mortal. Set to star the likes of Seth Rogen and Keke Palmer, production on the film has since been suspended due to Murray's "inappropriate behavior."