In the late 2000s, Heather Morris pursued an acting career and was taking classes when she was approached by Zach Woodlee to teach the choreography for Beyoncé's "Single Ladies" dance to the Glee actors.
She also landed the role of Brittany Susan Pierce, initially a background character who grew in importance as the writers discovered her talent for delivering one-liners.
Taylor Hubbell and his wife Heather Morris began dating after Morris moved to Los Angeles and Hubbell contacted her on Myspace (Credit: DFree / Shutterstock)
Morris' portrayal of Brittany was praised by critics and fans, and she was eventually promoted to an official series regular during season two.
Morris' character had a prominent role in the "Britney/Brittany" episode, where she made her singing debut covering Britney Spears' "I'm a Slave 4 U" and dueting with Naya Rivera on "Me Against the Music."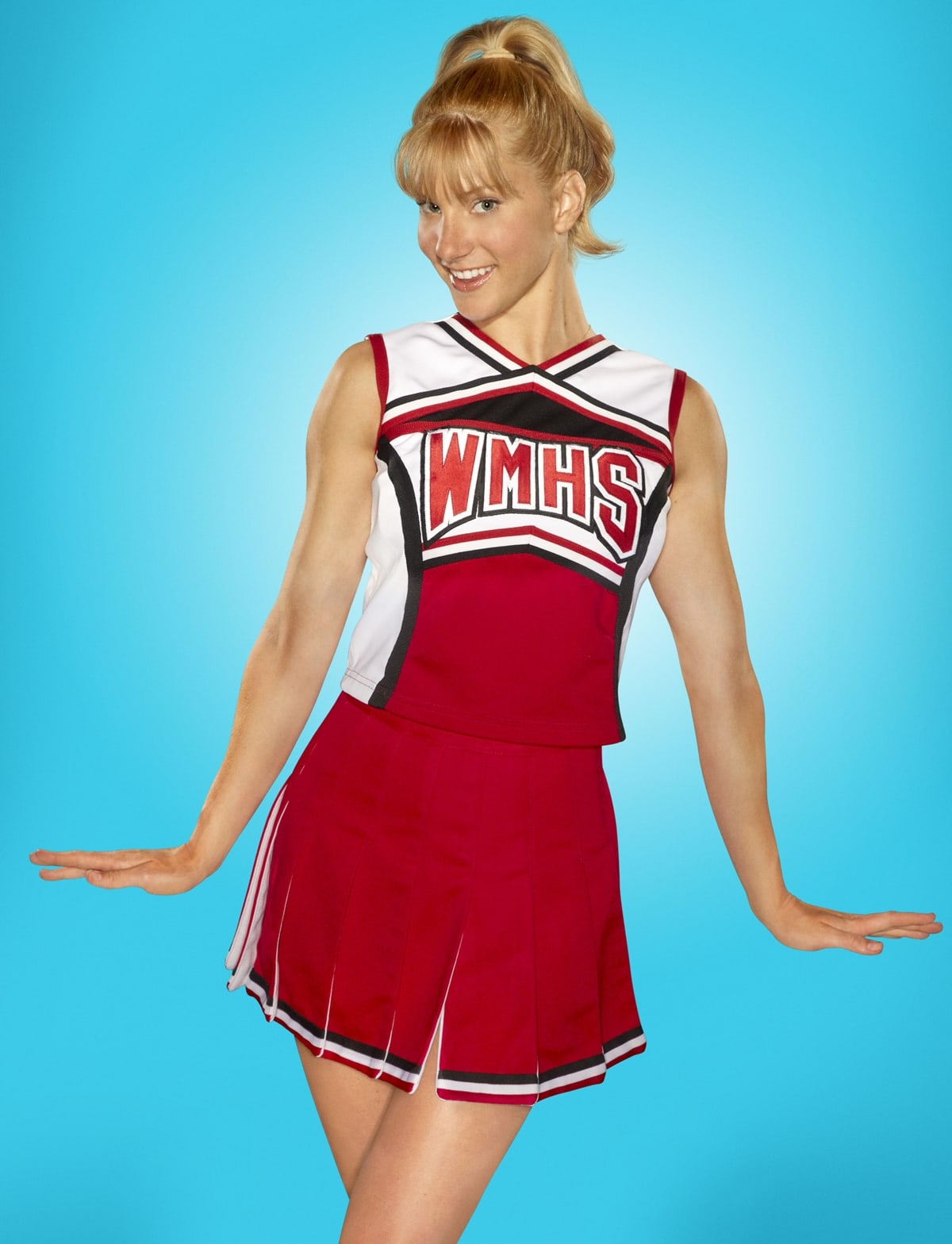 Heather Elizabeth Morris is best known for her portrayal of Brittany S. Pierce in the popular Fox musical comedy-drama series Glee (Credit: Fox)
Heather Morris provided her own singing for her character Brittany S. Pierce on Glee. Her vocals were recorded just like the rest of the cast.
Brittany Susan Pierce also engaged in a lesbian storyline with Rivera's character, which was met with critical acclaim.
Morris co-wrote and appeared in a parody video for the comedy website Funny or Die, "Nuthin' But A Glee Thang," alongside her Glee co-stars and Modern Family's Sofia Vergara.
Despite not returning as a regular on Glee's fifth season, Morris reprised her role for several episodes in the show's sixth and final season, including the series finale. Morris was best friends with co-star Naya Rivera until Rivera died in 2020.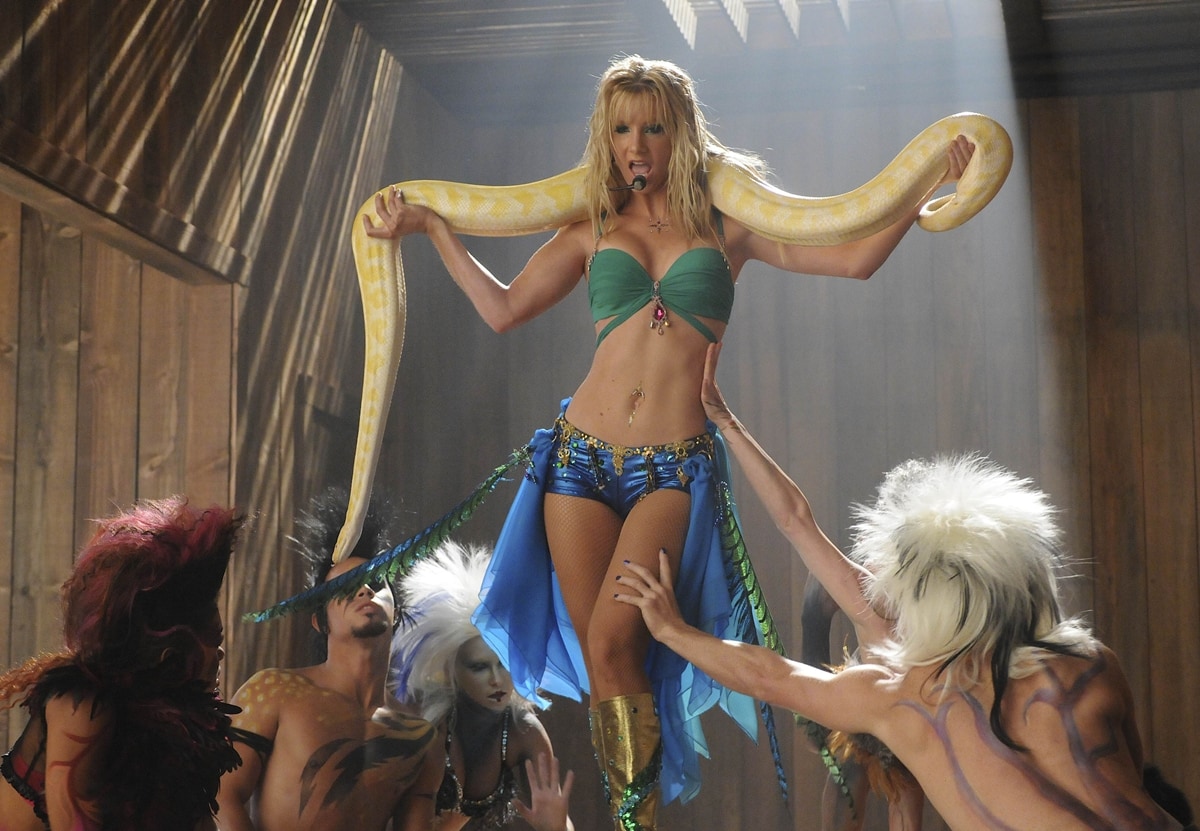 The "Britney/Brittany" episode of Glee features Brittany S. Pierce, played by Heather Morris, experiencing a hallucination induced by anesthesia and recreating iconic moments from Britney Spears' career (Credit: Fox)
Heather Morris left the show due to her pregnancy, and the "Glee" Season 4 finale saw Brittany Pierce (Heather Morris) leave McKinley High before the year was over after being granted early admission to MIT.
Heather Morris is married to Taylor Hubbell, whom she met through Myspace after moving to Los Angeles to pursue her acting career.
Heather Morris with her sons Elijah and Owen at Jessica and Jerry Seinfeld's GOOD + Halloween Bash at Sony Pictures Studios on October 28, 2018, in Culver City, California (Credit: Eugene Powers / Shutterstock)
They attended the same high school in Arizona but didn't know each other then. Morris has spoken about her desire to marry Hubbell and start a family. They began living together in Los Angeles in 2012 after he graduated from the University of Louisiana in Lafayette.
Their first child, a son, was born on September 28, 2013, and was named after Hubbell's older cousin. He was born just one month after the fifth season of Glee started filming.
Lea Michele, Heather Morris, Jenna Ushkowitz, and Ashley Fink rehearse a scene at the "Glee" set in Times Square on April 25, 2011, in New York City (Credit: Elder Ordonez / INFphoto)
Morris and Hubbell got engaged in August 2014 and tied the knot on May 16, 2015. In August 2015, Morris announced via social media that they were expecting their second child, a boy. She gave birth to their second son on February 11, 2016.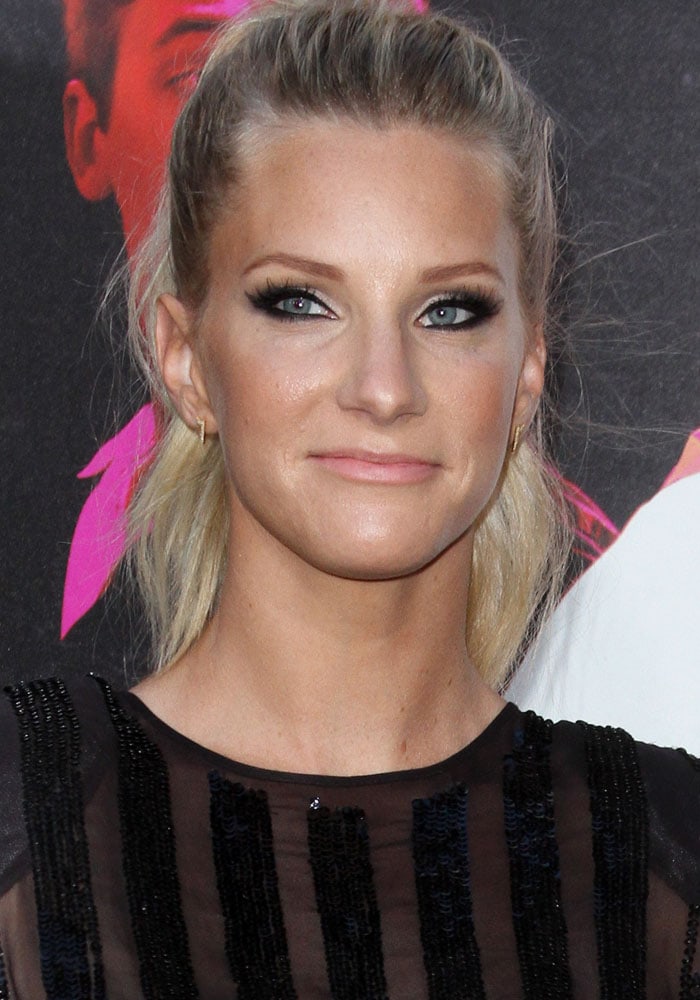 Heather Morris pulls her blonde hair back at the "War Dogs" premiere held on August 15, 2016, at the TCL Chinese Theater IMAX in Los Angeles (Credit: FayesVision / Nicky Nelson / Apega / WENN)
In August 2016, "Glee" star Heather Morris joined the pool of Hollywood celebrities who make the child-birthing process look easy.
Heather, who gave birth to her second child Owen Bartlett in February of the same year, was already hitting up red carpets looking like her "Glee" character Brittany Pierce.
The blonde actress showed off her impressive post-baby body at the Los Angeles premiere of the 2016 American black comedy crime film War Dogs.
Heather Morris shows off her post-baby body in a tulip-hemmed mini dress (Credit: FayesVision / Nicky Nelson / Apega / WENN)
The American actress wore a beautiful sheer dress featuring embellished strips along the bodice tucked into a glitter tulip skirt.
Heather's post-baby body wasn't the only thing she showed off on the carpet. She proudly posed for photos with her dashing husband, Taylor Hubbell, by her side.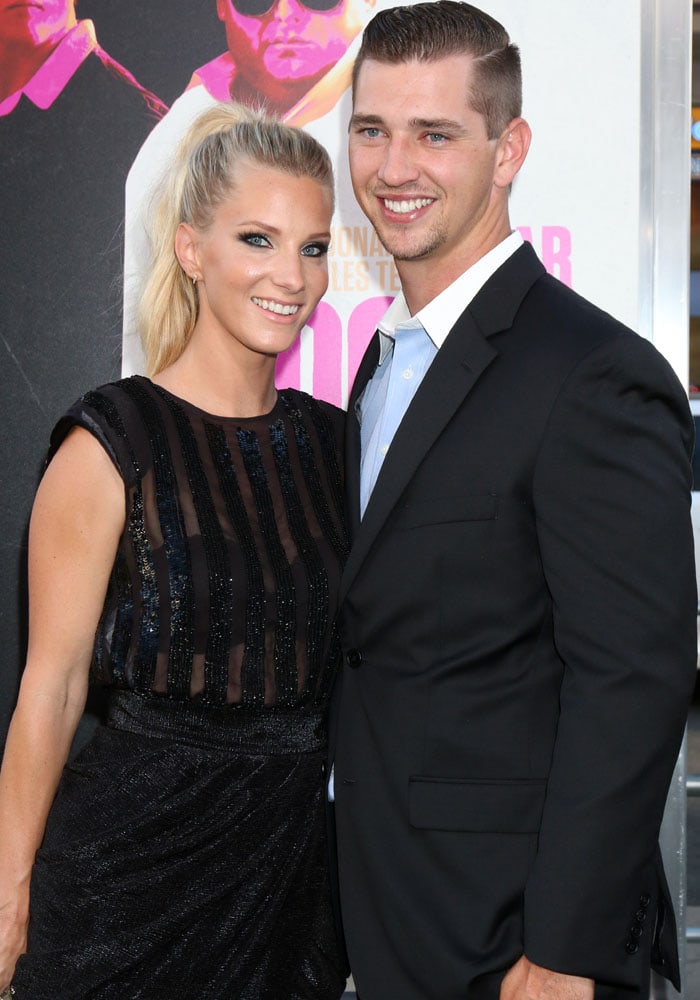 Heather Morris and her husband, Taylor Hubbell, pose for photos at the "War Dogs" premiere (Credit: FayesVision / Nicky Nelson / Apega / WENN)
In 2015, Taylor Hubbell and Heather Morris tied the knot, and they now have two sons named Elijah and Owen.
The actress finished her look with a rectangular black-and-gold clutch that matched with pointed-toe studded pumps.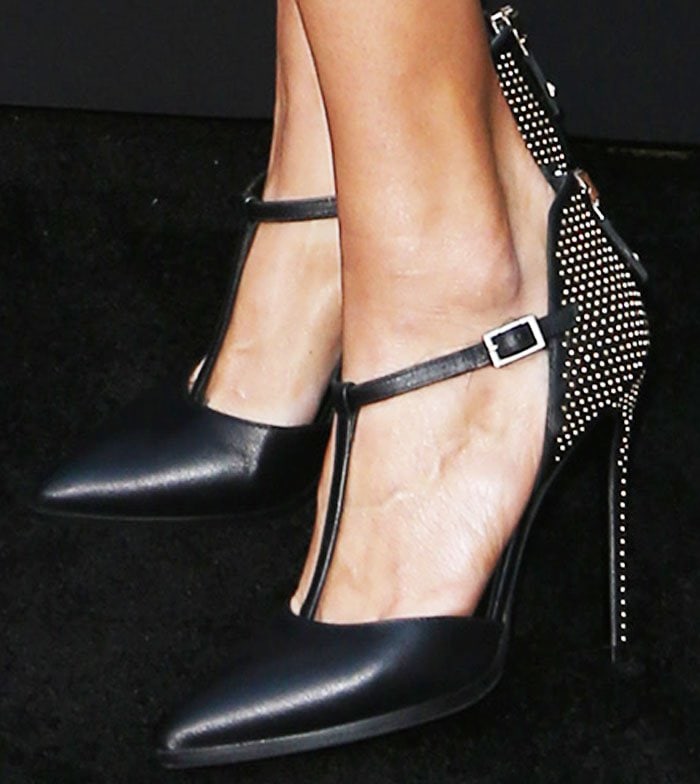 Heather Morris's feet in black studded pumps (Credit: FayesVision / Nicky Nelson / Apega / WENN)
We couldn't ID Heather's studded heels but found a similar pair. You can order Aquazzura's "Belgravia" studded suede pumps on Amazon and Farfetch.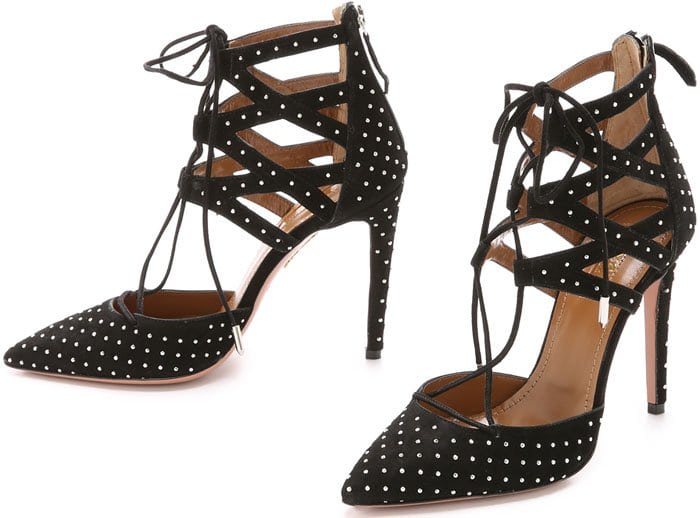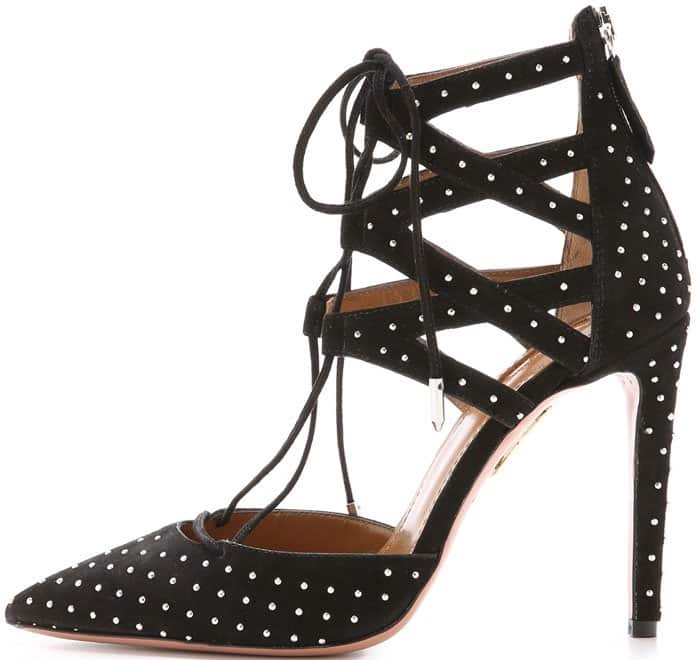 Aquazzura "Belgravia" High Suede Pumps, $885