There are few styles as bold as the studded shoe. Edgy and eye-catching, these shoes add an unparalleled level of fierceness to any outfit.
Whether you opt for a punk-inspired studded combat boot or a ladylike studded flat, studs will bring all the volume, texture, and drama you need. Learn all about the studded shoe trend and its interesting history below!
What Are Studded Shoes?
Studded shoes are any style embellished with studs. This punk-inspired hardware can easily be placed on any part of the shoe – straps, heels, or even the entire upper. Studded shoes can come in any form – pumps, sandals, loafers, flats, sneakers, or boots.
Studded shoes come in any shoe style and are embellished with studs of different shapes and colors
The studs can come in a contrasting metal, or they can be painted the same color as the shoe to create a chic monochromatic effect. They can also come in any length, from dramatic spikes that stand a few inches tall to perfectly flat studs.
Decorative studs in shapes such as hearts and stars have also popped up over the years for those who want to add a playful feel to their outfits.
The History of Studded Shoes
Studs may give off an edgy and modern feel, but they've actually been used as embellishment for centuries. The first studs were used tactically rather than aesthetically as part of battle gear.
Small metallic studs could often be found on leather armor to hold protective metal plates in place. This vest-like garment was known as a brigandine and would go on to serve as inspiration for countless clothing and shoe designers.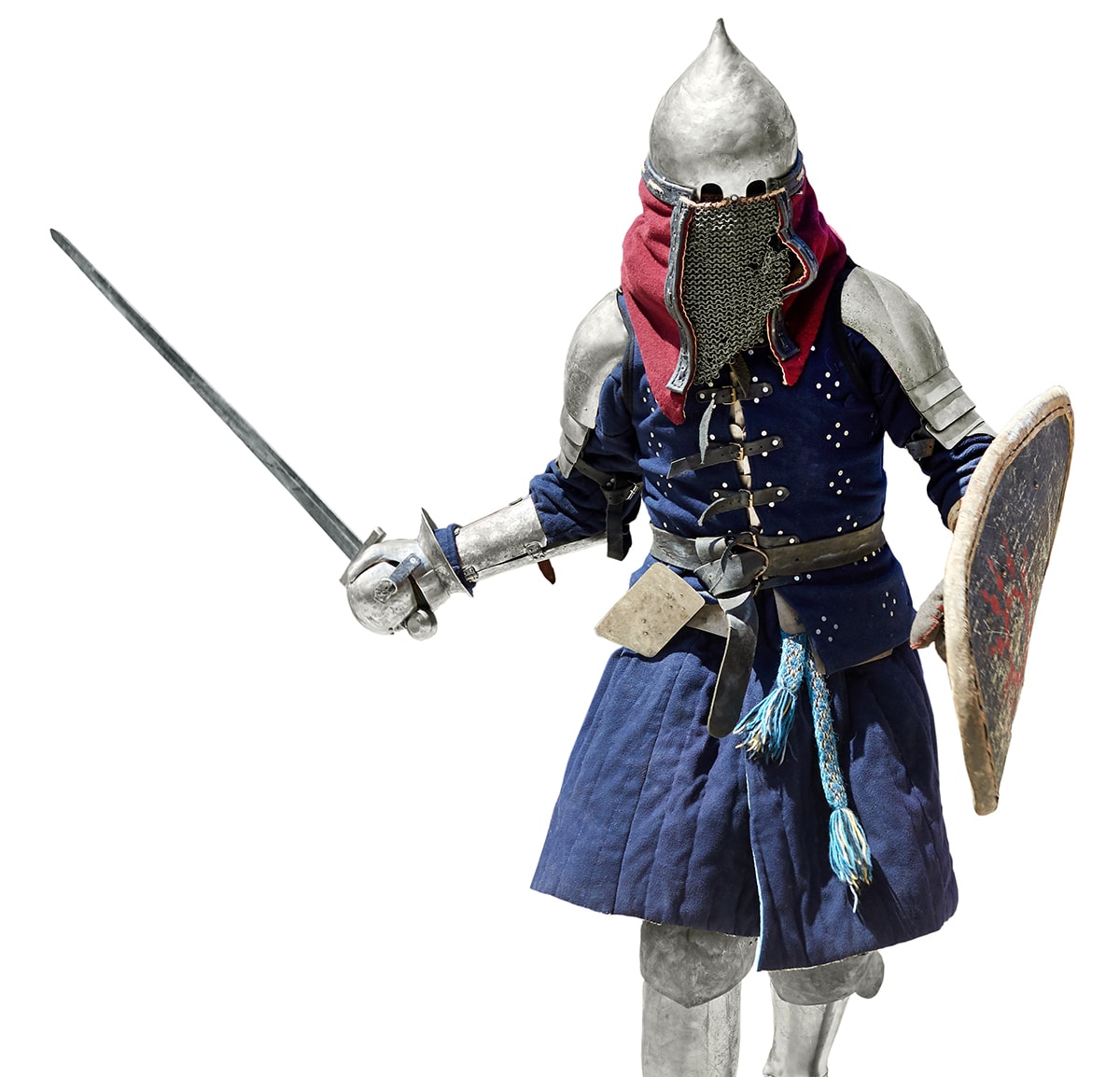 Studs were originally used tactically as part of battle gear before designers began incorporating them to fashionable clothes and shoes (Credit: SergeyKlopotov / Shutterstock)
Centuries later, these strategic studs were used to add a tough feel to leather jackets, belts, chokers, and shoes worn by members of the punk and goth subcultures.
These studded pieces began appearing with the rise of the punk movement in the 1970s. They were eventually reinterpreted by high-end fashion designers with an edgy flair, such as Saint Laurent, Anthony Vaccarello, and Givenchy.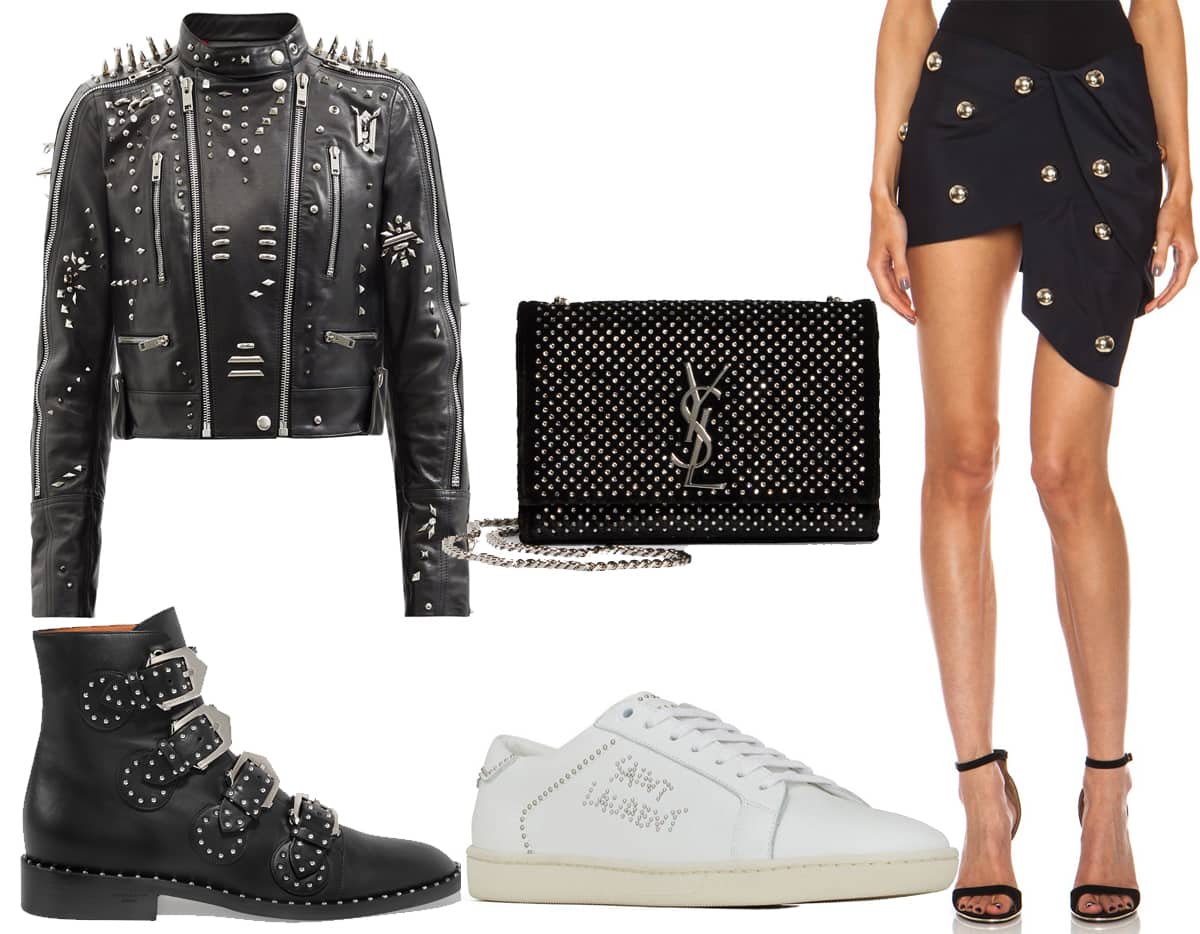 High-end designers such as Givenchy, Saint Laurent, and Anthony Vaccarello have reinterpreted the use of studs on clothes and accessories
Nowadays, studded shoes are created by designers and brands of all price points, from luxury to big box stores. The studded trend has weaved in and out of fashion trends for decades but has always been a popular feature for anyone with an edgy or rock-inspired aesthetic.
Alternative Metal Accents Used To Embellish Shoes
Studs aren't the only type of hardware that can be used to add a rock-inspired touch to footwear. Shoe designers also use eyelets, rivets, and grommets as alternatives to studs.
Traditionally used as shoelace holes, these rounded metallic accents create the same edgy feel with a smoother texture.
Designers also use grommets in place of studs for a tougher, rock-inspired vibe
Designers typically make the grommets very prominent, either by using enlarged circles or placing them in visible rows. Some designers even opt for an all-over grommet design for maximum visual impact.
The Most Popular Studded Shoes
The studded shoe trend reached peak popularity in the 2010s after being spotted on numerous high fashion runways. Certain shoe styles dictated the trend, encouraging a sea of variations at different price points for the masses to enjoy.
Here are the most iconic studded designer shoes that influenced the trend.
1. Valentino Rockstud
This collection of studded shoes and bags has come to define the Italian fashion house.
Valentino turned the punk emblem into a sophisticated adornment by meticulously placing pyramid studs across the straps of pumps, slingbacks, sandals, flats, and boots.
The Rockstud design, which was introduced in 2010, has become synonymous with Valentino
The Rockstud line was spotted on virtually every celebrity, from the Kardashian sisters to Emma Stone and Reese Witherspoon. The line is still going strong a decade after its initial release.
Kourtney Kardashian, Emma Stone, and Reese Witherspoon wearing Valentino's iconic Rockstud pumps (Credit: Dara Kushner / Ninja / INFphoto)
2. Christian Louboutin Studded Shoes
The iconic French luxury shoe designer's studded range has almost become as famous as its signature red soles. Over the years, Christian Louboutin has released stud-embellished loafers, high-top sneakers, boots, pumps, and strappy sandals.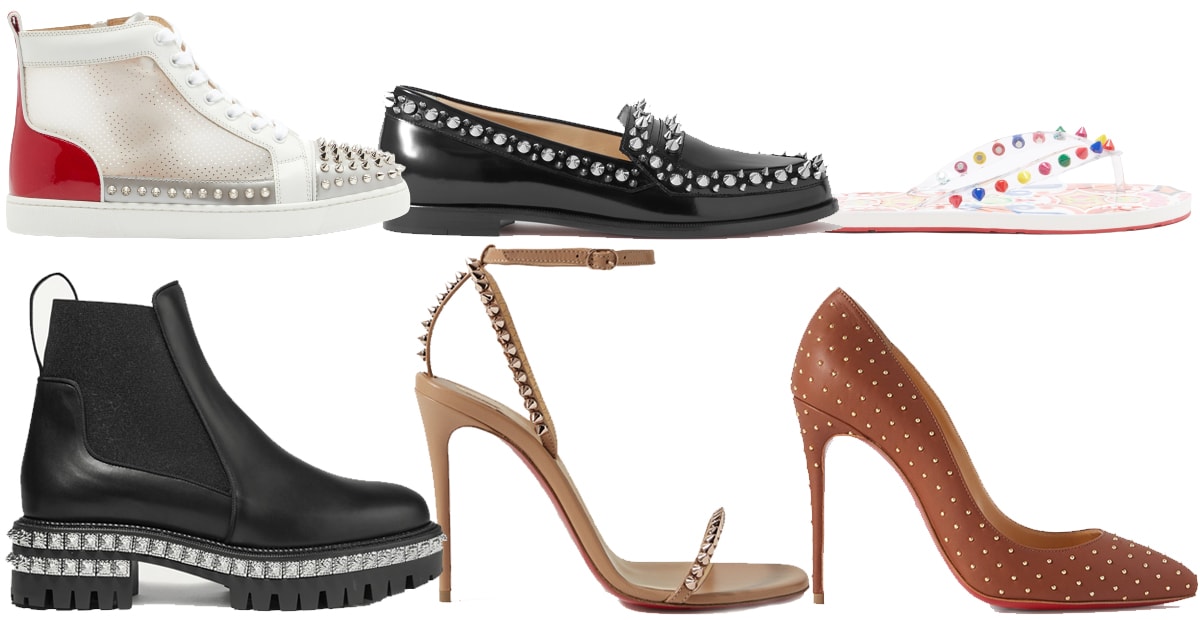 Aside from his signature red soles, Christian Louboutin is also known for his range of studded shoes
The loafers and high tops became quick favorites of the brand's male clientele, while the world's most stylish ladies (including Blake Lively and Jennifer Lopez) have embraced red soles with added spikes.
Blake Lively, Jennifer Lopez, Kim Kardashian, and Victoria Beckham rocking a variety of Christian Louboutin's studded heels (Credit: Janet Mayer / INSTARimages / Cover Images / Sara De Boer / Startraksphoto / INFphoto / Elder Ordonez)
3. Jeffrey Campbell Lita Boots
The chunky platform ankle boots dominated the early 2010s fashion scene. But none stood out quite as much as the version with studded heels.
Jeffrey Campbell's accessible price point made this studded shoe a favorite of trendsetters all over the globe, and the "Lita" platform boots could often be seen on city streets as well as on concert stages and red carpets.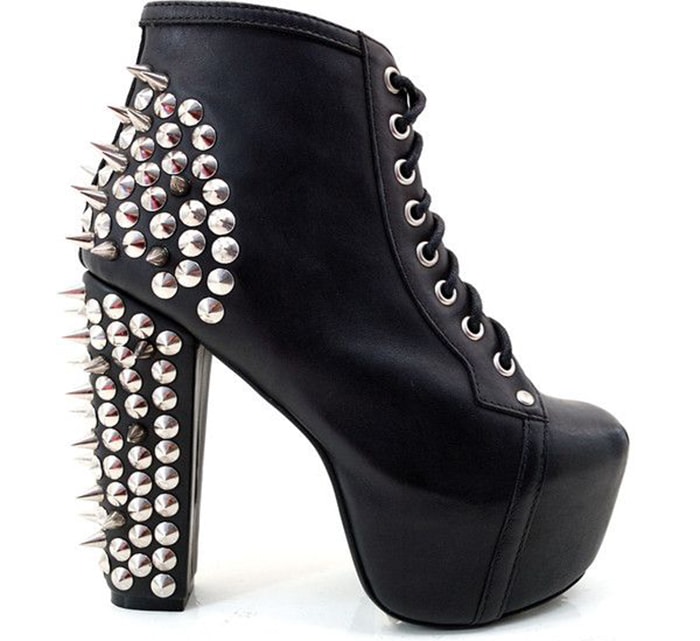 The Jeffrey Campbell Lita boots dominated the fashion scene in the early 2010s
The celebrity-approved style was a favorite of Kat Von D, Jessie J, and Demi Lovato.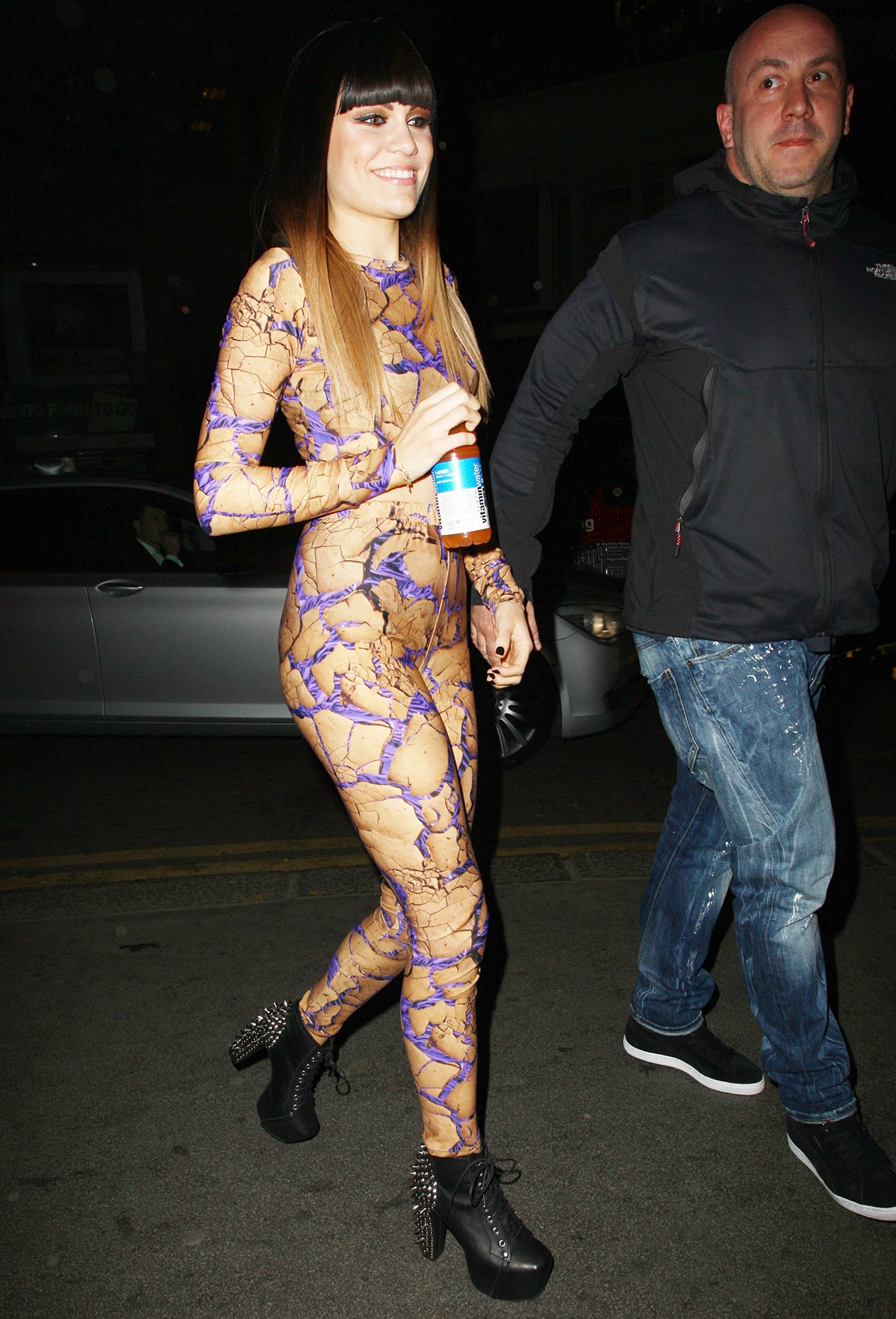 Jessie J sporting the Jeffrey Campbell Lita studded boots (Credit: Ruaridh Connellan / Startraksphoto)
The following 20 shoes are some of our favorite studded boots, sandals, pumps, and sneakers:
1. Alexander McQueen Studded Booties, $1,090
Create a look that everyone will remember when they see you wearing these statement booties
2. Christian Louboutin Lou Spikes Orlato Studded Sneakers, $995
More is more in these opulent studded sneakers from Christian Louboutin that are adorned with an exclusive embroidered jacquard fabric
3. Giuseppe Zanotti Pointed-Toe Booties, $895
4. Gucci Studded Patent-Leather Pumps, $1,190
Crafted in Italy from shiny black patent leather, these pumps from Gucci come in a classic silhouette and are given the label's signature glamorous touch with their studded back and crystal-embellished heels
5. Jeffrey Campbell Lilith Block Heel Booties, $149.95
A hiking boot gets an extra glam makeover with a patchwork of velvet, satin, and sequins, while a pair of studded straps and a lugged sole give it a rugged finish
6. Sam Edelman Royce Studded Booties, $189.95
A constellation of studs wraps the vamp and curls around the asymmetrical cuff of a Western-inspired bootie shaped with a pointed toe and a tapered heel
7. Jeffrey Campbell Rylance Studded Booties, $224.95
Silvery studs highlight the chic cutouts at the sides and heel of a glossy leather bootie with plenty of rock 'n' roll brio
8. Sam Edelman Hadlee Pumps, $150
9. Sam Edelman Yoshi Sandals, $140
10. Christian Louboutin So Kate Studded Glitter Booties, $1,895
Silvery and golden spikes maximize the shine of a glittering bootie designed to steal the spotlight
11. Fendi Layered Pyramid Stud-Heel Pumps, $1,295
12. Christian Louboutin Botticellita Spiked Platform Sandals in Black, $3,995
13. Schutz Akshya Spiked Sandals in Black and Gold, $240
14. Stuart Weitzman Ratatat Suede Stud Sandals in Black, $450
15. Christian Louboutin Lemer Spike-Heel Slingback Pumps in Nude, $645
16. Christian Louboutin Botticellita Spiked Platform Sandals in Brown, $3,995
17. Fendi Layered Pyramid Stud-Heel Pumps in Black, $1,295
18. Christian Louboutin Lady Spiked Leopard-Print Platform Pumps, $1,595
19. Ruthie Davis Bond Glitter Stud Pumps, $1,998
20. Fendi Runway Mirrored Pyramid Stud-Heel Sandals in Silver Rose and Mint, $1,100