After spotting Kat Von D in her Jeffrey Campbell "BAM-WOW" sneakers and taking a tour of her shoe closet, we've become fans of the talented tattoo artist and followers of her obsession with shoes.
It's only inevitable because this lady has one seriously cool personality-injected shoe collection. When the paparazzi spotted her leaving a juice bar in LA yesterday, we were 99.9% sure that she had on another one of her crazy-cool shoes before we even took a closer look at the pictures.
Kat Von D didn't let us down. Not only was she rocking an edgy pair of buckled boots, but she also wore a fierce skeleton leather jacket with it.
Kat Von D leaving a juice bar on Melrose Avenue in Los Angeles on March 5, 2013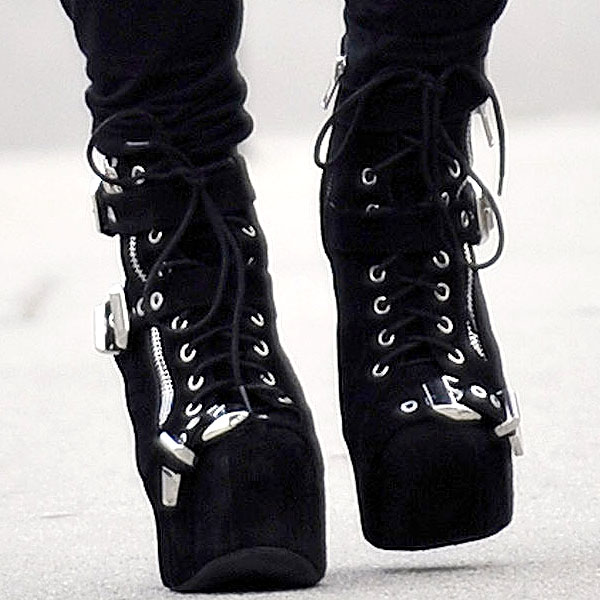 The shape, the platform, the heel — all of the features of Kat Von D's boots are unmistakably of the ever-popular Jeffrey Campbell "Lita" boots. But even though Kat Von D has shoes that everyone else has, she still chose a pair that stands out and opted for a style heavily laden with punk rock metal hardware.
Kat Von D's version of the Lita is this "Lita Buckle":
Jeffrey Campbell "Lita Buckle" Boots, $293.52
What version of the Jeffrey Campbell Lita boots do you have? Or if you were to shop for a pair, which style would you choose?
Credit: WENN