Other celebrities can just stop trying now. When it comes to defying age and gravity, few are as amazing at it as Halle Berry.
The seemingly NOT 46-year-old actress demonstrated both her show-stopping and time-stopping skills at the LA premiere of 'The Call' yesterday. Halle Berry was just stunning in a cowl-necked, leather-skirted combo dress, accented by gold rings on her matching belt and lace-up sandals.
Halle Berry posing with Abigail Breslin at the premiere of 'The Call' held at ArcLight Hollywood Theatre in Los Angeles, California on March 5, 2013
Halle Berry defies age and gravity
Halle Berry accessorized with a ring and a belt
Halle Berry wearing a cowl-necked, leather-skirted combo dress
Sure, this look is too much like the slinky black dress + strappy sandals outfit we last spotted Halle Berry in, but can she help it if she looks great in this style? As they always say, why fix it if it ain't broke, and there's definitely nothing broken about her timeless sexiness.
Here are Halle Berry's gold-ring lace-up sandals up close: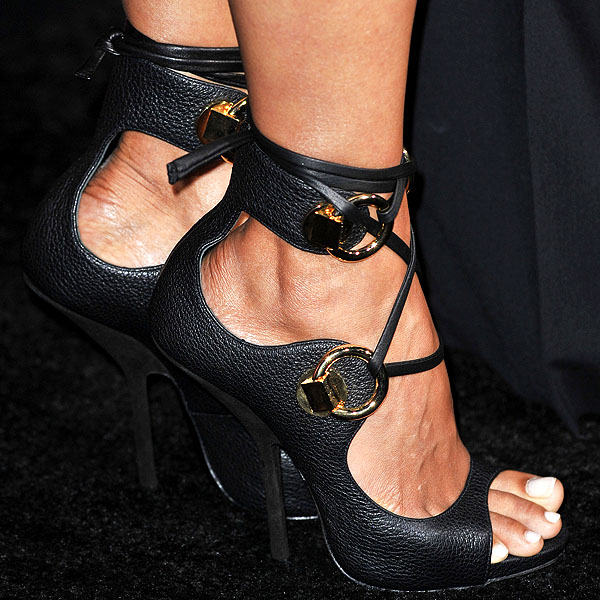 Halle Berry's toes in gold-ring lace-up sandals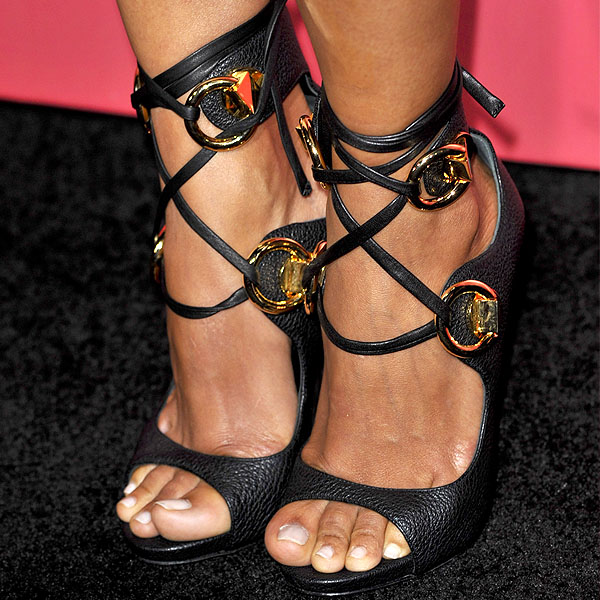 Halle Berry's feet in sandals with gold rings
The designer of these shoes has been bringing us a lot of gold and black combos this Spring/Summer 2013, so Halle Berry's sandals were pretty easy to identify as these ones from Giuseppe Zanotti:
Giuseppe Zanotti Gold-Ring Lace-Up Sandals, $1,250
Check out the many, many other gold-and-black Giuseppe Zanotti shoe spots on Taylor Swift, Jourdan Dunn, Alessandra Ambrosio, Anne Hathaway, Juliette Binoche, and Rita Ora.
Credit: Apega / WENN / Adriana M. Barraza