Charlotte Olympia has always been about unique shoe designs. For the brand's Fall 2013 collection, footwear designer Charlotte Olympia Dellal took inspiration from fairy tales to create an enchanting set of shoes.
Are fairy tales like the Frog Prince, Cinderella, Rapunzel, Goldilocks and the Three Bears, and Sleeping Beauty your favorites? You can see these (and more!) in this new collection.
We're not familiar with the fairy tale inspiration of some of the shoes here, but we love the creativity and look of each pair. Check out the photos below, and tell us which would be your next shoes.
Here's the Sleeping Beauty–inspired pump, featuring navy suede and an embroidered portrait of the princess. You're not dreaming; the "Sleeping Beauty" court shoes will surely make your dream a reality.
Charlotte Olympia "Sleeping Beauty" Court Shoes, $995
Nobody, or rather no bear, will get mad if you wear shoes inspired by Goldilocks' story, especially the one below. Although it is from the fall collection, the enchanting forest print with its green shade also looks appropriate for spring.
Charlotte Olympia "Bear Necessities" Shoes, $785
Does the following shoe remind you of something? It is inspired by Rapunzel. Remember her endless golden tangled hair? The "Gold Jenny" court shoes interpret that through a gold leather woven design.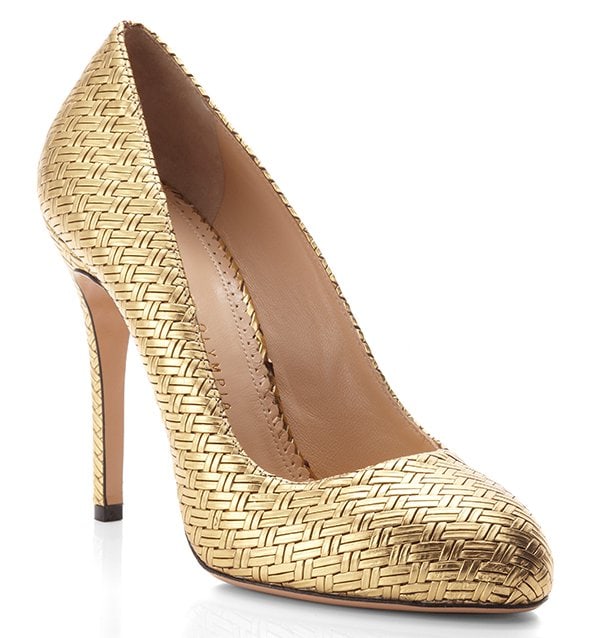 Charlotte Olympia "Gold Jenny" Court Pumps, $795
Given that many fairy tales have scenes in the forest, this collection includes pumps with an enchanted forest print in a shadowy effect. It is a classic and looks as timeless as a fairy tale.
Charlotte Olympia "Shadow Jenny" Court Shoes, $745
Many fairy tale princesses have been portrayed through ballet, and Charlotte Dellal recognized that with the "Fonteyn" shoes, which are named after the English ballerina Margot Fonteyn.
Classic, clean, and sleek, the Fonteyn pumps feature plain black satin with grosgrain trimming and bow detail. Pointe work isn't needed because this style has high heels and platforms to help you stand tall elegantly.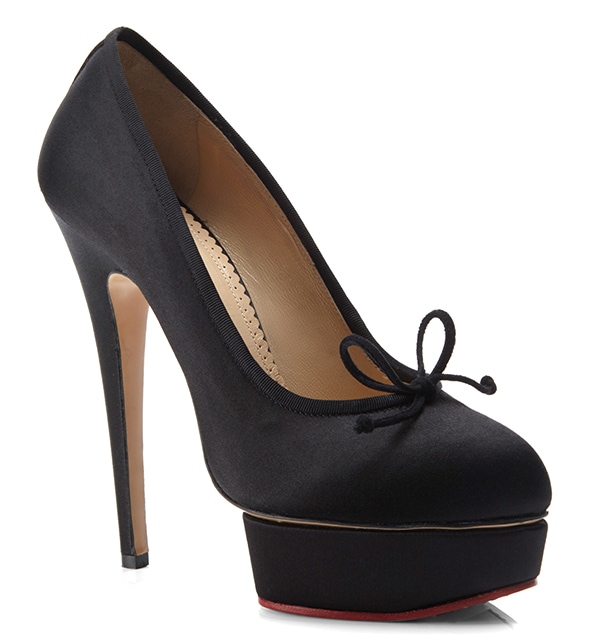 Charlotte Olympia "Fonteyn" Shoes, $795
While Cinderella needs to be back home by 12 midnight, you, on the other hand, will not need any curfew; you can look fab as long as you like with the "Timeless" pumps.
And like Cinderella's story, this style is timeless and can sophisticate your look season after season.
Charlotte Olympia "Timeless" Court Shoes, $865
The "Fashionably Late" shoes are similar to the Timeless pumps. As shown below, the shoe has a clock face detail, although this one is a slipper made of patent leather and trimmed with black piping.
Charlotte Olympia "Fashionably Late" Slippers, $745
If you don't find the Sleeping Beauty heels wearable, perhaps the "Sleeping Kitty" would work for you. This style features specks of gold all over the black calfskin material.
Further details include a face of a sleeping cat embroidered on the vamps, gold trimming, and metallic gold-plated heels.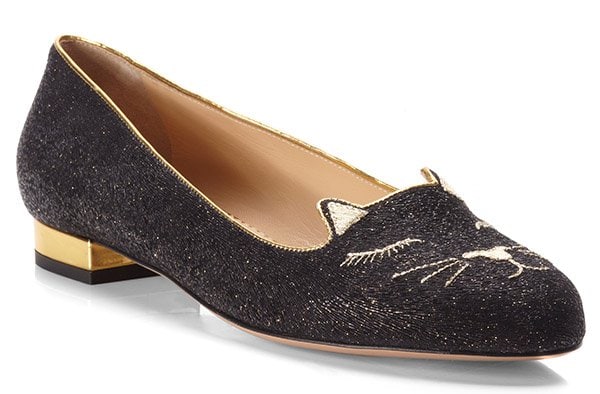 Charlotte Olympia "Sleeping Kitty" Flats, $625
The "Kiss Me Quick!" shoes' enamel frog prince is so cute and charming that you'd probably give in and kiss it.
This style is eye-catching not only because of the red suede material but also because of the intriguing frog seated on top of the middle of the buckled vamp.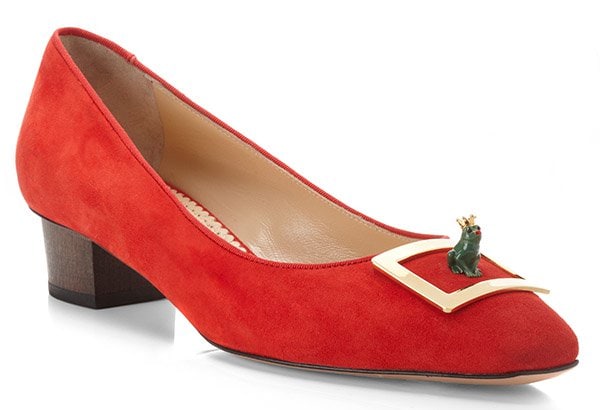 Charlotte Olympia "Kiss Me Quick!" Shoes, $985
Could this black flat shoe have something to do with Darcey Bussell? But we don't see the connection between the embroidered eyes to the retired ballerina. Anyway, we bet you'll be catching more eyes when you slip on a pair of the "Darcy" ballerina flats.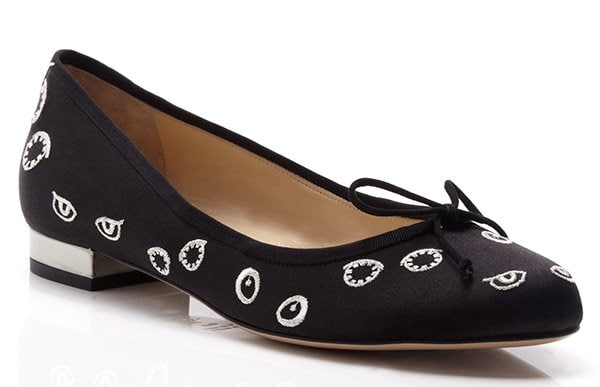 Charlotte Olympia "Darcy" Ballerina Flats, $595