Back in March, we featured a number of Charlotte Olympia's fairy-tale-inspired heels. As expected, some of you loved them and some didn't. To give you more options, we present here additional Charlotte Olympia fairy tale shoes that are as interesting as the pairs in the previous set.
These shoes are currently available for pre-order and will be ready for shipping around the first week of August.
Here's a much more obvious representation of Rapunzel in shoes, where the golden metallic braiding serves as the character's endless hair. Rapunzel let down her hair in these heels, and instead of flowers, crystals decorate the long braid. However, the face design is rather creepy and far from the fairy tale lead's charming looks!
Charlotte Olympia "Rapunzel" Braided Platform Sandals, $1,595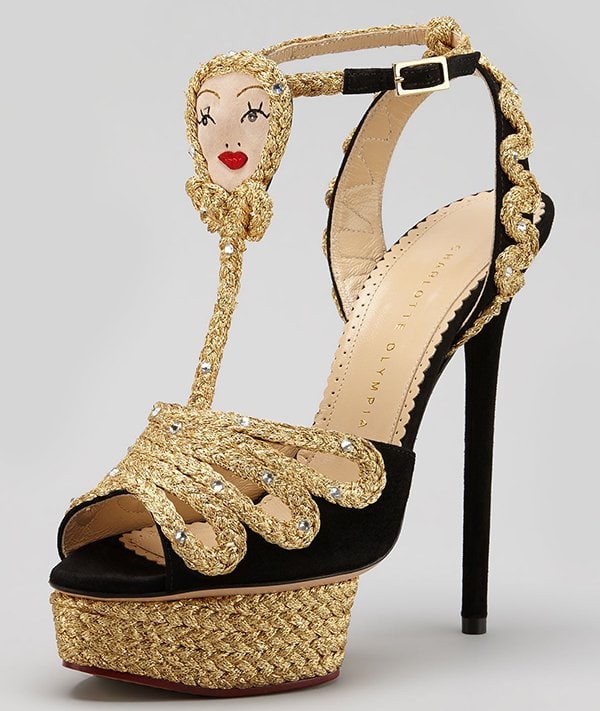 Here's one of the few wearable styles from this whimsical collection. The "Tiara" sandals can make you feel like a royalty without wearing a crown on your head. The little crystal-embellished tiara at the vamp is enough to bring out the princess in you. These lovely shoes are made of satin and feature mirrored metallic leather trimming, which makes this pair striking.
Charlotte Olympia "Tiara" Sandals, $895
Even a kid can easily tell where these boots took its inspiration from. With that huge embroidered clock face, this pair is obviously all about Cinderella. The metallic embroidery, the mesh detail, and the metal clock hands make these boots one of a kind. Chunky platforms and about 5.75 inch heels complete these boots.
Charlotte Olympia "On Time Clock Face" Boots, $1,595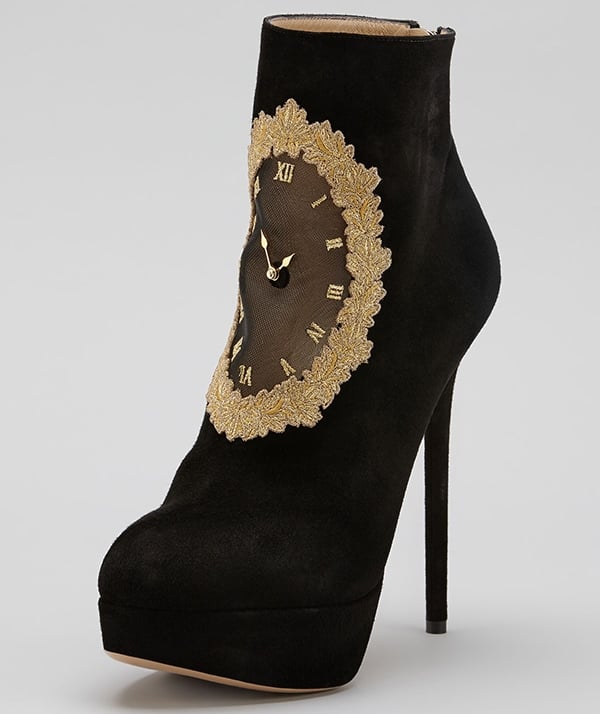 Like the Tiara sandals, these next shoes can instantly transform your look from drab to fab. The "Countessa" shoes come in flats, though, which means you can wear them every day if you want! Made of silk satin, they feature crown-shaped vamps and golden metallic embroidery with a scroll pattern. Would you wear this style?
Charlotte Olympia "Countessa" Crown Flats, $725