If you want boots that are edgy and vintage-contemporary, perhaps you'll find the Jeffrey Campbell Lita boots interesting.
They may be too much for some because of their blocked high heels and platforms, but for a fashionista who always dares to try new things, the Lita pair is a must-have.
And Jeffrey Campbell has given you more options with a spiked version of these Lita boots — with stud embellishments at the heels, in particular.
A lot of bloggers have been seen in a pair of Lita boots. Many celebrities, including Megan Fox, Kat Von D, Kelli Goss, and Sarah Harding (to name a few), have also been spotted wearing different versions of the same boots.
While I thought these boots are too much in style, seeing how celebs and fashion bloggers alike style themselves with the boots makes me want to rock 'em as well.
Let's have a look at how some fashion bloggers wear their Jeffrey Campbell boots.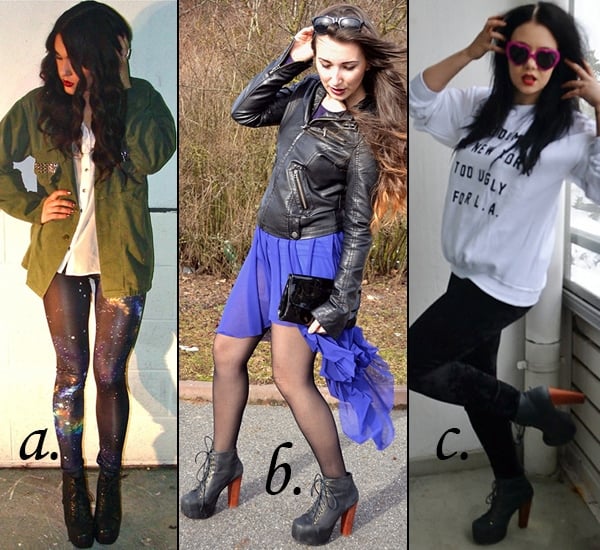 a. Sahar N in leggings and a studded army jacket (Blog offline) / b. Anne Richman in a Tally Weijl asymmetric skirt, a biker jacket, and sunglasses / c. Doll D in a sweater, velvet leggings, and heart-shaped sunglasses (Blog offline)
The three bloggers above wore the classic Jeffrey Campbell Lita boots. Both Sahar and Doll D styled the boots the classic way. Doll D's black-and-white getup looks simple but cool; on the other hand, Sahar was tough-chic in a military green jacket over a white button-up shirt.
Anne Richman's look was different. It was sexy and feminine as she paired the boots with a skirt, stockings, and a biker jacket.
Which of these looks do you like best? In case you want to toughen up a bit, here are other fashion bloggers with their styling of the spiked Lita boots. Check 'em out: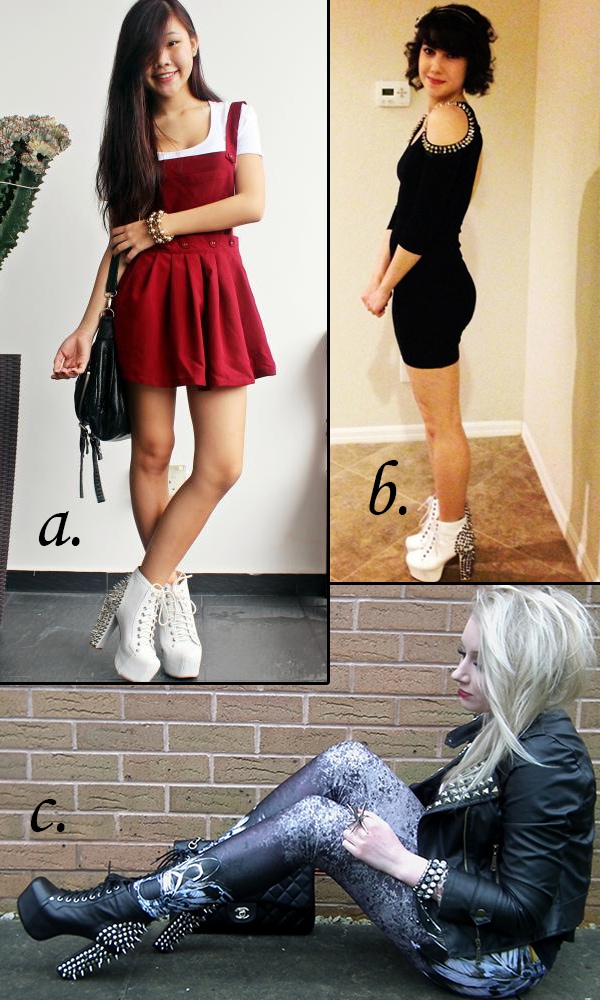 a. Ellena Young in a white shirt under a red minidress and a Topshop bag / b. Elise C in a black minidress (Blog offline) / c. Sammi Jackson in Lovely Sally leggings, a studded leather jacket, a spiked ring, and a skull bracelet
The spiked version of the Lita boots suggests a tough style, one that can never go wrong when paired with a biker jacket, leggings, and some black and silver accessories (just like what Sammi Jackson did). I love her rock star look, which really suits her.
On the other hand, the white version of the spiked Lita boots seems to combine sweetness and toughness. Perhaps the final look will also depend on the outfit you're going to wear them with.
As you can see, Ellena paired her boots with a red mini dress that looks cute and playful, while Elise wore hers with a body-hugging little black dress that's perfect for a night out.
Who do you think wore the Jeffrey Campbell spiked Lita boots best?
Jeffrey Campbell Lita Boots in Black at Nordstrom
Jeffrey Campbell Lita Spiked Boots at Amazon