We've come across a number of entertainment news articles saying how Khloe Kardashian is using Kim Kardashian's hand-me-downs, particularly her Louis Vuitton wool-trimmed handbag and her Givenchy covered wedge leather boots. We don't know about the Louis Vuitton, but we do know for sure that Khloe's Givenchy boots are all her own.
First of all, the Kardashian sisters have said it themselves that they have different shoe sizes; second, their Givenchys are clearly two different boots! The differentiating details are hard to miss. If you go to the link, you'll also read that they "rarely borrow clothes or shoes from each other" and sometimes "just end up buying the same things" since they have similar tastes. Well, they are sisters (each with a very big budget allocation for clothing) after all.
Check out Kim Kardashian's Givenchy boots, and then compare them to Khloe Kardashian's Givenchy, which she was seen wearing when she arrived at the JFK Airport last January 31 (see below).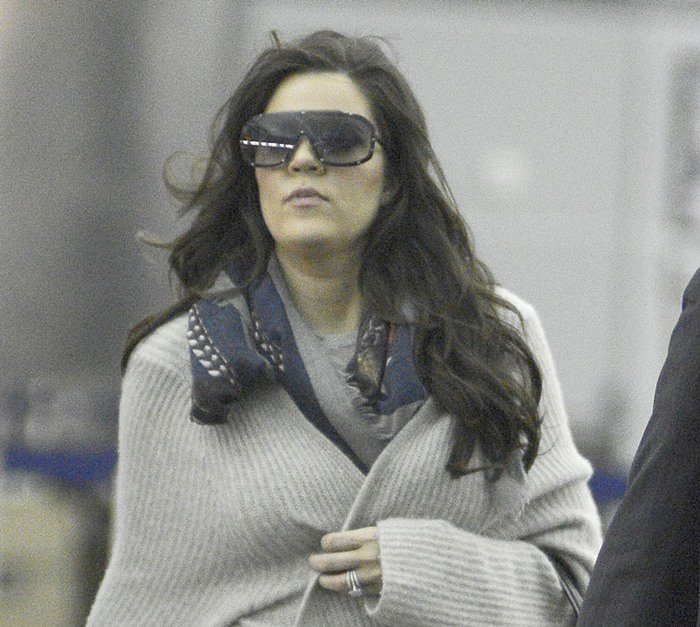 Khloe Kardashian Odom at the JFK Airport in New York City on January 31, 2013
Khloe also wore the boots for her appearance on 'Good Morning America' later that day. Here are stills and better shots of her boots (also check out the video below).
Khloe Kardashian on 'Good Morning America' on January 31, 2013
How can anyone miss that unlike Kim's boots, Khloe's pair go over the knee? They are the Givenchy wedge leather boots, which are not only obviously different from Kim's but are also more expensive at $1,890 vs. $1,695!
Givenchy Wedge Leather Boots, $1,890.00
This particular style of the super popular Givenchy boots sold out very quickly, but a few sizes of the style Kim Kardashian has are still available at Ssense and Saks Fifth Avenue.
As always, Jeffrey Campbell has provided a look-for-less alternative to these "it" boots. The Jeffrey Campbell variant has platforms and pointed toes though, but still close enough.
Jeffrey Campbell "Zealot" Buckled Over-the-Knee Wedge Boots, $230.00
Credit: TNYF / WENN