Over the course of its six-season run from 2009 to 2015, Glee was a tour-de-force combining high-school drama with topical issues and, of course, musical numbers.
The cast of characters changed slightly over the years, with multiple different actors appearing in the popular series over time.
Naya Rivera accidentally drowned while boating with her 4-year-old son in Lake Piru in July 2020 (Credit: Glenn Highcove / Shutterstock)
One character whose role changed over the course of the series was Santana Lopez, the lesbian cheerleader played by California native Naya Rivera.
Naya Rivera and Big Sean began dating in April 2013 and were engaged for a few months before they split up in April 2014 (Credit: Featureflash Photo Agency / Shutterstock)
In this article, we'll be taking a look at how the role of Santana changed during the series, and why many diehard Glee fans felt as though she was written out of the show by the final season.
Santana Lopez in Season 1
In the first season of Glee, Santana Lopez was initially introduced as a minor antagonist, acting as somewhat of a second-fiddle character for Quinn Fabray (played by Dianna Agron), the head cheerleader of William McKinley High School.
However, Naya Rivera's performance as Ms. Lopez managed to wow the show's producers, who decided to promote her to a series regular by the second season of the show.
Naya Rivera had a long-running feud with her Glee co-star Lea Michele (Credit: Fox)
The second season of the show would introduce more complex storylines for Santana, including the introduction of a lesbian subplot, which greatly improved the development of Naya Rivera's character.
These developments would continue until the final season when many speculate that Santana Lopez was written out of the show.
Santana Lopez in Season 5-6
By the time the fifth season of Glee rolled around, certain tensions between cast members began to bubble to the surface.
One highly publicized feud involved Naya Rivera and Lea Michele, who portrayed the character of Rachel Berry, one of the protagonists of the show.
During the production of the fifth season of the show, a purported "major altercation" occurred between Rivera and Michele, causing Santana Lopez to be written out of the fifth season finale.
Lea Michele and Naya Rivera seem to have a good time while filming Glee on April 27, 2011, in New York City (Credit: Humberto Carreno / Startraksphoto)
This is all speculation, however, as the official reason for Santana's omission from the fifth season finale is not currently known.
This would prove to snowball into a bigger issue following the untimely death of lead actor Cory Monteith (who played the role of Finn Hudson). The showrunners decided that the 6th season of the show would be the last.
During the course of the 6th season, Santana Lopez was relegated to a recurring character status, a downgrade from her leading role status in the previous seasons.
Actresses Amber Riley, Lea Michele, Jenna Ushkowitz, Dianna Agron, Robin Trocki, Jayma Mays, Jane Lynch, Dot-Marie Jones, Naya Rivera, and Heather Morris pose in the press room at the 68th Annual Golden Globe Awards held at The Beverly Hilton Hotel on January 16, 2011, in Beverly Hills, California (Credit: INFphoto)
While many fans believed this was due to her rocky relationship with Lea Michele, some speculated that it was due to Naya Rivera wanting to devote more time to her burgeoning music career, which began with the release of her debut single "Sorry" (which featured her then-boyfriend Big Sean) in 2013.
The Reason Santana Lopez's Role Was Diminished in Season 6
Whatever the case may be, Santana Lopez did in fact receive a diminished role in the series' sixth season, appearing in only 6 episodes of the 13 that comprised the final season.
The true reason for Naya's diminished role in her final season may never be fully known, as Naya Rivera, unfortunately, drowned in 2020 after swimming with her four-year-old son at Lake Piru near Santa Clarita, California.
She will always be remembered for her work promoting Latina representation in the Hollywood film and television industry.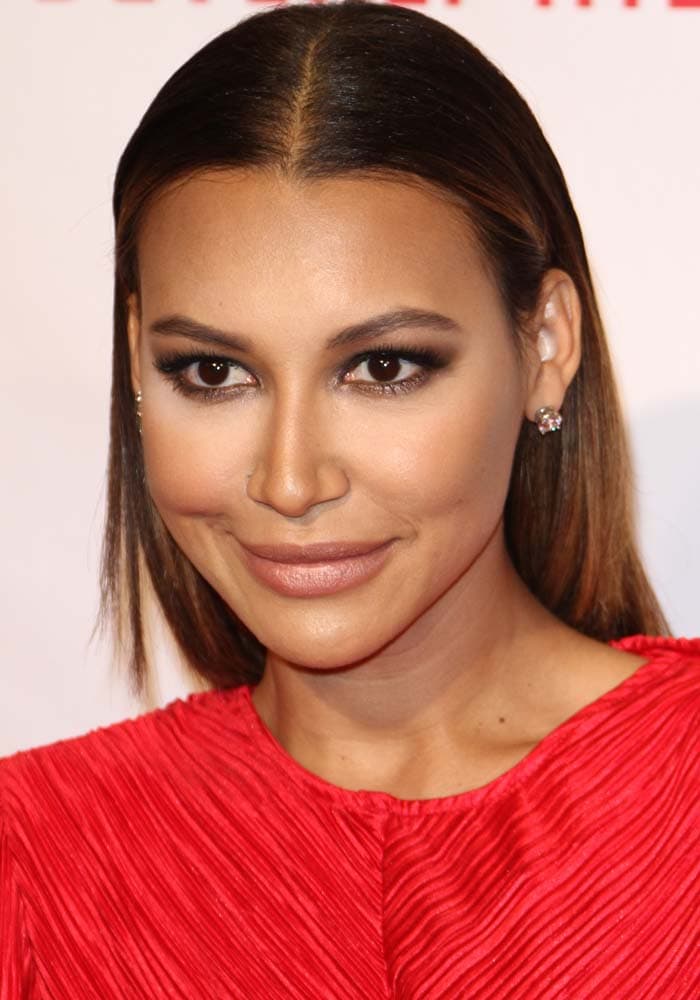 Naya Rivera center parts her hair at the 23rd Annual Race To Erase MS Gala at The Beverly Hilton Hotel on April 15, 2016, in Beverly Hills, California (Credit: WENN)
Naya Rivera didn't just attend galas-for-a-cause to look all pretty and get some air time.
In fact, she actually made sure it's a cause she believes in. The "Glee" star revealed that she supports the "Race to Erase MS" event because multiple sclerosis is a disease that personally impacts her life.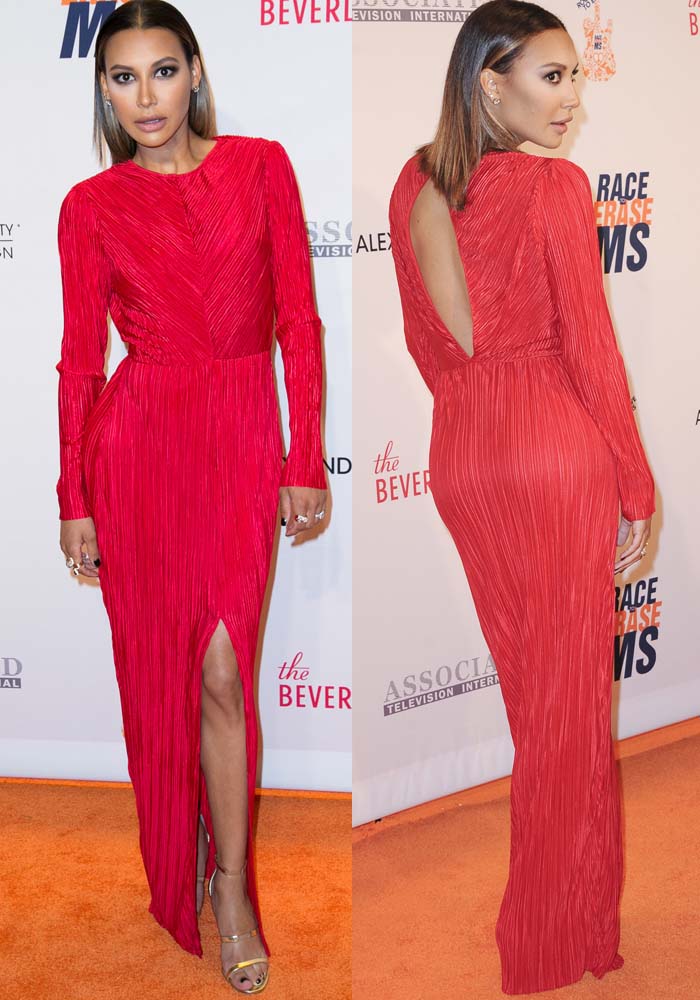 Naya Rivera shows off the keyhole design in the back of her red Asilio dress (Credit: Apega / Brian To / FayesVision / WENN)
In April 2016, Naya looked beautiful at the foundation's gala night, which is a celebrity event to help support the research and efforts to produce a cure for multiple sclerosis.
Naya wore a gorgeous red Asilio dress which her stylist, Taylor Jacobson, paired with gold Tamara Mellon "Horizon" PVC sandals.
The actress slicked back her hair to reveal her clean makeup and a pair of diamond earrings.
It was one of Naya's first red carpet appearances since giving birth to her son Josey Hollis Dorsey, who was born on September 17, 2015.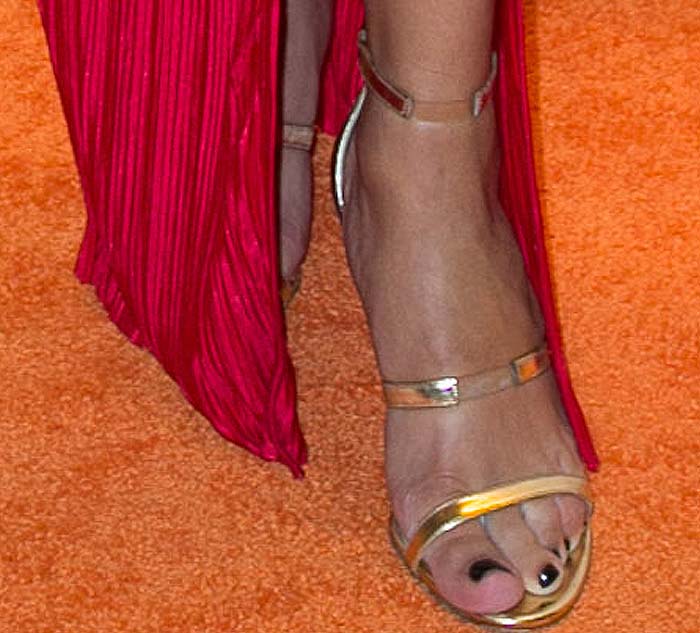 Naya Rivera's feet in gold Tamara Mellon sandals (Credit: WENN)
Naya said that — while she doesn't have the disease herself — she considers the matter close to her heart because she has had friends and family members suffer from it.
Multiple sclerosis is a disease where the immune system attacks the brain or takes over the brain-body connection, which typically leads to full disability.
The father of Naya's Glee co-star Dianna Agron suffered from multiple sclerosis. "Death has been prevalent in my life, because I've lost many people that I loved, and it always feels like it wasn't the right time," Agron said on the Allison Interviews podcast in March 2022.
"I, unfortunately, lost many people when I was very young, and my father is very ill and only sixty-six years old. I pride myself in being very present in the moment with my family and my friends, and knowing that your health and wellness are not guaranteed. That centers me a lot."
Naya Rivera with her Glee co-star Dianna Agron, whose father was diagnosed with multiple sclerosis when Agron was just 15 years old (Credit: Jaguar PS / Shutterstock)
"Naya was my first friend on set. We were quite isolated because we weren't involved in the entire pilot," Agron said about her friend who drowned in July 2020 during a boat outing at Lake Piru in Ventura County, California, with her son, Josey.
"We had our very brief moments in the pilot, and everybody else was very involved in the singing, dancing and all the rehearsals. So she was my point person and we kind of instilled each other with confidence in those moments. She was just very unique and special in the way she carried herself with such confidence and certainty. If she believed in something or in you as a person, she would always uplift those ideas."
Naya Rivera as Santana Lopez and Dianna Agron as Quinn Fabray in the American musical comedy-drama television series Glee (Credit: Fox)
"[Naya] was very, very strong in a way that I think I have adapted to moments in my own life that have been quite difficult and the adversity you can overcome if you experience it at a young age that makes you more resilient. She had that strength in spades," Agron added.
"Any strength that I had, she had ten times more of it. It was really inspiring and nurturing to be around. She was also wickedly funny and had the best comedic timing."
These PVC sandals from Tamara Mellon have been making waves on the red carpet since their release. You can order the "Horizon" sandals over at Tamara Mellon.
Tamara Mellon's 'Horizon' sandals are crafted from light-catching gold leather set on a thin heel with clear PVC trims and an elasticated ankle strap for the perfect fit
Tamara Mellon "Horizon" PVC-trimmed Metallic Leather Sandals, $595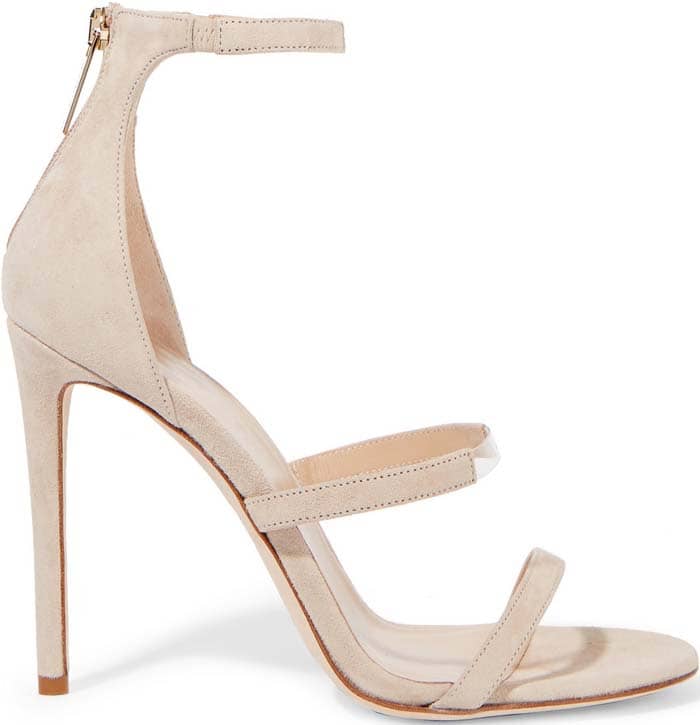 Crafted from soft beige suede, this pair has a lightly cushioned insole and transparent PVC trims
Tamara Mellon "Horizon" PVC-trimmed Suede Leather Sandals, $595