Standing at 5ft 2 (157.5 cm), Lea Michele is shorter than the average American woman. Additionally, her shoe size of 8 US is just below the average American woman's shoe size 8.5.
Her shoe size in other international systems typically falls between EU 38-39, UK 5-6, and JP 24-25.
Lea Michele, at 5ft 2 (157.5 cm), is 2 inches shorter than the average American woman's height of approximately 5ft 4 inches.
Lea Michele launches her album Christmas In The City at Barnes & Noble on 6th Avenue in New York City on December 5, 2019 (Credit: Avalon / WENN)
However, she has claimed in interviews to be slightly taller.
"For being only 5'3″, I have to say I really like my legs," she told People. "And my butt's not bad. I'm grateful for that too!"
The talented American actress and singer began her journey on Broadway with notable roles in productions such as "Les Misérables" and "Spring Awakening."
Lea Michele appeared on Good Morning America to perform the classic song "Don't Rain on My Parade" from the Broadway musical Funny Girl on October 7, 2022, in New York City's Times Square (Credit: Roger Wong / INSTARimages / Cover Images)
She gained significant recognition for her role as Rachel Berry in the Fox series Glee, earning her Emmy and Golden Globe nominations.
Beyond TV, Lea ventured into the music industry, releasing multiple albums, with "Louder" (2014) debuting at number 4 on the Billboard 200.
The multifaceted artist has also penned two books. In 2022, she garnered praise for her Broadway performance as Fanny Brice in "Funny Girl."
Lea Michele displays her feet and toes in gold metallic Schutz Imalia sandals at the FOX 2014 Programming Presentation on May 12, 2014, in New York City (Credit: Jennifer Graylock / INFphoto)
"I love my shape because it's unique to me. I'm 5'2″, and I get a lot of compliments on my legs, which is funny for a short girl. But they're one of my favorite things about my body," she admitted about her real height in an interview with Shape.
On April 28, 2018, she announced her engagement to Zandy Reich on social media. They married in March 2019 and welcomed their first child, Ever Leo Reich, in August 2020.
Lea Michele displays her sexy feet and toes in colorful Jimmy Choo Visby sandals at the 20th Century Fox party during Comic-Con International 2015 at Andaz Hotel on July 10, 2015, in San Diego, California (Credit: Vince Flores / Startraksphoto)
Lea dated actor Cory Monteith until he died in 2008. Despite rumors swirling around the Internet, she is not related to Idina Menzel.
Lea Michele: Facts, Rumors, and Everything in Between
Is Lea Michele rich?
Yes, she is an American actress and singer with an estimated net worth of $12 million.
Full Name:
Lea Michele Sarfati
How old is Lea Michele?
She was born on August 29, 1986, in The Bronx, a borough of New York City.

Lea Michele celebrated her 37th birthday on August 29, 2023.
Dating:
Zandy Reich and Lea Michele tied the knot on March 9, 2019, marking the beginning of their marital journey.

Prior to her marriage, Lea Michele had been involved in several notable relationships. She dated Robert Buckley in 2016 and was in a relationship with Matthew Paetz from 2014 to 2016.

Before that, she had romantic connections with Theo Stockman from 2009 to 2011 and the late Cory Monteith from 2009 until his passing in 2013.

Additionally, Lea Michele had relationships with John Lloyd Young from 2008 to 2009, Matthew Morrison in 2007, and Landon Beard from 2006 to 2008.
Kids:
Lea Michele and husband Zandy Reich welcomed their baby boy, Ever Leo Reich, on August 20, 2020.
Weight:
Lea Michele's weight is not publicly known. She has never publicly disclosed her weight, and her representatives have not commented on it.

However, based on her height and build, it is estimated that she weighs between 110 and 120 pounds (50 and 54 kilograms). This is a healthy weight for her height and build.
Shoe Size:
Though Lea Michele's shoe size is 8 US, which is slightly smaller than the average American woman's shoe size of 8.5, it's notably large for her height.
Is Lea Michele petite?
Yes, Lea Michele, standing at 5 feet 2 inches (157.5 cm), is shorter than the average American woman.

The average height for adult women in the United States is approximately 5 feet 4 inches (162.56 cm).
Nationality:
Lea Michele is an American citizen.
Source of Wealth:
She has earned her wealth through her work on Broadway, in television, and in music.
Ethnicity/Race:
Lea Michele is of Sephardic Jewish and Italian descent.

Her father, Marc Sarfati, is a Sephardic Jew with ancestors from Thessaloniki, Greece.

Her mother, Edith Sarfati (née Porcelli), is an Italian American with ancestors from Rome and Naples.
How old was Lea Michele when she was on Broadway?
In 1995, Lea Michele was 8 years old when made her Broadway debut in Les Miserables as a replacement in the role of Young Cosette.
Lea Michele: Inspirational Quotes from a Talented and Driven Actress
Trust me, sunscreen is so, so, so important and so I always wear sunscreen, but I still get really tan. – Lea Michele
My idea of heaven used to be relaxing at home with a cheese plate and champagne. – Lea Michele
I worked consistently on Broadway from when I was 8 years old through 'Spring Awakening,' which I left in 2008. – Lea Michele
I am obsessed with Gwyneth Paltrow. – Lea Michele
Lea Michele looking stunning in a red and white floral gown created by Emilia Wickstead at the 76th Annual Tony Awards at United Palace Theater on June 11, 2023, in New York City (Credit: Lev Radin / Shutterstock)
I've always been such a fan of Habitat for Humanity and the work that they do. – Lea Michele
I've known since day one of working on 'Spring Awakening' – back in 1999 – that it was special. – Lea Michele
I have been involved with 'Spring Awakening' for six years. I am 20 now – I just turned 20 in August – and I originally auditioned when I was 14 years old. I auditioned for Michael Mayer, Duncan Sheik, and Steven Sater. – Lea Michele
How many managers told me, 'Get a nose job. You're not pretty enough?' But I proved them wrong. – Lea Michele
When it comes to 'Glee,' I feel like I've been in a relationship, and now I can mingle a bit. – Lea Michele
Lea Michele stands slightly taller at 5ft 2 (157.5 cm) compared to Becca Tobin and Emma Roberts, who both share a height of 5ft 1 ½ (156.2 cm) (Credit: Sam Aronov / Shutterstock)
I don't go out to clubs. You'll never see me on a table at a bar, jumping up and down. – Lea Michele
If you think that there are actually covers that we haven't done on 'Glee' that I could then put on an album… We've done everything! Pretty soon we're just going to have to start doing opera and stuff on the show. – Lea Michele
I'm five foot three. I don't look like a lot of other people, you know what I mean? I look like I'm 12. – Lea Michele
I'm simple. I love hiking, going to the gym, doing some simple stuff. I love being outdoors, I love bike riding. Just stuff that's fun! – Lea Michele
I'm honored to be in a position to have young girls or performers look up to me. – Lea Michele
One of my favorite things about 'Spring Awakening' is that it is enjoyable and important for both kids and adults to see. – Lea Michele
Lea Michele donning a stylish ensemble from the Renaissance Renaissance Spring 2023 collection with Jimmy Choo Bing mules at Universal Pictures' "Knock At The Cabin" World Premiere at Jazz at Lincoln Center on January 30, 2023, in New York City (Credit: Lev Radin / Shutterstock)
Theatre just fills me up so much. – Lea Michele
I don't stop. It's my nature. People have to tell me to slow down. I plan on playing every role on Broadway. I want to do 'Evita.' I want to do 'Sweeney Todd' with Chris Colfer. We want to do 'Wicked.' I'll be Elphaba, and he wants to play 'Guy-linda.' I want to do movies, make music. 'Glee' is only the beginning. – Lea Michele
I am an unconventional beauty. I grew up in a high school where if you didn't have a nose job and money and if you weren't thin, you weren't cool, popular, beautiful. I was always told that I wasn't pretty enough to be on television. – Lea Michele
Lea Michele and Zandy Reich walk their son, Ever Leo Reich, on November 4, 2023, in New York City (Credit: BauerGriffin / INSTARimages)
I just moved into a new house, so I love spending time at home. Everything for me is all about self-care because I really feel that if I'm at my best, then I'm able to come to my job and really be feeling the best, so if I'm not working out or going on a hike, then I'm at home recharging and cooking dinner and hanging out with my cat. – Lea Michele
When I was on Broadway, my most recent Broadway show was 'Spring Awakening,' and every night I did a topless scene. – Lea Michele
Los Angeles has been good to me. – Lea Michele
I have such a passion because I adore animals so much. – Lea Michele
I consider myself lucky to be an only child because if I had other siblings, my mother would not have been able to take me to every audition and be so supportive of my career. – Lea Michele
I love being outdoors – hiking, biking, and swimming. – Lea Michele
I can't believe it's been four years now, and from watching that pilot, we really all looked like babies. It's unbelievable just how far everything has come. I'm happier now than I've ever been on the show and in my life. I really owe so much of my happiness to 'Glee.' – Lea Michele
I worried that people wouldn't like me. Now I try not to worry and focus on being happy. – Lea Michele
Film is an itch I have yet to scratch. – Lea Michele
I would tell 17-year-olds to be proud of who you are. Don't try to change yourself for others. Focus on school and your future. Boys and friends will come and go, just focus on you and your future. – Lea Michele
I have loved 'Les Miz' for so long. It was the first Broadway show I'd ever done. – Lea Michele
But my main thing that I would love to see as a fan of 'Glee,' like I said, is to really get into the character and who they are and what they do outside of school. I think that that's interesting. And then, of course, the themed stuff and the album episodes are all really cool too. – Lea Michele
I'm a really big animal lover. – Lea Michele
I was a vegan for two years, and I really enjoyed it. Then, I got to a point in my life at which I wanted to do something else, so now I'm a vegetarian. You should make your diet one that best fits you and how you feel. Listen to your body. The most important thing is to exercise, drink lots of water, and take really good care of yourself. – Lea Michele
I didn't know I could sing until I auditioned for 'Les Miserables.' My friend was auditioning, and I wanted to audition too. – Lea Michele
'Glee' has made me feel beautiful. – Lea Michele
Well, everything with being vegan and vegetarian is a really big commitment. You have to do what you feel is best and what you believe in and what your body is telling you that it needs. I really think everyone should do what's best for them, and what's best for me may not be best for someone else. – Lea Michele
I was in choir in school. I kind of just did it. I already knew I wanted to sing. My music program in my school wasn't really great – people didn't really want to be part of the choir, they didn't want to do the plays and stuff like that. It definitely wasn't the cool thing to do. – Lea Michele
I'm Italian and we curse a lot when we talk. – Lea Michele
When I wasn't working on Broadway, I worked in a Bat Mitzvah dress shop and was the Cinderella of the shop – always cleaning and vacuuming! – Lea Michele
I remember watching Barbra Streisand and seeing Jennifer Grey in 'Dirty Dancing' – these were people who acted like me and looked like me. Now it's great that everyone on 'Glee' is so unique and people can relate to us and look up to us. – Lea Michele
I love being healthy. I get a lot of sleep. I'm a girl who eats. And I feel beautiful no matter how I look. I have my family to thank for that. – Lea Michele
I love to cook so much. I like to cook everything. I really like to eat my food. – Lea Michele
Listen, if you were with me on a plane? I'm embarrassed for the people who sit next to me. I have such a regimen! I, like, pound on the face cream because your face will dry out, I get the stuff you put in your nose so no nose germs come in, I take elderberry for immunity, I wear a scarf. – Lea Michele
I really felt like I finally made it. Having your first fake pregnancy rumor. It was really awesome. I feel like it's part of what happens in this business, but that's a real one. That's a cool one to get. – Lea Michele
I make a vegan baked ziti. And even though that doesn't sound enjoyable, it really is. – Lea Michele
Growing up in New York has influenced my style so much, and I have an amazing relationship with my stylist, Estee Stanley. We have so much fun with the whole process. She picks out dresses, I try things on and play dress up, and we get creative to see what works. – Lea Michele
I'm Italian and Spanish and Jewish. I'm 100 different things meshed into one. I think that shows girls that uniqueness is beautiful. They can look at me on a magazine cover and see me in a movie and say that they have someone they can relate to. – Lea Michele
Working out for me is something I do when I feel like it. But it's really about feeling good and taking care of my body rather than having to fit into any sort of model or anything like that. I try to eat well, and everything I do is really just to make me feel my best so that I can come to my job or my personal life and just feel really good. – Lea Michele
I was never pretty enough to be the pretty girl, and I was never quirky enough to be the quirky girl. Boys didn't look at me in high school and think I was the pretty girl. – Lea Michele
I always knew that I wanted to work, and I knew I wanted to be a singer and an actor. I knew that every choice I made would help me get to that point. So the better the choices I made, the more of a chance I would have to get to where I wanted to be. – Lea Michele
Every now and then, I have blissful moments of thanking God for all the amazing things that are happening. When I leave the White House after just meeting Obama or when I see my face on the cover of 'Rolling Stone' or when I meet someone who tells me that their daughter is inspired by me, those are moments that are incredibly joyful. – Lea Michele
I always sing Adele in the shower. But everyone should know you never sing an Adele song in public because no one's better than Adele. – Lea Michele
When I was a little kid, my mother and I used to watch the 'Golden Globes' and I would dress up and she would get sparkling apple cider and we would make a tray of hors d'oeuvres and watch it together. And I would get up and make a pretend speech. – Lea Michele
New York is who I am. Lea Michele Sarfati. That's my real last name. I don't use it a lot because I got 'Lea So-fatty,' 'Lea So-farty' at school. – Lea Michele
I've always been proud of my body, my Jewish nose and all of that. Hollywood's Hollywood, but that's not going to change. – Lea Michele
I love myself, the way I look, my body, but sometimes I can't help but feel insecure. – Lea Michele
It's just really important, I think, for fashion to be affordable because everyone should have the opportunity to wear cute things and be happy and comfortable in what they are wearing. That's definitely how I like to shop and how I like to think about clothes and fashion. – Lea Michele
Britney Spears is definitely my favorite past Candie's girl; her campaigns were gorgeous. – Lea Michele
I'm overjoyed and beyond honored to be a part of the L'Oreal Paris family. I'm such a fan of L'Oreal Paris not just for all of their amazing products, but for what they stand for. – Lea Michele
I do have 14 tattoos, but I also do come home every single night and watch reality TV with my cat. – Lea Michele
Growing up on stage, I was introduced to makeup at a young age, and I will never forget the first time I tried on a L'Oreal Paris iconic lipstick – it was instant glamour, and I've been hooked ever since. – Lea Michele
I am a very outspoken person, and if something makes me uncomfortable, you will know that it makes me uncomfortable, but that's as far as it goes. – Lea Michele
I knew what I wanted to be at 8 years old – an actor! – Lea Michele
I would love Kate Middleton to be in 'Glee.' Wouldn't that be fantastic? That would be great. – Lea Michele
I want to be in 'Funny Girl.' And I want Ryan Murphy to direct it. – Lea Michele
I'm a vegan. It makes me feel really good and bright. – Lea Michele
I need some me-time. I have to remember to rest because I have a natural energy, and I don't want to burn out. – Lea Michele
Lea Michele's Fitness Transformation: From "Glee" Chubby Girl to Shape Cover Model
Lea Michele never used to be the first person to come to mind when we thought "fitness buff."
But, somewhere along the way, the chubby girl from "Glee" started losing weight, toning up, and replacing her usual Instagram posts with pilates and cycling photos.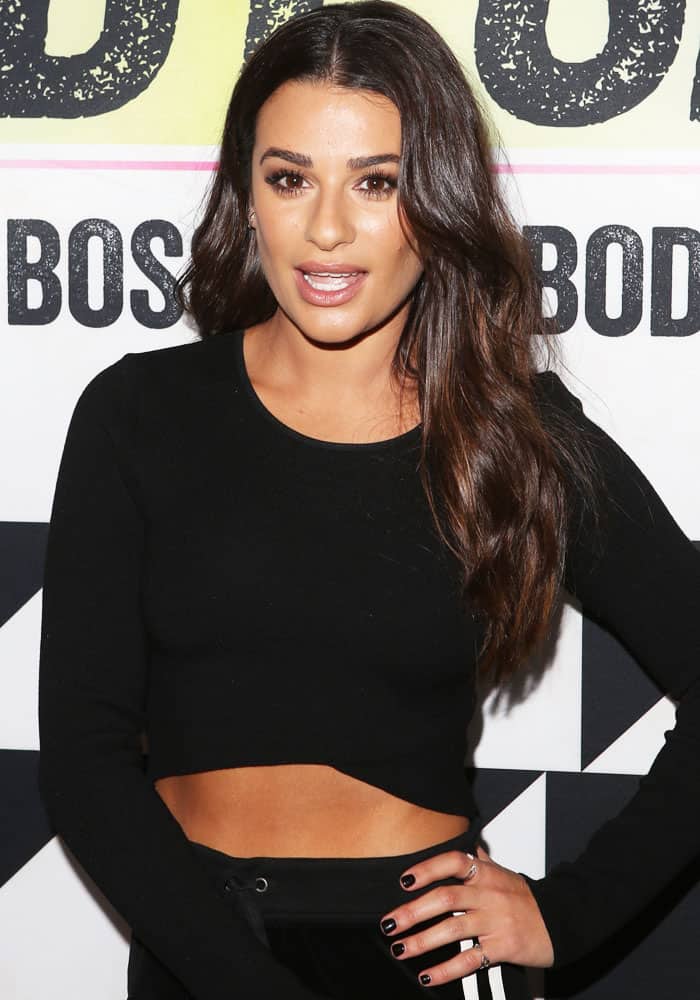 Formerly known for her role as the "chubby girl" on "Glee," Lea Michele has since embarked on a fitness journey that has reshaped her body and lifestyle (Credit: Derrick Salters / WENN)
It wasn't an effortless start when Lea took to seriously working out, but fast forward to a few years later, and she now has a Shape Magazine cover to call her own.
Lea Michele's attire combined athletic and glamorous elements at Shape Magazine's fitness event, "SHAPE Body Shop," at Center415 in New York on October 22, 2016 (Credit: Derrick Salters / WENN)
As the November cover girl, Lea attended Shape Magazine's "SHAPE Body Shop" event to meet her fans and discuss her fitness journey.
Lea Michele cranked up the glam in her athleisure look with a pair of Saint Laurent "Paris" pumps (Credit: Derrick Salters / WENN)
Lea went for the glammed-up version of athleisure in a pair of striped sweatpants, a black crop top by RVN, and a jacket by Moschino. The actress finished her look with a pair of Saint Laurent "Paris" pumps in black suede.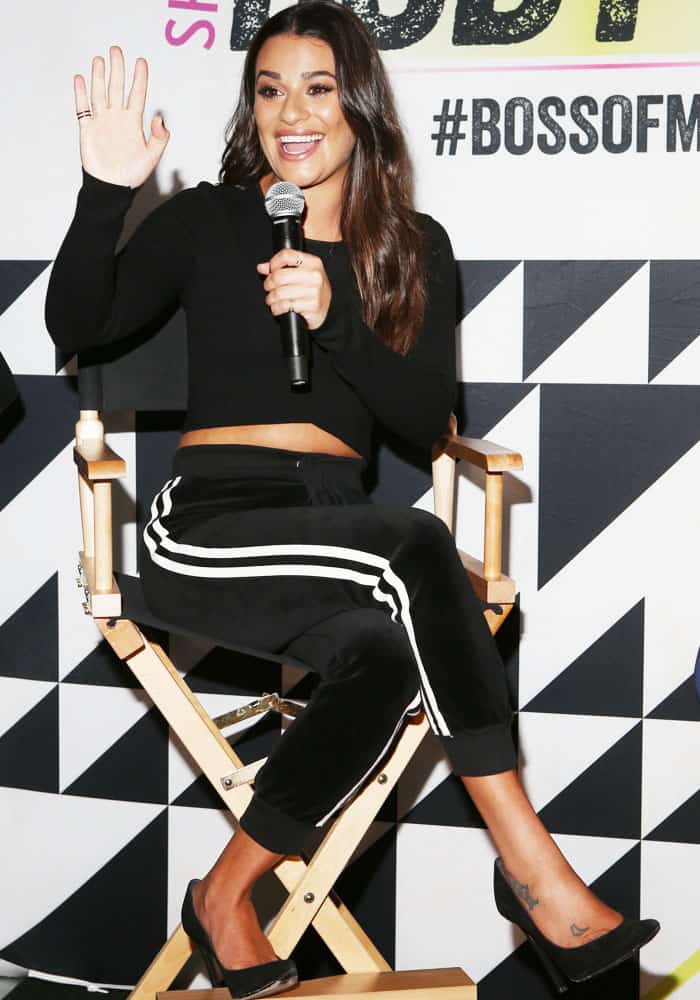 Lea Michele rocked striped sweatpants, a black crop top by RVN, and a Moschino jacket
Lea said she hasn't always been the type to appreciate working out. Only when she moved to Los Angeles did all the trailer food on set start to make her gain weight, so she eased into the world of fitness through yoga.
A couple of years later, Lea is now constantly alert for new types of exercises, with her latest obsession being MTR. The actress still credits most of her weight loss to pilates and cycling.
You can shop the classic Saint Laurent "Paris" pumps at Mytheresa and Nordstrom.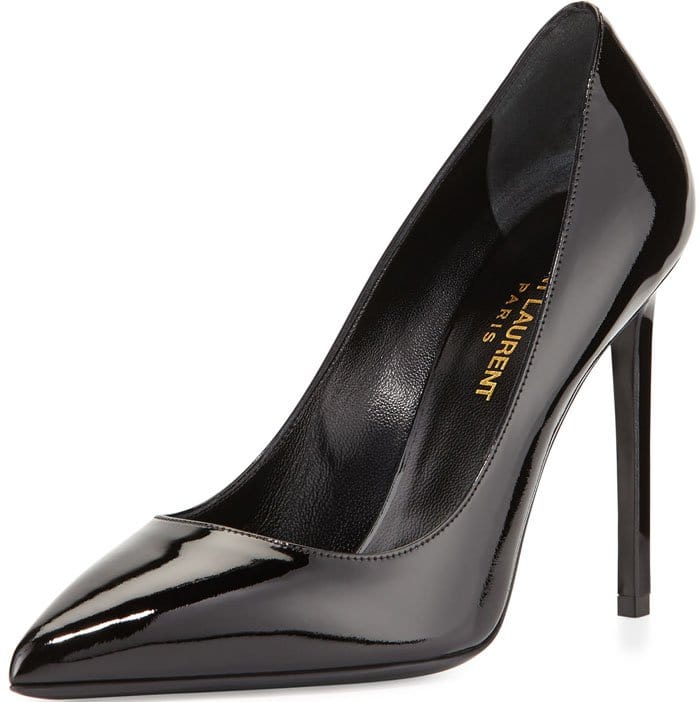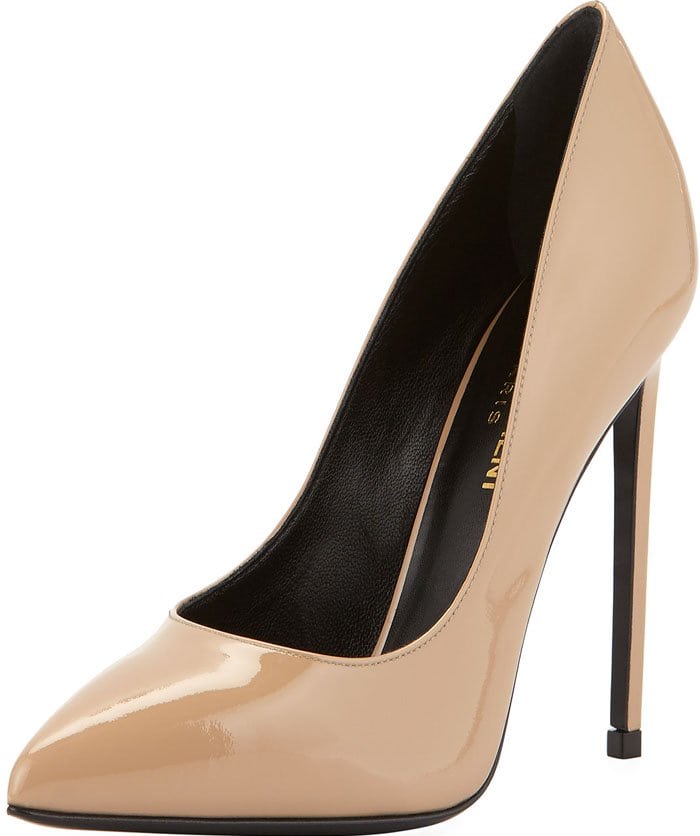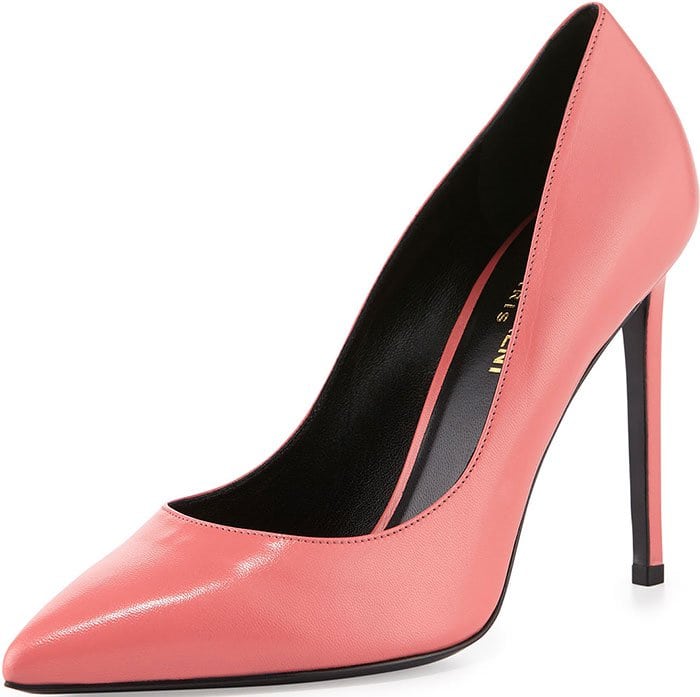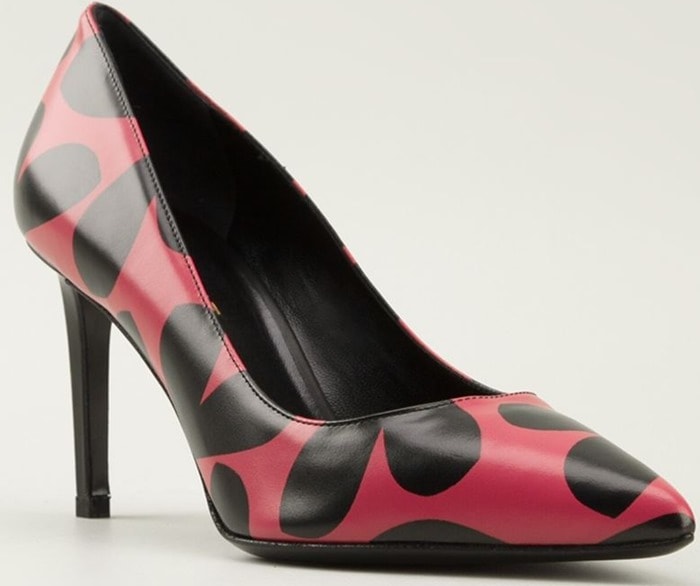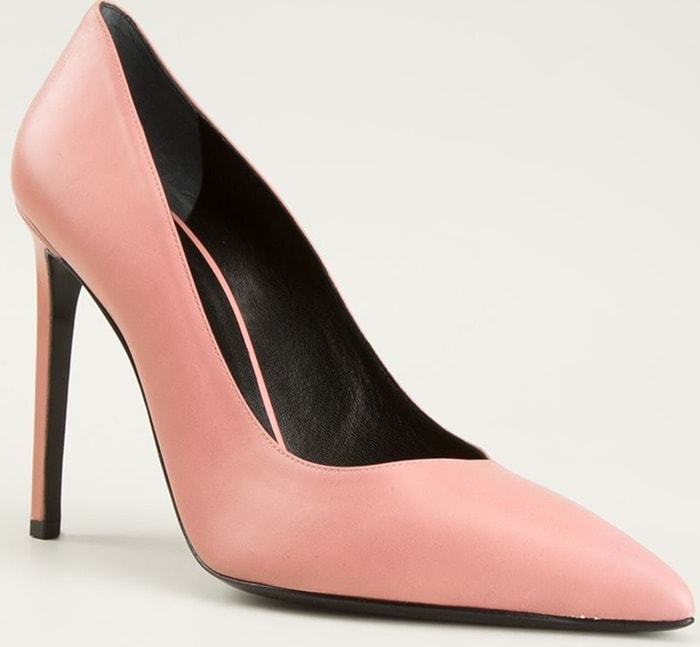 Saint Laurent "Paris" Leather Pump, $490 – $795