From the halls of William McKinley High School to center stage, the Glee cast captured our hearts with their musical talents and infectious energy.
This beloved musical comedy-drama took the world by storm over a decade ago, leaving fans craving for more until its final bow in 2015.
Glee is a beloved musical comedy-drama that ran from May 19, 2009 to March 20, 2015 (Credit: Fox)
But what has become of the stars who once graced our screens as members of New Directions?
Let's uncover the net worth of the Glee cast and explore where life has taken them since the show's end, shedding light on their financial successes and the exciting projects that have shaped their careers.
1. Harry Shum Jr. as Mike Chang – $14 Million Net Worth
Grey's Anatomy star Harry Shum Jr. portrayed Mike Chang, leaving an indelible mark as a character who evolved from a background actor to a prominent figure within the New Directions, showcasing his exceptional dancing abilities.
Harry Shum Jr. played Mike Chang and has an outstanding $14 million net worth (Credit: Faye's Vision / Cover Images)
During his time on Glee, Harry was a main cast member for seasons 3 and 4, transitioning to a recurring cast member for the remainder of the series. His role on the show contributed to his accumulated wealth of $14 million.
Beyond portraying Mike, the 41-year-old Costa Rican-American actor is recognized for his notable performances in films like Crazy Rich Asians, Step Up 2: The Streets, and Revenge of the Green Dragons.
He also made impressive appearances in TV shows, including The Legion of Extraordinary Dancers, Tell Me a Story, and Shadowhunters.
2. Lea Michele as Rachel Berry – $12 Million Net Worth
Lea Michele is known for her role as the ambitious and spotlight-hungry Rachel Berry in Glee. Her character was a driving force behind the formation of the New Directions, and her unwavering pursuit of Broadway stardom was a central theme throughout the show.
As a series regular on Glee, the 37-year-old actress garnered a remarkable $80,000 per episode, significantly contributing to her net worth, currently at an impressive $12 million.
Lea Michele portrayed Rachel Berry, and she has an impressive net worth of $12 million (Credit: M10s / TheNews2 / Cover Images)
Her talent and dedication have undoubtedly propelled her to impressive heights in her career, with her journey to Glee that began on Broadway.
After the series' conclusion in 2015, Lea continued to shine in the television series Scream Queens and The Mayor. She even took on the iconic role of Ariel in a Hollywood Bowl production of The Little Mermaid.
Beyond her Glee fame, Lea has ventured into the world of movies with appearances in films like New Year's Eve and Legends of Oz: Dorothy's Return.
3. Matthew Morrison as Will Schuester – $10 Million Net Worth
44-year-old Matthew Morrison portrayed the dedicated educator Will Schuester. As the director of the New Directions glee club, Will shared his wisdom and guidance with his students, becoming a motivating influence behind their musical aspirations.
During his tenure on the show, it's estimated that he raked in approximately $80,000 per episode, ultimately amassing an astounding net worth of $10 million.
Matthew Morrison played Will Schuester and has a net worth of $10 million (Credit: Declan Goldring / Startraksphoto)
Matthew's journey in the entertainment world began in 1997, starting with small roles in films and TV before gaining recognition as the Spanish teacher and inspirational figure on Glee.
After the series ended, he continued to grace our television with appearances in renowned shows such as As the World Turns, Grey's Anatomy, and American Horror Story: 1984.
His talent extended to the big screen with roles in movies like Tulip Fever, What to Expect When You're Expecting, and Underdogs.
4. Jane Lynch as Sue Sylvester – $9 Million Net Worth
Jane Lynch is the actress behind the iconic character Sue Sylvester, the fiery cheerleading coach with a knack for creating havoc, and served as a captivating foil to the New Directions glee club led by Will Schuester.
During her six-season stint on Glee, the 63-year-old reportedly earned $80,000 per episode, accumulating a Sue Sylvester-style net worth of $9 million, highlighting her talent and financial success in entertainment.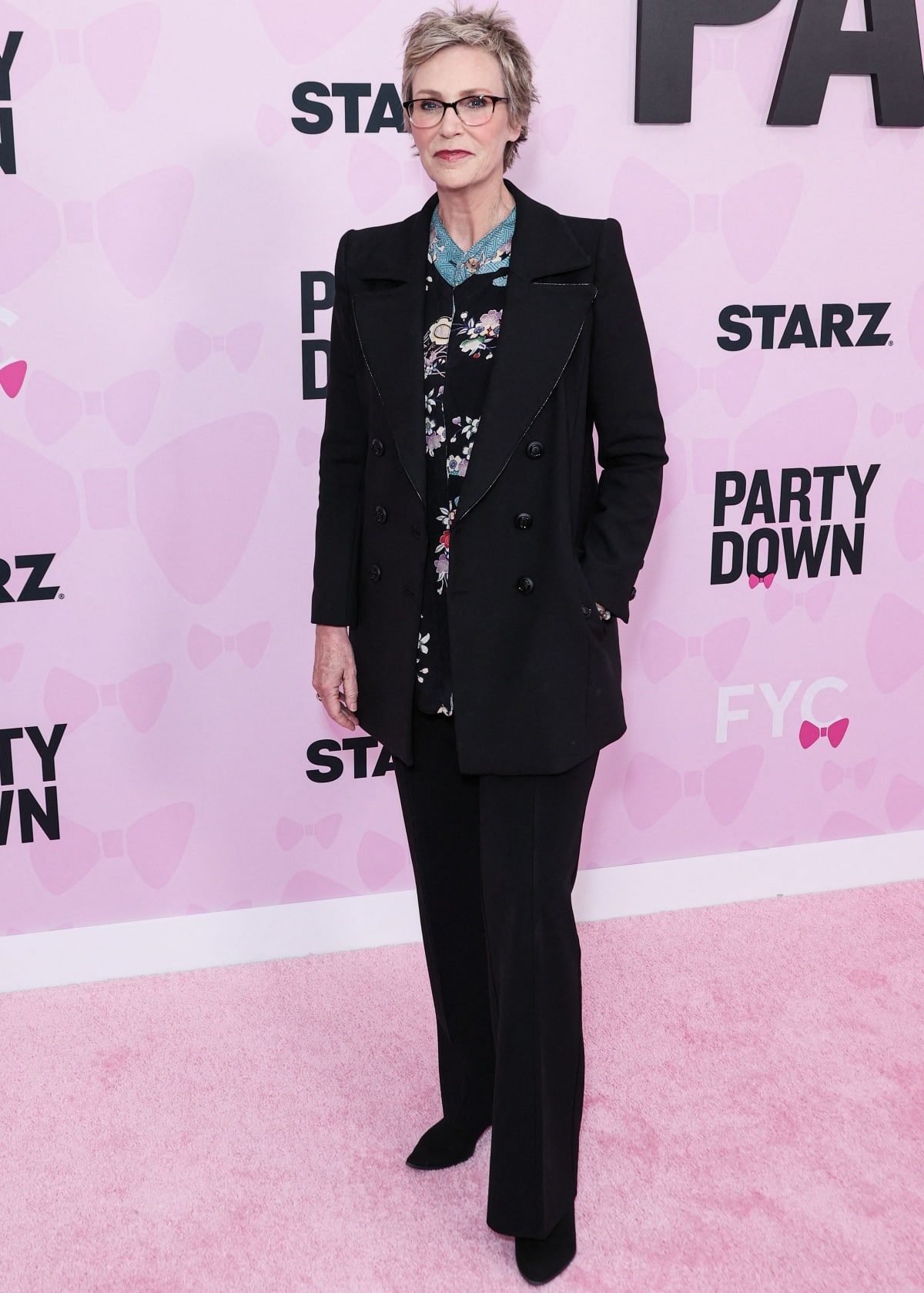 Jane Lynch portrayed Sue Sylvester, and she has a net worth of $9 million (Credit: Xavier Collin / Image Press Agency / Abaca Press / INSTARimages)
But Jane's impressive career doesn't stop at Glee. She's a familiar face in television and film, with notable appearances in shows like Criminal Minds and The Good Fight and roles in movies such as The 40-Year-Old Virgin and The Three Stooges.
Her versatile acting skills have graced various productions, including recurring roles in Two and a Half Men, The L Word, and The Marvelous Mrs. Maisel. She recently captivated audiences in the Netflix series Space Force.
5. Chris Colfer as Kurt Hummel – $8 Million Net Worth
Chris Colfer made an impressive portrayal of the charismatic Kurt Hummel in Glee, capturing the hearts of fans with his character's journey from a shy, closeted teen to a confident adult chasing his dreams in New York City.
Remarkably, the 33-year-old American actor was one of the youngest Glee cast members and a Hollywood newcomer when he landed the role.
Chris Colfer played Kurt Hummel, and he has a net worth of $8 million (Credit: Faye's Vision / Cover Images)
Throughout the series, he demonstrated remarkable acting skills and made a significant creative contribution by writing an episode. It boosted his income to an impressive $45,000 per episode and played a key role in accumulating his current substantial net worth, a commendable $8 million.
After Glee wrapped up, Chris Colfer's television appearances have been relatively limited, with a guest role in the TV sitcom Hot in Cleveland being the exception.
He also ventured into film, writing and producing the acclaimed movie Struck By Lightning in 2012 and appeared in the 2016 comedy Absolutely Fabulous: The Movie.
6. Darren Criss as Blaine Anderson – $5 Million Net Worth
36-year-old Darren Criss gave life to Blaine Anderson in Glee, the Dalton Academy Warblers lead singer who later joined the William McKinley High School Glee Club. Despite joining the show in its second season, his presence became integral to Glee's success.
Boasting an estimated net worth of $5 million, Darren started his entertainment journey by co-founding StarKid Productions following his university graduation in 2009.
Darren Criss portrayed Blaine Anderson, and he has a $5 million net worth (Credit: Janet Mayer / Startraksphoto)
His musical theater company produced the viral sensation of the Harry Potter musical parody, A Very Potter Musical, which catapulted him into the role of Blaine for 90 episodes.
He had a recurring role in the fantasy TV show Eastwick in 2009 and a pivotal role in the CBS crime drama Cold Case, and released his debut EP titled Human the subsequent year.
Beyond Glee, Darren showcased his acting skills in films such as Superman: Man of Tomorrow, Midway, and Girl Most Likely, as well as notable roles in TV shows like The Assassination of Gianni Versace: American Crime Story, Hollywood, and Royalties.
7. Jenna Ushkowitz as Tina Cohen-Chang – $4 Million Net Worth
South Korean-born American actress Jenna Ushkowitz brought the painfully shy Tina Cohen-Chang to life on Glee. She held a prominent role in seasons one to five but took on a recurring cast member status in the final season.
At 37 years old, she maintains an estimated net worth of $4 million, thanks partly to her earnings of $80,000 per episode during her time on the series.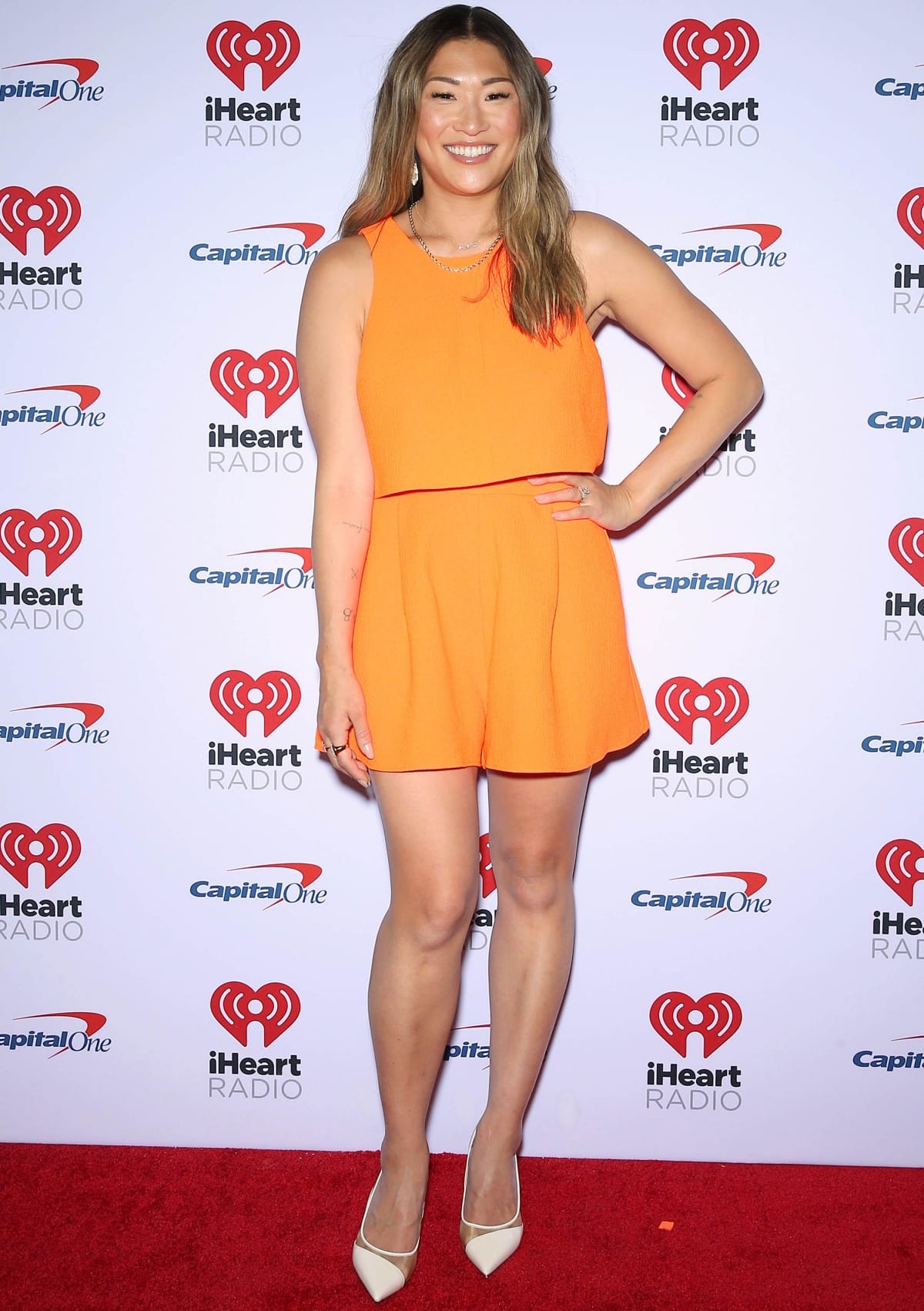 Jenna Ushkowitz played Tina Cohen-Chang and has a net worth of $4 million (Credit: Brandi Benton / Startraksphoto / Cover Images)
Her acting career started early, with small roles on shows such as Sesame Street, eventually paving her way to Broadway musicals. She made her television debut on the Disney Channel show The Suite Life of Zack & Cody in 2007, leading to her role in Glee two years later.
Jenna is recognized for appearing in shows like Little Bill and roles in movies like 1 Night in San Diego, Hello Again, and Twinsters.
She returned to her Broadway roots after the hit show ended, gracing the stage in productions like Waitress and The Wedding Singer. Her achievements as a producer earned her two prestigious Tony Awards for her work on Broadway plays Once On This Island and The Inheritance.
8. Heather Morris as Brittany S. Pierce – $4 Million Net Worth
Heather Morris portrayed the stereotypical "dumb blonde" cheerleader Brittany S. Pierce in Glee. Her impeccable comic timing earned her a promotion to a main cast member in season two, though her role was reduced in the final two seasons due to her real-life pregnancy.
With an estimated wealth currently at a respectable $4 million, the 36-year-old embarked on her Hollywood journey after leaving college to pursue her dreams in the entertainment industry.
Heather Morris portrayed Brittany S. Pierce, and she has a $4 million net worth (Credit: Kyle Rover / Startraksphoto)
Her career kicked off with a standout appearance on So You Think You Can Dance season two, followed by a role as a backup dancer on Beyonce's The Beyonce Experience Tour and Single Ladies promotional tour.
Before her breakthrough role on Glee, she ventured into the film industry with appearances in movies like Fired Up! and Spring Breakers. Her diverse career includes roles in shows such as Pretty Little Stalker, The Troupe, and LA LA Living.
Recently, she made waves in reality television, competing on Dancing with the Stars in 2017 and achieving a perfect score, although she was eliminated in the sixth week. Her luck changed in 2022 when she was crowned the winner of The Masked Dancer.
9. Dianna Agron as Quinn Fabray – $4 Million Net Worth
37-year-old Dianna Agron played the conniving cheerleading captain, Quinn Fabray. Initially, Quinn served as a main antagonist in the first three seasons and later returned as a recurring character in subsequent seasons.
With an accomplished career in both television and film, Dianna currently enjoys an estimated net worth of $4 million. Her journey in showbiz started in musical theater before she transitioned to the screen, marking her debut in 2006 with a role in the teen mystery show Veronica Mars.
Dianna Agron played Quinn Fabray, and she has a net worth of $4 million (Credit: Abaca Press / INSTARimages)
Dianna's career gained momentum with a recurring role in the superhero series Heroes in 2007, followed by her first leading role in the comedy series It's a Mall World later that same year.
Simultaneously starring in Glee, she expanded her fame and fortune by venturing into various silver-screen projects, including the 2010 musical Burlesque and the teen sci-fi film I Am Number Four.
Dianna continued diversifying her acting portfolio with appearances in indie films like Bare, Shiva Baby, The Laureate, and the sci-fi drama Acidman. She also ventured behind the camera, co-directing the anthology film Berlin, I Love You in 2019.
10. Jayma Mays as Emma Pillsbury – $3 Million Net Worth
44-year-old Jayma Mays, known for her role as William McKinley High School guidance counselor Emma Pillsbury, remained a constant presence throughout all six seasons of the series.
Before she landed her role, Jayma began her acting journey when she appeared in the Friends spin-off Joey in 2004 and made her feature film debut in the thriller Red Eye the following year, starring alongside Cillian Murphy and Rachel McAdams.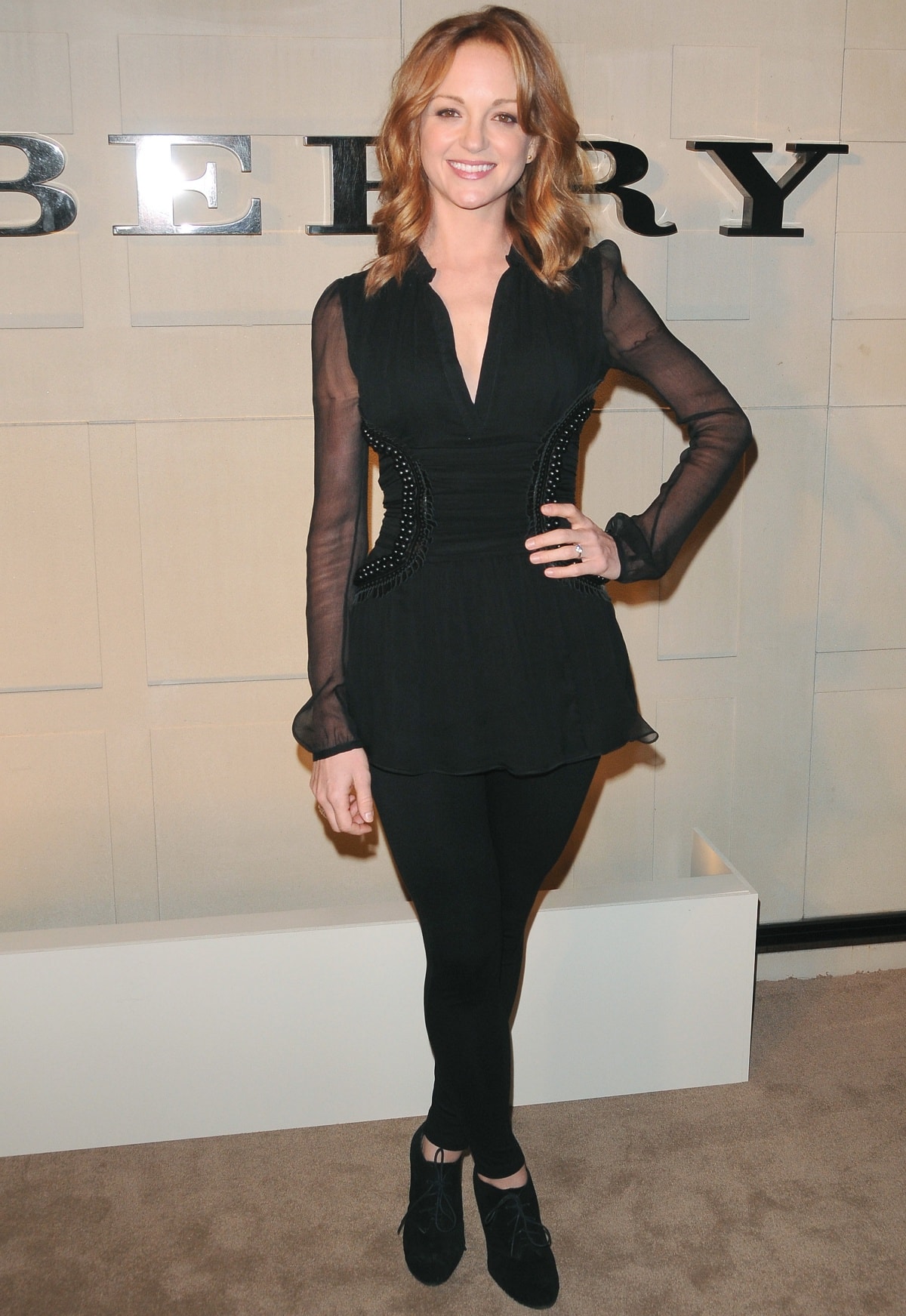 Jayma Mays portrayed Emma Pillsbury and has a net worth of $3 million (Credit: INFevents)
Her remarkable pre-Glee presence includes appearances in popular sitcoms like How I Met Your Mother and Ugly Betty and comedy films such as Epic Movie and Paul Blart: Mall Cop.
Despite her significant role in Glee, Jayma continued to build a successful career, with notable TV credits, such as a vocal role in the Shrek spin-off The Adventures of Puss and Boots, Heroes, The League, and Trial & Error.
Currently, Jayma Mays enjoys an estimated net worth of $3 million, solidifying her status as a successful and accomplished figure. Adding to her financial success, she starred in the 2022 Disney+ movie Disenchanted alongside Oscar-nominated actress Amy Adams.