Discover the real faces behind the beloved characters of Sex Education as we take a sneak peek into the lives of the show's talented cast.
From the intriguing world of hypersexual high school students seeking clarity and personal growth to the captivating mix of rising stars and recognizable figures, this British series premiered on January 11, 2019, making us all embark on a thrilling journey.
With the fourth and final series on the horizon, set for a September 2023 release, let's dive into the lives of the characters and their real-life counterparts and uncover interesting details like ages, net worths, heights, acting endeavors, and even their personal lives.
Here's everything you need to know about the individuals who have brought these captivating characters to life, keeping us entertained and engrossed throughout the series.
1. Asa Butterfield as Otis Milburn – 6ft (182.9 cm)
Asa Butterfield, born on April 1, 1997, is the talent behind Otis Milburn in Sex Education. Towering at 6 feet (182.9 cm), he embodies Dr. Jean Milburn's son, who created an underground sex clinic at Moordale Secondary School while navigating his confidence and desires.
The 26-year-old English star's acting journey began at age seven, gaining recognition in the industry with roles like Hugo in Martin Scorsese's Hugo, alongside Chloë Grace Moretz, and the protagonist in Ender's Game and The Space Between Us.
Asa Butterfield towers at 6 feet and has an impressive net worth of $5 million (Credit: Ian West / PA Images / INSTARimages / Cover Images)
Since portraying Otis, Butterfield has remained busy, starring in Netflix's horror drama Choose Or Die and securing pivotal roles in films like Watch the Skies, Flux Gourmet, The Liar, and College Republicans.
As a seasoned actor, Asa Butterfield amassed an impressive net worth of $5 million, indicative of his success. His star-studded career includes his remarkable performance in The Boy in the Striped Pyjamas at age 10 and a runway modeling stint for Prada.
He has also navigated personal relationships, having dated Ella Purnell, his co-star from Miss Peregrine's Home for Peculiar Children, and sparking speculations about a relationship with Nina Dobrev in 2017.
2. Emma Mackey as Maeve Wiley – 5ft 7 in. (170.2 cm)
Standing at 5 feet and 7 inches (170.2 cm), Emma Mackey brings the enigmatic Maeve Wiley to our screen, portraying the complex teen prodigy who navigates a challenging school life while being the mastermind behind Otis' sex therapy sessions and his secret crush.
Hailing from France and born on January 4, 1996, the 27-year-old commands the screen with her presence. Despite being relatively unknown, her portrayal of Maeve catapulted her into global recognition, securing her a BAFTA TV nomination for Best Female Comedy Performance.
Emma Mackey stands at 5 feet and 7 inches with a net worth of around $150,000 (Credit: PA Images / INSTARimages)
Beyond her role in Sex Education, Mackey's career continues to soar. She's carving a promising path in Hollywood, from the romantic film Eiffel to the Agatha Christie thriller Death on the Nile, where she starred alongside Gal Gadot.
She was a part of the billion-dollar film Barbie opposite her doppelgänger Margot Robbie, culminating in a net worth of around $150,000, underscoring her potential.
While she keeps her personal life private, Mackey was previously linked to aspiring actor Dan Whitlam and is currently in a relationship with film director and photographer Martin Aleman.
3. Gillian Anderson as Jean Milburn – 5ft 2 ¼ in. (158.1 cm)
Born on August 9, 1968, with a height of 5 feet and 2 ¼ inches (158.1 cm), Gillian Anderson breathes life into Otis' mother and renowned sex therapist Jean Milburn, a character struggling with commitment amidst her expertise in sex education.
Recognized for her iconic role as Agent Dana Scully in The X-Files, the 55-year-old British-American actress has also left her mark in acclaimed series like Hannibal and The Fall, as well as box office hits including Johnny English Reborn and The Spy Who Dumped Me.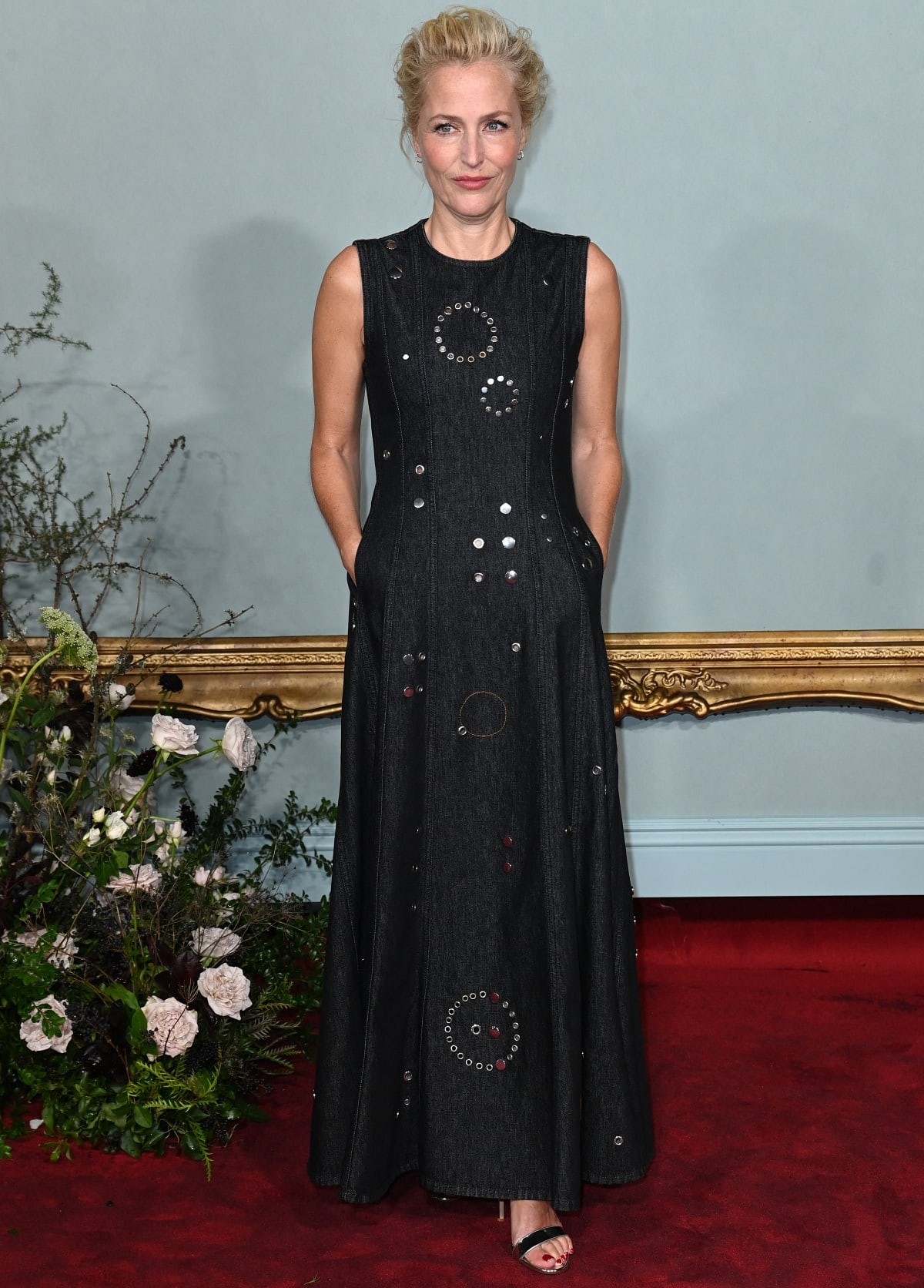 Gillian Anderson has a height of 5 feet and 2 ¼ inches, and she has an outstanding net worth of $40 million (Credit: Stuart Hardy / ABACA / INSTARimages / Cover Images)
Anderson has graced our screens in various roles, notably portraying Eleanor Roosevelt on The First Lady and engaging in the second season of Hulu's The Great.
With a whopping net worth of $40 million, her achievements are a testament to her success in TV, film, and theater.
Anderson was in a relationship with screenwriter Peter Morgan, creator of Netflix's The Crown, but their romance ended in 2021.
4. Ncuti Gatwa as Eric Effiong – 5ft 9 ¾ in. (177.2 cm)
Ncuti Gatwa, or Eric Effiong in Sex Education, stands tall at 5 feet and 9 ¾ inches (177.2 cm). He portrays Otis' best friend, navigating the challenges of being openly gay in a conservative African household while facing school bullying.
Born on October 15, 1992, and a Royal Conservatoire of Scotland graduate, the 30-year-old Rwandan-Scottish actor's career began with limited credits, including his role in the 2015 mini-series Stonemouth.
Ncuti Gatwa stands at 5 feet and 9 ¾ inches, and he has a net worth of approximately $150,000 (Credit: Mario Mitsis / Cover Images)
Gatwa's impactful performance in Sex Education garnered him significant recognition, earning a BAFTA Scotland Award for Best TV Actor, two BAFTA Television Award nominations, and an MTV Movie Award nod.
His achievements led to his historic casting as the 14th incarnation of the Doctor in Doctor Who, making him the first Black actor to star in the show. He's also part of the 2023 Barbie movie alongside his Sex Education co-stars.
Despite challenges, including homelessness before his breakthrough role, Gatwa's estimated net worth of around $150,000 reflects his promising future in the industry.
While he was previously linked to Jessica Hardwick, Gatwa has chosen to keep his relationship status discreet as he continues to shine on television and the big screen.
5. Connor Swindells as Adam Groff – 6ft (182.9 cm)
Connor Swindells, the actor behind Adam Groff, is 6 feet (182.9 cm) tall and was born on September 19, 1996. He plays the troubled son of Headmaster Groff (portrayed by Alistair Petrie), known for his less-than-ideal relationship with his father and his passive-aggressive bullying of Eric.
The 26-year-old's acting career gained momentum with roles in feature films like The Vanishing and VS in 2018. Since then, he's made notable appearances on both the small and big screen.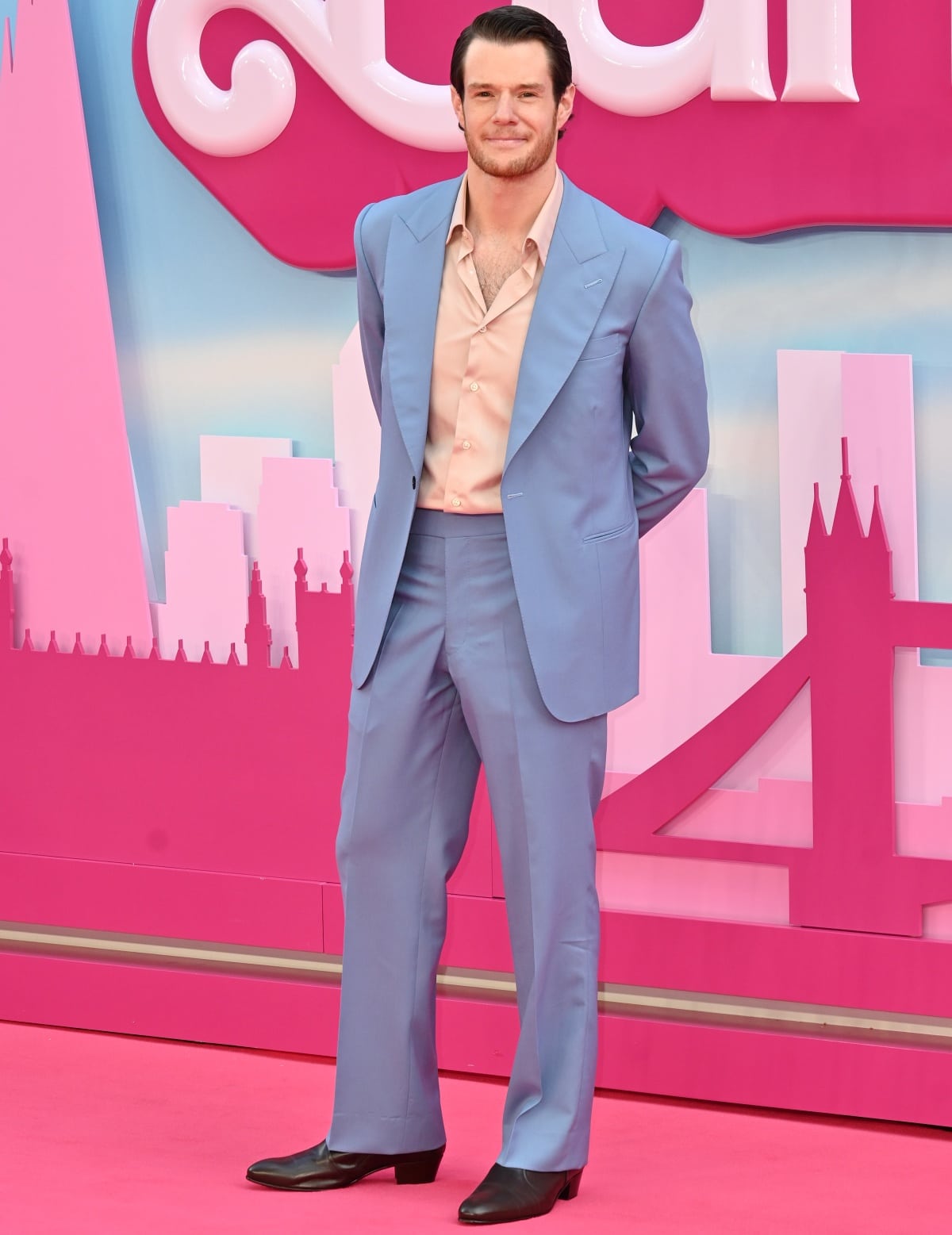 Connor Swindells towers at 6 feet and has a net worth of $200,000 (Credit: Nils Jorgensen / INSTARimages)
Swindells's breakout role in the show led him to subsequent projects, including a starring role in BBC's Vigil opposite Suranne Jones. He's also appeared in the historical miniseries SAS: Rogue Heroes and the 2023 Barbie movie, showcasing his diverse acting range.
With his success, Connor Swindells has accumulated a net worth of $200,000.
Despite his on-screen persona, he's been known to be a sweetheart off-screen. He was once romantically linked with his Sex Education co-star Aimee Lou Wood, charming fans with their chemistry, but they've since parted ways due to distance.
6. Aimee Lou Wood as Aimee Gibbs – 5ft 6 in. (167.6 cm)
Once a member of the popular clique called "The Untouchables," Aimee Gibbs, portrayed by Aimee Lou Wood, forms an unlikely friendship with Maeve. This connection leads to a touching moment when the girls of Moordale Secondary rally around Aimee after a traumatic experience.
The 29-year-old actress was born on February 3, 1994, and is 5 feet and 6 inches (167.6 cm) tall. Her portrayal of Aimee in Sex Education garnered critical acclaim, earning her the BAFTA TV Award for Best Female Comedy Performance in 2021 and a nomination in the same category in 2022.
Aimee Lou Wood has a height of 5 feet and 6 inches, and she has a net worth of $200,000 (Credit: Doug Peters / PA Images / INSTARimages)
Alongside her TV success, Wood made a lasting impression in theater, playing roles like Sonya in a 2020 production of Uncle Vanya. Her feature film debut came with the 2021 movie The Electrical Life of Louis Wain.
She continues to shine in the entertainment industry, taking on a role opposite Bill Nighy in the 2022 film Living, which gained recognition at its premiere during the Sundance Film Festival. Wood has also ventured into collaborations with renowned brands, including Levi's.
Aimee Lou Wood has an estimated net worth of around $200,000 as her career rises steadily, with achievements pointing to a promising future in television, cinema, and theater.
7. Kedar Williams-Stirling as Jackson Marchetti – 5ft 10 in. (178 cm)
Kedar Williams-Stirling, born on December 14, 1994, brings depth to the character of Jackson Marchetti. Playing the head boy and swimming champion at Moordale, he grapples with anxiety and his desire to break free from a demanding athletic path.
The 28-year-old English actor, who stands at 5 feet and 10 inches (178 cm), started acting young, performing in school plays alongside renowned figures like Akshay Sabnis. He further honed his skills at esteemed institutions like Sylvia Young Theatre School and Italia Conti Academy of Theatre Arts.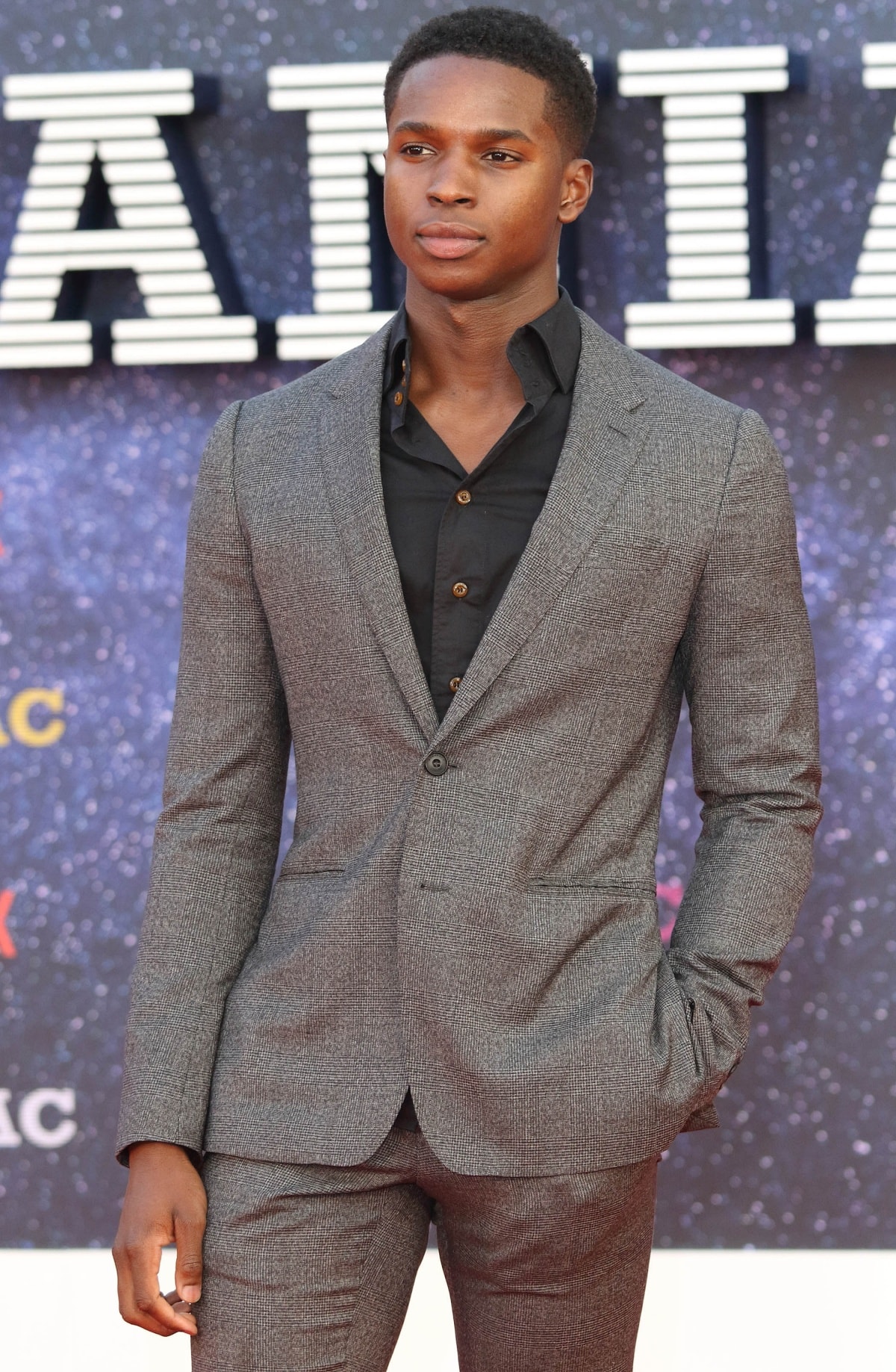 Kedar Williams-Stirling stands at 5 feet and 10 inches, and he has a net worth of $350,000 (Credit: Keith Mayhew / IPA / INSTARimages)
He had notable roles in British films such as Shank and Montana and gained recognition through the CBBC television series Wolfblood and Will.
Kedar Williams-Stirling's career took a significant leap when he was cast in the Netflix original series Sex Education, released in January 2019 to critical acclaim.
His talent and dedication have propelled him into the spotlight, earning him a net worth of $350,000.
8. Mimi Keene as Ruby Matthews – 5ft 2 ½ in (158.8 cm)
Mimi Keene, born on August 5, 1998, portrays Ruby Matthews, the leader of "The Untouchables," whose journey unfolds as she navigates her complicated relationship with Otis. Despite her surface demeanor resembling that of a Kardashian, she carries the complexities of seeking friendship and love.
With a height of 5 feet and 2 ½ inches (158.8 cm), her acting career gained momentum through her portrayal of Cindy Williams on EastEnders, which earned her nominations for both the British Soap Award and the Inside Soap Award.
View this post on Instagram
Her talents have since led her to feature films like Close, Tolkien, and The Electrical Life of Louis Wain alongside Benedict Cumberbatch. She will also appear in the upcoming 2023 film After Everything alongside Hero Fiennes Tiffin and Josephine Langford.
Beyond her screen roles, Keene has become a sought-after figure for photoshoots and brand collaborations, featured in Vanity Fair, Wonderland magazine, Claridge's, and Harper's Bazaar UK.
At 25 years old, Mimi Keene's net worth is estimated at around $600,000. While her professional life thrives, her romantic status remains private, maintaining a focus on her burgeoning career.
9. Mikael Persbrandt as Jakob Nyman – 6ft 2 ½ in. (189 cm)
Mikael Persbrandt, standing tall at 6 feet and 2 ½ inches (1.89 m), is the handsome widowed Swedish handyman Jakob Nyman. His character's love story with Dr. Jean Milburn unfolds with masculinity and tenderness, yet lingering doubts arise due to past flings.
Born on September 25, 1963, the 59-year-old actor's illustrious career includes roles like Beorn in The Hobbit films and Alexander Zalachenko in The Girl in the Spider's Web.
Mikael Persbrandt towers at 6 feet and 2 ½ inches, and he has an estimated net worth of $5 million (Credit: Marechal Aurore / ABACA / INSTARimages)
A distinguished figure in both theater and cinema, Persbrandt's performance in Everlasting Moments and Nobody Owns Me earned him two Guldbagge Awards for Best Actor.
With an estimated net worth of $5 million in 2023, Mikael Persbrandt's career has proven financially and artistically rewarding.
Off-screen, he's a loving partner, married to Sanna Lundell since 2005, and a proud father of three children.