The highly anticipated Barbie movie is coming to theaters next week. And throughout the press tour for the fantasy comedy film, in which she plays the titular character, Margot Robbie has been wearing ensembles inspired by vintage Barbie as a sartorial homage to the world's most iconic doll.
"We're finding Barbie references from decades past and just doing it really for the big Barbie fans out there, people who are actually collecting those Barbies. We're hoping to get them excited. We're pairing Barbie references with great designers," Robbie told People at the Los Angeles premiere of her latest project.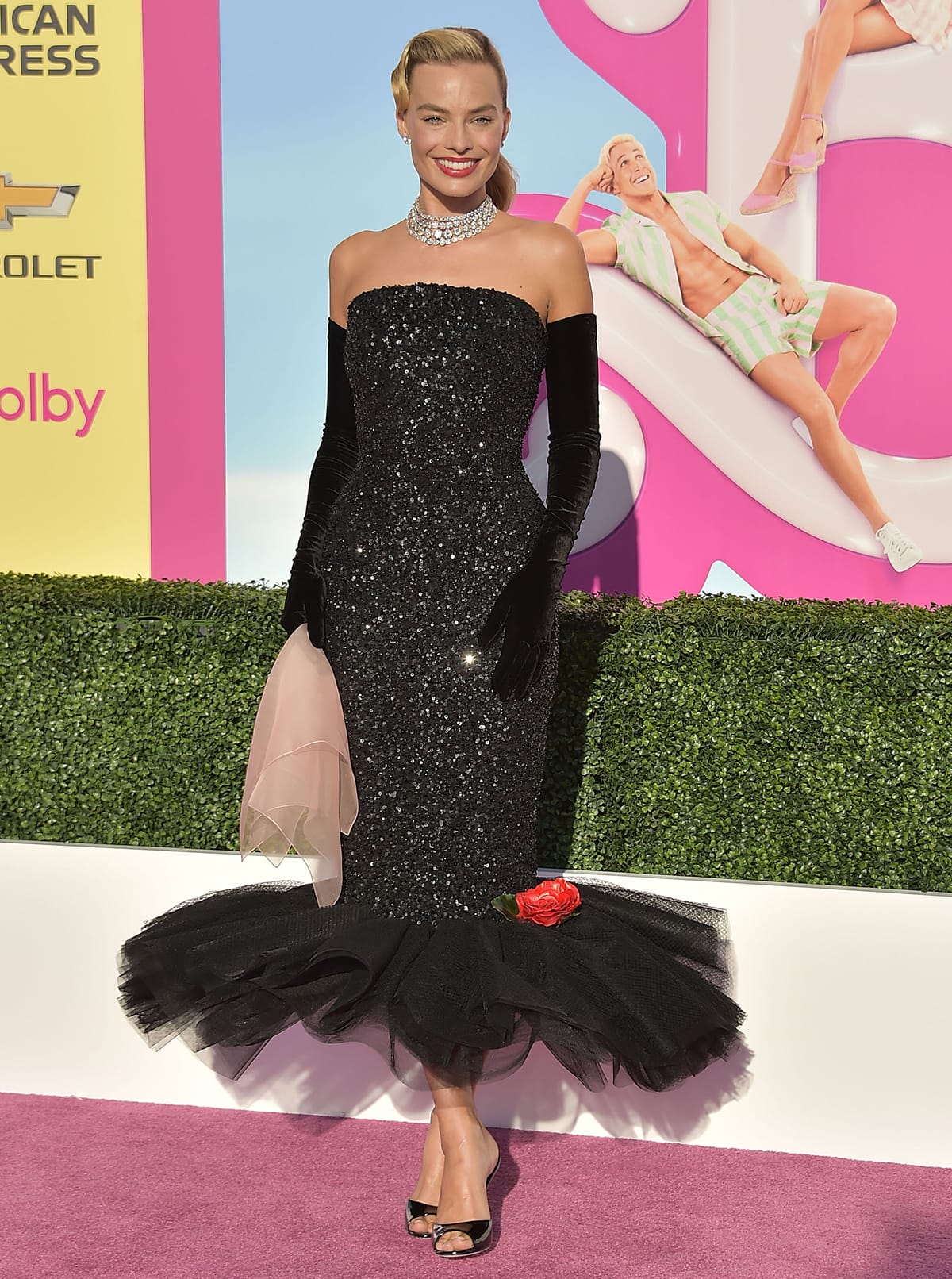 Margot Robbie channels 1960 Barbie Solo in the Spotlight in a form-fitting trumpet gown by Schiaparelli at the Los Angeles premiere of Barbie held at the Shrine Auditorium on July 9, 2023 (Credit: DDP / INSTARimages)
In true Barbie fashion, Margot Robbie attended the Barbie world premiere clad in a skin-tight, shimmering black gown, which was a direct nod to the Barbie Solo in the Spotlight doll from 1960.
The trumpet-style gown, custom designed by Schiaparelli's creative director Daniel Roseberry, was an exact replica of the said vintage Barbie look.
It was fully embroidered with sparkling black sequins and featured a strapless neckline and a structured multilayered black tulle hem topped with a 3D red rose applique.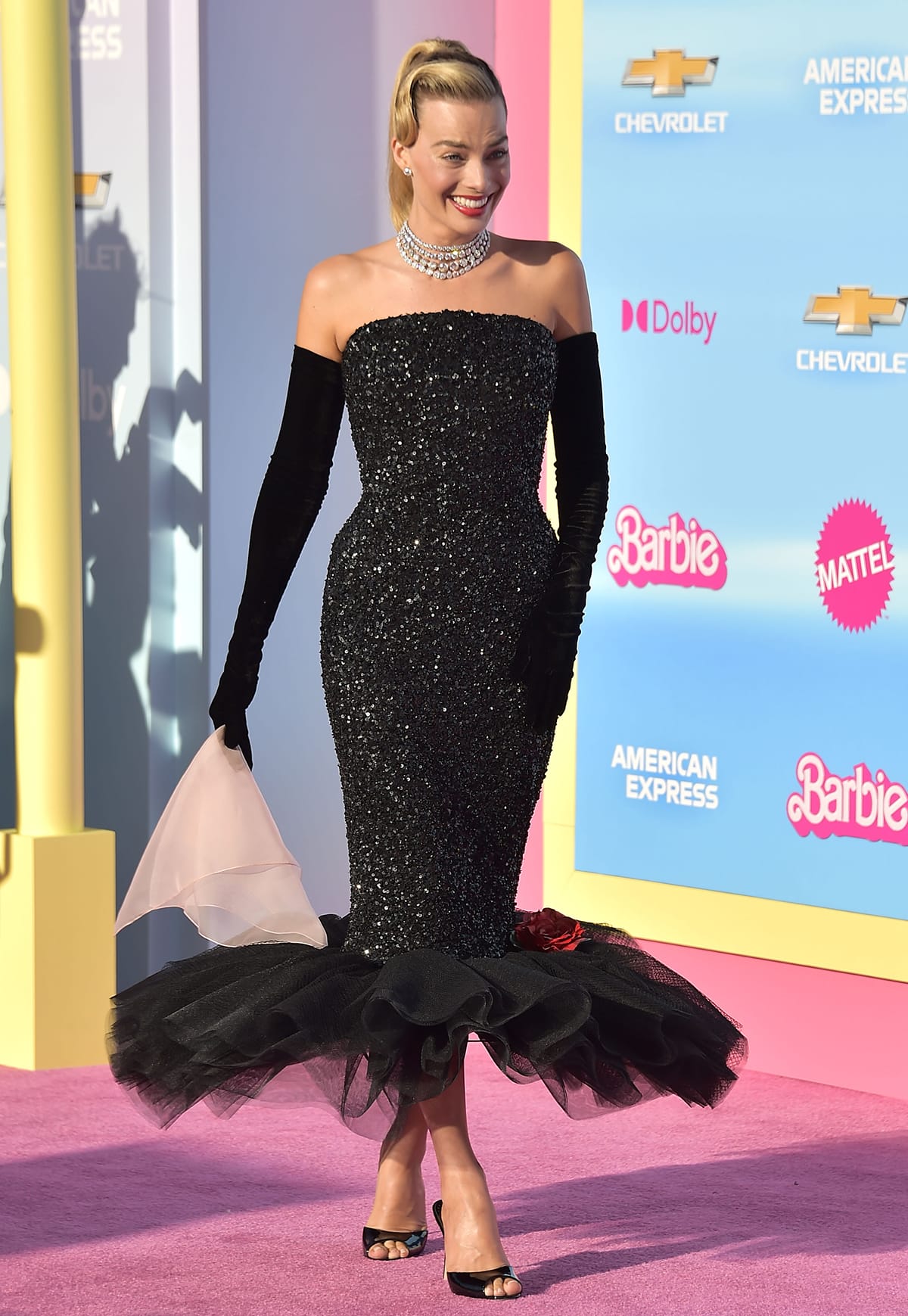 Margot Robbie's gown features sparkling sequin embellishments and a structured hem with a 3D red rose applique (Credit: DDP / INSTARimages)
The Suicide Squad star commissioned stylist Andrew Mukamal to help her fully embody retro Barbie. He paired her figure-flattering gown with long, black velvet opera gloves.
He adorned her with dazzling Lorraine Schwartz 19-carat diamond stud earrings, a 10-carat ring, and a 350-carat diamond necklace, which, per diamond experts, is worth $1 million.
He also styled her with a pale pink handkerchief and a black pair of Manolo Blahnik Jadarona peep-toe mules to recreate the Barbie look.
Robbie completed the retro glamour by wearing a 1960s ponytail hairstyle created by hairstylist Bryce Scarlett using Tangle Teezer's The Wide Tooth Comb, The Ultimate Detangler, and The Ultimate Styler.
She also worked with makeup artist Pati Dubroff, who ditched Barbie's blue eyeshadow for a soft pink makeup look with a bright red lip color.
Margot Robbie completes her 1960s Barbie look with opera gloves, diamond jewelry, a retro ponytail, and a bright red lip color (Credit: DDP / INSTARimages)
Before the global premiere, Margot Robbie was pictured posing alongside Ryan Gosling, who plays Ken in the movie, at the Barbie photocall in Mexico.
In yet another vintage-style Barbie look, the Babylon star channeled 1992 Totally Hair 25th Anniversary Barbie in a Pucci minidress designed with the Italian fashion designer's iconic 1960s psychedelic Iride-print pattern in pink, purple, and yellow tones.
The thigh-grazing body-con dress featured a high neckline, long sleeves, and an asymmetric fluted hem, showcasing her slender physique and long, lean legs.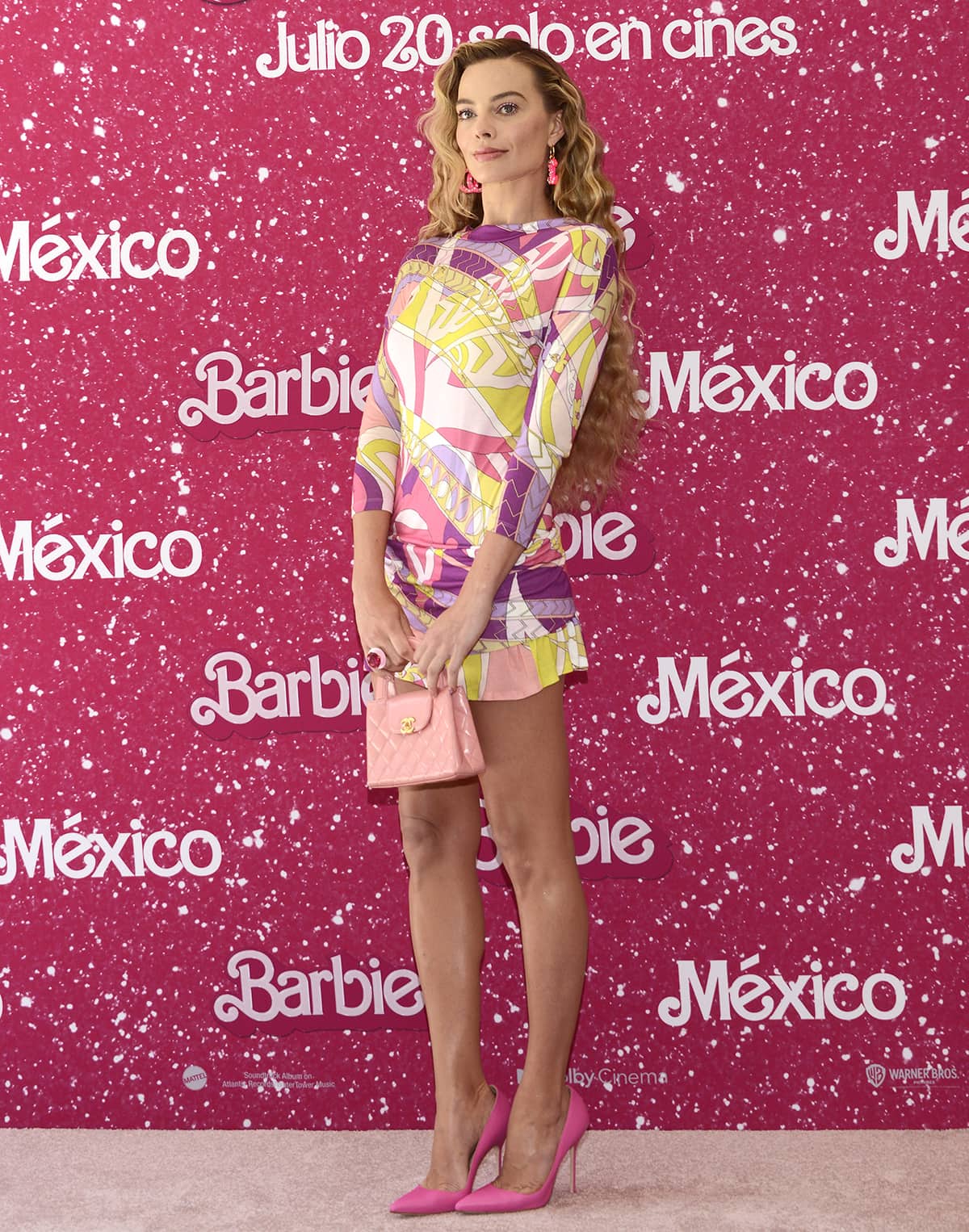 Margot Robbie opts for 1992 Totally Hair 25th Anniversary Barbie in a Pucci minidress with psychedelic Iride-print pattern in pink, yellow, and purple tones at the Mexico City photocall of Barbie on July 7, 2023 (Credit: Carlos Tischler / EyePix / INSTARimages)
With the assistance of her stylist Andrew Mukamal, the Legend of Tarzan actress matched the heavily-printed dress with a light pink quilted micro top-handle bag from Chanel's Fall 2023 collection and hot pink leather Manolo Blahnik BB pumps with sharp pointed toes and 3-inch stiletto heels.
She kept the Barbie pink theme going by adorning her hand with a Tafffin Himalaya Tourmaline ring pop and her ears with large, hot pink resin Chanel double CC earrings with rhinestones.
Embracing full-on Totally Hair Barbie, The Wolf of Wall Street star parted her long golden locks to the side and mimicked Barbie's classic crimped mermaid waves sans the pink headband.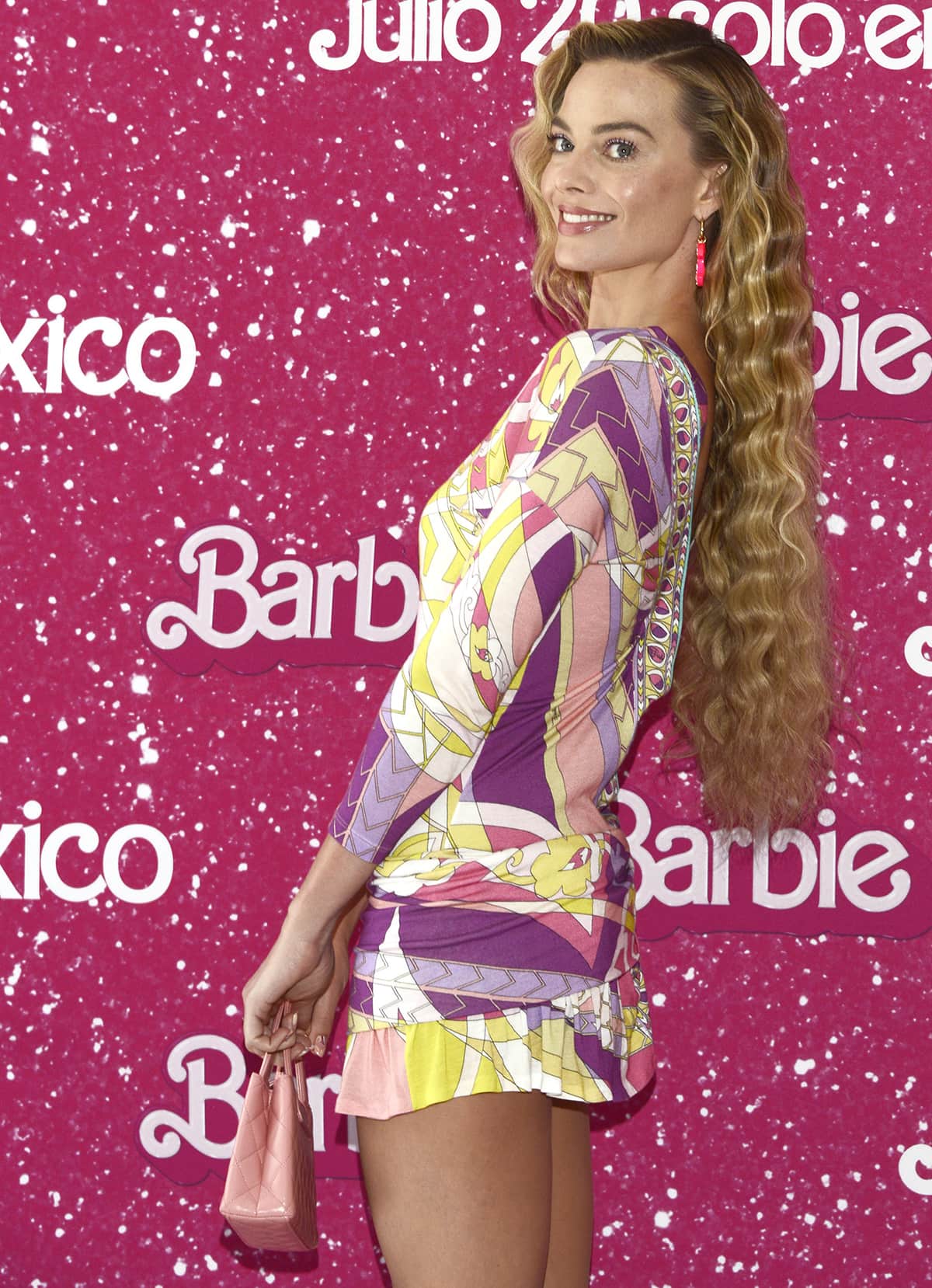 Margot Robbie fully embraces the vintage Barbie look with a retro crimped hairstyle (Credit: Carlos Tischler / EyePix / INSTARimages)
The Notebook's Ryan Gosling, on the other hand, appeared to be in character, showcasing his muscles in a short-sleeved pale green button-down shirt and belted black pants.
He wore a white tank top underneath and finished off the look with brown lace-up shoes and a neat blonde hairdo.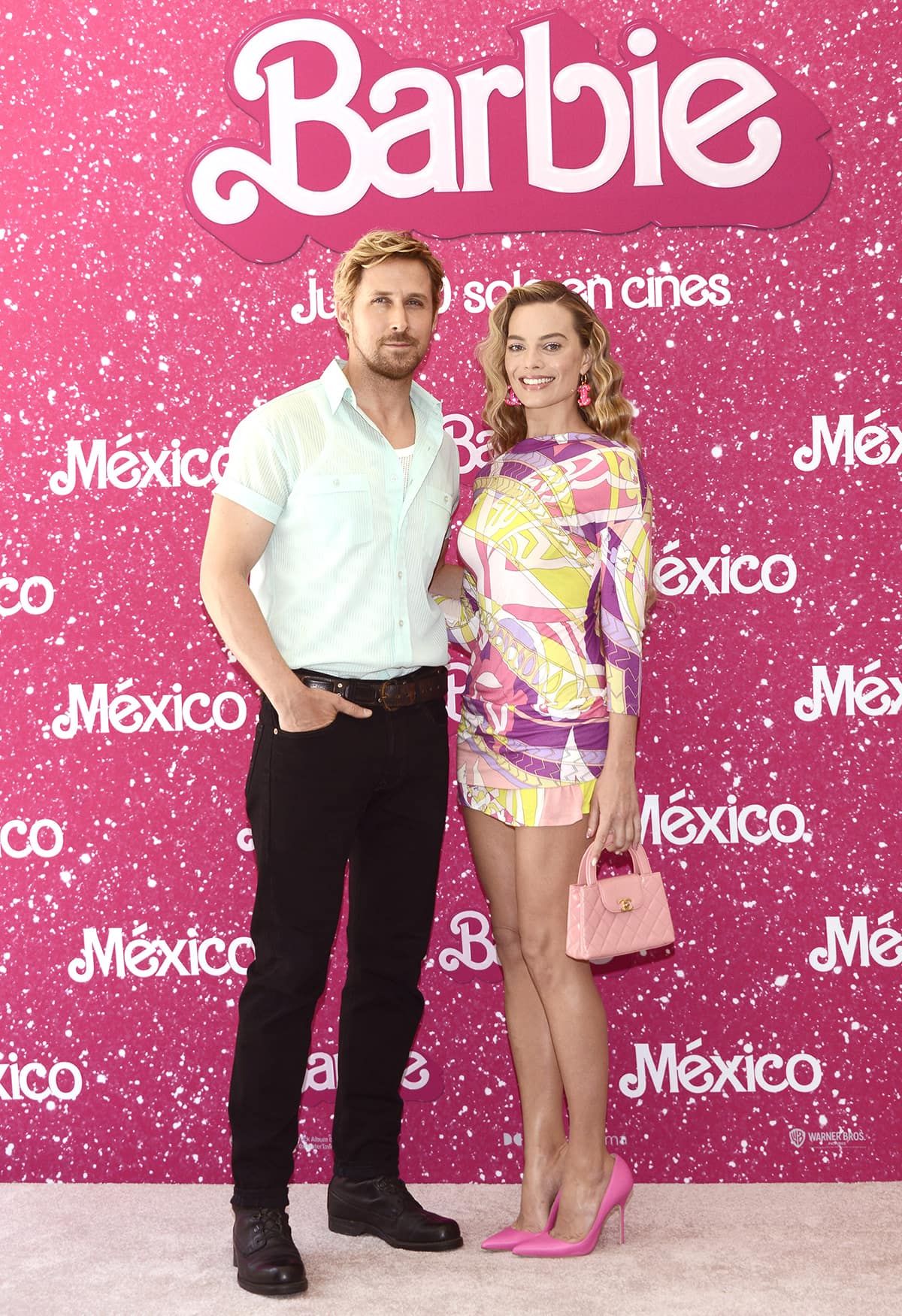 Margot Robbie is joined on the pink carpet by co-star Ryan Gosling, who dresses as his character Ken in a pale green shirt, black pants, and brown shoes (Credit: Carlos Tischler / EyePix / INSTARimages)
What Is the Barbie Movie About?
The upcoming live-action Barbie movie stars Margot Robbie as Barbie, who sets off on a self-discovery journey with her boyfriend Ken (Ryan Gosling) after going through a crisis that causes her to question her world and existence.
The Greta Gerwig-directed movie also stars America Ferrera as Gloria, a Mattel employee who finds Barbie in the real world, Kate McKinnon as Weird Barbie, Issa Rae as President Barbie, Rhea Perlman as Barbie creator Ruth Handler, and Will Ferrell as the CEO of Mattel.
Gerwig also co-wrote the fantasy comedy film, scheduled to be released theatrically on July 21, with her longtime partner Noah Baumbach.
Discover some intriguing details about the upcoming "Barbie" film!

Ryan Gosling's decision to portray Ken was inspired by his daughter's muddy Ken doll next to a squished lemon, capturing his imagination and prompting him to share the photo with Greta Gerwig.

Michael Cera… https://t.co/bEIykuJxGu

— Your Next Shoes (@yournextshoes) July 14, 2023