Hailee Steinfeld ensured all eyes were on her at the "Ender's Game" press event held during the 2013 Comic-Con in San Diego.
And, when we say, "all eyes were on her?" We mean that quite literally! The actress donned a red crepe dress from Kenzo that featured all-over eye prints.
…We think it's safe to say the dress was also fairly eye-catching.
Hailee Steinfeld curls her hair and wears an eye-printed Kenzo dress to the 2013 Comic-Con event held on July 17 , 2013, in San Diego (Credit: Mike Arnoldi / WENN)
At the age of 16, Hailee Steinfeld delivered a captivating performance as Petra Arkanian in the 2013 science-fiction action-adventure film "Ender's Game," adapted from the book by Orson Scott Card that you can buy on Amazon.
The U.S. Marine Corps has included the book in its recommended reading list for officers. It has been praised for its depiction of military training and leadership and its exploration of ethical dilemmas in a combat setting.
Asa Butterfield, Hailee Steinfeld, Harrison Ford, and Viola Davis arrive at the Los Angeles Premiere of Ender's Game on October 28, 2013, at TCL Chinese Theatre in Hollywood, California (Credit: Featureflash Photo Agency / Shutterstock)
The lead actors in the 2013 film Ender's Game were Asa Butterfield, Harrison Ford, Viola Davis, and Abigail Breslin.
Asa Butterfield was 16 years old, Harrison Ford was 71, Viola Davis was 48, and Abigail Breslin was 17 at the time of the film's release in Germany on October 24, 2013.
Before filming, Asa Butterfield, Hailee Steinfeld, and several other cast members who played Battle School cadets in the movie underwent training for zero gravity sequences by attending Space Camp.
The training included wire work to simulate floating in space, which proved challenging due to the tight harnesses and skintight neoprene wetsuits covered in pads and rubber that the actors had to wear.
Hailee Steinfeld stars in Ender's Game alongside Asa Butterfield, who plays Ender Wiggin, a brilliant youngster sent to a military academy in space to prepare for an alien invasion (Credit: Lionsgate)
"It was like a sauna," Butterfield said at Comic-Con. "Because of the sound, filmmakers couldn't run air conditioning to keep us cool." Steinfeld added, "It is very uncomfortable and hard at first, to say the least."
However, the training allowed them to immerse themselves in the world of "Ender's Game."
"We're sitting here talking about how uncomfortable it was, but the situation you're in is uncomfortable and it works, and you're able to use that and take advantage of that," Steinfeld said. "We'll go to space in 50 years and see if the spacesuits are comfortable," she laughed.
Hailee Steinfeld played Petra Arkanian, a skilled soldier and close friend to Ender Wiggin, while Asa Butterfield played the lead role of Ender Wiggin, a highly intelligent and strategic young boy, in the 2013 movie adaptation of Ender's Game (Credit: Lionsgate)
Gavin Hood's film adaptation of Orson Scott Card's novel "Ender's Game" faced the challenge of finding an actor who could capture the complexity of the central character, Ender Wiggin.
Hood told The Los Angeles Times, "He had to be young enough to be a boy at the start of the story and old enough at the end of the story to become a man."
Ender is tasked with saving the planet in a war against aliens and becoming a moral compass for mankind before he is old enough to have a beer.
Hood initially considered casting multiple actors for the role but ultimately decided on Asa Butterfield, who could deliver Ender's "raw emotional power" while showing his kindness, compassion, intelligence, and capacity for violence and aggression.
Butterfield said that Ender was the most complex character he had played, and much of the preparation for the role was physical. The trainees in the movie engaged in an intricate, zero-gravity game analogous to weightless laser tag.
Director Gavin Hood faced the challenge of finding an actor capable of portraying the complex character of Ender Wiggin in the film adaptation of Orson Scott Card's novel "Ender's Game," ultimately choosing Asa Butterfield for the role, who had to prepare physically for the movie's zero-gravity scenes, and the film's central message is how young people sometimes have to mature faster than they should (Credit: Jaguar PS / Shutterstock)
Butterfield worked with acrobats from Cirque du Soleil to prepare for the scenes. The actors also studied with astronauts to learn about zero-gravity movement.
Butterfield, who was a massive sci-fi fan, had not read the book before the role came along but felt daunted by the fact that the character was loved by so many people. He grew about 2 inches during filming, which was a nightmare for the costume department, and his voice had started to deepen when he was called back to re-record some dialogue. Butterfield said that one of the film's messages is that young people sometimes have to grow up faster than they should.
In the film adaptation of Ten Thousand Saints, which premiered on January 23, 2015, at the 2015 Sundance Film Festival, Hailee Steinfeld played the role of Eliza, starring alongside her Ender's Game co-star Asa Butterfield (Credit: Screen Media Films)
Two years later, Hailee Steinfeld was cast as Eliza in the 2015 movie "Ten Thousand Saints," which also starred Asa Butterfield, her co-star from "Ender's Game."
At the 2013 Comic-Con in San Diego, Hailee styled her unique dress with a pair of Christian Louboutin "Resillissima" pumps.
These black leather pumps feature fishnet uppers and ankle straps, which give them a bootie-like appearance.
Hailee Steinfeld's feet in fishnet-accented Christian Louboutin pumps (Credit: Mike Arnoldi / WENN)
The "Resillissima" pumps are from the famous shoe designer's Fall 2013 collection and feature buckle accents, almond toes, 4-inch heels, and Louboutin's trademark red soles.
Hailee Steinfeld's feet in black leather "Resillissima" pumps (Credit: Mike Arnoldi / WENN)
We couldn't find this exact version of the "Resillissima" pumps online, but we did find a similar pair with 2-inch-high platforms at Bergdorf Goodman.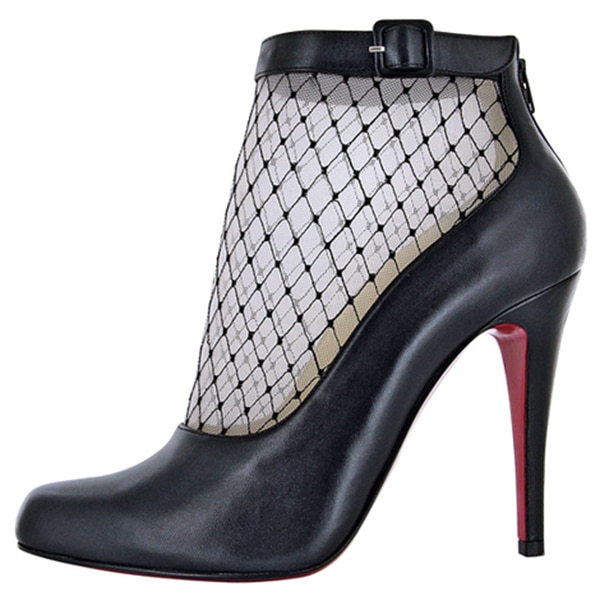 Christian Louboutin 'Resillissima' Boots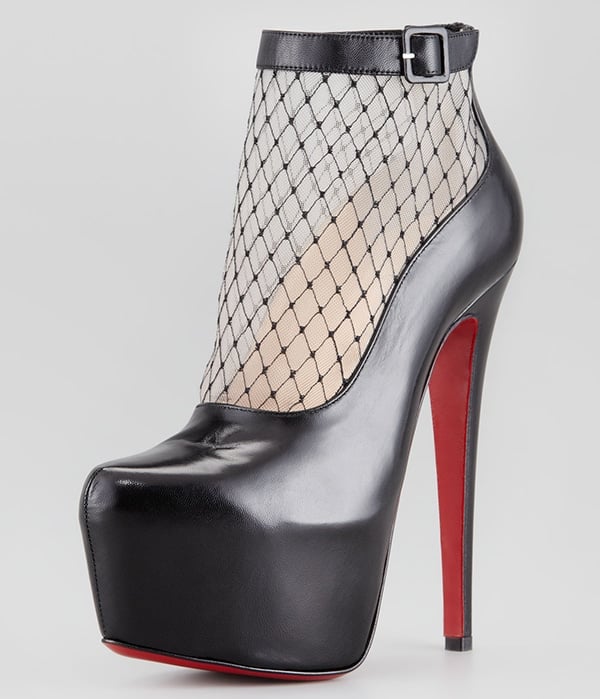 Christian Louboutin "Resillissima" Platform Booties, $1,295