In January 2016, Viola Davis attended the Disney/ABC 2016 TCA Winter Press Tour held at the Langham Hotel in Pasadena. She was accompanied by her husband, Julius Tennon, who looked smart in a brown shirt, a beige jacket, a pair of trousers, and leather shoes.
They met on the set of City of Angels, an American medical drama television series with a predominantly black cast that ran for two seasons on CBS from January 16 to December 21, 2000.
Julius Tennon and his wife Viola Davis met for the first time on the set of City of Angels
"I was eating a bagel," she told People Magazine in August 2016. "Listen, every day was about what was at craft services. That was a time when I wasn't thinking about diets, so I was eating a cinnamon raisin bagel with tuna fish on it. And I was complaining about Los Angeles, which I did on a day-to-day basis. He came up to me and he had his bag over his shoulder, and he was like 'Hey', because we had just done a scene, and the only thing I thought was 'He's good looking, he's really good looking.'"
Julius Tennon and Viola Davis arrive at the 71st Annual Primetime Emmy Awards held at Microsoft Theater L.A. Live on September 22, 2019, in Los Angeles, California, United States
"I didn't call him for six weeks. I had bad credit at the time. I had anxiety attacks from driving. I had to work out some personal issues first, like finding a place to live. So I didn't want to be that woman that had so many issues going into a relationship. But all the anxiety and the angst and all those things that I had — the minute we started dating, all of it went away."
Viola Davis wore her short hair down in tousled waves
"He was the anesthesiologist, Dr. Holly, and I was Nurse Lannett. We were passing blood in a scene. He knew how lonely I was. I was out in L.A. and I hated it and he said, 'I'll show you around Los Angeles. I'll show you around the Santa Monica pier."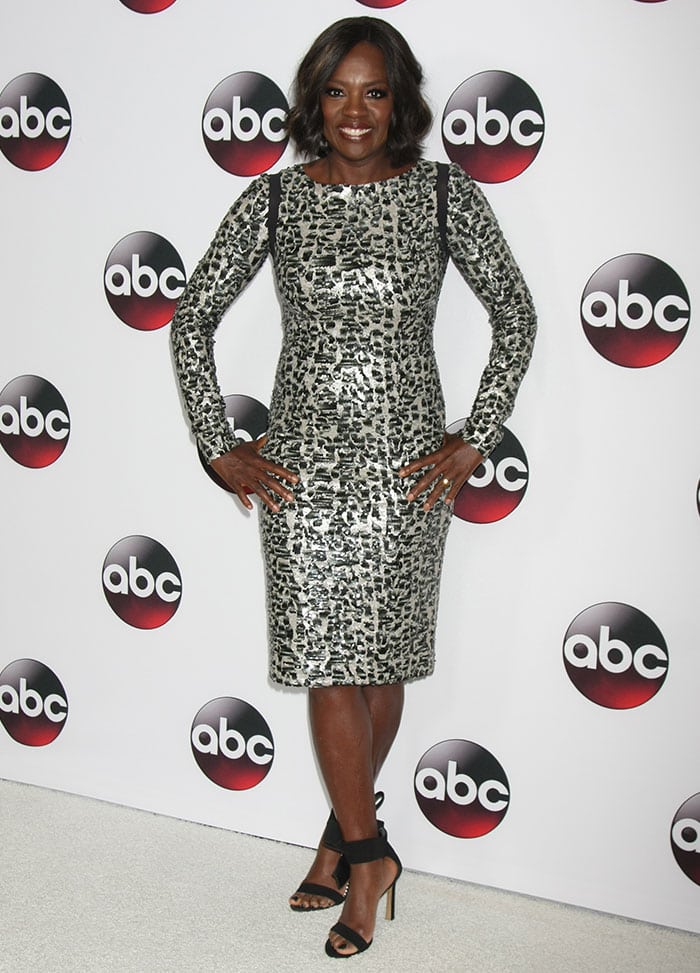 Viola Davis at Disney/ABC Winter TCA Tour held at The Langham Huntington Hotel in Pasadena, California on January 9, 2016
Davis married Julius Tennon in on June 23, 2003. In 2011, they adopted an infant daughter, Genesis Tennon. Their only child voiced ViVi in The Angry Birds Movie 2, a 2019 computer-animated comedy film.
Known for Dazed and Confused (1993), Small Soldiers (1998), and Faster (2010), Tennon had two children with two different partners before he met Viola.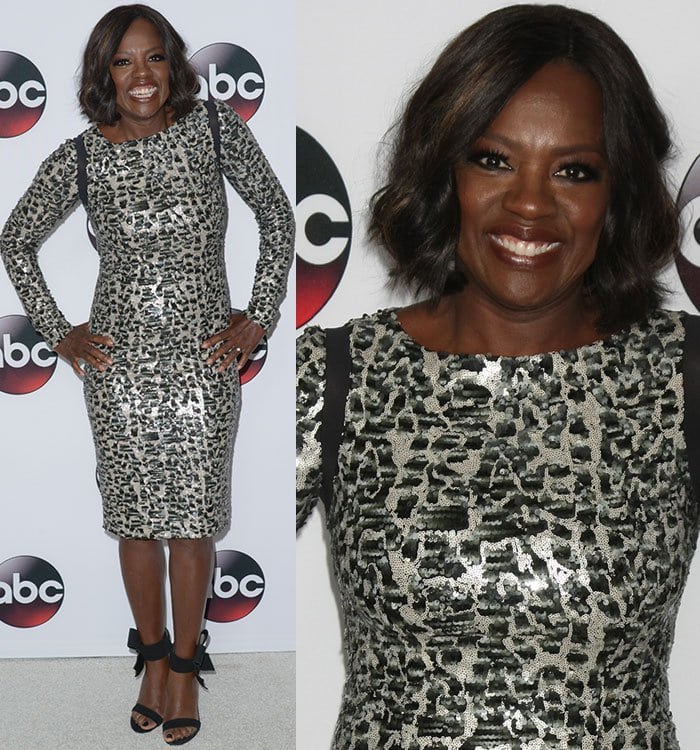 Viola Davis shimmered in a sequin-covered long-sleeve dress
The "How to Get Away with Murder" star shimmered in a sequin-covered long-sleeve dress that showcased her figure. With its bold, leopard-print pattern, the dress had Viola looking fierce and feminine — two characteristics she rocks very well. She wore minimal accessories and slipped into a pair of black sandals to complete her ensemble.
Viola wore her short hair down in tousled waves and finished off her look with neutral makeup.
For her feet, the mom-of-three chose Betsey Johnson's "Friskyy" sandals. The suede shoes feature ankle straps with large feminine bow detail on the lateral sides. They also boast open toes, back zip fastenings, and about 4.5-inch slightly flared stiletto heels.
Viola Davis showed off her feet in Betsey Johnson sandals
These Betsey Johnson sandals are available in different versions at Zappos and Amazon. Also, make sure to check out how fashion blogger Ivonne Stacy styled them!
Betsey Johnson Friskyy Sandals, $45.21 – $129.99
Credit: Charlie Steffens / Nicky Nelson / WENN / Ivonne Stacy / Avalon