While our interest in the private lives of celebrities is most often centered on who's dating who or surprise pregnancies, knowing the deeply held beliefs of cultural influencers can be entertaining but can also help us understand the art they create.
Some of the most well-known stars are private about their religious beliefs, but others tend to be much more vocal about their belief in God.
Celebrity Faith Journeys
Some see their fame as an opportunity to speak out about their faith, while others send a clear message about their faith-related values in their work. Here are a few names you'll recognize, along with what they've said about their Christian faith:
1. Justin Bieber: Embracing Faith and Artistic Expression
Pop sensation Justin Bieber began to grow in his faith after building a relationship with pastor Judah Smith, pastor of Churchome in the Seattle area.
View this post on Instagram
Bieber describes their relationship, saying Smith never wanted anything from him. Bieber's 2014 baptism as part of Hillsong Church NYC seemed to be a turning point in his faith.
Justin Bieber has openly embraced a form of evangelical charismatic Christianity (Credit: MEGA / WENN)
The Canadian singer says that faith, like his marriage, "didn't depend on him performing in exchange for money."
In an interview with GQ magazine, Bieber describes his understanding of God, saying, "He is grace…Every time we mess up, He's picking us back up every single time. That's how I view it. And so it's like, 'I made a mistake. I won't dwell in it. I don't sit in shame. But it actually makes me want to do better."
View this post on Instagram
2. Chyler Leigh: Overcoming Adversity Through Faith
Chyler Leigh – who you may know as Lexie Grey from Grey's Anatomy or Alex Danvers on the CW's Supergirl – and her husband Nathan West credit their church with helping them overcome drug addiction.
Chyler Leigh was just 16 when she met her husband, Nathan West, at an audition for the pilot of an unsuccessful WB series titled Saving Graces (Credit: Brian To / WENN)
While filming 2001's "Not Another Teen Movie," director Joel Gallen told Leigh she was looking too thin.
Gallen's comment caused Leigh and her husband to realize their drug addiction was out of control, and the couple began attending church.
Christian actress Chyler Leigh says her faith helped her stop using drugs (Credit: FayesVision / WENN)
Leigh told Lisa Ingrassia of People, "In the beginning [church] was a hard pill to swallow…I realized there was so much more to life," she says.
"It was like when the light switches on; you can't see something the same way again. We made the decision to quit everything." The couple converted to Christianity and married the next year.
3. Chris Pratt: Finding Strength in Faith During Adversity
Chris Pratt first rose to fame playing Andy Dwyer on NBC's "Parks and Recreation," and has become known for starring roles in Passengers, Guardians of the Galaxy, and Jurassic World.
After Pratt's son with ex-wife Anna Faris was born prematurely, Pratt found a renewed drive to pray. "We were scared for a long time. We prayed a lot," Chris told People of Jack's health scare after his birth on August 25, 2012.
"It restored my faith in God, not that it needed to be restored, but it really redefined it. The baby was so beautiful to us, and I look back at the photos of him and it must have been jarring for other people to come in and see him, but to us, he was so beautiful and perfect."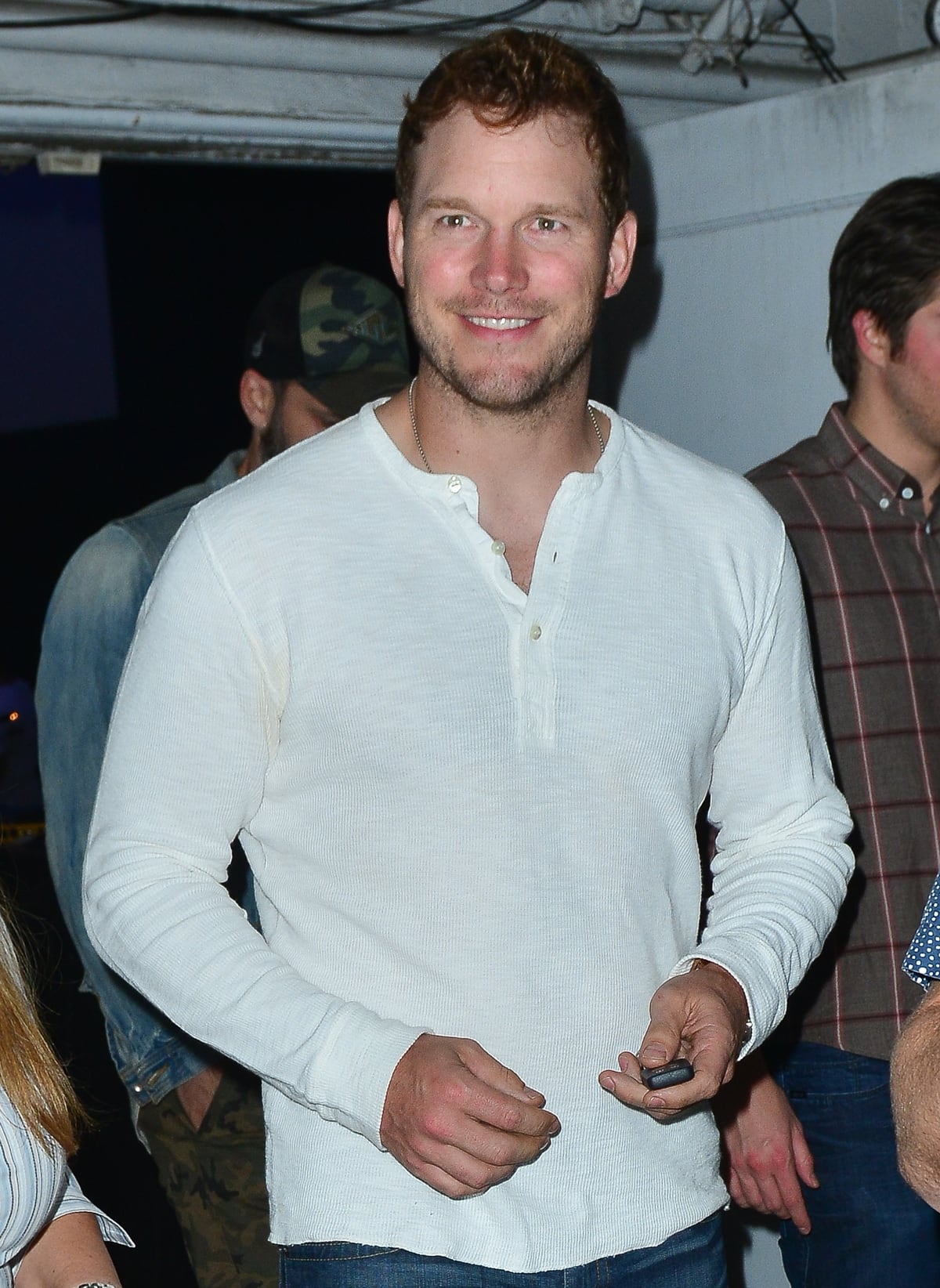 Chris Pratt is a committed Christian and regularly attends church service (Credit: WENN)
Pratt now regularly attends services at Zoe Church in Los Angeles with his wife Katherine Schwarzenegger, whom he even met in church.
In 2019, he came under fire after transgender man Elliot Page accused his church of anti-LGBTQ+ views.
View this post on Instagram
He responded on Instagram Stories to the allegations by stating, "It has recently been suggested that I belong to a church which 'hates people' and is 'infamously anti-LGBTQ. Nothing could be further from the truth. I go to a church that opens their doors to absolutely everyone."
4. Candace Cameron Bure: A Vocal Advocate for Christian Beliefs
Best known for her role as DJ Tanner on the hit 90's sitcom "Full House," Candace Cameron Bure is one of the most outspoken Christian actresses on the screen these days.
Christian actress Candace Cameron Bure in a Prabal Gurung dress at the 10th Annual Veuve Clicquot Polo Classic Los Angeles at Will Rogers State Historic Park on October 5, 2019, in Pacific Palisades, California (Credit: Avalon / WENN)
Bure says on her personal website, "…I feel that the most life-changing [role] I identify with is "Christian." I am a Christian woman who loves Jesus and seeks to give Him the glory above all else."
Candace Cameron Bure shows off her sweaty size 7 (US) feet in a pair of PVC slides (Credit: Avalon / WENN)
She goes on to state, "I finally learned that God's standard of goodness is different from the world's standard, and for the first time I saw myself as a sinner. I really understood that I broke the law, that Jesus paid my fine, and that there was no love greater than that. He rescued me, He saved me, He delivered me, and knowing those truths led me to real repentance and change. Out of gratitude for what Jesus did for me, I started to live a life of service to Him, and my deepest desire is to hear Him say, "Well done, good and faithful servant."
5. Stephen Colbert: Rediscovering Faith Amid Loss
In 2019, an interview between Anderson Cooper and talk show host Stephen Colbert about grief went viral. In it, Colbert spoke openly about how his faith strengthened him in the midst of losing his father and brothers.
However, according to a 2018 interview with Father James Martin, Colbert had defined himself as an atheist for some time. He described an encounter where he was handed a small New Testament while walking down the street in Chicago when he was 22 years old.
"I had lost my faith in God, to my great grief. I was sort of convinced that I had been wrong all this time that I had been taught something that wasn't true. And I was walking down the street and somebody handed me a little, green New Testament Proverbs and Psalms," he said about being handed the book in 1986.
Stephen Colbert reconnected with his Christian faith when he was given a pocket Bible as a young man in Chicago (Credit: WENN)
In the interview with Father James Martin on his Catholic talk show "Faith in Focus," Colbert recalled that the first passage he read was from Matthew Chapter 5.
The comedian said he immediately felt "lightened" after reading the passage. "For the first time I understood the real meaning of the phrase, it spoke to me. Like it read off the page. The words of Christ read off the page. There was no effort. I stood on that street corner in the cold and read that sermon. And my life has never been the same," Colbert said."
6. Selena Gomez: Balancing Spirituality With Fame
Known for her successful music career as well as the new hit Hulu series, "Only Murders in the Building," Selena Gomez describes herself as "very, very spiritual" and even took the stage at a Hillsong conference.
In a 2021 interview for Vogue, Gomez states, "I believe in God, but I'm not religious. I've been a Christian for a while now. I don't talk about it too much – I want to, but it's gotten a bad rep. I just want to make it clear that I love being able to have my faith, and believe in what I believe in, and that truly is what gets me through."
Selena Gomez is openly Christian but does not consider herself religious (Credit: MEGA / WENN)
Gomez states that her struggles with lupus have made her feel closer to God. In 2019, she described on Twitter what she felt God had said to her: "He said to me 'Selena hold on, I hurt when you hurt. I cry when you cry but I will NEVER, EVER leave your side. Work with me, walk with me and watch how I do it.'"
7. Denzel Washington: Guided by Faith Throughout His Career
Actor, director, and producer Denzel Washington finds his faith so important that he even considered becoming a preacher at one point.
Not related to Kerry Washington, he credits his Pentecostal upbringing with keeping him on the right path and helping him avoid the pitfalls he saw many of his friends encounter.
"I had that Pentecostal foundation and a mother who used to say, 'Son, you never know who's praying for you.' So maybe it wasn't my fate to fall into those traps," he said in an interview.
Denzel Washington's father was a Pentecostal preacher who belonged to the Church of God in Christ denomination (Credit: Avalon / WENN)
Raised by a pastor, Washington continues to credit his faith and involvement at church with the success of his marriage and the closeness of his family. As recently as September 2021, Washington was a featured speaker for a Christian men's conference.
Washington told the crowd of men, "Stay on your knees. Watch me, but listen to God…I hope that the words in my mouth and the meditation of my heart are pleasing in God's sight, but I'm human. I'm just like you. What I have will not keep me on this Earth for one more day. Share what you know, inspire who you can, seek advice. If you want to talk to one someone, talk to the one that can do something about it. Constantly develop those habits."
8. Carrie Underwood: Overcoming Challenges With Faith
Country star Carrie Underwood has never been shy about her faith, having topped the charts with 2005's hit, "Jesus Take the Wheel."
In 2021, she released a gospel album, "My Savior," a collection of classic hymns. In a 2018 interview on CBS Sunday Morning, Underwood describes her faith in the midst of struggling with multiple miscarriages.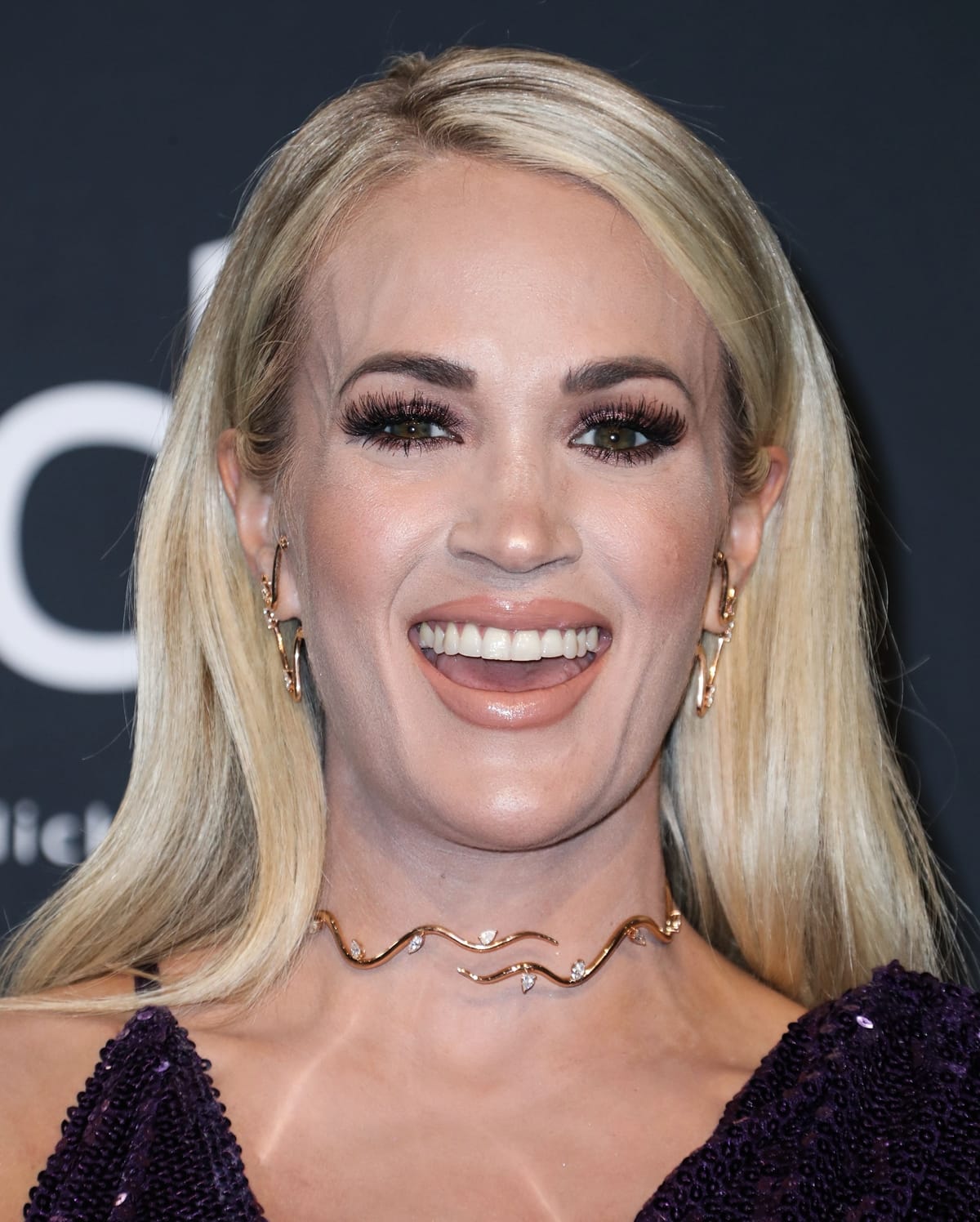 Carrie Underwood grew up in the Bible Belt and is open about how dedicated she is to her faith in Jesus Christ (Credit: Avalon / WENN)
After three miscarriages in a row, Underwood said that she became angry and asked God to intervene.
She said, "​​…for the first time, I feel like I actually told God how I felt. That was like a Saturday — and the Monday I went to the doctor to, like, confirm another miscarriage. And they told me everything was great!"
9. Chance the Rapper: Christian Faith in Music and Life
Chance the Rapper rediscovered his faith after his daughter was diagnosed with atrial flutter in utero. In an interview with GQ, Chance said that the diagnosis drove him to pray more.
"…It made me pray a whole lot, you know, and need a lot of angels and just see s*** in a very, like, direct way. And…you know, God bless everything, it worked out well." Chance now defines himself as a Christian rapper.
Grammy Award-winning artist Chance the Rapper, whose real name is Chancelor Jonathan Bennett, considers himself a Christian rapper (Credit: MEGA / WENN)
His 2016 album "Coloring Book" draws inspiration and collaboration from Christian artists including Chris Tomlin, Kirk Franklin, and Fred Hammond.
Chance's faith is more than just lip service – his Christian faith has deeply influenced his work since his self-described conversion.
10. Bella Ramsey: Young Talent Grounded in Faith
At only 19 years old, Bella Ramsey has made a name for herself in the entertainment industry.
She has already played iconic characters on television, such as Lady Mormont in Game of Thrones and, most recently, Ellie in the adaptation of the popular video game The Last of Us.
Bella Ramsey considers Christianity a significant part of her life (Credit: Ryan Hartford / Startraksphoto / Cover Images)
But while her career is important, "a massive part" of her life is her Christian faith. In fact, five years ago, she announced on Twitter that she has decided to undergo a "full immersion baptism" in order to "say publicly that Jesus is [her] Saviour."
At the age of 14, Bella Ramsey revealed her Christian faith to her followers by tweeting about her upcoming "full immersion baptism" that evening (Credit: Twitter)
In honor of World Mental Health Day in October of 2018, Ramsey revealed on Twitter that she has been diagnosed with anorexia nervosa a year prior and that her faith has played a major role in her recovery.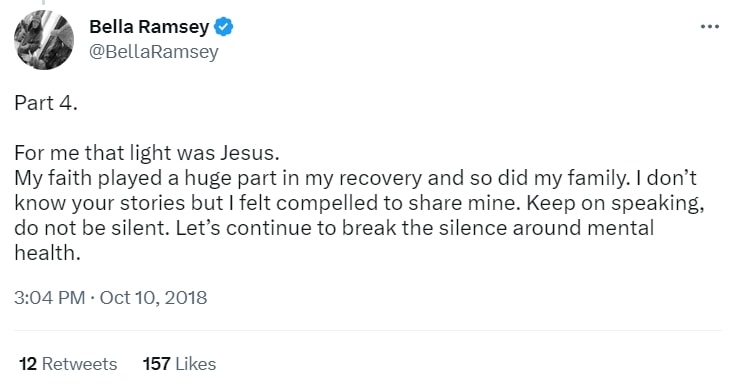 In honor of World Mental Health Day, Bella Ramsey took to Twitter to share her personal experience with anorexia nervosa and revealed that her faith in Jesus and the support of her family played a significant role in her recovery from the illness (Credit: Twitter)
However, while Christianity has made a significant impact on her life, Ramsey told The New York Times that "her relationship with faith is 'a lot quieter'" these days.
11. Chrissy Metz: Spirituality as a Source of Strength
Chrissy Metz catapulted to stardom after garnering positive reviews for her performance as Kate Pearson in the critically-acclaimed NBC show This Is Us.
While she has a lot to be thankful for – from award nominations to a plethora of creative talents at her disposal – the 42-year-old star has also fought several battles, most notably her struggle with her weight and taking a more serious approach towards a healthier lifestyle.
Chrissy Metz in a floral dress and ankle-strap heels on the set of New York Live in New York City on August 11, 2022 (Credit: ROGER WONG / INSTARimages / Cover Images)
Metz credits her strong Christian faith and focus on spirituality for finding the strength to stick to her goal and prioritize her mental health.
She has also used her devotion to God and her prayer life to teach young kids about "having a relationship with God and being able to pray to and with Him," as she said in an interview with Publishers Weekly.
This resulted in her first children's book, When I Talk to God, I Talk About You, which you can buy on Amazon.
It was made in collaboration with her partner, songwriter Bradley Collins, who also lent his talents and combined them with Metz's musical background to create an accompanying album entitled Pray for This Day: Songs Inspired by When I Talk to God, I Talk About You.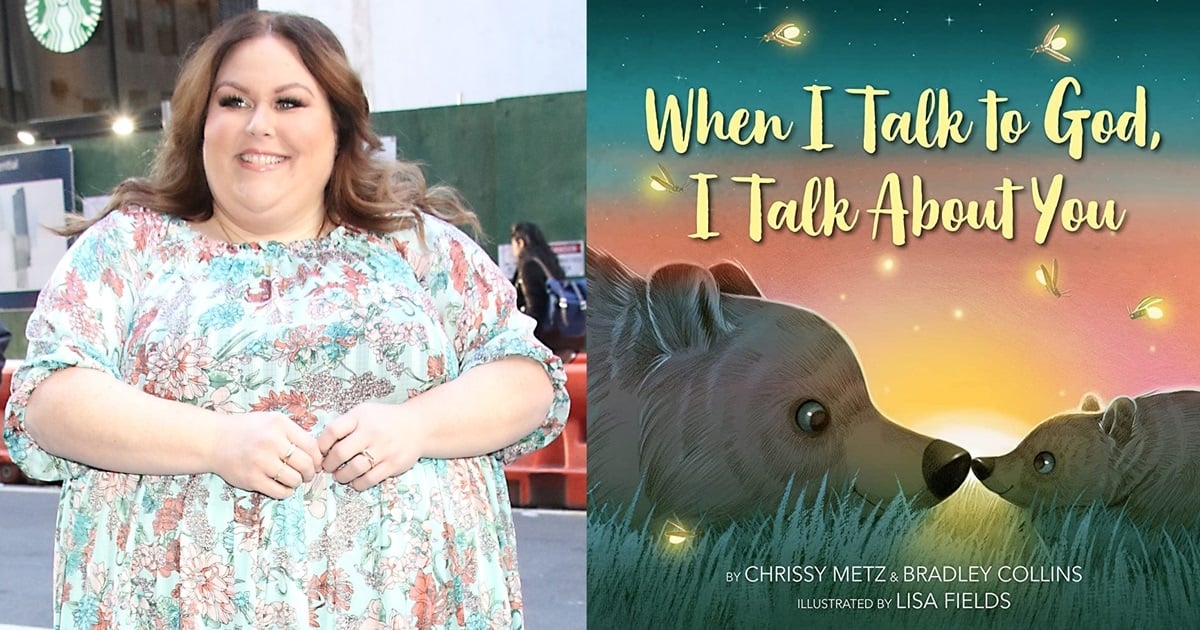 Chrissy Metz and songwriter partner Bradley Collins collaborated on a children's book entitled When I Talk to God, I Talk About You to teach kids about prayer and having a relationship with God (Credit: Roger Wong / INSTARimages / Cover Images)
When asked about her inspiration to write the book, Metz said they "wrote it for any reader who was curious about how to talk or pray to God or to their higher power."
As for what she hopes for the book and its readers, Metz reflected on her past self and mentioned that "a lot of inner child work has been done through the book and album." She continued that she "had a lot of issues growing up because she didn't know how [she] could pray."
For many people, especially kids, God could be "this big, intimidating person" and it's difficult to figure out what to say. But the book "answers a lot of those questions" and lets kids know that "God wants to hear any question or concern you have."
12. Joshua Bassett: A Public Declaration of Faith
Joshua Bassett, known for starring in High School Musical: The Musical: The Series, publicly declared Jesus Christ as his "lord and savior" in a heartfelt video shared on February 13.
Joshua Bassett took to his social media accounts to share a video that prominently features the watermark of Bethel Church's logo. In the video, the renowned actor from "High School Musical: The Musical: The Series" can be seen standing on stage alongside another individual,… https://t.co/t1bdqZRfkl

— Your Next Shoes (@yournextshoes) June 11, 2023
The video, which included the watermark of Bethel Church, showcases the talented 22-year-old singer-songwriter standing on stage alongside a fellow man, possibly a worship leader.
In the clip, Bassett introduces himself by saying, "My name is Joshua [Bassett]. Long story short, I grew up Christian and I ran the other way, as far as I could go, in pursuit of the 'truth.' That only ended in addiction, depression, suicidal ideation, eating disorders, et cetera. No other teacher gave me anywhere near the peace that Jesus Christ did."
Joshua Bassett attending the Warner Music Group's pre-Grammy party held at The Hollywood Athletic Club in Los Angeles, California on February 3, 2023 (Credit: Xavier Collin / Image Press Agency / ABACA / INSTARimages / Cover Images)
His proclamation resonated with the audience, who responded with resounding applause as he continued, "I'm here to publicly declare Him as my lord and savior."
Joshua Bassett remains vocal about his spirituality, and his recent declaration has once again sparked conversation. Only a few weeks after assuring his fans of his well-being amidst concerns over his religious posts, the talented 22-year-old musician and songwriter has now… https://t.co/fwLOjeB2IZ

— Your Next Shoes (@yournextshoes) June 11, 2023
Following sharing this church service video, Bassett took to Twitter and wrote, "the gospel is GOOD NEWS for all willing to love and obey Him who keeps your heart beating."
Bassett surprised some of his fans at the start of the year and delighted others with a thought-provoking religious tweet on January 5.
Jesus Christ is the only way.
His death and resurrection are historically documented.
turn away form hate, seek forgiveness and come home to Him .

— Joshua Bassett (@joshuatbassett) January 5, 2023
The tweet stated, "Jesus Christ is the only way. His death and resurrection are historically documented. turn away from hate, seek forgiveness and come home to Him."
13. Jennifer Garner: Rediscovering Faith through Filmmaking
Jennifer Garner, widely recognized for her captivating performances in many films and TV shows, holds a faith in Christianity central to her life.
One of the most significant displays of Jennifer Garner's faith emerged during the production of the film Miracles from Heaven. Portraying the role of a mother to a young girl, Garner experienced a profound connection with the movie.
During an interview with Today, she shared, "I grew up going to church every Sunday and, you know, Ben [Affleck] and I took our kids home to West Virginia to be baptized in my family's church."
In a separate interview with Good Morning Texas, Garner admitted losing touch with her religious routine as an adult. However, her involvement in the movie catalyzed for her to rediscover her Christianity.
Garner reflected on the experience and shared, "There was something about doing this film and talking to my kids about it and realizing that they were looking for the structure of church every Sunday. So it was a great gift of this film that it took us back to finding our local Methodist church and going every Sunday. It's really sweet."
Jennifer Garner attending the screening of Party Down season 3 held at The Hollywood Athletic Club in Los Angeles, California on June 4, 2023 (Credit: Xavier Collin / Image Press Agency / Abaca Press / INSTARimages)
For Jennifer Garner, attending church as a family is integral to fostering a positive environment in her home.
During an interview with MovieGuide, she emphasized, "It really just starts the whole week. Just singing together and being together for that hour just really starts us off right and I'm missing being in church physically in-person and that sense of community.
Even during the challenging times brought about by the pandemic, Garner has found solace in her faith and shared her spiritual journey with her extensive Instagram following of 14.2 million.
View this post on Instagram
Through her posts, she provided a source of inspiration, often featuring prayers and meditations shared with esteemed faith leaders like Rabbi Rachel Kobrin and Nadia Bolz-Weber.
14. Angela Bassett: Faith as a Foundation for Success
Angela Bassett graced the national television stage with an awe-inspiring display of her unwavering faith when she accepted the prestigious Best Supporting Actress Award for her exceptional performance in the groundbreaking movie Black Panther: Wakanda Forever at the 80th Annual Golden Globe Awards in January 2023 at Beverly Hills, California.
This remarkable triumph left an indelible mark on motion picture history for being the first actor to bag a Golden Globe for a Marvel film role. It also became a profound testament to Bassett's deep-rooted Christian beliefs.
As she stood before the audience, the 64-year-old actress was visibly moved by the meaningful honor bestowed upon her. With grace and humility, she shared the wisdom of the late Toni Morrison, who once remarked, "Your life is already a miracle of chance just waiting for you to order its destiny."
In her acceptance speech, Bassett expounded upon the significance of faith and the essential qualities it requires, asserting, "But in order for that destiny to manifest, I think that it requires courage to have faith, it requires patience, as we just heard, and it requires a true sense of yourself."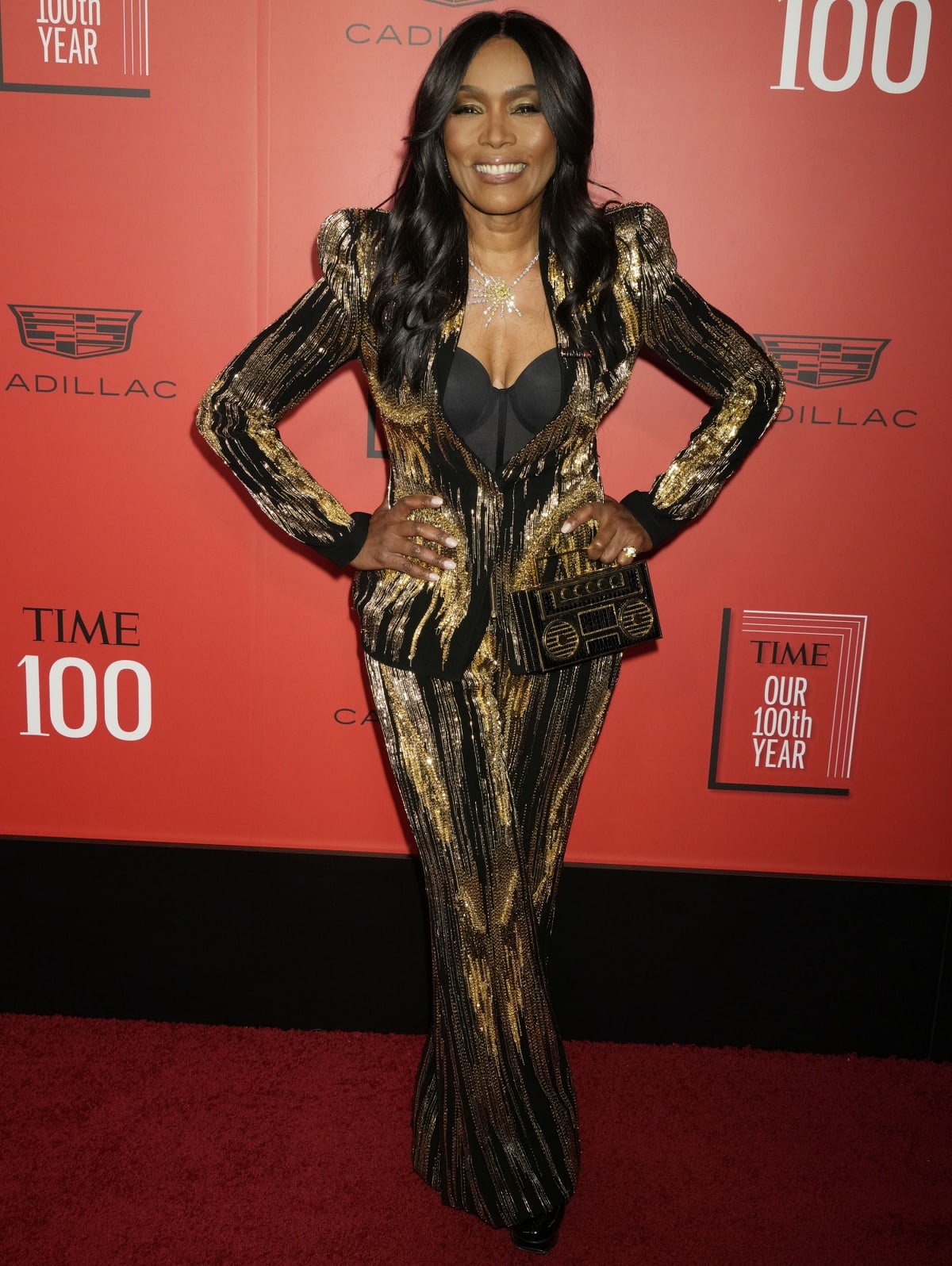 Angela Bassett in a shimmering gold-and-black suit at the Time 100 Gala held at the Frederick P. Rose Hall, Home of Jazz at Lincoln Center in New York City on April 26, 2023 (Credit: Jennifer Graylock / INSTARimages)
Amidst the complexities of life's unpredictable twists and turns, she acknowledged that the journey is not easy. Nevertheless, she attributed her remarkable achievements to the divine intervention of God, expressing, "By the grace of God, I stand here… My mother always said, 'Good things come to those who pray.' I see the truth of that every day as we welcome each new day as a family."
In an interview with Risen Magazine, a devoted mother, Bassett shared her heartfelt prayers for her twin children, Slater and Bronwyn. Recognizing the immense responsibility of parenthood, she acknowledged, "My biggest prayer is not to mess them up. God gave them to us and we have to guide them and impart to them what we have learned."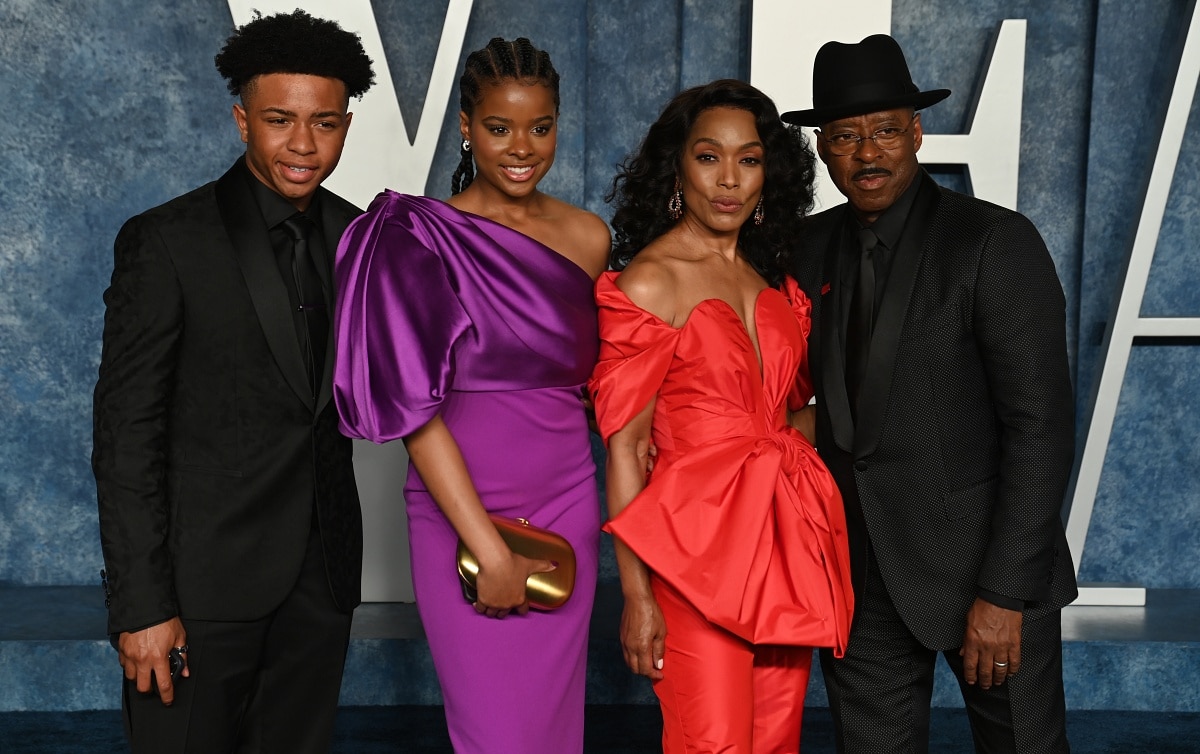 Slater Josiah Vance, Bronwyn Golden Vance, Angela Bassett, and Courtney B. Vance attending the 2023 Vanity Fair Oscar Party in Los Angeles, California on March 13, 2023 (Credit: PA Images / INSTARimages)
Her spiritual journey traces back to her childhood, growing up in Florida under the guidance of her great-grandfather, a pastor, and her mother, who ensured that she and her sister actively participated in Sunday School and the church choir.
Reflecting on her formative years, she fondly recalled in an interview with Parade, "Growing up in the church means things like going to Bible study with your grandmother on Wednesday."
15. Nicole Kidman and Keith Urban: A Family United in Faith
Nicole Kidman and Keith Urban are both talented and successful individuals in the entertainment industry and a couple whose strong faith in God shines through their lives.
The duo has openly expressed their deep connection to their Christian beliefs, evident in their personal and family life.
Keith Urban's passion for music extends beyond its artistic expression. In a remarkable display of his devotion to his faith, his songs even bear Bible verses in their titles, allowing him to share his spiritual journey with his fans.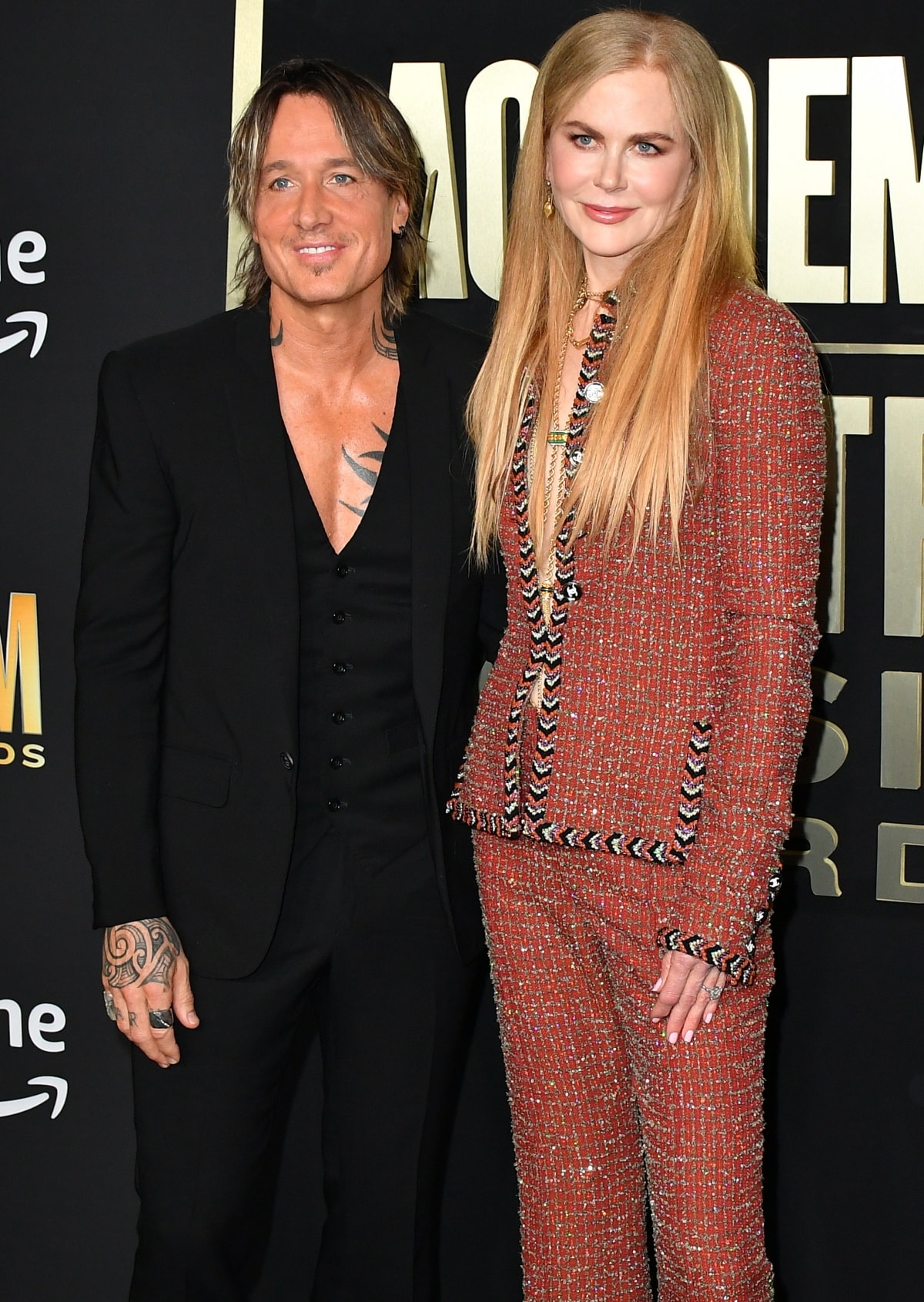 Keith Urban and Nicole Kidman attending the 58th Annual Academy of Country Music Awards held at The Ford Center at The Star in Frisco, Texas on May 11, 2023 (Credit: imageSPACE / Media Punch / INSTARimages)
Meanwhile, in an intimate interview with Vanity Fair, Nicole Kidman shared that she, her husband, and their children regularly attend church together.
Her profound belief in God has influenced her parenting style, as she strives to instill in their daughters the same religious values she was raised with, saying, "That's how we are raising our children. Keith has his own beliefs, but he comes, too. I had a very Catholic grandmother, and I was raised praying, so that had massive impact."
Nicole Kidman and Keith Urban are proud parents to two beautiful daughters, Faith Margaret and Sunday Rose. Their daughters' names were thoughtfully chosen to reflect their Christian significance and hold special meaning within the family.
Keith Urban and Nicole Kidman making an affectionate display at the 2023 Met Gala held at the Metropolitan Museum of Art in New York City on May 1, 2023 (Credit: Abaca Press / INSTARimages)
Sunday Rose, named after the couple's favorite day of the week, symbolizes the joy and contentment they find in spending quality time together as a family. Kidman described Sundays as "a beautiful day" when happiness and the presence of loved ones surround them.
Their youngest daughter, Faith Margaret, was conceived via a surrogate mother, a journey that required immense faith on the couple's part. Faith holds profound significance, representing their unwavering trust in God throughout the pregnancy.
16. Reese Witherspoon: Guided by Faith and Inclusivity
Reese Witherspoon, the acclaimed Hollywood star and mother-of-three, has graced the silver screen with her talent and has also been a steadfast believer in the Christian faith.
Raised in the Episcopalian tradition and regularly attending church, she has found solace and strength in her religious convictions.
In a captivating interview with the LA Times in June 2020, the then 44-year-old actress fearlessly opened up about her belief in heaven and life after death.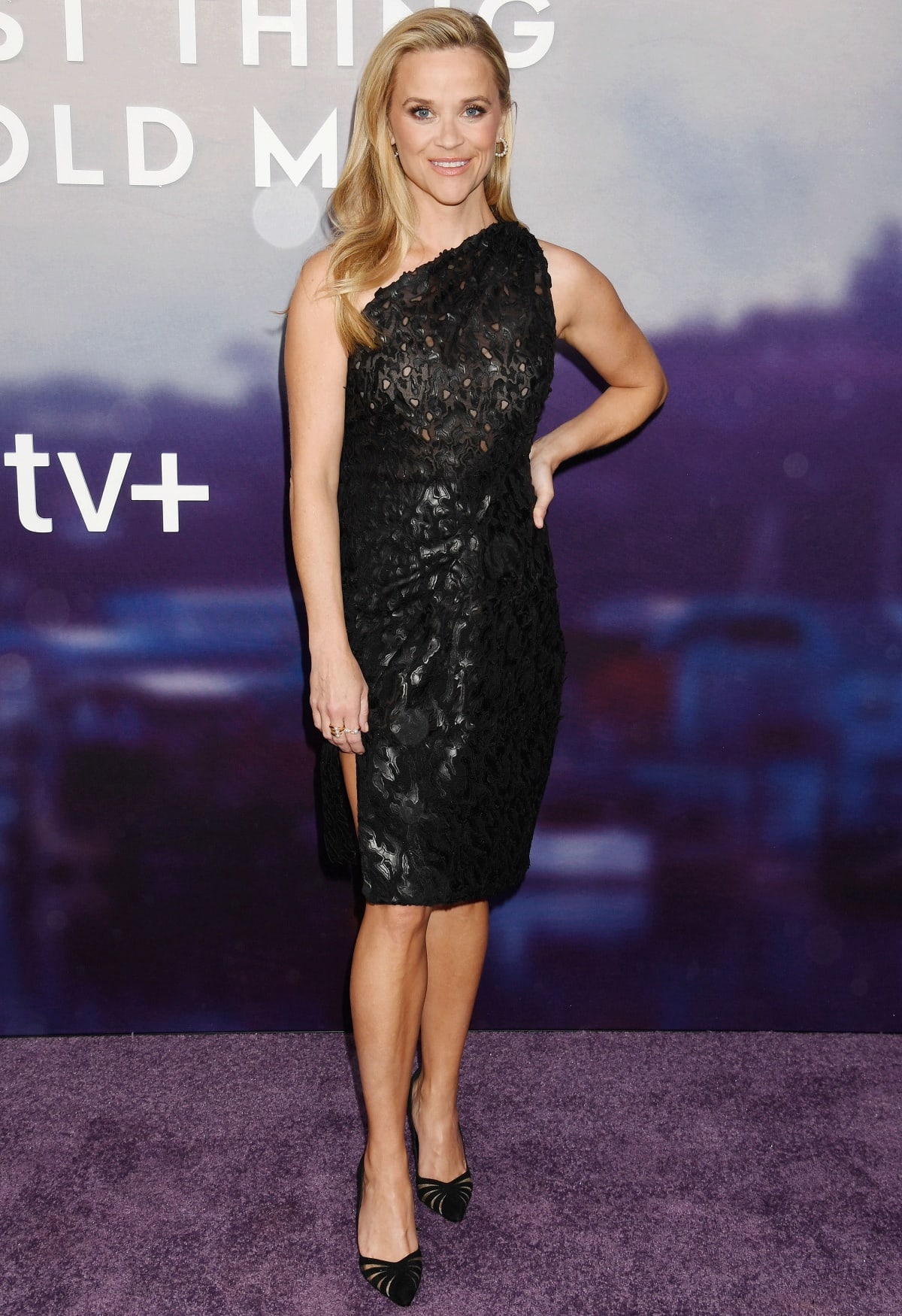 Reese Witherspoon in a one-shouldered black dress with pointy-toe heels at the premiere of The Last Thing He Told Me held at Regency Bruin Theatre in Los Angeles, California on April 14, 2023 (Credit: Jean Paul / PAPIX / INSTARimages)
She expressed, "I don't have a lot of fear, that's true. There's a time and a purpose and a place, and I don't fear death, because I know there's heaven. I know it."
Witherspoon's faith in a higher power goes beyond specific doctrines or dogmas. Although she acknowledges that she doesn't fully comprehend the nature of this higher power, she fervently believes in its existence.
She explained, "I believe deeply that there's a higher power – and I don't know what that is – but I just don't fear dying."
Unlike many who have encountered repressive encounters with religion, she discovered a sense of acceptance and inclusivity within her faith community.
Reflecting on her religious upbringing, she shared, "I felt this incredible acceptance and that everyone has a gift and we're all God's children and your purpose in the world is to find the gifts that God gave you."
In March 2016, Reese Witherspoon took to her Facebook page to express her gratitude for her pastor and dear friend, Jimmy Bartz.
Alongside a photo of the two, she wrote, "This is my pastor and my friend Jimmy Bartz. He has always been there for me and my family. His sermons are inspiring, humble and thought-provoking. I am so lucky to have him and his wife Cindy in my life. I'm sure you all have people who inspire you to have faith in life, in humanity, and in the world. Jimmy does that for me."
17. Viola Davis: Prayer and Providence in Finding Love
Viola Davis, the Academy Award-winning actress renowned for her captivating performance in Fences, shared a remarkable story of faith and answered prayers.
She found herself on her knees, pouring her heart out to God, fervently seeking a life partner who would embody the qualities she longed for in a husband. Little did she know that her heartfelt plea would soon be answered.
Just three weeks after her heartfelt prayer, a man entered Davis' life who appeared to encapsulate all the attributes she had fervently prayed for. It was none other than Julius Tennon, whom she would eventually marry in 2003.
During an intimate conversation with Oprah for a Netflix Special Event, Davis disclosed the details of her fervent prayer and how it led her to find the love of her life.
She recounted the advice she received from a friend, saying, "He said, 'Viola, even the vacuous stuff, just put it all in there. Looks, everything,' I said. 'Really? With God? I gotta tell Him that?' He's like, 'Yes. You gotta put it all out there.' He was like, 'Be careful.'"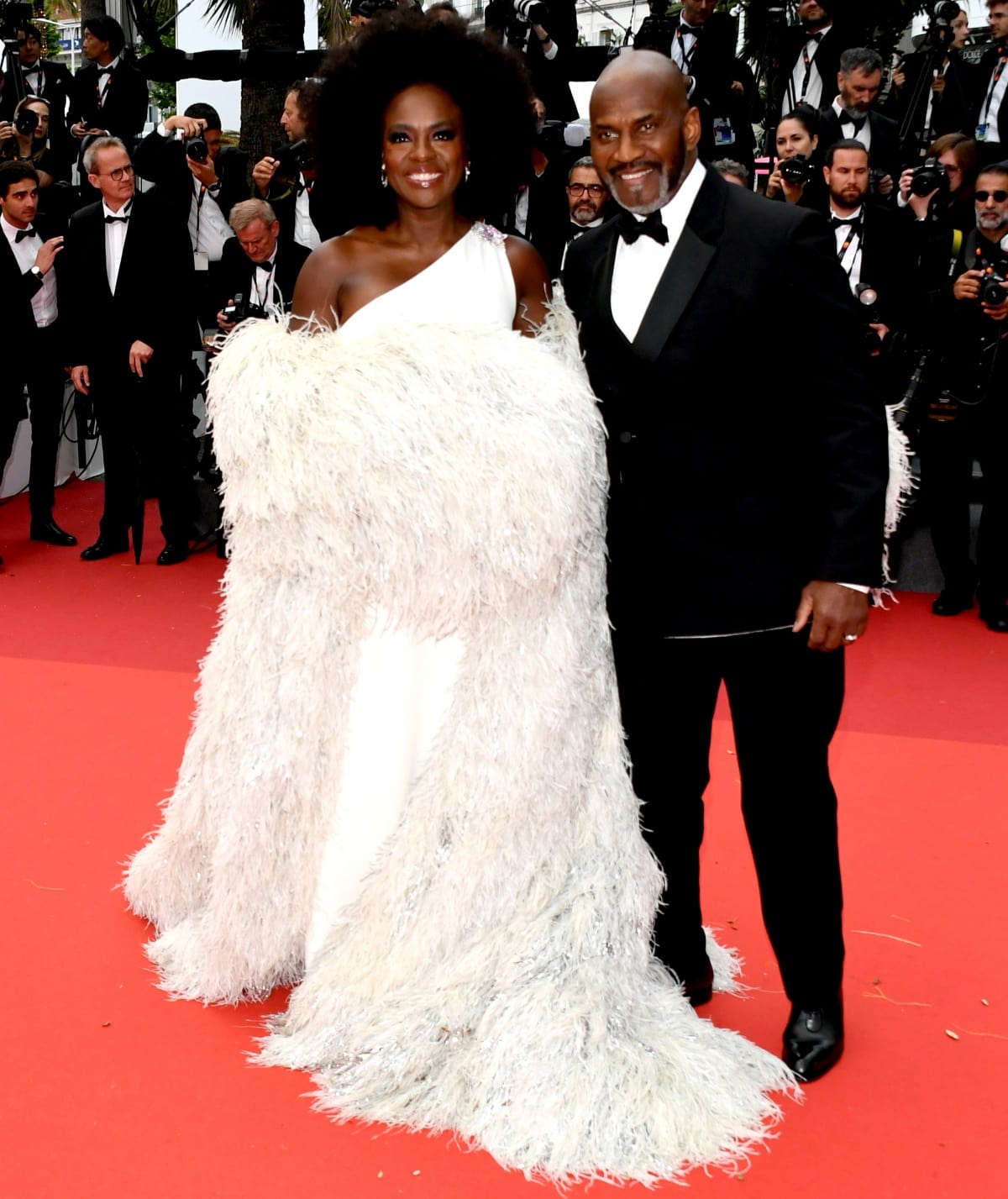 Viola Davis in a show-stopping outfit with husband Julius Tennon at the premiere of Monster during the 76th Cannes Film Festival in Cannes, France on May 17, 2023 (Credit: IPA / INSTARimages)
Embracing her friend's advice, Davis "went and I got on my knees, and I did. I said I want a big black man from the South who's probably been married before, has kids – because I don't want any pressure in that department."
Equally important to her was finding a partner who shared her love for God and attended church faithfully, adding, "Someone who has maybe been an actor who understands the artistic community. Someone who goes to church and loves God. I said, 'If you give me that, I'll start going to church, God. I really will. I'm committed to it.' And then I signed off."
Viola Davis in a head-turning pink feathered gown at the 2023 Met Gala held at the Metropolitan Museum of Art in New York City on May 1, 2023 (Credit: Jennifer Graylock / INSTARimages)
Miraculously, Julius Tennon entered Davis' life in three-and-a-half weeks as if an answer to her heartfelt prayer.
Davis gushed, "I met Julius from Texas. Ex-football player, been married, raised his children on his own, was an actor… And I thought to myself, 'Whoa.'"
18. Faith Hill and Tim McGraw: A Marriage Anchored in Prayer
Beyond their captivating harmonies and undeniable talent, the power duo Faith Hill and Tim McGraw have a bond strengthened by their shared Christian faith. With unwavering devotion, they credit prayer as the cornerstone that keeps their marriage resolute and their love enduring.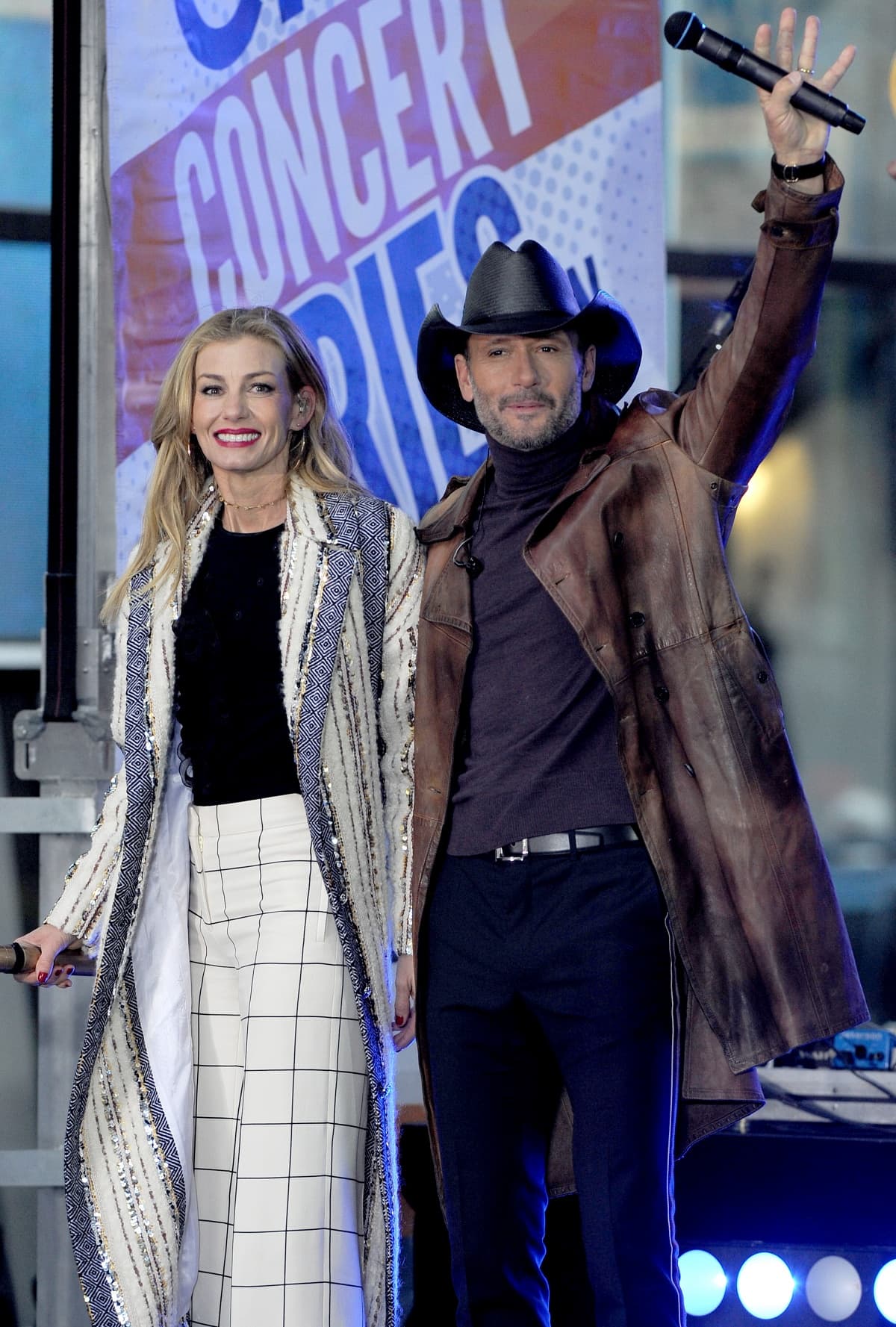 Faith Hill and Tim McGraw performing on the Today Show in New York City on November 17, 2017 (Credit: Kristin Callahan / ACE PICTURES / INSTARimages)
The couple met in 1996 when destiny brought them together during McGraw's Spontaneous Combustion tour, with Hill being the opening act for the show. In October of that year, they exchanged vows and embarked on a journey intertwined with music, faith, and unyielding love.
During an intimate interview with PEOPLE magazine in June 2018, Faith Hill provided a glimpse into their pre-performance ritual, stating, "Tim and I share a quick quiet moment together before hitting the stage. Always praying."
View this post on Instagram
In August 2018, Faith Hill took to Instagram to display her unwavering faith and pay homage to the late Aretha Franklin.
With a heartfelt tribute, she shared a photo of herself and Franklin, accompanied by a heartwarming caption: "GLORY, GLORY, GLORY to the ALMIGHTY!!! The choir of angels now have the greatest voice of all time to lead, praise and join in to sing before Jesus. I wanted to share this photo because it shows just how soulful Aretha was without uttering a word. To say I was humbled to be in her presence would be an understatement."
The personal faith journeys of these celebrities offer a unique window into how spirituality can intertwine with the fabric of public life.
From Justin Bieber's transformative experiences to Viola Davis' profound prayers, each story underscores a common thread: the significant role of faith in shaping personal values, resilience in the face of challenges, and the pursuit of meaning beyond the glitz and glamour of fame.
These narratives remind us that beneath the veneer of celebrity, deeply held beliefs and experiences resonate with many. Whether through music, acting, or personal testimonies, these stars highlight the diverse ways faith can manifest in lives lived in the spotlight, offering inspiration and reflection for those with similar spiritual journeys.