While our interest in the private lives of celebrities is most often centered on who's dating who or surprise pregnancies, knowing the deeply held beliefs of cultural influencers can be entertaining but can also help us understand the art they create.
Some of the most well-known stars are private about their religious beliefs, but others tend to be much more vocal about their belief in God.
Some of them see their fame as an opportunity to speak out about their faith, while others send a clear message in their work about their faith-related values. Here are a few names you'll recognize, along with what they've said about their Christian faith:
1. Justin Bieber
Pop sensation Justin Bieber began to grow in his faith after building a relationship with pastor Judah Smith, pastor of Churchome in the Seattle area.
View this post on Instagram
Bieber describes their relationship, saying Smith never wanted anything from him. Bieber's 2014 baptism as part of Hillsong Church NYC seemed to be a turning point in his faith.
Justin Bieber has openly embraced a form of evangelical charismatic Christianity (Credit: MEGA / WENN)
The Canadian singer says that faith, like his marriage, "didn't depend on him performing in exchange for money."
In an interview with GQ magazine, Bieber describes his understanding of God, saying, "He is grace…Every time we mess up, He's picking us back up every single time. That's how I view it. And so it's like, 'I made a mistake. I won't dwell in it. I don't sit in shame. But it actually makes me want to do better."
View this post on Instagram
2. Chyler Leigh
Chyler Leigh – who you may know as Lexie Grey from Grey's Anatomy or as Alex Danvers on the CW's Supergirl – and her husband Nathan West credit their church with helping them overcome drug addiction.
Chyler Leigh was just 16 when she met her husband Nathan West at an audition for the pilot of an unsuccessful WB series titled Saving Graces (Credit: Brian To / WENN)
While filming 2001's "Not Another Teen Movie," director Joel Gallen told Leigh she was looking too thin.
Gallen's comment caused Leigh and her husband to realize their drug addiction was out of control, and the couple began attending church.
Christian actress Chyler Leigh says her faith helped her stop using drugs (Credit: FayesVision / WENN)
Leigh told Lisa Ingrassia of People, "In the beginning [church] was a hard pill to swallow…I realized there was so much more to life," she says.
"It was like when the light switches on; you can't see something the same way again. We made the decision to quit everything." The couple converted to Christianity and married the next year.
3. Chris Pratt
Chris Pratt first rose to fame playing Andy Dwyer on NBC's "Parks and Recreation," and has become known for starring roles in Passengers, Guardians of the Galaxy, and Jurassic World.
After Pratt's son with ex-wife Anna Faris was born prematurely, Pratt found a renewed drive to pray. "We were scared for a long time. We prayed a lot," Chris told People of Jack's health scare after his birth on August 25, 2012.
"It restored my faith in God, not that it needed to be restored, but it really redefined it. The baby was so beautiful to us, and I look back at the photos of him and it must have been jarring for other people to come in and see him, but to us, he was so beautiful and perfect."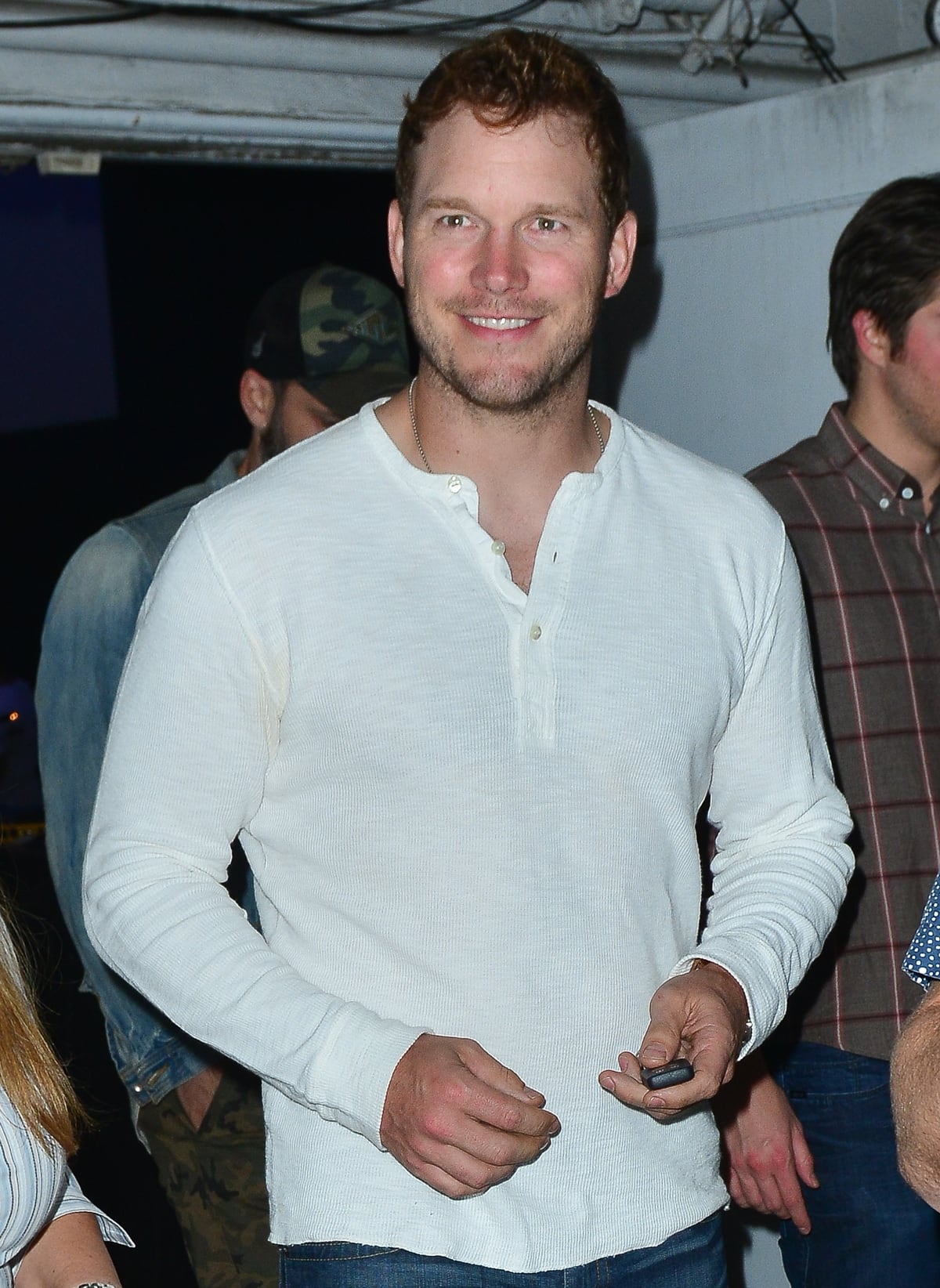 Chris Pratt is a committed Christian and regularly attends church service (Credit: WENN)
Pratt now regularly attends services at Zoe Church in Los Angeles with his wife Katherine Schwarzenegger, whom he even met in church.
In 2019, he came under fire after transgender man Elliot Page accused his church of anti-LGBTQ+ views.
View this post on Instagram
He responded on Instagram Stories to the allegations by stating, "It has recently been suggested that I belong to a church which 'hates people' and is 'infamously anti-LGBTQ. Nothing could be further from the truth. I go to a church that opens their doors to absolutely everyone."
4. Candace Cameron Bure
Best known for her role as DJ Tanner on the hit 90's sitcom "Full House," Candace Cameron Bure is one of the most outspoken Christian actresses on the screen these days.
Christian actress Candace Cameron Bure in a Prabal Gurung dress at the 10th Annual Veuve Clicquot Polo Classic Los Angeles at Will Rogers State Historic Park on October 5, 2019, in Pacific Palisades, California (Credit: Avalon / WENN)
Bure says on her personal website, "…I feel that the most life-changing [role] I identify with is "Christian." I am a Christian woman who loves Jesus and seeks to give Him the glory above all else."
Candace Cameron Bure shows off her sweaty size 7 (US) feet in a pair of PVC slides (Credit: Avalon / WENN)
She goes on to state, "I finally learned that God's standard of goodness is different from the world's standard, and for the first time I saw myself as a sinner. I really understood that I broke the law, that Jesus paid my fine, and that there was no love greater than that. He rescued me, He saved me, He delivered me, and knowing those truths led me to real repentance and change. Out of gratitude for what Jesus did for me, I started to live a life of service to Him, and my deepest desire is to hear Him say, "Well done, good and faithful servant."
5. Stephen Colbert
In 2019, an interview between Anderson Cooper and talk show host Stephen Colbert about grief went viral. In it, Colbert spoke openly about how his faith strengthened him in the midst of losing his father and brothers.
However, according to a 2018 interview with Father James Martin, Colbert had defined himself as an atheist for some time. He described an encounter where he was handed a small New Testament while walking down the street in Chicago when he was 22 years old.
"I had lost my faith in God, to my great grief. I was sort of convinced that I had been wrong all this time that I had been taught something that wasn't true. And I was walking down the street and somebody handed me a little, green New Testament Proverbs and Psalms," he said about being handed the book in 1986.
Stephen Colbert reconnected with his Christian faith when he was given a pocket Bible as a young man in Chicago (Credit: WENN)
In the interview with Father James Martin on his Catholic talk show "Faith in Focus," Colbert recalled that the first passage he read was from Matthew Chapter 5.
The comedian said he immediately felt "lightened" after reading the passage. "For the first time I understood the real meaning of the phrase, it spoke to me. Like it read off the page. The words of Christ read off the page. There was no effort. I stood on that street corner in the cold and read that sermon. And my life has never been the same," Colbert said."
6. Selena Gomez
Known for her successful music career as well as the new hit Hulu series, "Only Murders in the Building," Selena Gomez describes herself as "very, very spiritual" and even took the stage at a Hillsong conference.
In a 2021 interview for Vogue, Gomez states, "I believe in God, but I'm not religious. I've been a Christian for a while now. I don't talk about it too much – I want to, but it's gotten a bad rep. I just want to make it clear that I love being able to have my faith, and believe in what I believe in, and that truly is what gets me through."
Selena Gomez is openly Christian but does not consider herself religious (Credit: MEGA / WENN)
Gomez states that her struggles with lupus have made her feel closer to God. In 2019, she described on Twitter what she felt God had said to her: "He said to me 'Selena hold on, I hurt when you hurt. I cry when you cry but I will NEVER, EVER leave your side. Work with me, walk with me and watch how I do it.'"
7. Denzel Washington
Actor, director, and producer Denzel Washington finds his faith so important that he even considered becoming a preacher at one point.
Not related to Kerry Washington, he credits his Pentecostal upbringing with keeping him on the right path and helping him avoid the pitfalls he saw many of his friends encounter.
"I had that Pentecostal foundation and a mother who used to say, 'Son, you never know who's praying for you.' So maybe it wasn't my fate to fall into those traps," he said in an interview.
Denzel Washington's father was a Pentecostal preacher who belonged to the Church of God in Christ denomination (Credit: Avalon / WENN)
Raised by a pastor, Washington continues to credit his faith and involvement at church with the success of his marriage and the closeness of his family. As recently as September 2021, Washington was a featured speaker for a Christian men's conference.
Washington told the crowd of men, "Stay on your knees. Watch me, but listen to God…I hope that the words in my mouth and the meditation of my heart are pleasing in God's sight, but I'm human. I'm just like you. What I have will not keep me on this Earth for one more day. Share what you know, inspire who you can, seek advice. If you want to talk to one someone, talk to the one that can do something about it. Constantly develop those habits."
8. Carrie Underwood
Country star Carrie Underwood has never been shy about her faith, having topped the charts with 2005's hit, "Jesus Take the Wheel."
In 2021 she released a gospel album entitled, "My Savior," a collection of classic hymns. In a 2018 interview on CBS Sunday Morning, Underwood describes her faith in the midst of struggling with multiple miscarriages.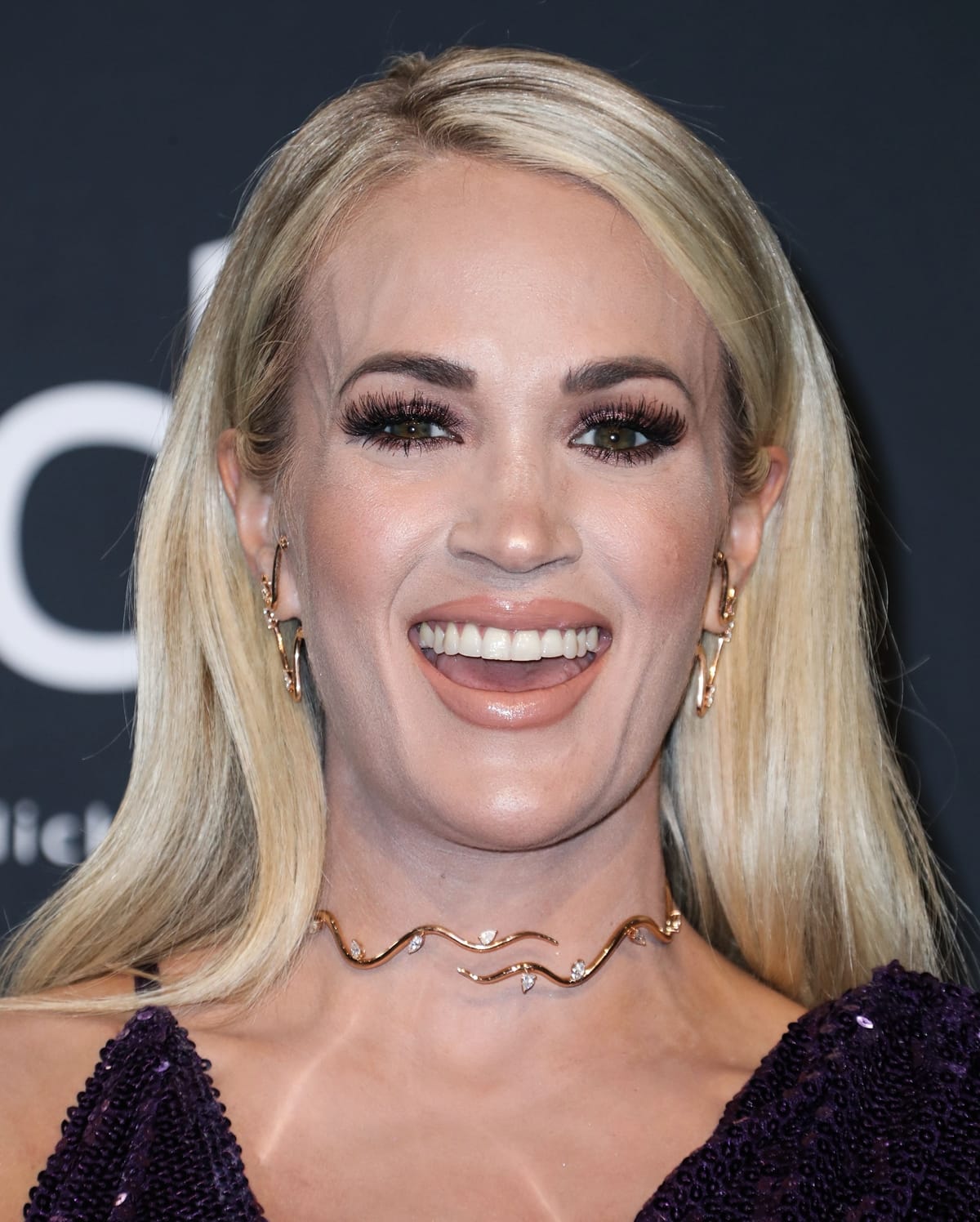 Carrie Underwood grew up in the Bible Belt and is open about how dedicated she is to her faith in Jesus Christ (Credit: Avalon / WENN)
After three miscarriages in a row, Underwood said that she became angry and asked God to intervene.
She said, "​​…for the first time, I feel like I actually told God how I felt. That was like a Saturday — and the Monday I went to the doctor to, like, confirm another miscarriage. And they told me everything was great!"
9. Chance the Rapper
Chance the Rapper rediscovered his faith after his daughter was diagnosed with atrial flutter in utero. In an interview with GQ, Chance said that the diagnosis drove him to pray more.
"…It made me pray a whole lot, you know, and need a lot of angels and just see s*** in a very, like, direct way. And…you know, God bless everything, it worked out well." Chance now defines himself as a Christian rapper.
Grammy Award-winning artist Chance the Rapper, whose real name is Chancelor Jonathan Bennett, considers himself a Christian rapper (Credit: MEGA / WENN)
His 2016 album "Coloring Book" draws inspiration and collaboration from Christian artists including Chris Tomlin, Kirk Franklin, and Fred Hammond.
Chance's faith is more than just lip service – his Christian faith has deeply influenced his work since his self-described conversion.
10. Bella Ramsey
At only 19 years old, Bella Ramsey has made a name for herself in the entertainment industry.
She has already played iconic characters on television, such as Lady Mormont in Game of Thrones and, most recently, Ellie in the adaptation of the popular video game The Last of Us.
Bella Ramsey considers Christianity a significant part of her life (Credit: Ryan Hartford / Startraksphoto / Cover Images)
But while her career is important, "a massive part" of her life is her Christian faith. In fact, five years ago, she announced on Twitter that she has decided to undergo a "full immersion baptism" in order to "say publicly that Jesus is [her] Saviour."
At the age of 14, Bella Ramsey revealed her Christian faith to her followers by tweeting about her upcoming "full immersion baptism" that evening (Credit: Twitter)
In honor of World Mental Health Day in October of 2018, Ramsey revealed on Twitter that she has been diagnosed with anorexia nervosa a year prior and that her faith has played a major role in her recovery.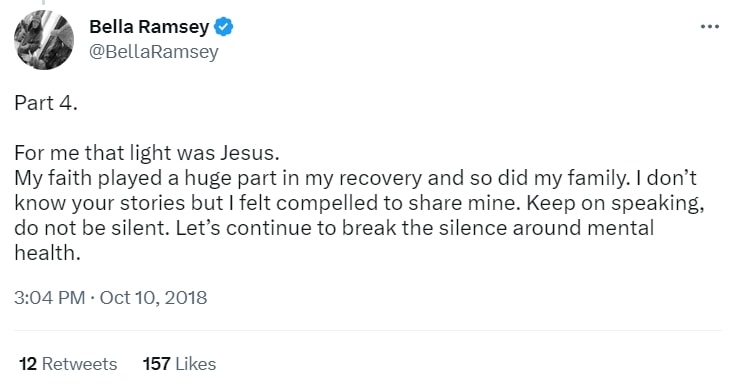 In honor of World Mental Health Day, Bella Ramsey took to Twitter to share her personal experience with anorexia nervosa and revealed that her faith in Jesus and the support of her family played a significant role in her recovery from the illness (Credit: Twitter)
However, while Christianity has made a significant impact on her life, Ramsey told The New York Times that "her relationship with faith is 'a lot quieter'" these days.
11. Chrissy Metz
Chrissy Metz catapulted to stardom after garnering positive reviews for her performance as Kate Pearson in the critically-acclaimed NBC show This Is Us.
While she has a lot to be thankful for – from award nominations to a plethora of creative talents at her disposal – the 42-year-old star has also fought several battles, most notably her struggle with her weight and taking a more serious approach towards a healthier lifestyle.
Chrissy Metz in a floral dress and ankle-strap heels on the set of New York Live in New York City on August 11, 2022 (Credit: ROGER WONG / INSTARimages / Cover Images)
Metz credits her strong Christian faith and focus on spirituality for finding the strength to stick to her goal and prioritize her mental health.
She has also used her devotion to God and her prayer life to teach young kids about "having a relationship with God and being able to pray to and with Him," as she said in an interview with Publishers Weekly.
This resulted in her first children's book, When I Talk to God, I Talk About You, which you can buy on Amazon.
It was made in collaboration with her partner, songwriter Bradley Collins, who also lent his talents and combined them with Metz's musical background to create an accompanying album entitled Pray for This Day: Songs Inspired by When I Talk to God, I Talk About You.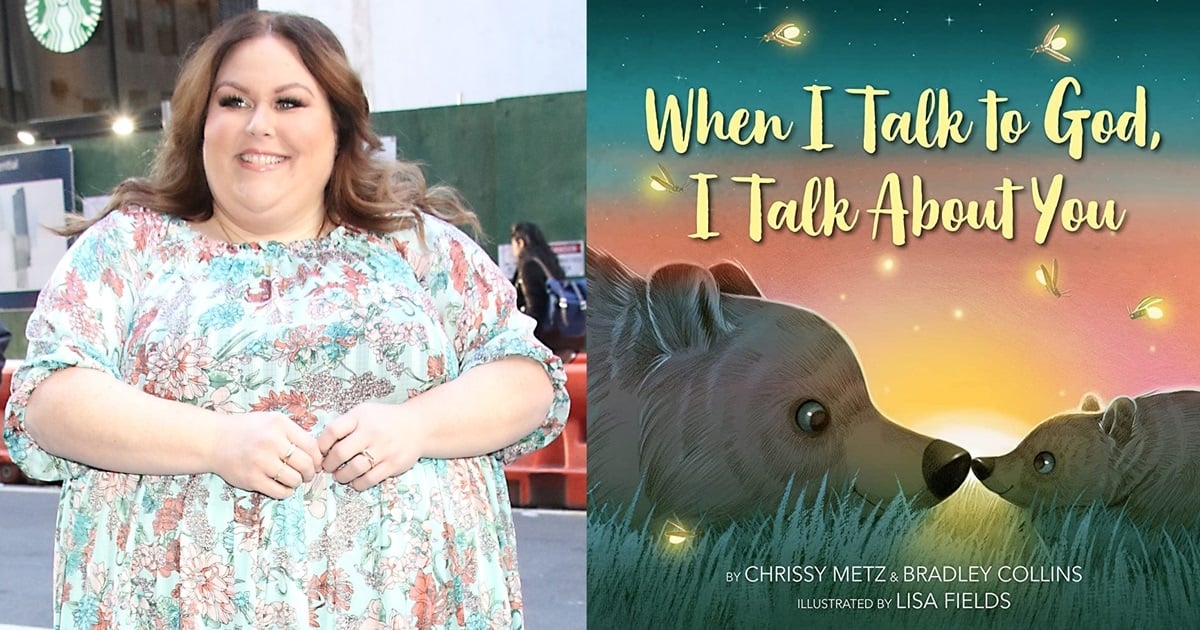 Chrissy Metz and songwriter partner Bradley Collins collaborated on a children's book entitled When I Talk to God, I Talk About You to teach kids about prayer and having a relationship with God (Credit: Roger Wong / INSTARimages / Cover Images)
When asked about her inspiration to write the book, Metz said they "wrote it for any reader who was curious about how to talk or pray to God or to their higher power."
As for what she hopes for the book and its readers, Metz reflected on her past self and mentioned that "a lot of inner child work has been done through the book and album." She continued that she "had a lot of issues growing up because she didn't know how [she] could pray."
For many people, especially kids, God could be "this big, intimidating person" and it's difficult to figure out what to say. But the book "answers a lot of those questions" and lets kids know that "God wants to hear any question or concern you have."