Country music superstars Faith Hill and Tim McGraw have been entertaining fans with their musical stylings for decades now, and for much of their careers, the two have been married.
Faith Hill in a black J. Mendel Pre-Fall 2013 cocktail dress and her husband Tim McGraw arrive at the 55th Annual Grammy Awards at the Staples Center on February 10, 2013, in Los Angeles, California (Credit: DFree / Shutterstock)
Let's take a closer look at their careers and how their marriage has impacted their success.
Faith Hill Background
Faith Hill, as she mentions in one of her popular songs, is a Mississippi girl. She was adopted by her parents as a baby and raised in Star, a town 20 miles southeast of Jackson, with her two brothers – biological sons of her parents. She had a penchant for singing from an early age and performed for the first time at a 4-H Luncheon at the age of seven.
At 19, she moved to Nashville for the same reason many singers have – to become a country music star.
In the early 90s, Hill signed a record deal with Warner Bros., and by the release of her second studio album, she was a country sensation.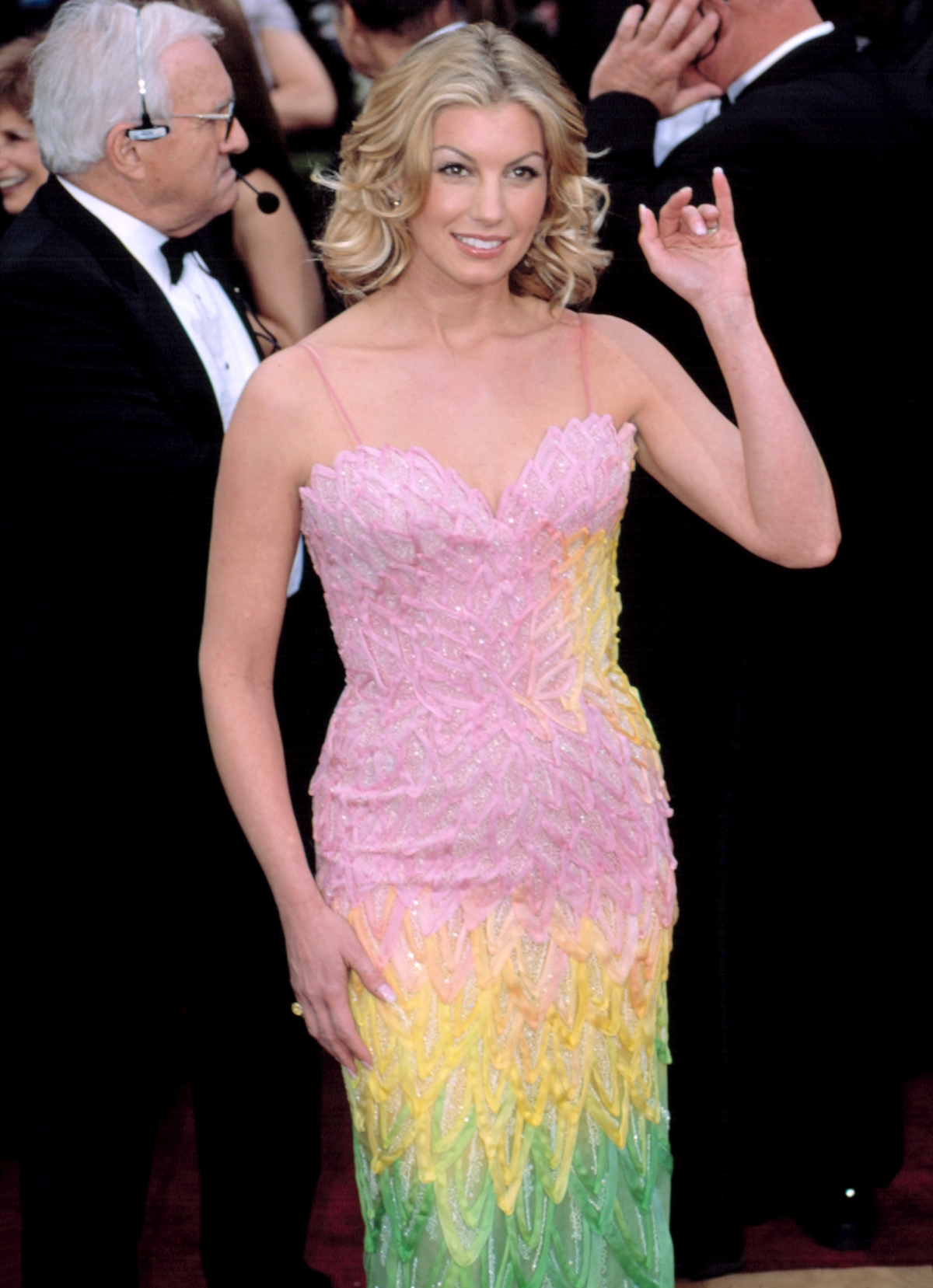 Faith Hill in a colorful Versace dress arrives at the 74th Academy Awards ceremony on March 24, 2002, at the Kodak Theatre in Hollywood, Los Angeles (Credit: Everett Collection / Shutterstock)
Hill's career has been one of the most successful among women in country music, going platinum several times over on multiple albums, singing the "Star-Spangled Banner" at the Super Bowl, performing at award shows like the Grammys and the Oscars, and even earning an Oscar nomination for Best Original Song.
Tim McGraw's Background
Tim McGraw has been equally as successful as his wife. Born in Louisiana, McGraw was the only child of Elizabeth "Betty" Ann D'Agostino. For 11 years McGraw believed his father was Horace Smith, who his mother had married.
The "Live Like You Were Dying" singer was a natural athlete, a talent he got from his biological father, former professional baseball player Tug McGraw. A young Tim McGraw found this out when he found his birth certificate in his mother's closet while looking for something.
McGraw attended Northeast Louisiana University, where he learned to play guitar, and often performed for money. In 1989 the singer also moved to Nashville to pursue a music career.
After being discovered by Curb Records, he signed a contract and released his debut album in 1993, the same year his wife released hers.
Country musician Tim McGraw performs on NBC's "Today" at the NBC's TODAY Show on May 23, 2014, in New York, New York (Credit: Debby Wong / Shutterstock)
He only grew more popular while releasing his following albums, and has been awarded on some of the highest levels, including the Grammys.
How They Met
Tim McGraw and Faith Hill have had a loving relationship for many years, and for McGraw, it was love at first sight.
The two met in 1994, just a year after they had both released their respective debut albums, at a Country Radio Seminar, a showcase for budding artists. They both performed in the "New Faces" segment of the show.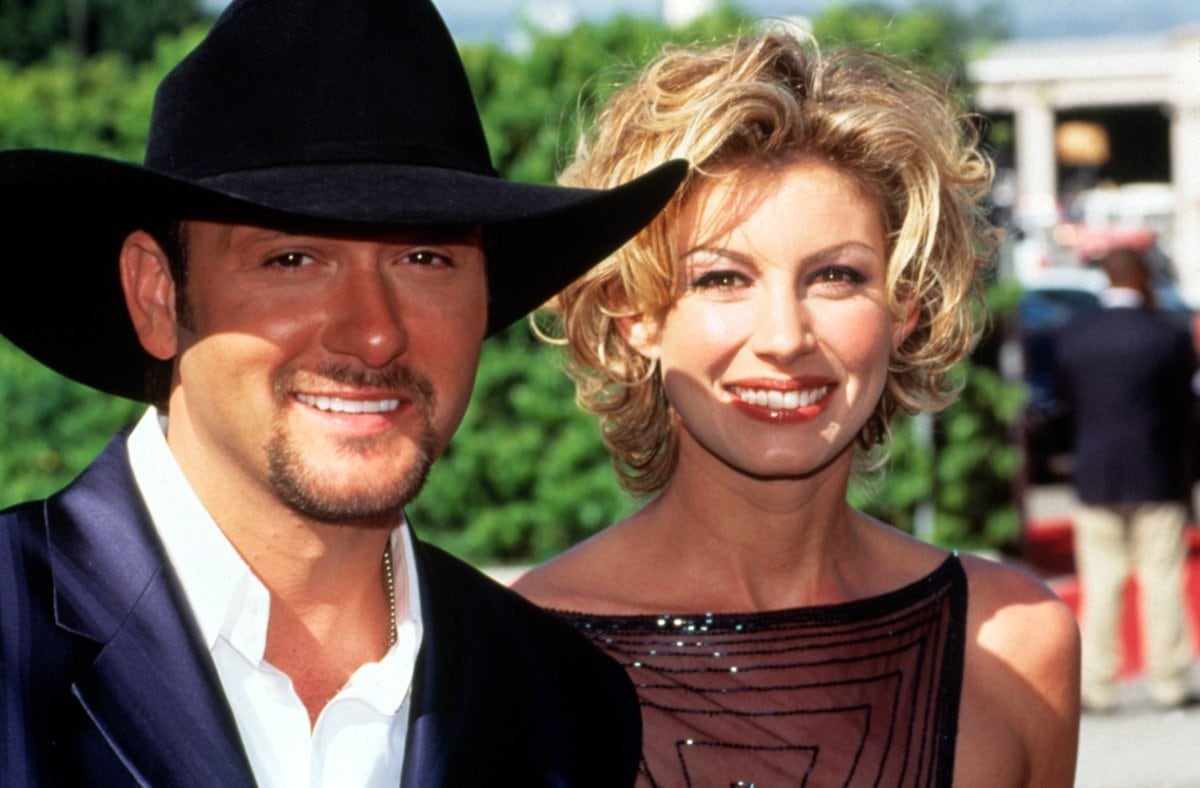 Faith Hill and Tim McGraw first met at a Nashville event in late 1994 (Credit: Everett Collection / Shutterstock)
McGraw was in a relationship with Kristine Donahue at the time, but Hill wasn't. Despite being single, Hill was not ready for a relationship, as she and her ex-husband had just split up. The singer was married to music executive Daniel Hill, whose name she kept.
A couple of years after meeting, Hill and McGraw reunited for McGraw's Spontaneous Combustion Tour in April 1996. Hill opened for McGraw, and the two shared sizzling chemistry. But, Hill was now in a relationship, engaged to her former producer, Scott Hicks.
Tim McGraw and his wife Faith Hill in a Michael Kors Fall 2017 dress attend the 52nd Academy Of Country Music Awards at T-Mobile Arena on April 2, 2017, in Las Vegas, Nevada (Credit: Jaguar PS / Shutterstock)
Inside Their Relationship
Despite her unavailability, Hill ended her engagement and pursued a relationship with McGraw.
Two months later, in June 1996, McGraw proposed to Hill in a trailer while waiting to go onstage. When he returned to the trailer after his set, she has written the answer on a mirror.
She told People in 1988, "If someone is going to judge my character because I was engaged to somebody and then I left him for somebody else — 'Oh, okay, now she's a slut and a bad person' — I can't control that. But I wasn't about to let Tim slip through my hands."
The two have been together ever since – 27 years and counting.
Marriage and Children
The two wed in McGraw's hometown, Rayville, Louisiana, in October 1996 during a surprise ceremony. They had invited their guests to a "charity softball game" and surprised everyone by getting married instead.
Soon after, on May 5, 1997, the couple welcomed their first daughter, Gracie Katherine.
On August 12, 1998, their second daughter, Maggie Elizabeth was born.
Audrey Caroline, the couple's third and youngest daughter, was born on December 6, 2001.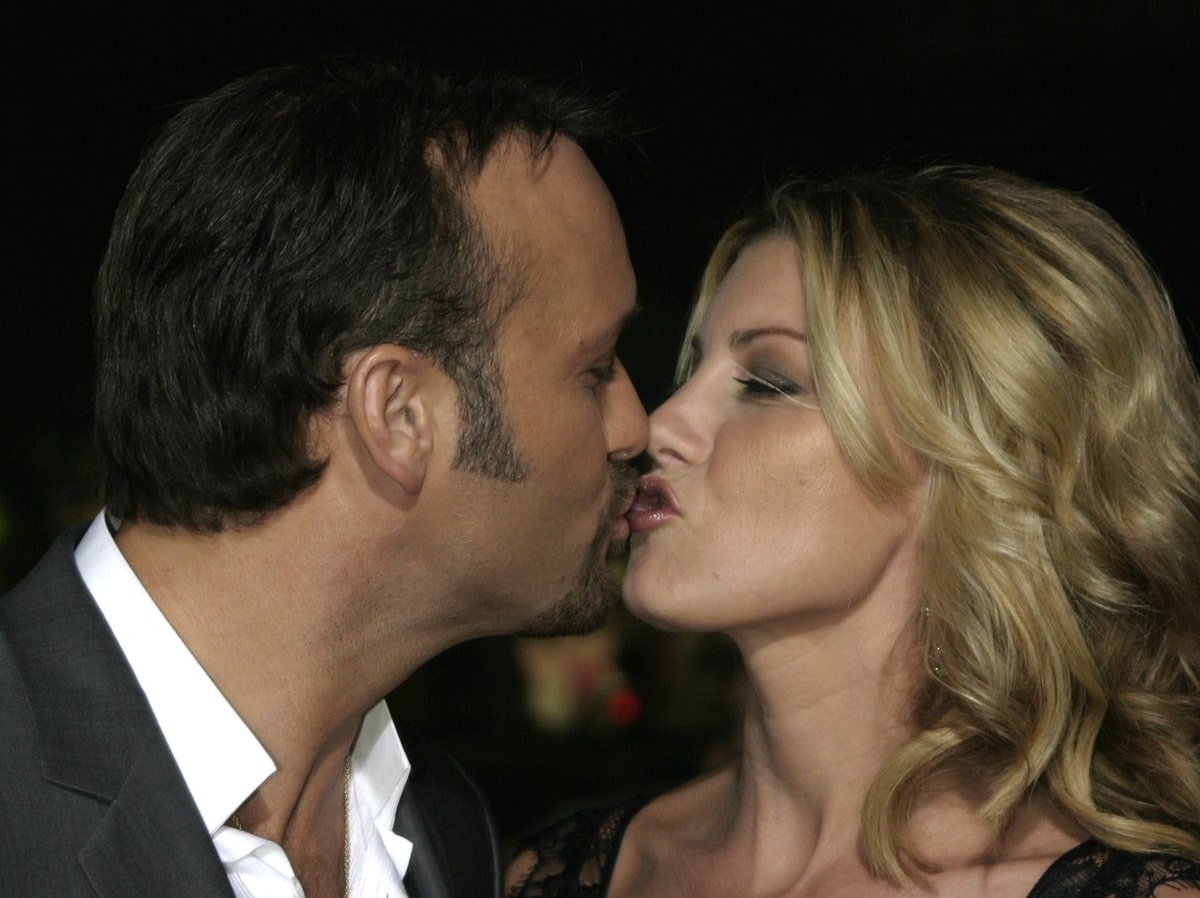 Tim McGraw and Faith Hill working on their kissing skills (Credit: Tinseltown / Shutterstock)
Despite their unusual careers and lifestyle, the couple is determined to keep a stable home for their children, especially since McGraw did not have stability as a child.
Divorce Rumors
Unfortunately, no celebrity relationship is immune to divorce rumors, and that includes Hill and McGraw.
The couple has endured their fair share of divorce rumors throughout their marriage but has always shut them down simply by staying together.
Despite persistent divorce rumors, Faith Hill and Tim McGraw have been married since 1996 and are proud parents of three daughters (Credit: Kathy Hutchins / Shutterstock)
Much of the rumors have been fueled by McGraw's former partying ways, habits that he has since given up in order to keep his family intact.
But throughout all the rumors, the two have managed to stay together and continue their domination of country music.
Musical Collaborations
Although their careers have been incredibly successful as individual artists, some of their greatest success has come when they have collaborated.
Some of their best work has included duets like "Let's Make Love" and "Like We Never Loved At All," both of which won Grammy Awards.
The 1997 song It's Your Love became McGraw's and Hill's first top-ten hit on the Billboard Hot 100 (Credit: Mary A Lupo / Shutterstock)
The two also paid homage to what made them fall in love – touring together – several times over. They have gone on their Soul2Soul tours three times: once in 2000, again in 2006, and for a third time in 2017, which was after the release of their first joint album The Rest of Our Life.
Acting Collaborations
Faith Hill and Tim McGraw have a combined net worth of $165 million, much of it coming from music, but some of that comes in from their acting careers, as well.
Tim McGraw's Acting Career
On his own, McGraw has racked up dozens of acting credits, one of his first in the movie Friday Night Lights.
Tim McGraw as Dallas McVie in the 2008 American Christmas comedy film Four Christmases (Credit: Warner Bros. Pictures)
McGraw went on to act in other projects like Four Christmases, Country Strong, and as Sean Tuohy in The Blindside, the true story about NFL player Michael Oher, opposite Sandra Bullock.
Faith Hill's Acting Career
Faith Hill hasn't had quite as extensive an acting career as her husband, but she did have a role in one of the most iconic films of the 2000s, The Stepford Wives.
Faith Hill as Sarah Sunderson in the 2004 American science fiction black comedy film The Stepford Wives (Credit: Paramount Pictures)
The only other movie she's acted in is Dixieland.
Yellowstone and 1883
McGraw and Hill really made a splash when they collaborated as actors. Both were featured in the show Yellowstone, and now the two star in 1883, Hill as Margaret Dutton and McGraw as James Dutton.
Faith Hill as Margaret Dutton in the American drama television series 1883 (Credit: Paramount+)
McGraw and Hill can hold their own but have gotten a master class in acting from their co-stars and guest stars, having had the chance to work alongside Sam Elliott, Billy Bob Thorton, and even Rita Wilson and Tom Hanks.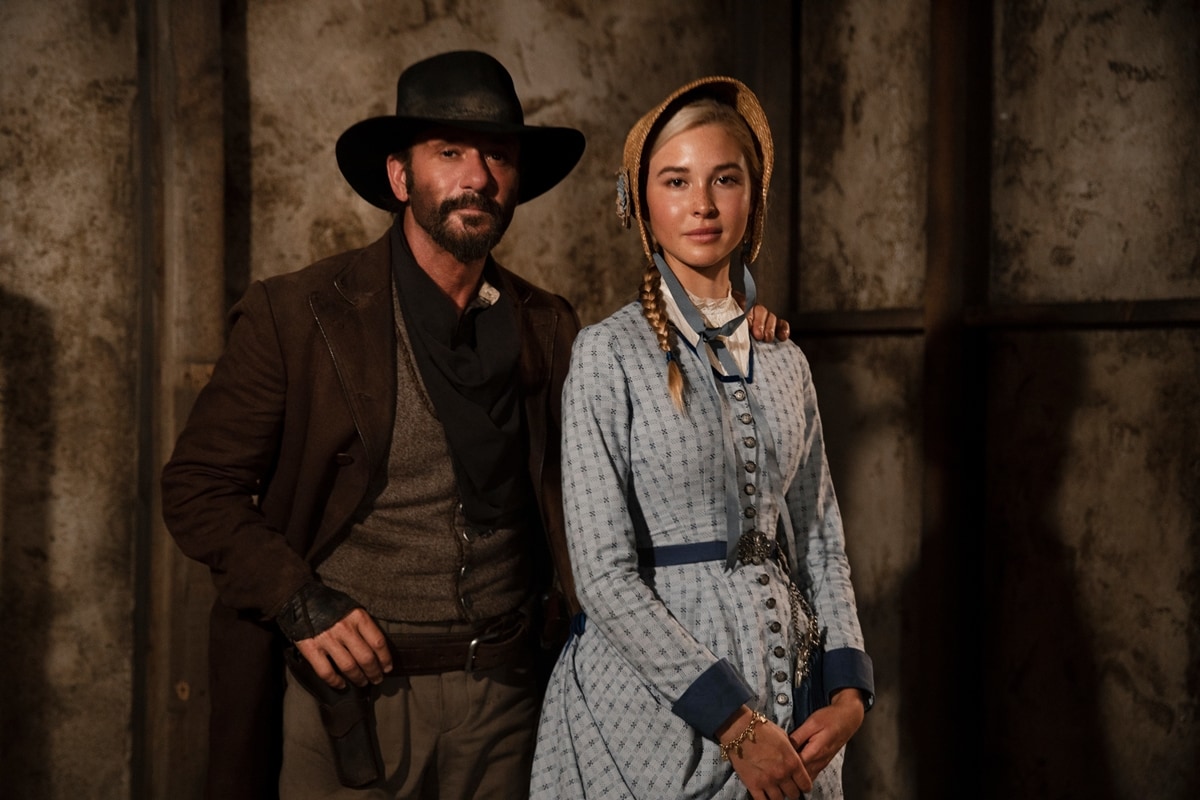 Tim McGraw as James Dutton and Isabel May as his daughter Elsa Dutton in the American drama television series 1883 (Credit: Paramount+)
Unfortunately, 1883 will not be getting a second season, but we do hope to see more joint projects from McGraw and Hill in the future.
3 Fun Facts
Here are some fun facts about the couple:
1. Both are very tall. McGraw stands at 6", but his wife is not that much shorter, standing at 5'10".
2. The two are the same age. McGraw is just a couple of months older, turning a new age in May, while his wife waits until September.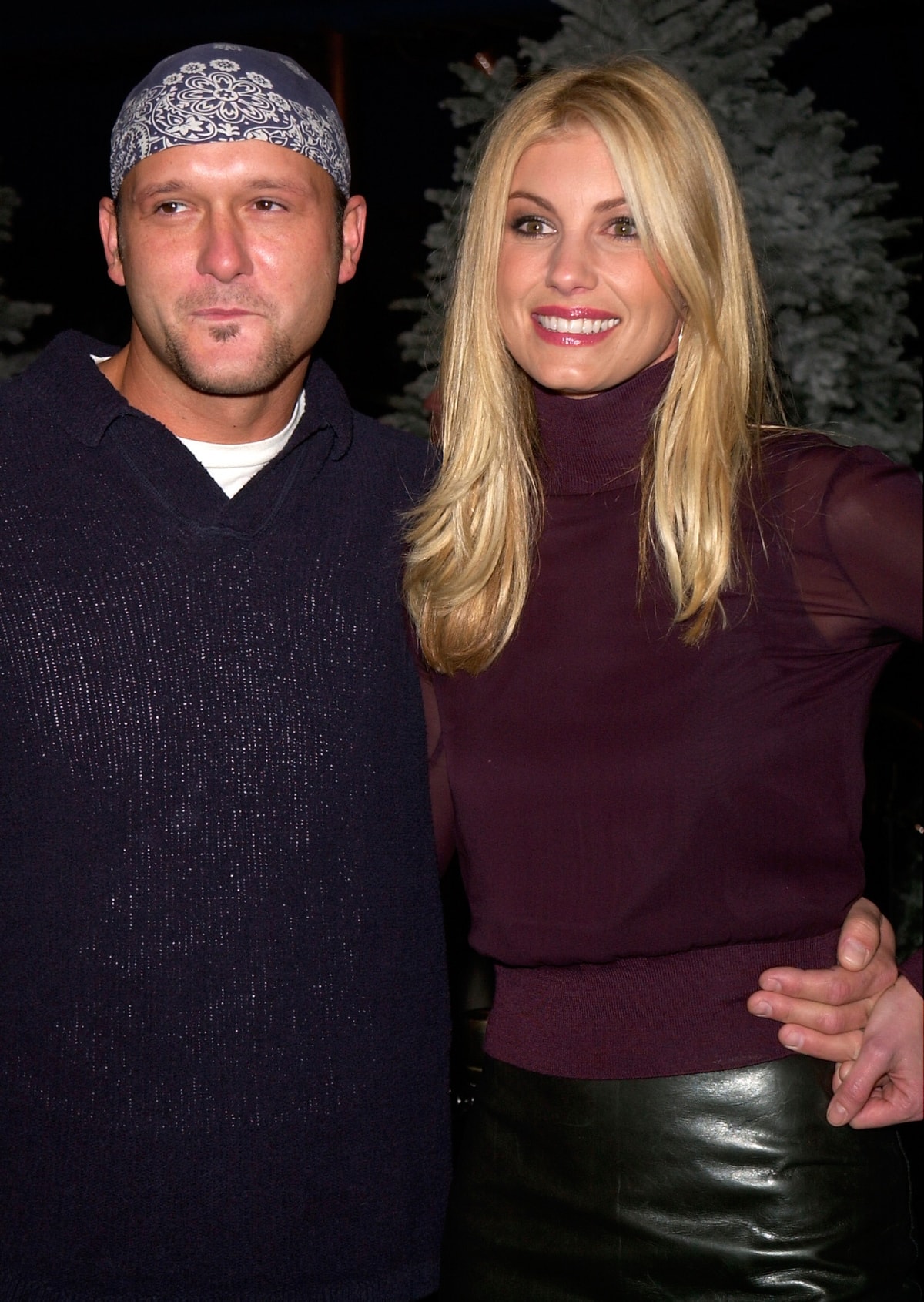 Singer Faith Hill and her husband Tim McGraw at the premiere of How the Grinch Stole Christmas on November 8, 2000, in Los Angeles (Credit: Featureflash Photo Agency / Shutterstock)
3. McGraw and Hill own a private island in the Bahamas. It needed so much renovation that they weren't able to visit on vacation for almost a decade after purchasing it.
Faith Hill and Tim McGraw have ruled the entertainment industry and built a life together while doing so. They've given us incredible music and entertaining films and television to watch, and we're excited to see what they do next.