The Pussycat Dolls have been one of the most successful girl groups of the 2000s, known for their feisty pop anthems and sultry stage shows.
The Pussycat Dolls were initially a burlesque troupe founded in Los Angeles, California, in 1995 by Robin Antin (Credit: Alex Oliveira / Startraksphoto)
The group has undergone several changes in its member lineup, but its signature style has remained intact, as evidenced by its 2020 comeback with "React."
In this article, we are ranking the estimated net worth of all the members of PCD from lowest to highest.
6. Kimberly Wyatt's Net Worth: $1.5 Million
Kimberly Wyatt, who comes in at number six on the list, is a talented dancer, singer, accomplished choreographer, and television personality.
She has appeared as a judge in several dance competitions and hosted various television shows.
5. Ashley Roberts' Net Worth: $1.6 Million
Ashley Roberts, who takes the fifth spot, has established herself as a television personality and radio host in addition to her successful music career.
She has appeared on several reality shows and is currently a presenter on the popular British television show "Ant & Dec's Saturday Night Takeaway."
Nicole Scherzinger, Kimberly Wyatt, Melody Thornton, Carmit Bachar, Jessica Sutta, and Ashley Roberts of The Pussycat Dolls at the 34th Annual American Music Awards held on November 21, 2006 (Credit: S_Bukley / Shutterstock)
4. Melody Thornton's Net Worth: $4 Million
Melody Thornton, who comes in fourth place, has also pursued a successful solo career in addition to her work with the Pussycat Dolls.
She has released her own music and appeared on several television shows, including "Dancing on Ice" and "Celebrity MasterChef."
2. Carmit Bachar's Net Worth: $5 Million (Tied)
Carmit Bachar, tied for second place, is a talented singer and dancer and a skilled songwriter and actress. She has written songs for several other artists and appeared in films and television shows.
2. Jessica Sutta's Net Worth: $5 Million (Tied)
Jessica Sutta, who also shares the second spot, has released her own solo music and pursued a career as an actress and television personality.
Her dancing career began with the Miami Heat's cheerleading squad. She later moved to Los Angeles, where she joined the Pussycat Dolls and contributed to their two albums, earning a Grammy Award nomination.
The Pussycat Dolls members Carmit Bachar, Ashley Roberts, Nicole Scherzinger, Jessica Sutta, and Kimberly Wyatt at BBC Studios performing for The One Show on February 26, 2020, in London, England (Credit: Blitz Pictures / INSTARimages)
1. Nicole Scherzinger's Net Worth: $14 Million
Nicole Scherzinger, who tops the list with an estimated net worth of $14 million, is an accomplished singer and dancer and a skilled actress, television personality, and philanthropist.
She has appeared in several films and television shows, including "The Masked Singer," and has been involved in various charitable causes, including supporting UNICEF and the Special Olympics.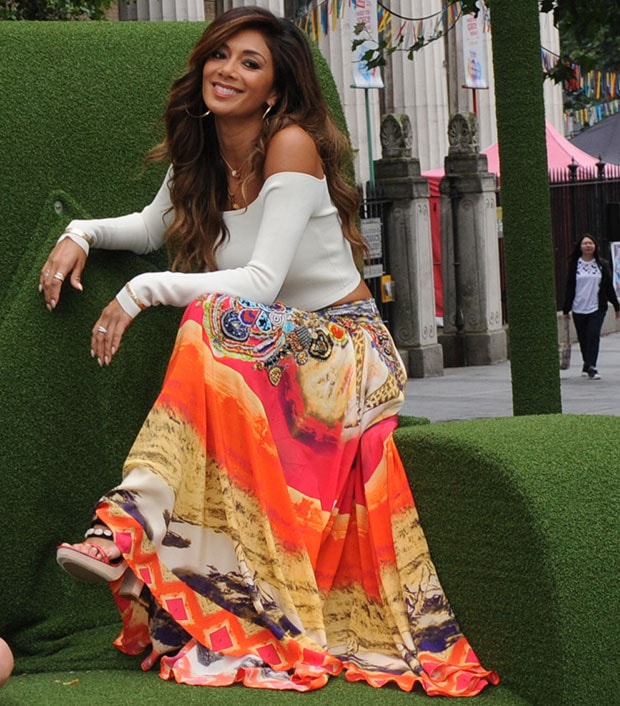 Nicole Scherzinger complements her bohemian ensemble with long, wavy hair as she poses for photos on July 11, 2014, outside ITV Studios in London (Credit: WENN)
Nicole Scherzinger consistently amazes us with her impeccable style. In July 2014, the then-36-year-old singer turned heads as she left ITV Studios after promoting her single "Your Love" on the British panel show "Loose Women."
Nicole opted for a bohemian-themed ensemble.
She flaunted her shoulders and slim waist in a white cropped off-the-shoulder top paired with a printed maxi skirt that featured a unique pattern in multiple bright colors.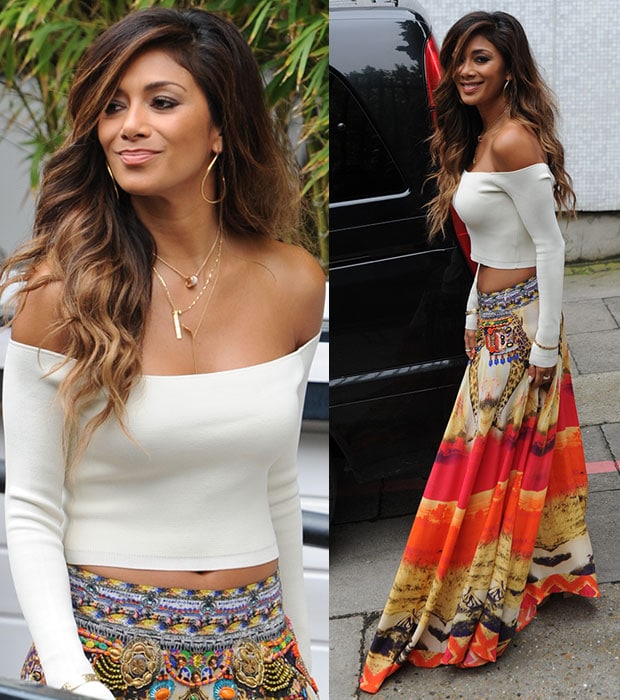 Nicole Scherzinger pairs a long-sleeved crop top with a bohemian maxi skirt for a London event (Credit: WENN)
After her promotional appearance on the British lunchtime TV program, The Pussycat Dolls member was seen strutting her stuff at a photo call while still dressed in the same outfit.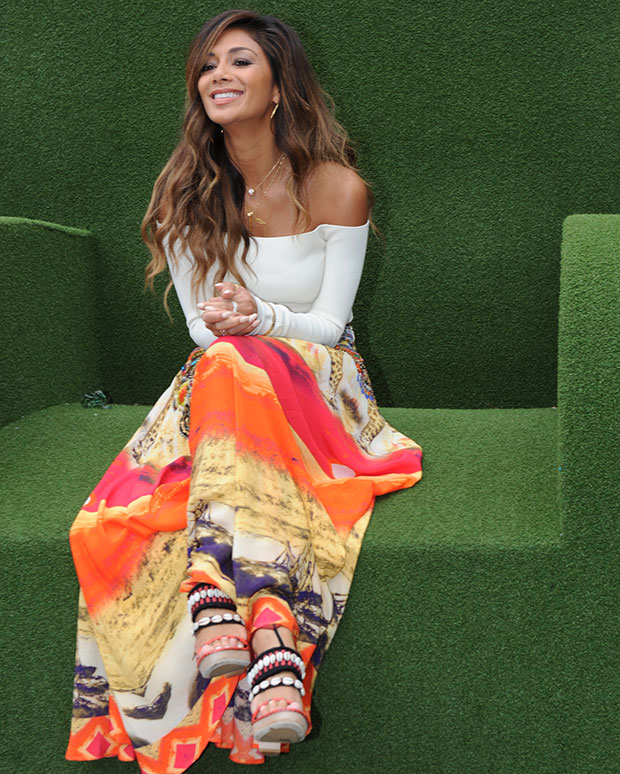 Nicole Scherzinger accessorizes her bohemian-chic ensemble with layered necklaces (Credit: WENN)
She completed her ensemble with loose and curly tresses and natural makeup.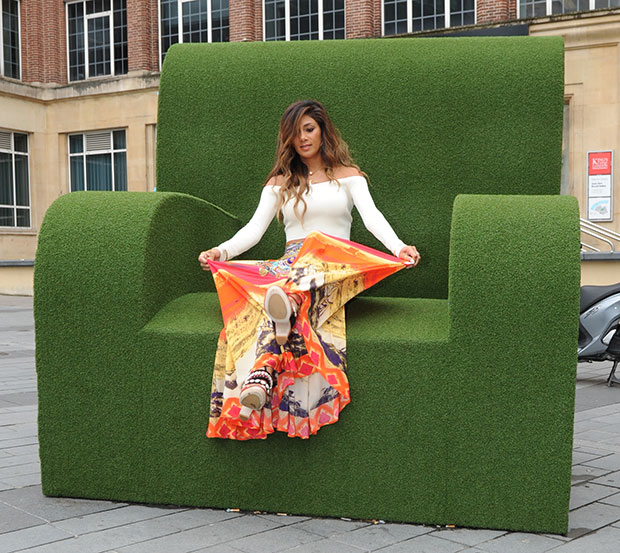 Nicole Scherzinger wears a colorful maxi skirt to a London photo call (Credit: WENN)
Nicole's busy schedule didn't stop her from putting together different stylish clothing pieces!
She finished up her chic hippie outfit with a pair of Dries Van Noten sandals.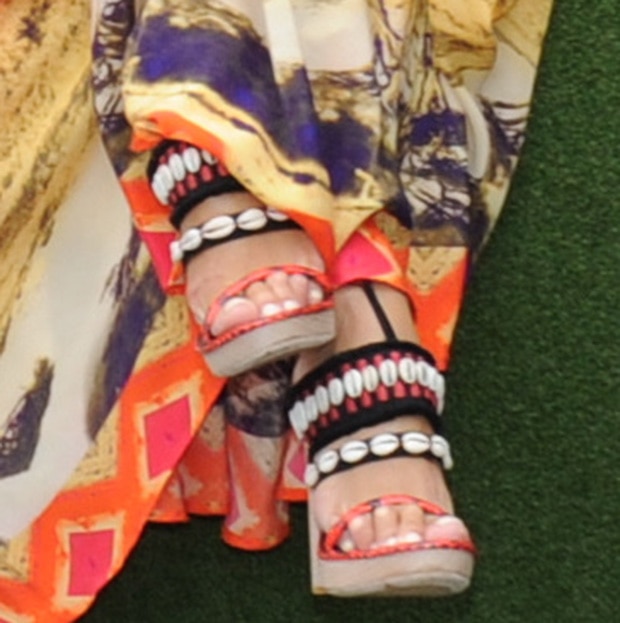 Nicole Scherzinger's feet in colorful Dries Van Norton sandals (Credit: WENN)
These quirky shoes feature red snake-stamped leather toe straps, rustic-embroidered and cowrie-shell-embellished cloth vamp straps, and suede-laced ankle ties.
These heels also have interesting 1-inch wooden platforms and 5.25-inch curved heels.
Nicole Scherzinger's feet in cowrie-shell-embellished Dries Van Noten sandals (Credit: WENN)
Order these Dries Van Noten sandals at Mytheresa to complete your chic summer look!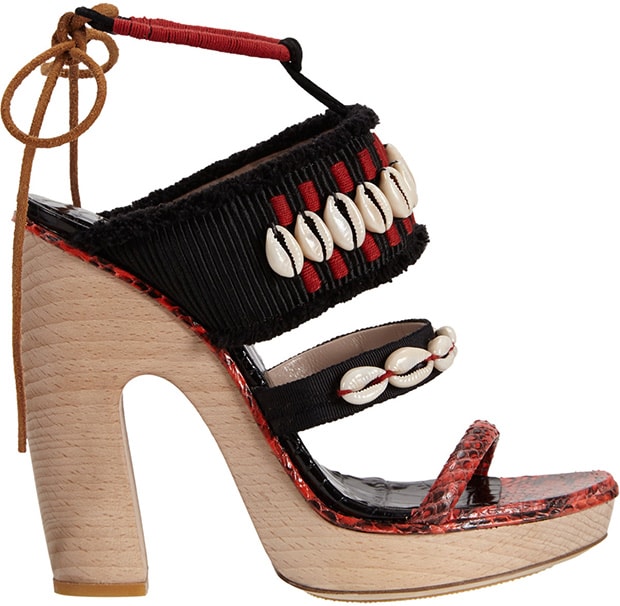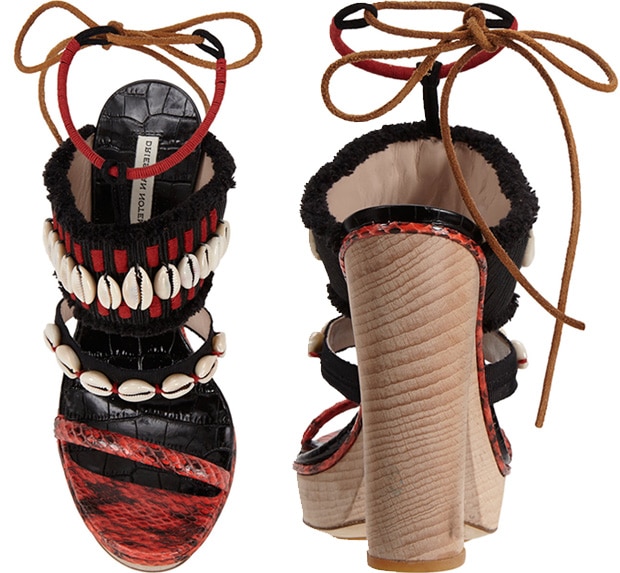 Dries Van Noten Cowrie-Shell and Wooden Platform Sandals, $1,150