Former Pussycat Dolls member Ashley Roberts can actually give her more popular bandmate, Nicole Scherzinger, some serious competition when it comes to shoe choices. Nicole's preference in heels veers toward the classic, while Ashley's style is more diverse and even a little edgy.
One of these days, we'll give you a rundown of some of the blonde beauty's standout shoe moments, but for now, here's a look she put together that is certainly worth talking about. You could say it's her most fashionable outfit so far. In fact, she looks like a high-profile magazine editor in these photos.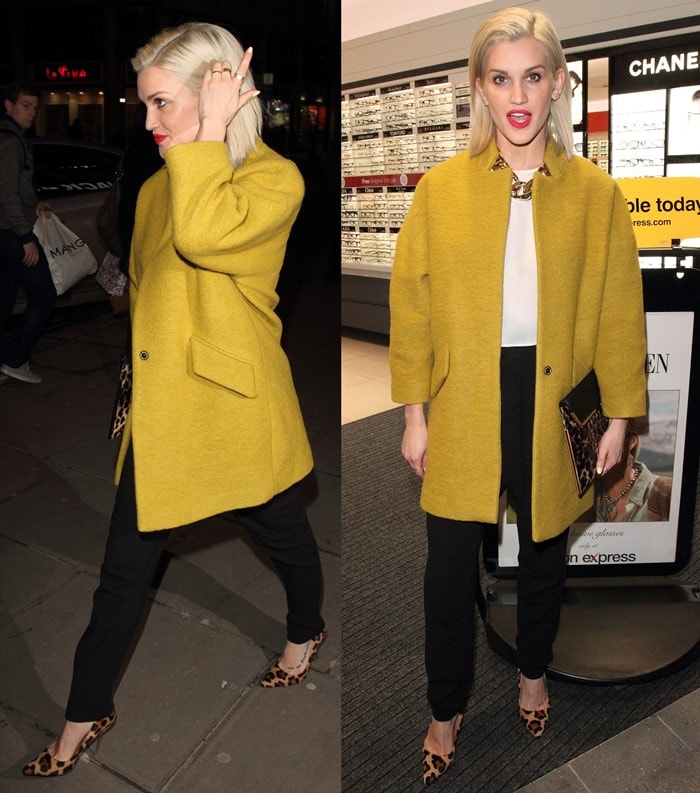 Ashley Roberts at the Ralph Lauren Eyewear Launch Party at Vision Express, Oxford Street, London, on January 30, 2014
Ashley Roberts capping off her outfit with bold animal-print pumps
See. Doesn't she look amazing?
The sleek bob, red lips, a statement coat, plus, of course, boldly printed pumps — it's a gorgeous combination of well-appointed pieces. She looks elegant in the whole outfit, and very expensive, too.
Could it be the coat? Maybe the gilded chain-link necklace? What do you think pulled it all together? Can you point it out? Well, we think it's a combination of a bright and color-rich coat and those leopard-print heels. Mixed together with achromatic black and white, they create harmony. The great thing about Ashley's outfit is that you can easily copy it. You don't need to be a style genius to do so.
Credit: WENN