According to a 2016 report by Variety, Viola Davis earned approximately $250,000 per episode for her role in How to Get Away With Murder (HTGAWM).
Considering there were at least 15 episodes per season, Davis would have a yearly income of $3.75 million. As of 2023, Viola Davis is believed to have a net worth of $25 million earned through hard work and dedication.
The American legal drama thriller television series first aired on ABC on September 25, 2014, and concluded its run on May 14, 2020.
Viola Davis became one of the highest-paid TV actresses in the world for her role as Annalise Keating on the ABC legal drama series How to Get Away with Murder (Credit: ABC)
The series drew inspiration from two prominent sources: the television series "Damages" (2007) and the movie "Legally Blonde" (2001).
In February 2014, Viola Davis was cast in the lead role of Annalise Keating in the pilot of "How to Get Away with Murder," a series created by Peter Nowalk.
The show revolves around Annalise Keating, a tough criminal defense attorney and professor who becomes entangled in a murder plot with her students.
In September 2015, Davis made history by becoming the first African-American to win the Primetime Emmy Award for Outstanding Lead Actress in a Drama Series for her role in "How to Get Away with Murder." She received another Primetime Emmy Award nomination for the role in 2016.
Betsy Beers, Viola Davis, and Pete Nowalk worked together on How to Get Away with Murder, which was a critically acclaimed and commercially successful show that ran for six seasons (Credit: Billy Bennight / AdMedia / Media Pun)
Viola Davis herself came up with the iconic scene in which Annalise Keating is seen wiping off her makeup and removing her wig.
She intentionally gave Annalise Keating a distinctive and purposeful heavy walk. Her decision stemmed from her belief that the character wouldn't naturally walk gracefully in heels.
In the pilot episode of "How to Get Away with Murder," Annalise Keating's classroom was filmed in an actual auditorium located at Ursinus College in Pennsylvania. After the pilot was completed, the classroom was recreated as a set for the subsequent episodes.
In the compelling series "How to Get Away with Murder," Viola Davis portrayed the iconic character Annalise Keating, while Alfred Enoch played Wes Gibbins, Aja Naomi King brought life to Michaela Pratt, Jack Falahee took on the role of Connor Walsh, and Karla Souza depicted Laurel Castillo (Credit: ABC)
Davis also received recognition from the Screen Actors Guild Awards, winning two awards for Outstanding Performance by a Female Actor in a Drama Series in 2014 and 2015.
Additionally, she received nominations from the Golden Globe Awards for Best Actress – Television Series Drama and the Critics' Choice Award for Best Actress in a Drama Series for her performance on the show.
Viola Davis Promotes How to Get Away with Murder in Elegant Blue Dress
In August 2016, Viola Davis was promoting not only her new DC Comics movie "Suicide Squad" but also her hit ABC show "How to Get Away with Murder."
Viola attended the ABC TCA Summer Press Tour held in Beverly Hills to promote the upcoming season of the hit ABC series.
Viola Davis wears her dark hair in curls at the ABC TCA Summer Press Tour held on August 4, 2016, at the Beverly Hilton Hotel in California (Credit: FayesVision / WENN)
She looked ladylike in an elegant blue dress with cap sleeves and a v-neckline.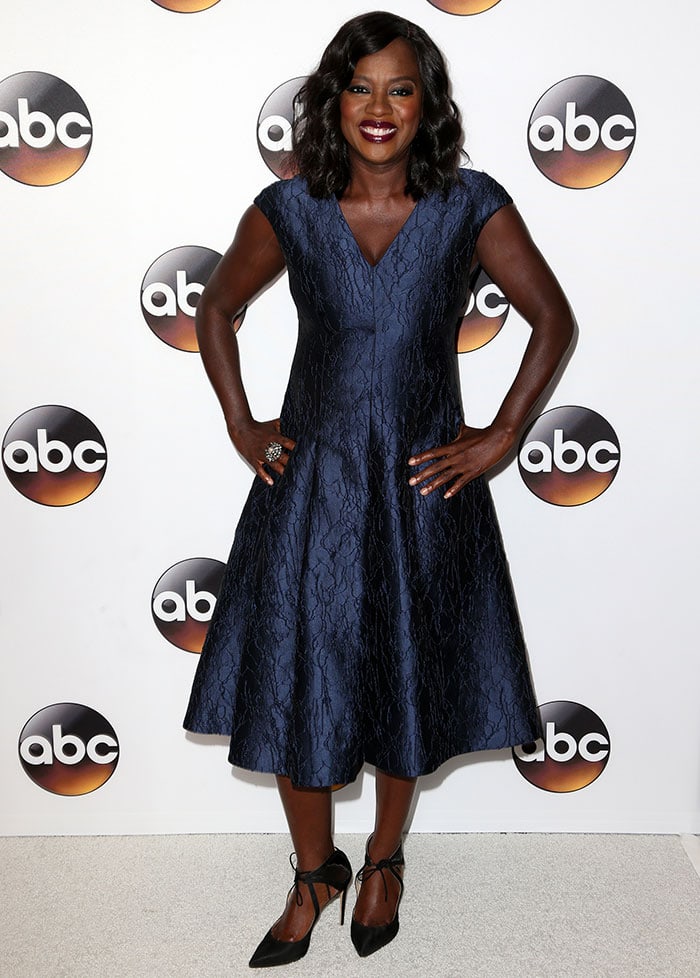 Viola Davis wears a textured blue cap-sleeved dress to the ABC TCA Summer Press Tour (Credit: FayesVision / WENN)
Viola looked absolutely elegant in the textured number, which she styled with a statement ring and a pair of black pumps.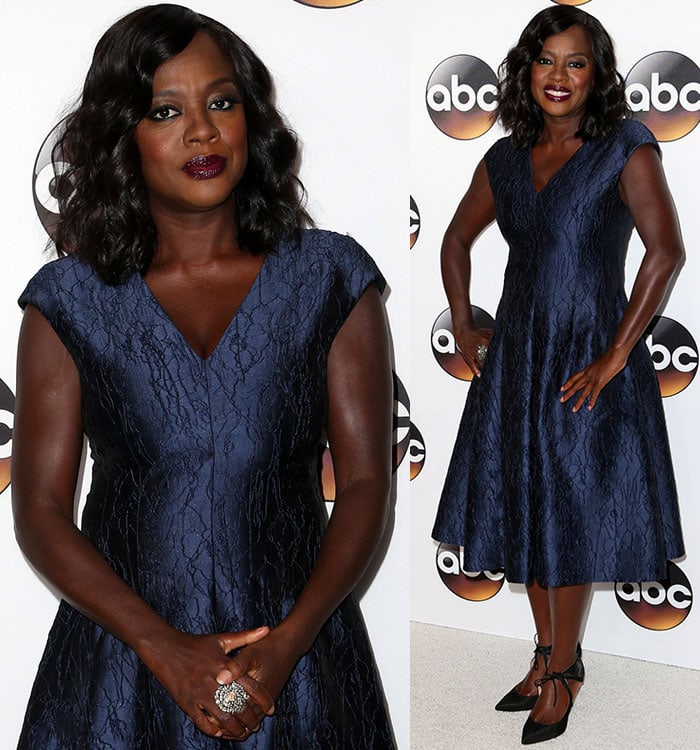 Viola Davis shows off her arms in a textured blue v-neck dress (Credit: FayesVision / WENN)
She wore her dark tresses in gorgeous curls and completed the look with berry red lipstick and blue eyeliner.
Viola Davis poses in a metallic blue dress at the ABC TCA Summer Press Tour (Credit: FayesVision / WENN)
The Hollywood Walk of Fame star recipient styled her textured dress with four-inch black pumps that featured mesh-paneled counters and tie-front closures.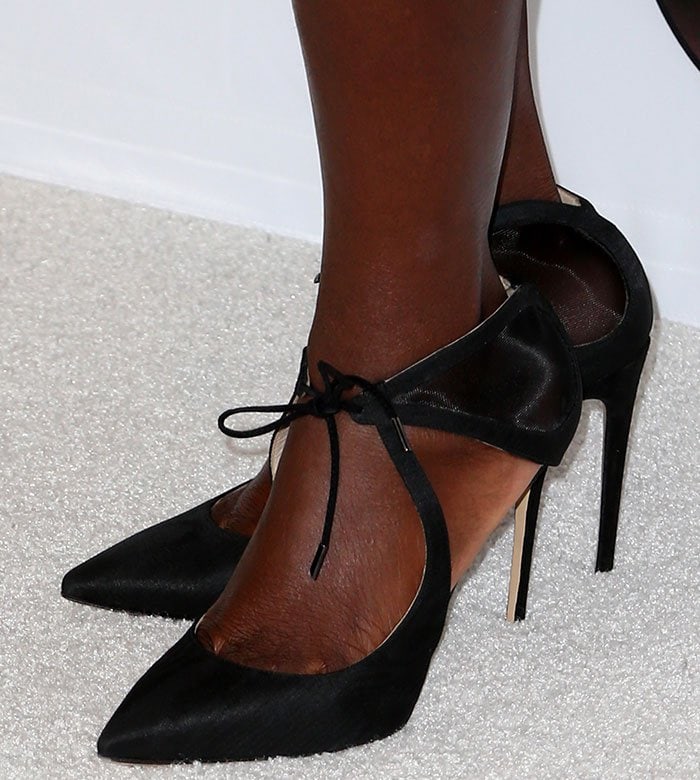 Viola Davis's feet in black tie-front pumps (Credit: FayesVision / WENN)
Can you identify Viola's pumps? Similar styles are available on Zappos and Nordstrom.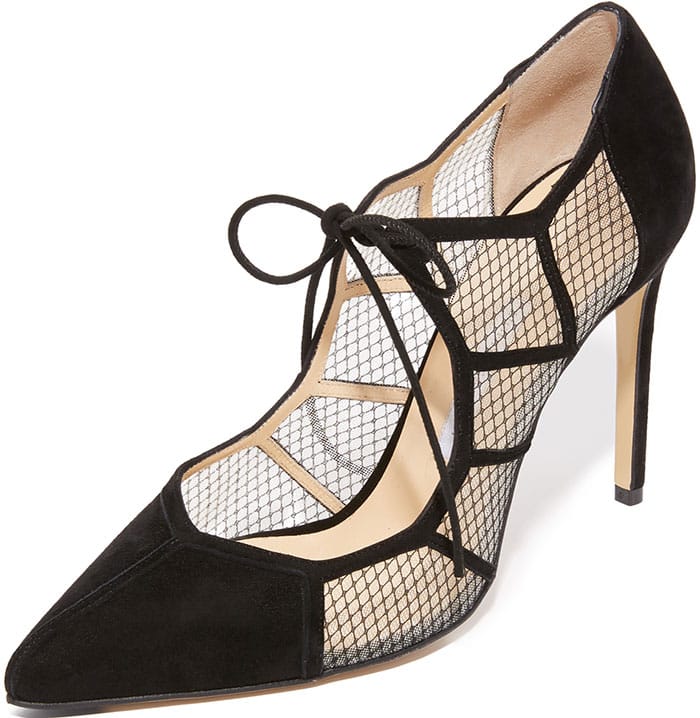 Bionda Castana "Angelique" Fishnet Lace Pumps, $895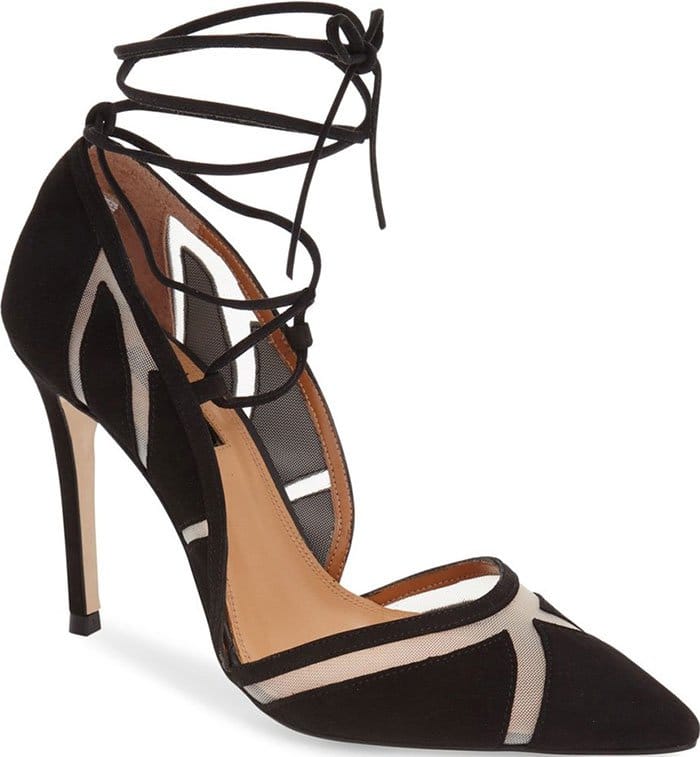 Topshop "Gretchen" Ankle-Tie Pumps, $120
Bionda Castana "Lana" Pumps, $669